Top 9 Solutions to Solve Warzone Dev Error 6634
Did you often encounter an issue called dev error 6634 while playing Warzone? Many players are experiencing and complaining about this issue. And now you must look for a method to solve it.
This post makes you clear why Warzone dev error 6634 occurs on your PC and lists nine methods to help you solve this issue and go back and run this game smoothly and successfully again.
What is Warzone Dev Error 6634?
There are many dev errors in Call of Duty: Warzone and the reasons for each error vary from game-related issues to system glitches. One of those annoying errors is dev error 6634.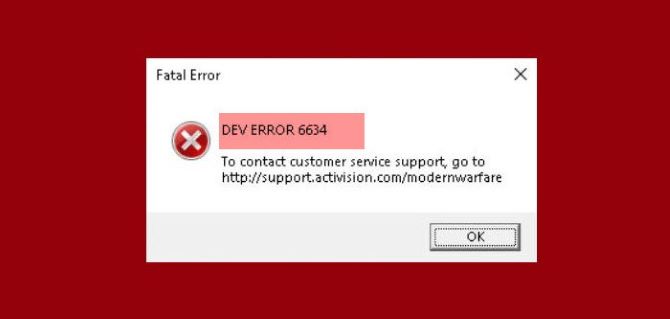 Recently, many Warzone players started reporting this issue, and it continues to plague players at various intervals.
This particular error may appear because your graphics card driver or operating system is out of date, or there is a problem with your game files, or there is a problem with your shaders.
Solution 1: Make sure your PC can reach the system requirements of Warzone
If you've just started playing Call Of Duty: Warzone, or just installed it on another PC, consider checking that your system specs meet the game's minimum system requirements. The game is not demanding, so most modern gaming PCs should be able to run it without issue.
That said, you should not proceed with other troubleshooting steps until you have confirmed your computer's compatibility with Warzone.
You can find out your PC system information by clicking the Start icon and then choosing System to check your system information.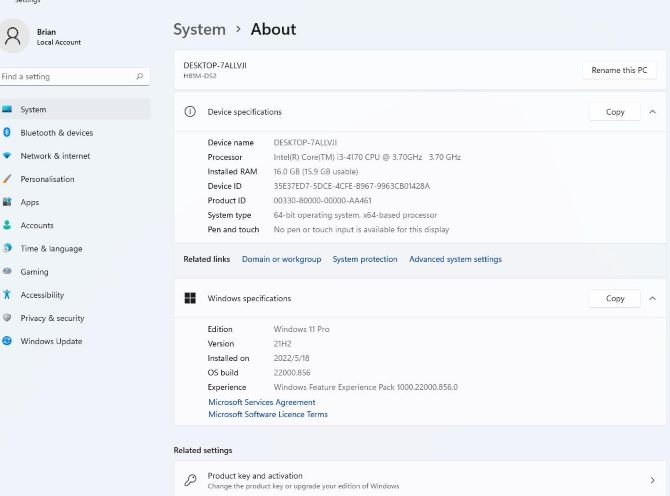 The following system information is required to run Warzone without any issues.
Minimum system requirements of Warzone:
Operating System(OS): Windows 10/11 64-bit
Processor(CPU): Intel Core i3-4340 or AMD FX-6300
Graphics Card(GPU): NVIDIA GeForce GTX 670 / GeForce GTX 1650 or Radeon HD 7950
Memory: 175 GB
DirectX: Version 12
If your system doesn't meet the Warzone's minimum system requirements, Warzone dev error 6634 can be explained.
And if you want to know the recommended and ultra system requirements of Warzone, you can click here to find more:
Solution 2: Update Graphics Card Driver
An outdated or corrupt graphics card driver is a common cause of many video game problems, and since it passes messages between the operating system and the hardware, your game will always have problems when it fails, including Warzone dev error 6634 and error 6065. To fix this problem, you can try updating the graphics card driver. There are two easy ways to update drivers.
Manual way
Right-click the Start icon > Choose Device Manager > Find out your graphics card on the Display adapters > Right-click the graphics card you choose to update and then choose Update driver.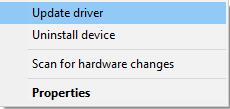 However, this method is only available to deal with some basic and general updates for your graphics card. If you want to make sure error 6634 does not relate to the graphics card, you'd better go to the official site of your graphics card or try the next professional way.
Professional way
Driver Booster can be a good gaming tool to help you get the latest graphics driver automatically on your PC. As a professional driver finder and downloader tool, it can detect all the missing and outdated hardware drivers for your computer and update them to the latest version.
In addition to hardware drivers, driver booster offers some more direct help for gaming users. It scans for the components such as Open AL, .Net Framework for your game and downloads them directly. In addition, its game mode can help you speed up the game.
Download, install and run Driver Booster on your computer.
Click Scan button.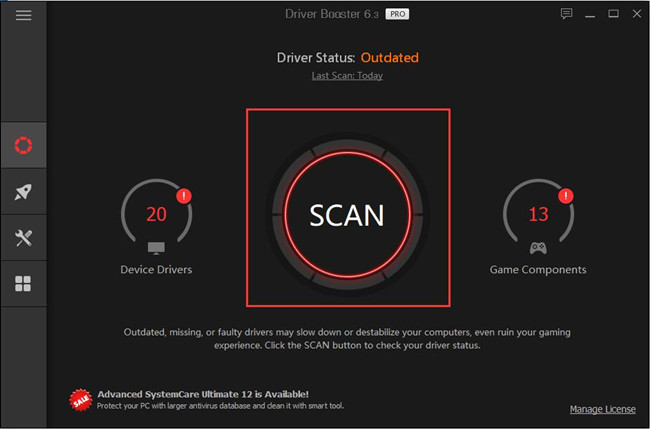 Find Display Adapters > Update.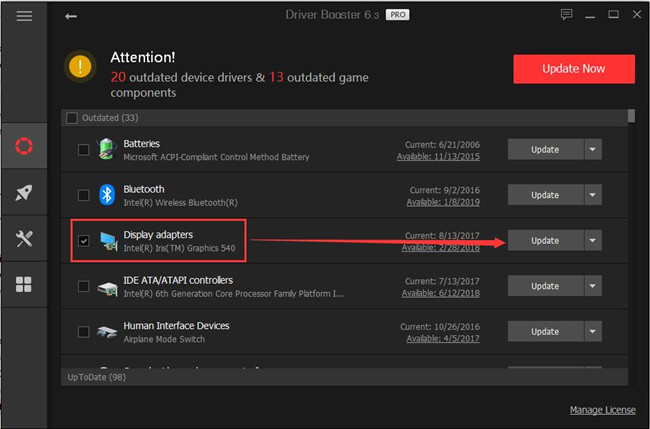 After that, reboot your computer and running Warzone again.
Solution 3: Repair Corrupted Game Files
Corrupted and missing game files can also adversely affect Call of Duty: Warzone. Since game files control gameplay and how your system reads programs, you will likely see error 6634 if any game files are missing or corrupted. Error 6634 may indicate an integrity issue with your game files.
So instead of reinstalling the entire game, you can start by scanning and repairing the corrupted game files. If you don't know how to do this, just follow the instructions below:
Step 1: Launch Battle.net.
Step 2: Go to the left menu and choose Call of Duty: MW from the PARTNER GAMES section.
Step 3: Click on Options and next choose Scan and Repair.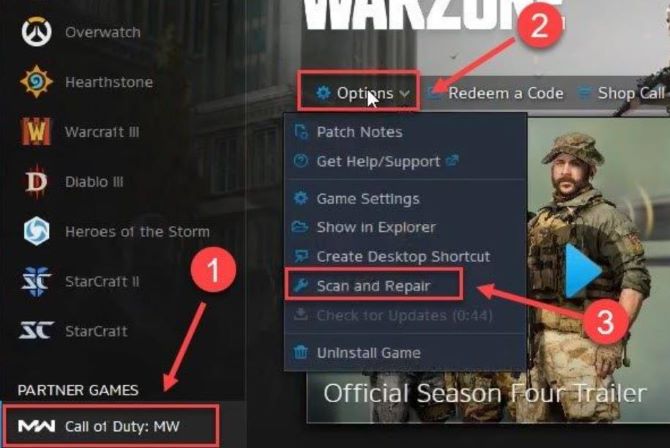 Step 4: Click on Begin Scan, and wait patiently for the process to end.
Step 5: After completion, try restarting the game.
Solution 4: Release space of RAM and VRAM
As you can see from Warzone's minimum system requirements, it requires RAM of 8 GB, so it is a game that requires a lot of RAM and VRAM to run smoothly. So Warzone may have memory leaks in some systems, which means it starts using more RAM or VRAM while you keep it running.
So if you're getting dev error 6634 or dev error 5763, it's probably because your RAM or VRAM is clogged. The most efficient way to free up VRAM and RAM is to restart the game. This action will reset system resource usage, or you can restart Warzone game after each match. By doing this, your game memory usage is automatically reset.
Or you can also download and install a gaming program like Smart Game Booster to release RAM and VRAM to optimize your PC.
Solution 5: Check Windows Updates
If Warzone crashes again with the same error 6634 and a window pops-up on your screen showing the latest update for Microsoft Windows, which includes the latest security patches, then you have to try to update your system.
Because Windows update is a critical component and resource to keep your operating system running smoothly. Call of Duty: Warzone requires most of these components to function properly.
If your system is not updated, this game may experience dev error 6634 because your computer is missing some updated operating system components.
Listed below are some of the steps you can use to manually check for Windows updates.
Steps: Right-click the Start icon > Choose System > Scroll down on the left panel to find out Windows Update > Click Check for Update on the right panel.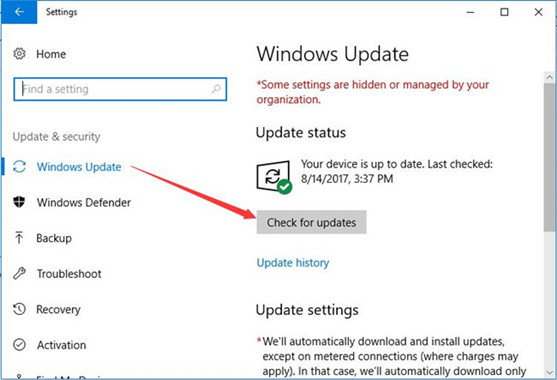 After installing all Windows updates, restart your PC and check if the error goes away. Make sure to update your system frequently to avoid encountering such issues again.
Solution 6: Reinstall all Shaders
Shaders, a feature available in Warzone settings, are a type of program primarily used to render different pixels. Occasionally, they can malfunction and interfere with gameplay, resulting in dev error 6634.
Some players have reported that reinstalling shaders could be a potential solution to dev error 6634, so you can try the same and see if that helps.
Please follow the given steps.
Step 1: Run Warfare and then go to Options.
Step 2: Go to the Graphics tab and choose Restart Shaders Installation.
Step 3: Hit the Restart option to proceed further.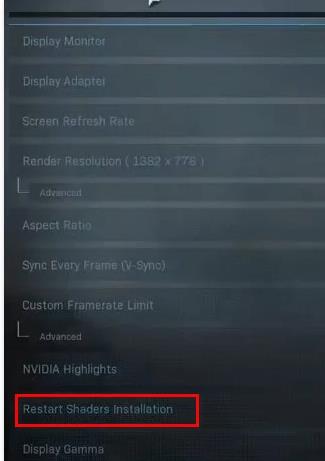 Step 4: Wait patiently until the process completes.
Step 5: After completion, open the game and check for errors.
Solution 7: Change Your Skins, Loadouts, And Operators
When dev error 6634 first appeared in Warzone, most players who reported the error had one thing in common: loadouts, operators, and skins seem to cause dev error 6634. To address this error, some players said the issue could be easily fixed by changing Modern Warfare's configuration.
For example, if you're using an operator or loadout, change it to Modern Warfare and then check the results. At the same time, you can also delete any skins you have activated and check if that solves the problem.
Solution 8: Check your Antivirus Programs
The antivirus programs can also affect gaming in many ways. One way is that it slows down your computer, which affects your gaming performance. Another way is that it may interfere with certain game files or functions, causing problems in the game.
Finally, some antivirus software may also block certain gaming sites or features, making it difficult to access or play certain games. This interference may be the reason why COD: Warzone keeps showing error 6634 and shutting down.
So it's a good idea to add the game as an exception or exclusion in your antivirus programs. Doing this prevents the program from interfering with Warzone in the future.
Solution 9: Uninstall and Reinstall Warzone
If none of the methods above worked in your case, and you're still getting dev error 6634 when running Warzone, you should be able to avoid the problem entirely by uninstalling the game and strictly reinstalling Warzone.
Of course, there is a troubleshooting method that most Warzone players don't want to try unless it's a last resort because it takes a long time to download Warzone. But it is a general troubleshooting method that can effectively resolve different errors.
So this post aims to fix your dev error 6634 issue in Warzone. Hopefully, it will help you fix this error and get back to Warzone and run it with ease again.
And if you want to know dev errors 6065 and 5763 of Warzone, you can read these two passages to learn more.
More Articles:
How to Overclock the GPU for Games (2022 Update)
Fix Roblox Error Code 279: Failed to Connect to the Game
Tags :
error code