Solved: Dev Error 5763 on Modern Warfare & Warzone
Overview:
Have you encountered Dev error 5763 when playing Call of duty: Modern Warfare and Warzone? Modern Warfare (MW) is a battle royale game that is extremely popular among gamers worldwide. But like other games, this game can also run into various problems in different cases.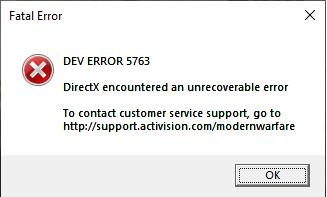 The most common errors with Call of duty (COD) may be error code Dev error 5763, 5761, 6068, and 6070. For instance, you may be now receiving the error message: Dev Error 5763, DirectX encountered an unrecoverable error.
To contact customer service support, go to http://support.activision.com modernwarfare. Since DirectX is essential for the game, you also need to fix unknown DirectX error. Sometimes, after you install the update patch of the Modern Warfare, Dev error 5763 pops up. Or this Dev Error occurs when gamers are launching or even playing the game.
Why Do I Keep Getting Dev Error?
In fact, according to user reports, error code, 5763 is just one of the Dev Errors. There are Dev Error 5523, 5476, 5761, 5763, 6034, 6036, 6068, 6070, and 6328 in COD Modern Warfare & Warzone.
When the Windows system blocks the COD game from accessing due to a lack of permissions like certain files or folders or resources like RAM and CPU, Dev Error will show up since the game cannot access the resources that are needed to support it to run. For different resources, there will be different Dev Error codes like 5761 and 5763.
What causes Dev error 5763?
This article will elaborate on fixing COD Dev Error 5763. As for the causes of this Modern Warfare error, just like the warning message suggesting, the DirectX encountered an unrecoverable error, so it is likely that your DirectX did go wrong.
Otherwise, Cod Dev Error 5763 implies that some resources are inadequate to support the game to run like the GPU resources, which even lead to game stuttering with FPS drop. Meanwhile, some users reported that the inappropriate graphics settings will also cause Dev Error and stop the Modern Warfare from working. 
How do I Fix Warzone Dev Error 5763?
Normally, the game issue cannot be solved using a single solution, so you need to take time to handle it. Modern Warfare Dev Error can be removed if this role-play game is granted with permissions and enough resources like GPU and RAM. So you need to take methods to check the resources of the Cod Modern Warfare and try to fix the MW Dev error 5763.
Solutions:
Solution 1: Restart the Computer
Upon seeing the Dev error code 5763 DirectX unrecoverable error, try to reboot the device. In some cases, a simple restart will recycle all the programs, files, and resources, so it may help resolve the Call of Duty 5763 error.
Solution 2: Update the GPU Drivers and DirectX
Games usually require a lot of GPU resources. For the Cod royale game, especially, errors will appear if the GPU does not fulfill the requirements. The same holds true for DirectX, an essential component for games.
Gamers tend to use standalone GPU resources to run smoothly on Windows, so GPU driver and DirectX should be up-to-date in case problems like the 5763 or 5761 errors take place.
Here Driver Booster is a good tool to help you download and install both the GPU and DirectX to fix the COD Dev error 5763 Warzone.
1. Download, install and run Driver Booster.
2. Click Scan.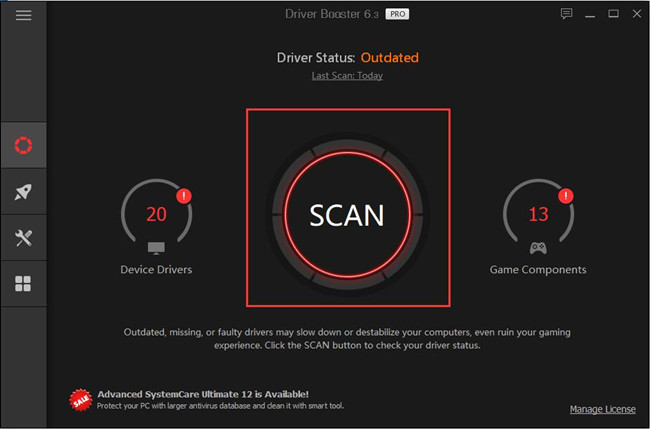 3. Find out the GPU driver and DirectX, and then Update it.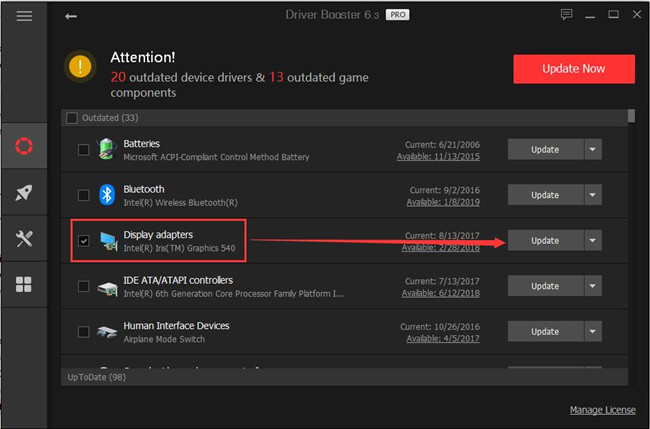 You can also try other methods to update DirectX and any other drivers for Windows systems. Based on the compatible GPU driver and DirectX, you can see that Warzone Dev Error 5763 on Xbox One, Windows, and other game platforms.
Here you can also update the graphics driver and Microsoft Distributable C++ packages for enhanced gaming performance, or sometimes, the new graphics driver can also fix the fatal error 5763.
Solution 3: Underclock GPU
A GPU that is overclocked requires higher fan RPMs to keep up with the usage while cooling the hardware at the same time. Compared with other programs, games demand more GPU, so gamers tend to overclock GPU for better game performance.
However, COD overclocking may lead to PC Dev Error 5763: modern warfare. There is much need for you to underclock the GPU for games temporarily to avoid Dev Errors.
Underclocking the GPU is also helpful to extend the lifespan of the graphics card, which is also crucial for games. You can download MSI Afterburner to automatically underclock the GPU used by the Call of Duty game.
Solution 4: Disable XMP
XMP (Extreme Memory Profiles) is an Intel technology allowing users to change memory settings by simply selecting a different profile and taking advantage of higher than standard memory speeds. Therefore, disabling this option means reducing RAM usages by the Modern Warfare to help solve 5763 Dev Error on Windows 10, 8, 7, and Vista.
1. Reboot the computer.
2. During the startup, Press F10 or ESC or Delete key to enter the BIOS settings. After that, you can see Windows is loading.
3. In the BIOS settings, find out and then Disable XMP.
4. Click Save to save all the settings.
5. Reboot the computer.
When you restarted your device and launched the modernwarfare again, you will not be greeted by Deve Error 5763 or 5761 or 6068 since there will not be conflicts in resource allocation, especially RAM.
Solution 5: Change Graphics Settings in Registry Editor
Besides, the graphics card also serves as a key part of gameplay. You may as well adjust the graphic settings in the registry editor to fix the permission issue when playing COD.
1. Press Windows + R to open the Run box and then enter regedit in the box.
2. In Registry Editor, go to HKEY_LOCAL_MACHINE\SYSTEM\CurrentControlSet\Control\GraphicsDrivers.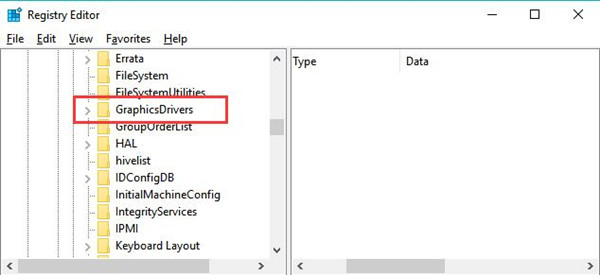 3. On the right pane, right click the blank space to create New DWORD (32-bit) Value and name it TdrDelay.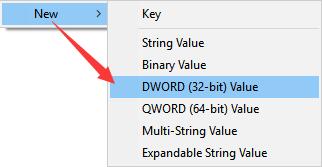 4. Right click the newly created value TdrDelay to Modify its Value data to 60.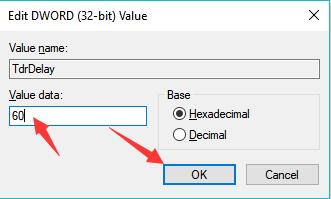 5. Click OK to save changes.
6. Similarly, under GraphicsDriver, on the right pane, right click the blank space to create a New DWORD (32-bit) and name it TdrDdiDelay.
7. Right click TdrDdiDelay to Modify its Value data as 60.
8. Hit OK to save changes.
9. Reboot the computer.
You can run the Modern Warfare & Warzone game to see whether the 5763 Dev Error is eliminated and you have the full permissions to play the game. This graphic TdrDelay settings can also fix display driver stopped responding and has recovered issue.
In a word, above are the solutions to help you fix MW Dev error 5763 on PC from the perspective of reducing the overclocking and resolving the GPU and RAM resource issues. It is feasible that you try these solutions to fix Call of Duty Modern Warfare & Warzone Dev Error 6068, 5761, 6034, 5753, and any other Dev Error crashes on PC, or PS4, or Xbox One.
More Articles:
How to Fix Modern Warfare Unable to Access Online Services
Fixed: Overwatch Rendering Device Lost on Windows 10, 8, 7
Tags :
error code