How to Disable Dark Mode in Google Chrome?
Previously, there is no dark mode for Google Chrome like other browsers. But now Chrome dark mode is available for every user who needs it. Ever since Google Chrome 74, you can enable the dark theme for Chrome on Windows 10 without turning the whole system black.
Therefore, there are mainly two available choices open to you in order to enable or disable Chrome dark mode, either turn on the dark theme for Windows or for Google Chrome only.
How to Disable or Enable Google Chrome Dark Mode on Windows 10, 8, 7?
It is natural that turning off Windows 10 dark theme would also disable Google Chrome dark mode as well. But if you prefer to disable Chrome dark mode but leave Windows system dark theme, you can only find answers below. And after that, given your needs, it is also feasible to turn Chrome dark mode on for Windows 10.
Whether you would rather disable dark mode on all the system or turn off it for Chrome only, prior to the specific steps, you are supposed to update Google Chrome and Chrome components so as to make sure the Chrome version supports dark mode on your PC.
Methods:
1: Disable or Enable Chrome Dark Mode Only
2: Disable or Enable Windows and Chrome Dark Theme
3: Use Chrome Dark Mode Extension
Method 1: Disable or Enable Chrome Dark Mode Only
Provided that you dislike dark mode on Chrome but need the dark theme on Windows 7, 8, or 10, you may as well turn off Google Chrome dark mode feature separately.
1. Right click Google Chrome on your Desktop to head to its Properties.
2. In Google Chrome Properties, under Shortcut, locate Target and then copy, paste -disable-features=DarkMode.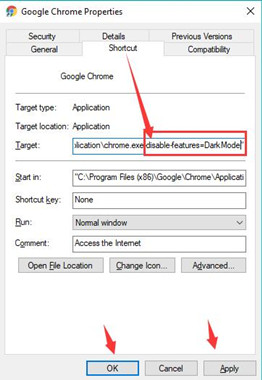 3. Then hit Apply and OK to save changes.
Restart your Chrome browser.
Now you can notice that Google Chrome dark mode on Windows 10 disappeared. Nevertheless, if you feel like enabling Chrome dark theme, just delete -disable-features=DarkMode from the Target box. As for users would rather dark mode in Windows but the light mode in Chrome, or light mode in Windows 10 but the dark mode in Google Chrome, you may need to try this way.
Method 2: Disable or Enable Windows and Chrome Dark Theme
Supposing you just love all the interface, either on Chrome or those on Windows system, just directly turn off Windows 10 color. That will bring your PC into the black theme in all programs.
1. Go to Start > Settings > Personalization.
2. Under Color, scroll down to locate Choose your default app mode and then set it Dark.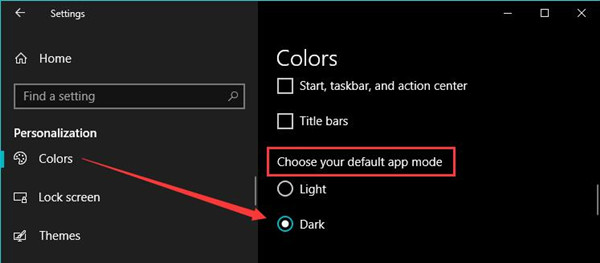 3. To disable Windows 10 dark theme along with Chrome dark mode, make the app mode Light.
The instant you tick the circle of Dark, you will observe all the app interfaces, including that of Chrome, are in dark mode.
Tips: It is said that Chrome dark mode will not be available until Windows 10 dark theme came into use. Therefore, you may as well check if your system support app dark mode or whether Google Chrome installed has a dark mode.
Method 3: Use Chrome Dark Mode Extension
When it comes to people whose Google Chrome is not supportive of dark mode, it is worth a shot to install a reliable and convenient dark mode extension on this browser. Such extensions like Dark Reader will enable you to enable and disable dark mode on Chrome.
In short, in order to turn Chrome dark mode on or off on Windows or Google Chrome only, you are suggested to change settings for Chrome or for Windows 10 system.
Tags :
chrome