How to Save Battery on MacBook Pro and MacBook Air
Nowadays, there are more Mac users. But few of you know how to care about your MacBook Pro or MacBook Air. This post is about how to save a Mac battery.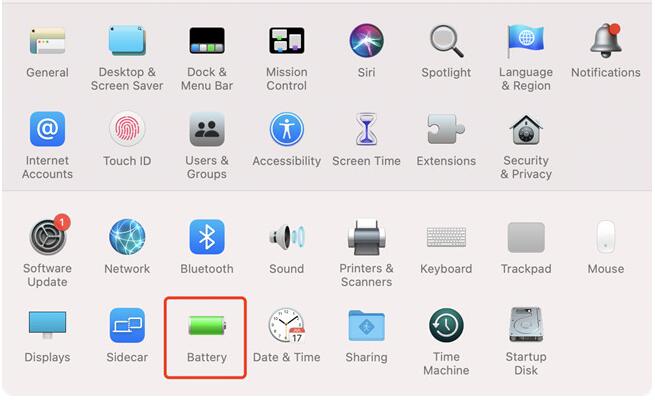 Besides, based on the special properties of the lithium-ion battery, you can save Mac battery life by keeping a good habit of using your MacBook. What should you pay attention to about the Mac battery?
How to Check Battery Health on Mac?
Before you try measures to prolong the battery life of MacBook Air or Pro, you may as well check Mac battery health so that you can have a basic idea about your battery condition.
On macOS Big Sur, in the left top corner, go to Apple Menu > System Preferences > Battery.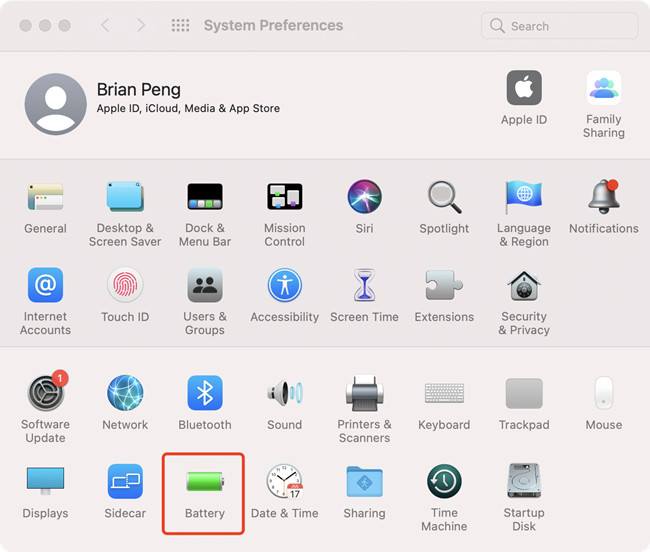 Then on the left pane, select Battery > Battery Health.
On macOS Catalina or lower system versions, press the Option keyboard key and then click the Battery icon. Then you can see the menu of the battery condition.
You will see one of the following condition prompts: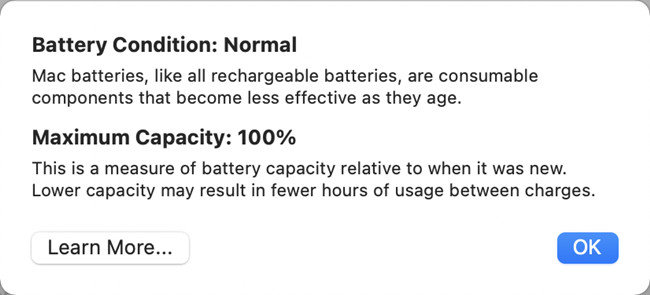 Normal: The battery is functioning normally.
Service Recommended: The battery's ability to hold a charge is less than when it was new or it isn't functioning normally. You can safely continue to use your Mac but you should take it to an Apple Store or Apple-authorized service provider to get your battery evaluated
After you know about the battery health of your Mac, you can try measures to save the Mac battery.
How to Save Mac Battery Life (Battery Settings, Mac Settings, and Battery Charge)?
Part One: Battery Saving Settings You Should Do
Many users may have deeply aware of the fact that the longer time you have used Mac, the more electricity-consuming it will be.
Especially, after you updated the macOS system, your Mac battery runs out faster. If you happen to have this case, you may need to understand relevant battery settings on MacBook Air or Pro.
Optimize battery life
The laptop battery life depends on your laptop configuration and how you use it. Normally, you can prolong Mac battery life by changing the following settings.
Check battery setting in System Preference
The "Battery" control panel in System Preferences allows users to prolong the battery life of Mac laptops. If you feel like checking battery settings, find out Apple Menu > System Preferences > Battery > Battery on the right side.
To optimize the battery life, you need to: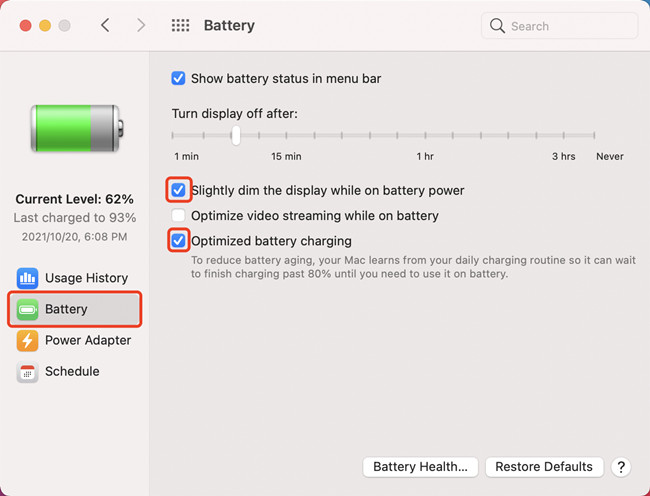 1. Select the option "Slightly dim the display while on battery power" in Battery. This battery setting will set the screen brightness as 75% when you power off the MacBook.
2. Uncheck "Optimize video streaming while on battery". This setting will prevent Mac from checking updates for Mail or any other system apps, thus prolonging the standby time of your laptop.
3. Check "Optimized battery charging". This setting will effectively stop your Macbook from aging due to charging.
Part Two: Close Mac Settings to Save Power
1. Turn off the Bluetooth and WIFI. Currently, Bluetooth is less frequently used with the introduction of wireless products. Although Bluetooth is not so electricity-consuming as system or third-party programs, it helps improve battery performance if you can turn off the Bluetooth. The same holds for WIFI.
2. Turn off the Mac OLED screen. The OLED screen keyboard is introduced to new models of MacBook like MacBook so that the keyboard can be lighted when there is a lack of natural light.
However, this functionality will consume electricity unconsciously. Therefore, if you wish to save battery life on Mac, you can turn off this battery setting.
3. Adjust the display brightness. By default, the display will automatically adjust your screen brightness to save power. If you have disabled the "Automatically adjust brightness" setting, you can try to enable this option to save battery life on MacBook Air or Pro.
To automatically adjust the display brightness, go to the Apple Menu > System Preferences > Display.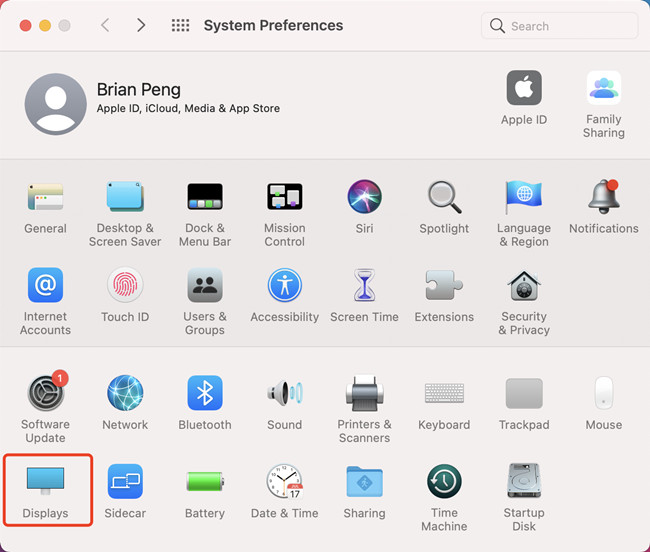 Then Under Brightness, check the box of Automatically adjust brightness.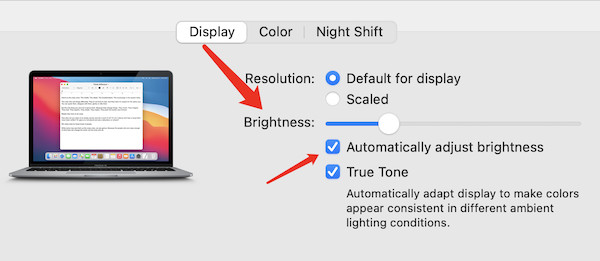 Besides, you can also save Mac battery life by lowering the display brightness.
4. Turn off unnecessary apps or programs. Some programs tend to run in the background. Even if you hit the Command+Tab combination key, they will not show up, but they do run on your PC and consume electricity.
Therefore, you need to press alt + command+ esc to open the task manager window to Force Quit some programs. Thus, you can save battery on Mac laptops consumed by background apps.
5. Turn off Location Services. In current Mac systems like macOS Big Sur, there are GPS services as those on iPhone, which can be connected via the wireless network on Macbooks.
While commonly, few users will use the location services on a laptop. Hence, you may as well disable some location tracking service on some apps to save battery on a Mac.
6. Use white desktop background. To save battery, you should avoid using black or bright desktop wallpapers in that black IPS screen is achieved by making the circuit block the OLED light.
7. Update the macOS and software. It would be better to keep your Mac system up-to-date, which may bring your MacBook new functionalities to save battery.
8. Unplug unnecessary peripherals. Needless to say, too many external peripheral devices connected to the Mac will consume more electricity. Hence, if you do not want to use these external devices like an external mouse, you would better unplug them.
Part Three: Battery Charge and Maintenance
1. As Apple announces on its official website, "When you use the MacBook for the first time, you need to make sure it is fully charged. Only after that are you supposed to launch and update programs."
And you need to run out of the battery of your MacBook Air or Pro when you use it for the first time. When the battery volume is lower than 20%, you need to charge it immediately.
2. Ensure your battery is charged at the suitable temperature.
The optimal temperature for MacBooks to run ranges from 50 to 95°F (10 to 35°C). The optimal temperature for Mac to be placed without running ranges from 13 to 113°F (25 to 45°C).
In this way, optimal temperatures to run and place mac laptops without running are 10 to 35°C and 25 to 45°C separately.
In a word, you would better place your MacBook Air or Pro in conditions at 22°C, which is the best temperature for Mac to run or be placed without running.
4. If your Mac device is a brand-new one with advanced battery technology to save battery and prolong battery life, before the battery capacity of the MacBook Air or Pro drops to 80%, 1000 full charge and discharge cycles are available.
Moreover, the "Adaptive Charging" option can adjust the charging methods to save battery and prolong battery life to as long as 5 years.
When you use the Mac laptop for the first time, you need to fully charge it and then you can update software and system to improve battery performance.
5. Daily Battery maintenance matters
For lithium battery maintenance, it is important to keep the "running" state of the electron in the battery. Apple officials suggest that users should not use the portable computer power supply.
A more ideal charging way is that using the battery when you take the Mac out, and charging it with the power adapter when coming home, thus ensuring the "running" state of the battery.
Moreover, if you are using Mac Desktop in the office at home but use MacBook occasionally when going out, it is recommended that you charge and discharge the laptop at least 1 time per month.
6. For long-time storage If your MacBook is left unused for over half a year, it is recommended that you take out the battery and ensure the battery capacity remains at 50%.
If the battery capacity is at 0% when you start leaving it unused, the MacBook battery can't be charged due to over-discharge.
On the contrary, if you leave the battery full of charge unused for a long time, it will cause a loss to the battery capacity. That is to say, the battery life will be shortened. When you take out the battery, please make sure it is placed at suitable temperature.
Tags :
power issues