How To Record Yourself On a Mac [4 Best Ways]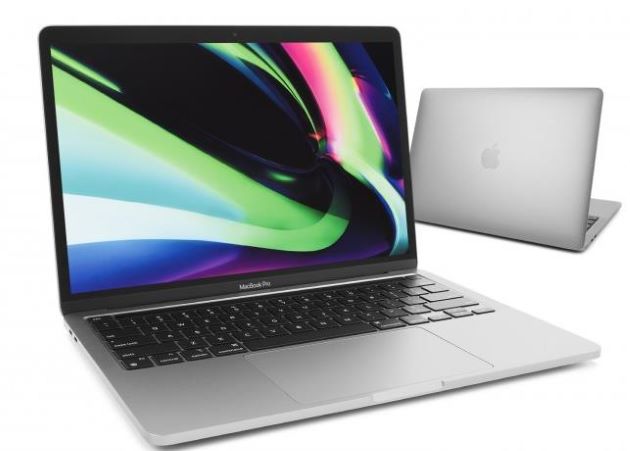 Have you ever wondered how to record yourself on a Mac? Maybe you want to record a video message with yourself, create a tutorial video with a webcam, or capture yourself playing games, But how do you do it? This post will give you all the answers.
In this guide, we'll take a look at how to record yourself on a Mac using four different methods. Whether you want to record a short clip or create longer engaging video content with yourself, your needs will be met.
Luckily, Mac has some of the basic in-built capturing tools that can help you take a video of yourself on it. Besides, there are professional Mac screen recorders with a webcam and other advanced features that allow you to record on your Mac with ease.
Without further ado, let's get into it!
How to Record Yourself on Mac with QuickTime Player (Free)
As a Mac user, the easiest way to record myself is to make use of the QuickTime Player. This recording tool is pre-installed on all Macs and is a helpful screen recorder for capturing on-screen activities and recording videos on Mac.
Pros:
Free to use
Record yourself on Mac with a webcam
Record screen, meetings, streaming videos
No download and sign up
Cons:
Save the recording files to .mov format only
Cannot record both our Mac screen and webcam together
Cannot record system sound and capture unwanted background noise
With all that being said, QuickTime Player is still a great tool for you to take basic video capture of yourself on Mac, and it is enjoyed by a lot of people.
How to take a video of yourself with QuickTime Player
1. Launch QuickTime Player from your Finder > Applications on Mac.
2. From the top menu bar, click File > New Movie Recording. A window will open with a preview of your webcam. A control bar will appear on your screen.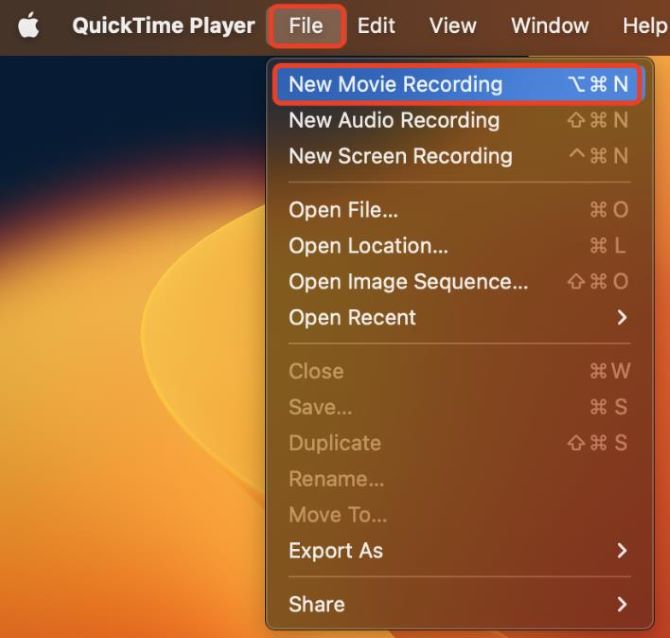 3. Adjust your record settings. On the control bar, click the drop-down options on the right of the red button. Choose your source camera, select the built-in microphone to record yourself with audio, and set the video quality (high or maximum).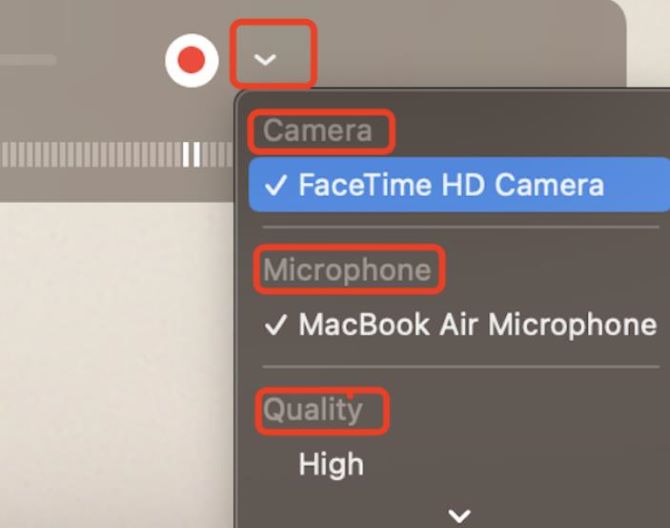 4. Adjust the volume by moving the speaker slider on the control bar.

5. Once you are all set, start recording yourself by clicking the red Record button in the middle.

6. Click the square Stop button when you want to stop the recording. The recorded video will pop up after the recording ends, and you can click on it to play.
How to Record Yourself on Mac with A Screen Recorder (Without Limitations)
If you want to record yourself on Mac to make high-quality and professional videos, or you want to enjoy advanced recording features such as a video editor and trimmer, a powerful third-party screen recorder should be the top priority.
Movavi Screen Recorder for Mac is the best screen recording tool you can use to record yourself. It can satisfy your recording requirements to record with a webcam. Especially, you can record without a time limit, and save the recording as MP4 or other formats you like.
This Mac Screen Recorder helps record both microphone and system audio, and the video quality will be high in 4k / HD. Moreover, some advanced video editing features like trimming, adding text, and special effects are also available.
Key features of Movavi Screen Recorder
Record yourself on Mac with a webcam in 4k quality
Capture both internal and external audio with noise reduction
Support taking screenshots and adding notes while recording
Provide various output formats and schedule recording on Mac
Edit recorded videos with trimming, cropping, and joining clips
Here are the steps to start recording yourself on Mac with this recording tool.
How to record yourself on Mac with Movavi Screen Recorder
1. Download Movavi Screen Recorder for Mac, then install and run it.
2. On the control panel, click the plus button to open the customization window.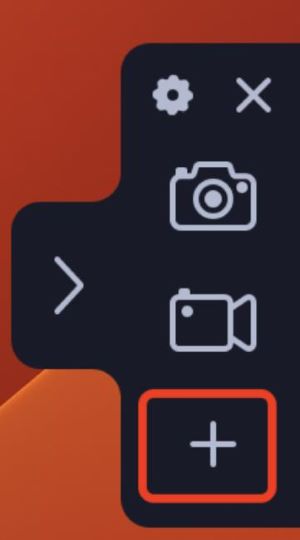 3. Click Select below Webcam Recording to add it to the control panel.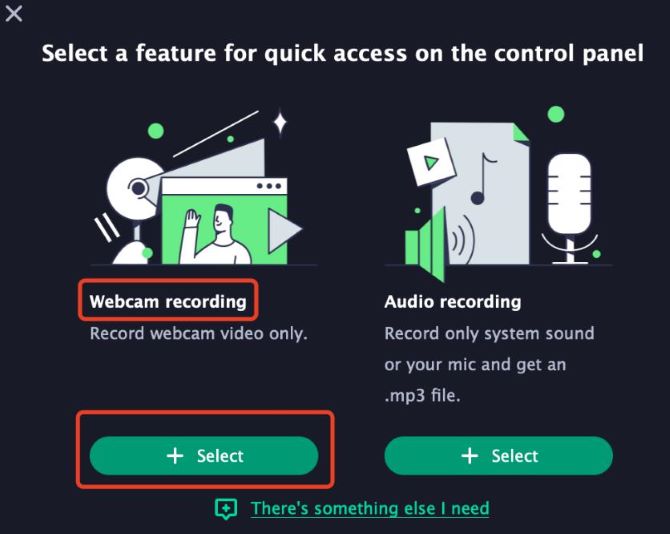 4. Click the webcam button on the control panel, this will open a new window with a preview of your webcam.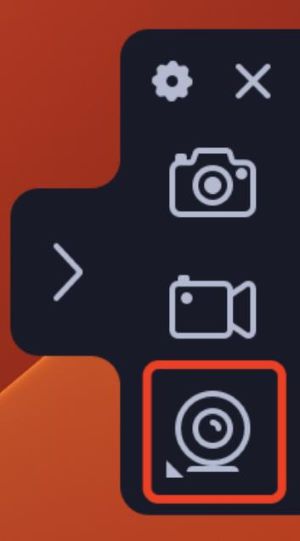 Tips: Make sure that you have allowed Movavi Screen Recorder to access your webcam.
5. Set up the webcam. Click the settings icon on the right, this will open a webcam settings window.
Under Webcam, choose the webcam device that you want to use and check its preview on the right.
Under Resolution, choose the resolution that you would like to record yourself. The higher the resolution, the higher the webcam video quality will be.
Under Frame rate, select the highest frame rate if you want your webcam to provide the best quality.
Tips: Also choose the webcam shape (circle, rectangle) and toggle on show webcam preview during recording from here.
6. Click OK to save the webcam preferences.

7. Set up sound. Choose the audio sources that you want to record.
Click the speaker icon to record the system audio on Mac.
Click the microphone icon to record audio from your built-in microphone, or enable recording from an external microphone.

8. Start recording. Click the red Record button to start recording. You will be given a 3-second countdown before the recording begins.

9. Stop recording. To finish recording yourself, click the square Stop button on the recording panel. To temporarily stop recording, click the pause button on the left.
10. Edit and export the video. When you finish recording, a new window will open, and your video is ready and saved in MKV format. You can now play the recorded video.
Tips: You can also change the format, cut out unwanted fragments, and share it with friends from this open window.
As the above tutorial shows, the Movavi screen recorder is easy to use with advanced features and powerful post-processing tools. It is a powerful recording tool that helps you record yourself on Mac effortlessly.
How to Record on Mac with Yourself Via Photo Booth (Add Effects)
If you want your record yourself on Mac with effects or filters, then the best way is to use Photo Booth. Photo Booth is another Mac built-in app you can use to take videos with yourself without downloading.
As the name implies, Photo Booth is used mostly for taking fun photos with special effects. But now, more and more people use it to create videos of themselves.
Pros of using Photo Booth
Photo Booth enables you to add various effects to your video recording, which is a significant advantage. And unlike QuickTime Player, it doesn't turn your movie horizontally.
Cons of using Photo Booth
Though Photo Booth can apply effects to your video to bring more fun to it, it won't be of great help in professional production and lacks advanced features like high-resolution video recording and video editing.
Here's how to take a video of myself on Mac with this functional tool.
Steps to record myself on Mac with Photo Booth
1. Open Photo Booth on your Mac from Finder > Applications.
2. Switch to video mode. Click on the camera icon at the bottom left. This will have a preview of your webcam.

3. Add effect to the video. Click Effects at the bottom right and pick a preferred effect to make your video vivid.

4. Start recording yourself on Mac. Click the Record button in the middle to start recording a video using your webcam.

5. Stop recording. When you are finished, click the Stop button to stop recording yourself. The videos you took with Photo Booth will appear on the right as video thumbnail. Click the video to check out your recording.
How to Record on Mac with Yourself Via iMovie (+Edit)
iMovie is another tool we'd like to mention to record yourself on Mac. iMovie is pre-installed on all Macs and is available for free on the App Store.
Pros of using iMovie
Powerful video editing features
Cons of using iMovie
Complex and complicated interface
Difficult to import MP4 files for editing
The basic video will take up a large storage space
To record yourself from your Mac's webcam with iMovie, follow the steps below.
How to record myself on Mac with iMovie
1. Launch iMovie on your Mac by selecting it from Launchpad.
2. On top of the screen, click File > Import Media. A new window will be brought up.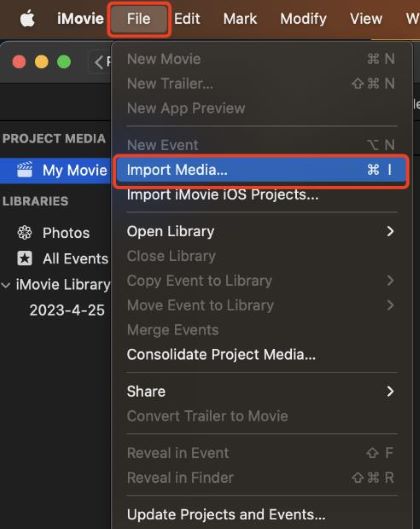 3. Choose the camera you want. If you want to record with your Mac's webcam, on the left-hand sidebar, click on FaceTime HD camera. Click Import at the top and choose where to save the recording.

4. A live preview of what your webcam sees will launch.
5. Start recording yourself on Mac by clicking on the red Record button at the bottom of the window.

6. Hit the Record button once again to stop the recording. Hit the Close option at the button right. You will return to the iMovie main window, and your recorded video will appear. From there, you can edit your video and add effects.

We hope this post has given you the information you need to start recording yourself on Mac. Whether you want to create a tutorial, make fun and innovative videos, or capture yourself with friends chatting, this post can help you get the job done.
FAQs About Record Yourself On A Mac
Q1: How long can I record myself on a Mac?
A: You can record yourself on Mac for as long as you want depending on the disk space. In short, until you run out of disk space, you can create videos with no time limit.
Q2: Why can't I record myself on my Mac?
A: There are a few possible reasons why you can't record yourself on Mac. Here are some common ones: defective cameras, app permissions, software updates, and webcam recording settings.
Q3: Can I record myself online on my Mac?
Yes. There are many third-party screen recorders available for Mac that allow you to capture yourself in an online meeting or class. You'll need to allow them to access your webcam and microphone in the first place.
Q4: How do I record myself with audio on Mac?
If you need to record yourself with the microphone as well as the system sound on Mac, you'd better choose a professional Mac screen and audio recorder, like Movavi Screen Recorder. Once you get it, you can turn on the speaker and microphone to record yourself with audio.
Q5: What are the tips for recording myself on Mac?
It's important to do a camera test and a microphone test before making a full recording of yourself. Also, outline what you want to record. Take as much time as well to practice so that you will lessen mistakes while recording. Lastly, choose a recording software for Mac that's powerful and easy to use.
Tags :
screen record