Fix: ROG Gaming Center Not Opening on Windows 10, 8, 7
ROG Gaming Center is a utility designed for ASUS users to manage gaming settings like overclocking, and hardware settings like the computer fan and RAM.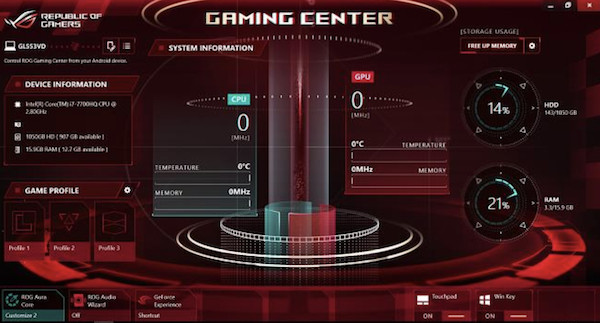 However, many users hit upon ROG Gaming Center not working error when trying to optimize the settings for games. The ROG Game Center is not opening on ASUS devices.
Mostly, ROG Game Center can't be opened after being updated on Windows 10, 8, 7. Having no idea about what happens to this gaming app, you can refer to this article to get rid of the ASUS ROG Gaming Center freezing problem.
Why Is My ROG Gaming Center Not Opening on Windows?
Problems with the ROG Gaming Center application and the Windows system are underlying causes of the ASUS gaming center not working. As for the ROG Gaming Center, if it lacks administrative privileges or the software installation fails, this gaming utility will stop working.
Otherwise, when the device drivers like that of the graphic card are outdated or corrupted, ROG Gaming Center freezing may pop up.
Meanwhile, if the antivirus software on your device has added the gaming center to the blocklist and has prohibited it from running on ASUS, odds are that this ASUS game app won't open.
How to Fix ROG Gaming Center Not Opening Issue?
Based on the above causes, you need to try some solutions to ensure the ASUS utility for games and the Windows system on your ASUS device runs well without meeting any errors.
Solutions:
Solution 1: Run ASUS ROG Gaming Center as Administrator
In some cases, administrative privileges are needed to allow the ROG Gaming Center to run smoothly on Windows 7, 8, and 10.
When you meet "ROG Gaming Center not opening" on ASUS devices, you may as well run this gaming app to check whether the ASUS gaming app is available.
1. On your Desktop, locate and double click ROG Gaming Center to open its Properties.
2. Under Compatibility, find out and check the box of Run this program as administrator.
You can see that ROG Gaming Center will be running with administrative privileges automatically. This time, ROG Gaming Center can open and run as normal and you can optimize the gaming settings.
Solution 2: Update Device Drivers
ROG Gaming Center enables users to manage device drivers that will affect the performance of games, including the graphic driver and the network driver. Upon the ASUS gaming app detecting problematic device drivers, it may run into errors.
Therefore, you need to update drivers. Driver Booster is recommended to automatically search for, download, and install all device drivers efficiently.
1. Download, install and run Driver Booster.
2. Click Scan.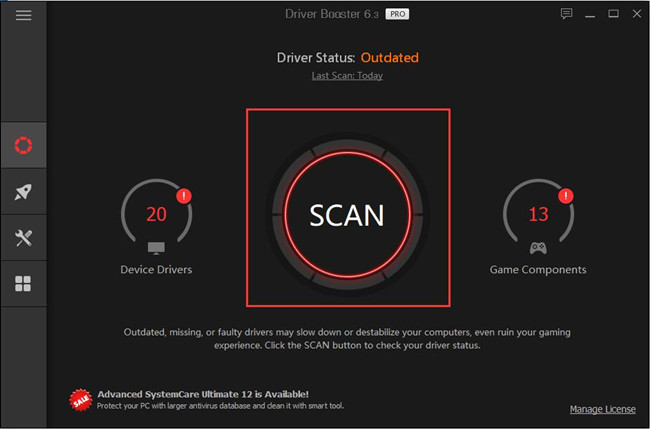 3. Locate Display adapters and then Update the graphics driver.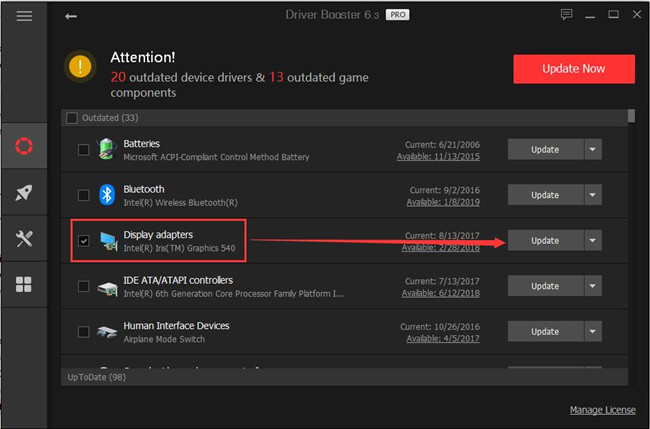 4. Similarly, Update the network driver under Network adapters.
5. You can also Update All to install all driver updates.
With the latest device drivers, ASUS ROG Gaming Center not opening error will be resolved and you can change settings for games on ASUS device as you wish.
Solution 3: Add ROG Gaming Center to the Exception List in Antivirus Software
Undoubtedly, if your ROG Gaming Center is on the block list, this gaming utility won't open on Windows 10, 8, 7. In this way, there is much need for you to check whether this app is banned by your third-party antivirus app.
If so, you need to add it to the exception list in case the ROG Gaming Center is prohibited from running on your ASUS device. In this article, taking adding ROG Gaming Center to the exception list in Avast, one of the most popular third-party antivirus programs.
1. Double-click the Avast shortcut on the desktop to open this program.
2. In Avast, in the top right corner, hit Menu and Settings.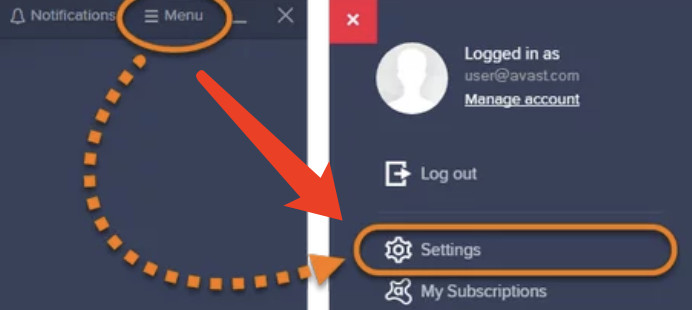 3. Under General, locate Exceptions and then Add Exception.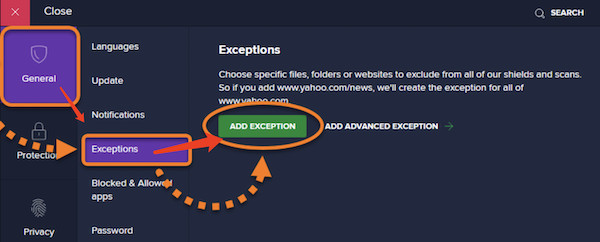 4. Then choose to Browse to locate the folder of ROG Gaming Center, C:\Program Files (x86)\ROG Gaming Center.
5. Add Exception.
6. Reboot your computer to take effect.
In so doing, the ASUS ROG Gaming Center will have been added to the exception list and won't be prohibited by the antivirus program. You can try to add this app to the exception list of other antivirus programs, even Windows Defender, the inbuilt antivirus program on Windows 10, 8, 7.
Solution 4: Uninstall and Re-install ROG Gaming Center
If the above solutions failed to get the ASUS gaming center open, perhaps you have to remove the current problematic gaming app and then download the latest ROG Gaming Center. In most cases, a new gaming program will not stumble upon not opening loop.
1. Open Control Panel.
2. Find out Programs > Uninstall a Program.
3. In Programs and Features, locate ROG Gaming Center and right click it to Uninstall.
If prompted, restart your ASUS device to take effect. When you boot up again, you can go to ASUS's official website to search for and download the updated ROG Gaming Center for Windows 7, 8, and 10.
Summary:
Users can easily fix the "ROG Gaming Center not opening" issue with the help of this post. For some users, running this ASUS gaming app or reinstalling this app may help.
More Articles:
Fixed: Fortnite Mic Not Working on Windows 10, 8, 7 and Mac
Solved: Discord Push-to-Talk Not Working on Windows 10, 8, 7
Windows cannot load the Device Driver for this hardware because a previous instance of the Device Driver is still in memory