Fixed: Hulu Error Code RUNUNK13
Sometimes, when you use the Hulu app or Hulu web player to watch a video on Apple TV, iPhone, Smart TV, and other devices, it prompts you the error that error playing video, we encountered an error playing this video. Please try restarting the video or select something else to watch. And Hulu error code RUNUNK13 appears, disabling yours from watching the movie or TV show.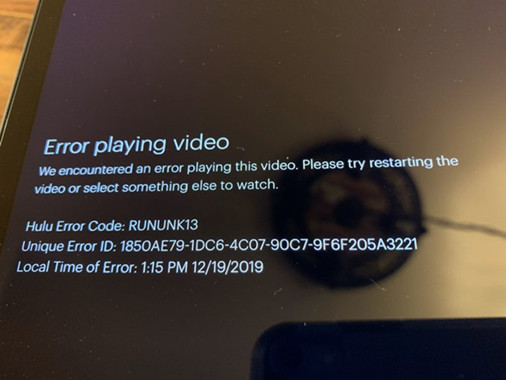 Like other Hulu error codes such as Hulu error code p-dev320 and drmcdm78, this Hulu RUNUNK13 error can be caused by the Hulu app or web player itself or the device on which the Hulu is working on. To learn more about this Hulu error and corresponding solutions.
How to Fix Hulu RUNUNK13 Error Code?
As a platform or service to stream TV or movies, Hulu is popular among users. And usually, either there is something wrong with the Hulu app or with the device that leads to RUNUNK13 Hulu error. To be specific, if your Hulu app or Hulu web player has corrupted caches or it is outdated, RUNUNK13 xname Hulu error may happen. Similarly, once the network connection on your device runs into problems, Hulu does not work as normal. So you need to troubleshoot this Hulu error step by step.
Solutions:
Solution 1: Restart Hulu App or Refresh the Video Webpage
Upon seeing Hulu error code RUNUNK13, you might as well reload the webpage of the video that cannot be played through Hulu. Or if you tend to use Hulu on iPhone or computers, you can close the Hulu application completely and then re-launch this video-streaming app to see if "error playing video" with an error code RUNUNK13 persists.
Solution 2: Try Hulu on a different device
In case of device conflicts that result in Hulu error code RUNUNK13 or other similar ones like Plank 65 Hulu error code, you may change to use Hulu on another device. For instance, if you encountered Hulu RUNUNK13 on Roku, you can choose to try it on the iPhone. As reported by some Hulu users, Hulu can work on iPhone but come across errors on computers.
Solution 3: Clean up Hulu caches
If you have used Hulu for streaming movies or TV shows for a long time, there may be caches left. And once these caches or data go corrupted, the performance of Hulu will be affected. For this part, it is advisable to delete Hulu caches on Apple TV, iPhone, Android, etc. to get rid of the error watching videos from Hulu. No matter what device you are using to run Hulu, just manage to find the app storage to clear it up, which, in turn, would remove caches of Hulu.
To clean up Hulu caches on iPhone:
On your iPhone, open Settings, and then find out General > Storage > Hulu app. Try to uninstall the Hulu app to clear up its caches. To reinstall the Hulu app, just try to download and install it from the Apple Store.
To delete Hulu caches on Android:
On Android device, find out Settings > Apps > See all apps > Storage and cache > Clear storage. After that, you can clear the cache for your device.
To remove Hulu caches on Apple TV:
Start your Apple TV and then press the combination key Menu and Home to open the Settings. Under Settings, locate System > Restart. For some users, restarting Apple TV can help fix Hulu error code RUNUNK13.
Solution 4: Uninstall and Update Hulu App
If there is corruption within the Hulu app, it is likely that the RUNUNK13 Hulu error will come up. Therefore, once you noticed that Hulu RUNUNK13 error code remains even if you are watching the downloaded videos, maybe you should get rid of this Hulu app on iPhone, Apple TV, Android, PC on Windows and Mac, etc.
To uninstall the Hulu app on computers on Windows systems:
1. Open Control Panel.
2. Locate Programs > Uninstall a program. Here you may as well View by Categories.
3. In the Programs and Features window, scroll down to find out and right click the Hulu app to Uninstall it.
Update the Hulu app:
After removing the problematic Hulu program, you can either navigate to the Hulu official site or app store to download the latest Hulu app. Therefore, obviously, nothing will play, the RUNUNK13 error code on Hulu vanished from your device.
Solution 5: Check the Network Connection on the Device
Apart from the problems with the Hulu app or Hulu web player, the network issues on your device like Windows systems or iPhone would also bring about RUNUNK13 error code Hulu. Hence, it is necessary for you to make sure the network on your device runs well. To do that, try the following steps.
1. Disconnect the network and then reconnect it again. Then launch Hulu to see if the streaming movies and TV shows work as normal. If you are using Hulu on computers, try to unplug the network and power cable and then re-plug them as well.
2. Update the network driver automatically by Driver Booster, which is reported safe and professional in updating drivers. After downloading, installing, and launching Driver Booster, Click Scan > Network adapters > Update.
3. Run network troubleshooter. On Windows systems, search troubleshoot in the search box and then under Troubleshoot > Internet Connections > Run the troubleshooter.
On other devices, you also need to troubleshoot the network issues from different aspects, from hardware to software to see whether RUNUNK13 Hulu error can be resolved.
Not limited to Hulu error code RUNUNK13 on Smart TV, iPhone, Android, etc., other Hulu errors like Hulu error code 503 and p-ts207 may also be solved using the solutions above. In so doing, you won't be worried about the question "why is Hulu giving me an error message".