Fixed: Hulu Not Working on Windows 11, 10, 8, 7
Hulu service for streaming videos is becoming more and more popular. While recently Hulu stops working or splits screen either on Hulu app or on browsers like Google Chrome, Firefox, etc. As we all know, like YouTube, when a video streaming platform happens to issues, the platform itself, the account, and the network are also the underlying culprits.
Now, let's get ready to fix the error that Hulu won't load on Windows 10, 8, 7 with different solutions. Here is another article about how to fix Youtube video black screen on Windows 10, 8, 7.
How to Fix Hulu Not Working on Windows 10?
If you want a video works well on Hulu, you need to make sure Hulu service, the browser, and the internet are functioning on Windows 10. Imagine that: Hulu service is not working or browser cannot enable Hulu to work, or there is no network. If one of the errors coming to your computer, more often than not, Hulu not working on laptops or desktops will happen.
Under this circumstance, you would better take time to troubleshoot your device, browser, and network to make sure Hulu not loading has been fixed.
Solutions:
2: Restart Network Router or Modem
3: Check Background Applications
6: Uninstall and Reinstall Hulu App
Solution 1: Clear up Browser Cache
If you have not downloaded Hulu app and tended to watch streaming videos or TV shows on Hulu websites on browsers such as Chrome, Firefox, Opera, etc. you may need to check whether the left cache on the browser hindered the working of Hulu. Just go ahead to clear browser cache or browsing history.
Here taking deleting cache on Chrome for an example, if you are using any other browsers, try to get rid of the cache using similar steps.
1. Launch Google Chrome.
2. In Chrome, hit the combination key Ctrl+ Shift+ Del to elevate the Clear browsing data window.
3. Then choose a Time Range and check the boxes of the browsing data to delete them.
4. Here select All time and tick the boxes of Browsing history, Download history, Cookies, and other site data, Cached images and files, and Passwords.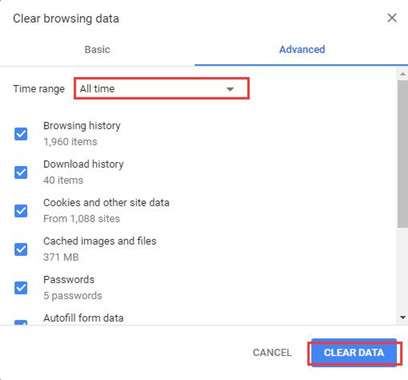 5. Then hit Clear Data to remove all the data.
6. Restart Google Chrome and open a Hulu streaming video to see if it loads normally.
Some of you may have observed that Hulu videos not playing disappeared from Windows 10. Given other browsers with Hulu not loading issue or Hulu p-dev320 error, manage to clean up the cache as well.
Solution 2: Restart Network Router or Modem
No matter it is Hulu app won't load or Hulu website not working on browsers, once there is any network error, it is natural that this video-streaming platform will stop working on Windows 10. Hence, you would better check the network condition for your computer.
First off, it is worth trying to restart the network router in case it occurs to issue. Make attempts to:
1. Turn off the network router.
2. plug out the power cable of the network modem or router and then plug it in after several minutes.
3. Turn on the WIFI router.
Then open Hulu app or Hulu website on the browser to check the video can be loaded well on Hulu video-streaming platform.
Related: How to Fix Hulu Error Code RUNUNK13
Solution 3: Check Background Applications
Especially for people using Hulu app to enjoy streaming movies or TV shows, if too many programs are running in the background when you are watching a Hulu video, Hulu app not loading will come up. Therefore, you might as well check the applications in task manager and turn the unnecessary ones off if possible.
1. Head to the Task Manager.
2. Under Processes, locate the unnecessary apps and right click it or them to End task.
It is reported that some third-party software like some antivirus programs will cause Hulu app not to work on Windows 10, so you can see Hulu app runs properly now after disabling these problematic programs from running.
Solution 4: Update the Network Driver
As for network error causing Hulu not working, the network driver is also one of the culprits. If the network driver is outdated, missing, or corrupted, there will be no network at all. In this way, you are supposed to update the WIFI or Ethernet driver in order to urge Hulu to load videos.
If you have no time or computer skills to download the driver on your own, it is worth a shot to resort to Driver Booster. Being the top on Driver tool, Driver Booster is capable of installing the latest network driver and fixing the network failure automatically.
1. Download, install and run Driver Booster.
2. Click the Scan button. Driver Booster will begin to scan for the device drivers.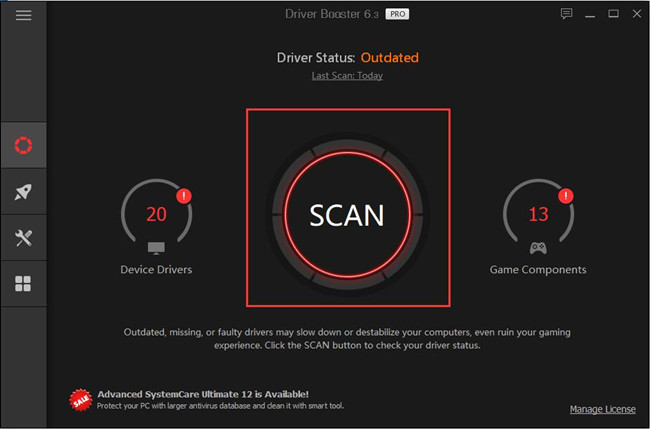 3. Pinpoint Network adapters and then Update the network driver automatically.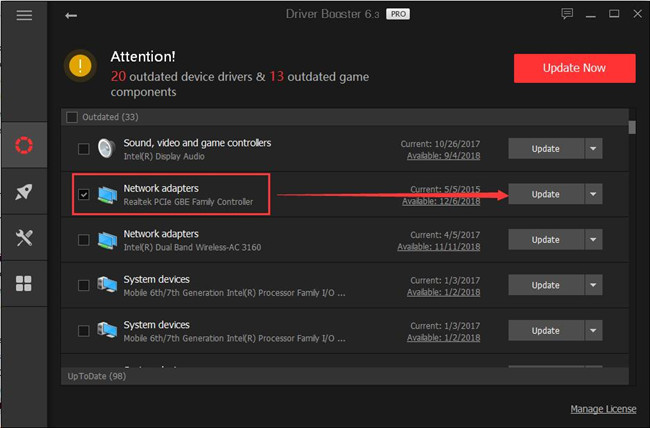 Or you can let Driver Booster fix network error for you.
4. On the left pane of Driver Booster, find out Tools and then hit Fix Network Failure on the other side.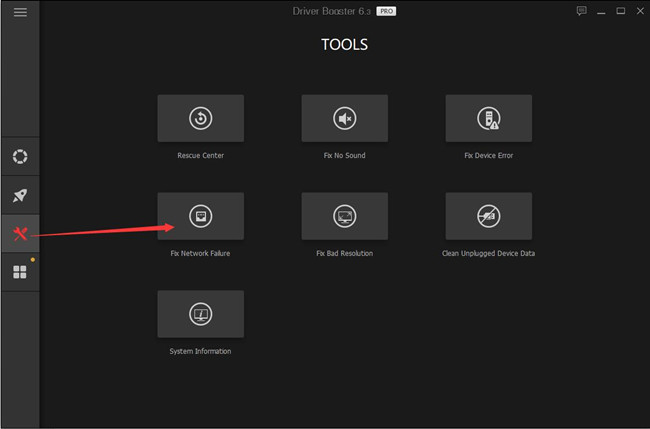 After Driver Booster finished its job, open Hulu app or Hulu website to check if Hulu videos can play correctly.
Solution 5: Check VPN Settings
For some people who need to use VPN to watch Hulu streaming videos, provided that Hulu video-streaming website is unavailable on browsers, perhaps there is much need for you to check the VPN geographical zone. Make sure the zone selected in your VPN app is correct and accessible.
Related: How to Choose a Fast VPN Software
Solution 6: Uninstall and Reinstall Hulu App
If Hulu app doesn't work for unknown reasons and the above methods are useless, maybe it is time to check the app error. The most straightforward way is to remove the problematic app and then get a new one for Windows 10.
1. Open Control Panel.
2. Choose to View by Category and then find out Programs > Uninstall a program.
3. In Programs and Features, locate Hulu app and right click it to Uninstall it.
4. Reboot Windows 10.
When signing in again, go to Hulu official site to Download Hulu app.
With the new application, it goes without saying that Hulu loading issues will be fixed.
In short, Hulu not working on Windows 10 is common nowadays. Whether you are meeting with Hulu app not loading on laptops or Hulu website not available on Chrome and other browsers, you are supposed to examine the Hulu app and network issues on your computer.
More Articles:
How to Fix Twitch Black Screen on Chrome Windows 10
7 Ways to Fix Video Streaming Problem on Windows 10