Easy Way To Make a Slideshow for Facebook
Facebook is the largest social network out there with millions of users sharing content every day. But what if you want to share your photos in a more exciting and creative way? A slideshow with music and special effects might be the best option. Seems like a pretty cool alternative to an ordinary boring post, right? So, do you want to know how to create a slideshow for Facebook and share it with your friends?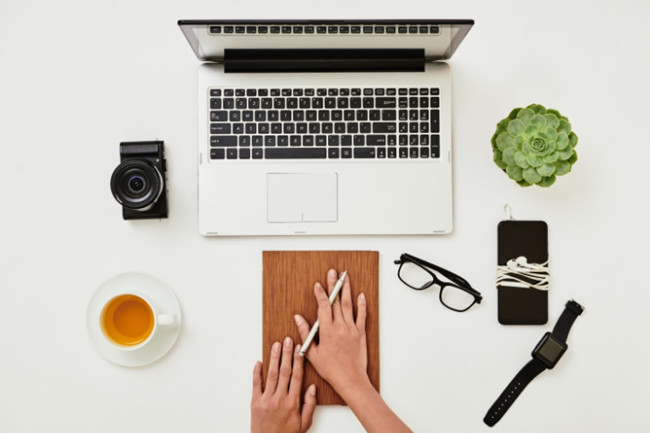 In order to get started, you need an app. Something like SmartSHOW 3D will do the trick. It's a smart slideshow maker with a user-friendly interface and a ton of professional capabilities.
With hundreds of templates, special effects and soundtracks you are now able to create an awesome slideshow in 5 minutes without getting too technical. So, if you want to learn how to make a Facebook slideshow, just follow these easy steps:
Create a New Project
As you open the SmartSHOW 3D app, you will be greeted with a startup wizard. You have an option of creating a slideshow from scratch or simply use one of the themed templates and make a slideshow in just 5 minutes. There's a wide selection of themes such as celebrations, family, travel etc. Choose whatever feels right for your project.
Then add some photos either one by one or as a folder. But keep in mind that overloading your project with too many photos will make your slideshow too long, so it might get boring. Something like 20-30 photographs will be just enough.
Add Music and Effects
With more than 100 presets for 3D special effects and transitions, it's quite a variety to choose from. Whatever mood you're going for, there're templates to complement any slideshow. To add a template, just drag it to the corresponding slot on the timeline.
Before applying any special effect, preview the result to make sure that it's the most suitable one. Small tip: try to avoid using too many effects as it might end up looking too showy or even make your head dizzy.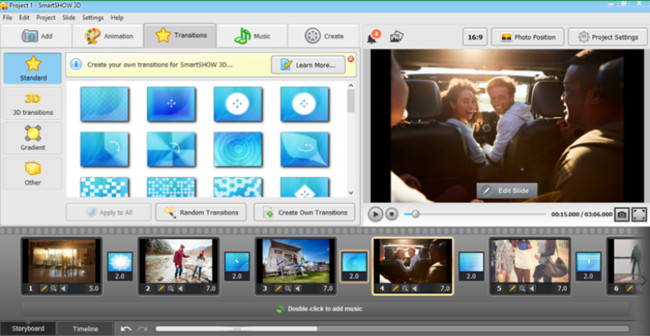 And, to spice things up, add some music. Hit the music tab to add a tune. Your audio track will also appear in the timeline which makes it very convenient to work with. You can place your audio file exactly where you want it to be, cut it or synchronize with the slide's duration. The number of audio files is unlimited. However, remember to pay attention to the timing as you don't want your audio track to cut off unexpectedly.
Make a Slideshow for Facebook
When you make sure everything looks exactly the way you wanted and no changes are needed it means it's time to export your project. In order to do so, hit the create tab. When it comes to exporting, there's every preset you might need: video for computers, smartphones, websites and even DVDs, you name it.
To create a video for Facebook click create video for internet button. You can customize the output settings of your video by adjusting quality, resolution, file size or just simply use one of the presets. Now your slideshow is fully ready to be shared.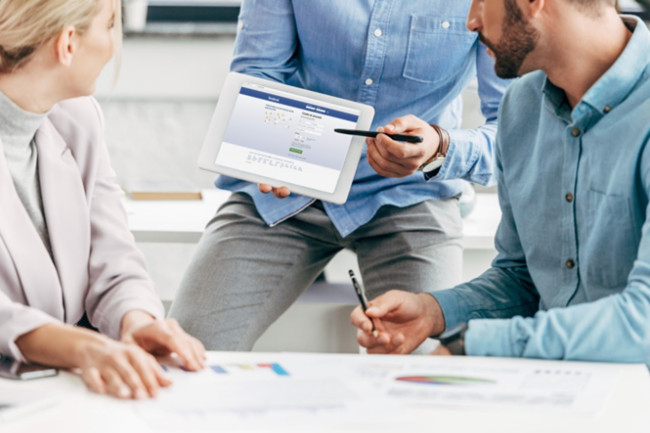 These are just some basic steps to get you started. If you're still wondering how to make a slideshow for Facebook even more creative and exciting, don't overthink. Just go and practice getting a hold of all the cool features SmartSHOW 3D has to offer. And one day you will definitely become an ultimate slideshow master!
A slideshow is a very cool way to present and organize your photos. Not only can you share it on Facebook, but also send it to your friends via email or even enjoy it as a picture movie about your trip with your close ones. Not to mention, making a slideshow is a very pleasant and creative process. Just try it for yourself. At the end of the day, learning something new is always a good thing.
More Articles:
How to Change Text Color on Windows 10?
How to Download Videos from YouTube on PC