Fixed: Discord Screen Share Black Screen
Overview:
Is discord black screen when you trying to share the screen? Recently, some users keep reporting that discord screen share is not working on Windows 10, 8, 7, or Mac. You just can't share the discord screen with your friends about the audio and video on your Discord. Or some people cannot share Netflix/Hulu Screen over discord.

For gamers, it is undoubted that Discord screen share does bring you much convenience in gameplay. So when the discord share screen does not work, it is difficult for you to share the screen with your friends.
For example, you can see the video and hear the audio, but you can't share the screen in discord. Hence, you may need to troubleshoot your discord and system and then adopt corresponding solutions below to fix this discord black screen issue.
Why Discord Black Screen When Screen Sharing?
Since there is a discord screen share black screen, there must something wrong with the discord app or the PC where Discord is running. Particularly, any problems with the graphics driver, discord settings, and system errors are most likely to cause discord share not to work but on the black screen.
For instance, once your graphics driver is outdated, possibly, discord screen share will go black. Similarly, if settings in Discord conflict, discord share may also fail and you stumble on the black screen. In some cases, discord screen share flickering comes up along with discord black screen. That is to say, discord screen share works for a second but then turns black. 
How to Fix Discord Screen Share Black Screen Error?
Accordingly, based on the above causes, you are supposed to try some methods to check what leads to discord black screen when being shared with others. Or some tend to describe it as "discord blank screen" or "discord grey screen" as discord screen share loading forever appears on your computer.
Solutions:
Solution 1: Update the Graphic Driver
As discord screen share black screen happens, the graphics driver may to a large extent hit upon problems. So firstly you need to check the condition of your display driver and then update it for enhanced performance so that you can play games and share the discord screen as you wish.
Here, you may as well try Driver Booster to scan and install the graphics driver on your PC automatically. It is the top one driver tool that is safe and efficient, so you can rely on it to fix discord screen share not working error.
1. Download, install and run Driver Booster.
2. Click Scan to let Driver Booster scan for drivers on your PC to detect the outdated, missing, or even damaged drivers.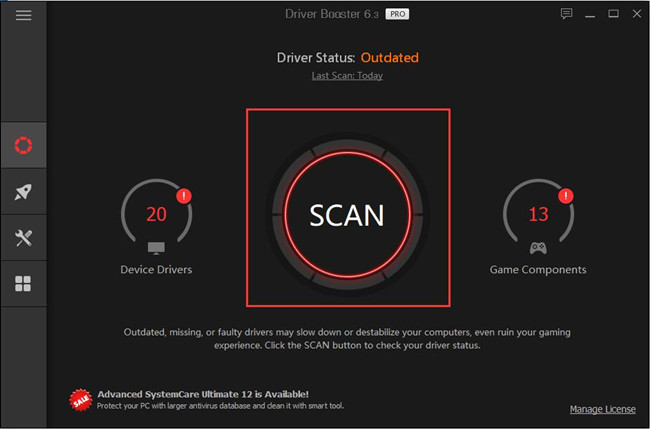 3. Find out Display adapters and then Update the display driver. Here, your graphics driver may be AMD, NVIDIA, or any other display drivers.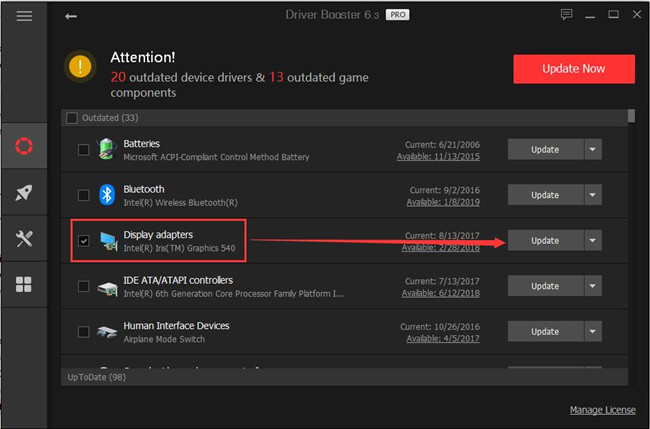 4. You can also Update all to get all drivers updated.
It is also recommended that you allow Driver Booster to update the camera or network driver in case the discord camera not working or discord infinite update pops up due to the network failure.
After that, you can try to share the screen in discord with your friends to see if the discord black screen shows up again when screen sharing.
Solution 2: Disable Discord Hardware Acceleration and FullScreen Mode
Understandably, users tend to enable hardware acceleration in discord to obtain better performance, but this option to allocate more resources to CPU when discord runs will result in screen share not working in discord. So the fullscreen mode of discord does.
For this part, it is worthwhile to try to turn off these two settings in discord to see if that will help resolve discord screen share not working on Windows 10.
1. In Discord, hit the Settings icon.
2. Under Appearance, on the right side, switch off the Hardware Acceleration.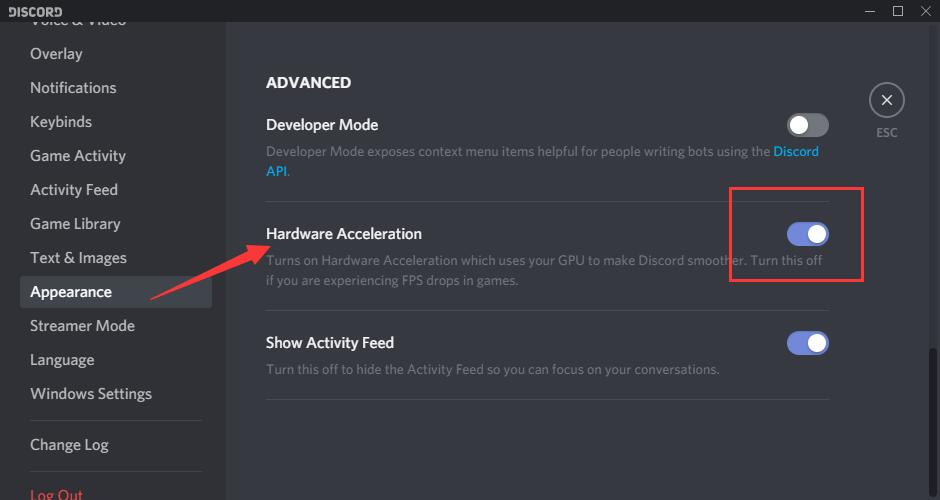 3. Click Okay in Change Hardware Acceleration.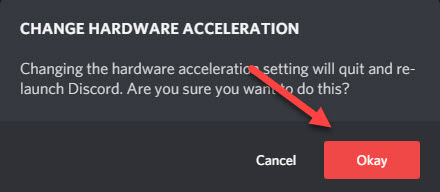 Then you can check discord will go black in screen sharing. While as per user reports, it is also helpful to disable discord full screen in case discord share screen black screen appears due to fullscreen stuck. To do that, just change to Windowed mode from the fullscreen model.
Solution 3: Disable "Using our latest technology to capture your screen"
The option of "Using the latest technology" offered by discord is closely related to discord audio and video. And according to users, when this option is disabled, they will not meet discord screen share black or flickering screen. Therefore, you can also try to turn off this discord screen capturing and sharing option on Windows 10.
In Discord Settings, choose Voice & Video, and then turn off the option "Use our latest technology to capture your screen".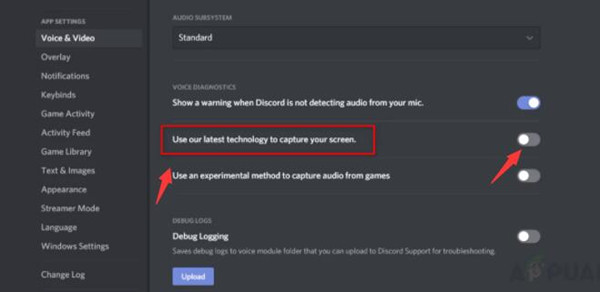 After you saved the changes, you can share screen of a game or even Netflix. Once you noticed that that share screen discord in black disappears the next time you share a screen over discord.
Solution 4: Update the Discord app
Chances are that your discord is outdated and fails to ensure the performance of discord screen sharing as before. In this sense, it is necessary to keep discord up-to-date to gain the improved functionalities of this application.
Go to Discord's official website, and you can find and download the latest discord application as you wish. After you run the newly downloaded discord software, it is likely that it works well in screen sharing.
Related: How to Fix Discord Update Failed on Windows and Mac
Solution 5: Disable or Uninstall Unnecessary Programs
Sometimes, if too many programs run in the front and background on Windows or Mac, some application errors may come up. For instance, when apps are conflicting with discord, crashes will be caused due to the conflicts. That is to say, to exclude application conflicts, you can attempt to turn off some programs or directly remove some conflicting applications on your device.
1. Open Control Panel.
2. Go to Programs > Uninstall a program. You may as well View by Categories to access these tabs more easily.
3. In Programs and Features, scroll down to find out the program and right click it or them to Uninstall.
Undeniably, some malware or virus will causes problems to your PC. In this case, they may disrupt discord when you are trying to share screen via this app.
Related: How to Uninstall Programs on Windows 10(Including Won't Uninstall)
Solution 6: Clean up Discord Cached Folder
There is also much need for you to clear up the caches to ensure these caches will not lead to discord black screen in screen sharing for games or videos. You can follow the steps below to delete all the caches of discord that have been left in the background when you use it.
1. Search File Explorer in the search box and then click "Enter" to get into it.
2. In the File Explorer, type in "discord" on the top right corner and then hit "Enter" to find all the cached folders of this application.
3. Right click Discord folder to Delete it or them.
4. Re-launch Discord again and try to share the screen of your game with your friends.
This time, share screen black will not occur to discord, or discord screen share flickering will not appear again.
Solution 7: Update Windows 10
This solution is recommended based on the consideration that system crashes may sometimes lead to program instability or other errors. Or sometimes, the software is incompatible with the system, thus resulting in the discord black screen.
1. Go to Start > Settings > Update & Security.
2. Under Update, try to Check for updates.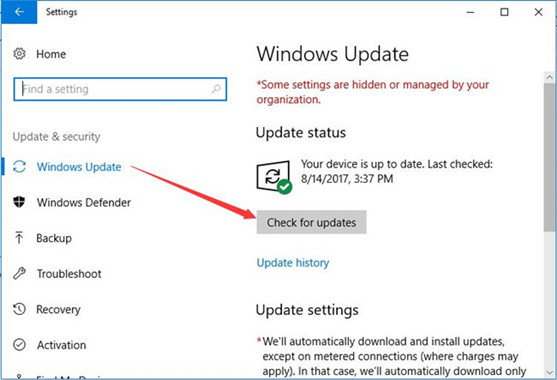 Wait until the current system checks updates and install the updates for you automatically. Once done, you can check whether the share screen black in discord persists when you try to share screen over discord.
In a word, above are the most powerful and efficient solutions to help you fix discord screen share black screen on Windows 10, 8, 7, or even Mac quickly.
More Articles:
Fixed: Discord Mic Not Working on Windows
How to Stop Discord from Opening on Startup on Windows 10, 8, 7
Tags :
discord