PS4: An Error Has Occurred (WS-37403-07)
PlayStation 4 (PS4) can be one of the most popular consoles that allow gamers to play a wide range of games. However, quite recently, many users encountered a was-37403-7 PS4 error, and the PlayStation network sign in failed. You can't log in since an error has occurred with an error code WS-37403-7.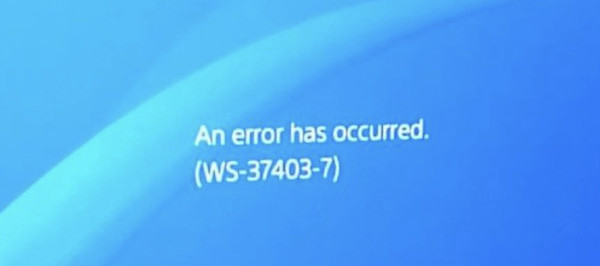 For PS4 gamers, it is known that you may run into many PS error codes such as ws-37403-7, ce-34878-0, ws-43699-0, ws-43701-5, and ws-45485-6, and ce-36329-3. This article will focus on fixing the ws-37401-7 PlayStation error.
What Does this PS4 Code Mean WS 37403 07?
When PS4 code error ws-37368-7 occurs during your login, it implies that there are problems with the PlayStation or the network settings on your system. To be specific, when the PS4 server in your location is down, it is natural that you can't log in to t successfully.
Besides, once the DNS addresses are wrongly configured, PS4 error ws-37403-7 may appear and prevent you from playing games using the console. PS4 errors may come up now and then whenever you play games on it, so you need to fix them with patience.
How to Fix PS4 Error WS-37403-7?
You need to ensure the PlayStation 4 server and the DNS configurations are working well on your device and will not give rise to any problems. It is also necessary for you to check the PS4 software and update it to get fixes for problems and new features.
Solutions:
Solution 1: Update Playstation 4
The developer of the gaming console, Sony Interactive Entertainment, tends to release updates for the console regularly to provide improved and new features so that your gaming experience can be improved. In essence, PlayStation 4 error code WS-37401-7 pops up when there are problems with the console itself.
For instance, in this case, when the console runs into errors with the network, it will show you an error has occurred with an error WS-37403-7. Therefore, you need to update the console in time.
1. After turning off the console, press and hold the "Power" button on the PS4.
You will then hear the sound of beeps.
2. You can then see "Connect the Dualshock 4 using a USB cable and press the PS" in the following window.

3. Use a USB cable to connect the controller.
4. Hit the PS button on the console.
5. Under "Update System Software", choose "Update using Internet".

Then you can see that your device is updating the latest version of PS4. After the installation, you might as well log in to the console to play a game to see whether "ws 37403 7" remains.
Solution 2: Change DNS Settings
Upon seeing the Playstation network sign in failed PS4, you shall try to adjust the DNS configurations to guarantee the DNS addresses are right and working well. Only in this way can you play games on PS4.
1. Find out the main menu of the console.
2. Go to Settings > Network > Test Internet Connection.
You need to wait for a while until the console itself finishes the network connection testing.
3. Check two options "Obtain IP Address" and "Internet Connection" and ensure they are Successful.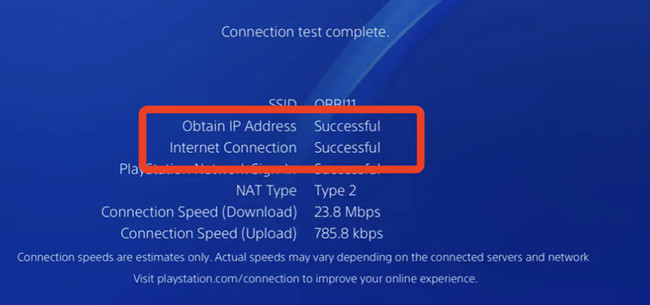 4. Find out Network settings, and then choose to Set up Internet Connection and then Custom.

5. Set IP Address Automatic, and DHCP Host Name "Do Not Specify".
6. Set DNS Settings Manual.
7. Set Primary Address 1.1.1.1, and Secondary Address 1.0.0.1.

6. Hit Next to finish the configurations.
In so doing, you will have configured the DNS settings for your PS4 console. Just launch the PlayStation 4 and check whether ws374037 persists when you try to log in again.
Solution 3: Check PS4 Server
Chances are that the PS4 server is not working due to the server "down". In some cases, the console developer may be performing the maintenance for the console so that your PS4 does not work with an error code ws 37403 7.
Hence, you need to go to the official website or social media account of PS4 or Sony to check whether the PS4 server is really down and unavailable at that time.
Summary:
Like other PS4 error codes, WS-37403-7 PlayStation 4 error is common among gamers. If you do encounter this game problem and can't even log in, you can just check the PS4 server, adjust the DNS settings, and update the console software version.
Tags :
playstation