FileRepMalware: What it is and How to Remove it?
Overview:
Your third-party antivirus software like Avast and AVG may prompt you that there is a dangerous file or threatening file named FileRepMalware on Windows 7, 8, 10. That is why some users are stuck at FileRepMalware pup error warned by Avast or AVG.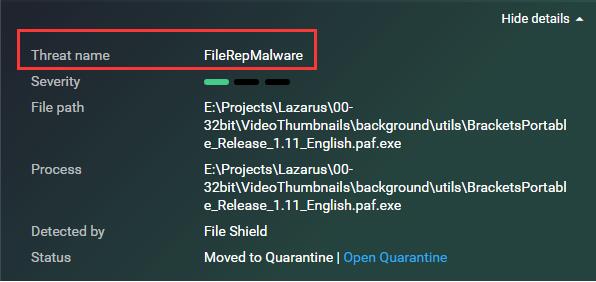 Since many of you are concerned that this file will post threat to your computer or cause system crashes, this article tries to show you the definition of FileRepMalware and how to remove it from your system if you noticed that this file brings errors to your PC.
What is FileRepMalware?
Plainly speaking, FileRepMalware is said to be a problematic file that will threaten your system, as described by the third-party antivirus programs like AVG and Avast. And normally, on some operating systems whose activation tool is fake and called KMSPICO, which is a third-party previously named Win32:Evo-gen [Susp].
Note: Especially, when Avast shows you the error, it will also display an associated messages, like The file is not signed by any publisher or the AV doesn't trust the signature or The file is not added to the Antivirus cleanset.
Related: What is Win32:Bogent and How to Remove it?
Is FileRepMalware a virus?
If the antivirus software has reminded you of the real error of FileRepMalware, it implies that this file is a threat or virus. And in most cases, when you use the fake Windows activation tool KMSPICO or Win32:Evo-gen [Susp], it is likely that the FileRepMalware file is dangerous on Windows 10, 8, 7.
Note: It is worth noting that sometimes your FileRepMalware file isn't a virus at all. But Avast or AVG or any other third-party antivirus software rates this file as low reputation as it is rarely to be seen on Windows systems. In this way, you would better ascertain whether the FileRepMalware file is really a virus.
Related: What is IDP.Generic and How to Remove it?
How to Check if FileRepMalware is a virus?
However, it is undeniable that your antivirus software mistakes a file as the dangerous FileRepMalware. In other words, you need to check whether the FileRepMalware threat is real on your PC by using a checking tool, which will tell you either the message from Avast or AVG that FileRepMalware is false positive or it is a real virus.
Here, you are supposed to turn to file analyzing tool – VirusTotal, which will analyze suspicious files and URLs to detect types of malware, automatically share them with the security community.
1. Navigate to VirusTotal website.
2. Hit Choose file and then select a file to Upload it.
3. VirusTotal is Analyzing whether the FileRepMalware file is dangerous or not.
Now, you can have an answer to the question about the third-party antivirus software like AVG is making mistakes to determine that FileRepMalware is a virus. FileRepMalware false positive wonder will also be removed. If it does prove that the FileRepMalware is dangerous and not a false positive, it is time to delete this file permanently from your device.
Tips: If you are still doubting about the question "is FileRepMalware dangerous or false positive?" you can update your antivirus software from its official site and then give a full scan for your computer to check the condition of this file again.
How to Remove FileRepMalware from Windows 10, 8, 7?
For users who decide to get rid of this FileRepMalware file from Windows 10. You can use a professional tool to remove this file automatically for you. And here, Advanced System Care is a comprehensive tool that will scan your PC thoroughly and then uninstall all the problematic components on your PC, including erroneous files, registries, and software automatically.
1. Download, install and run Advanced SystemCare.
2. Then hit Scan All > Scan.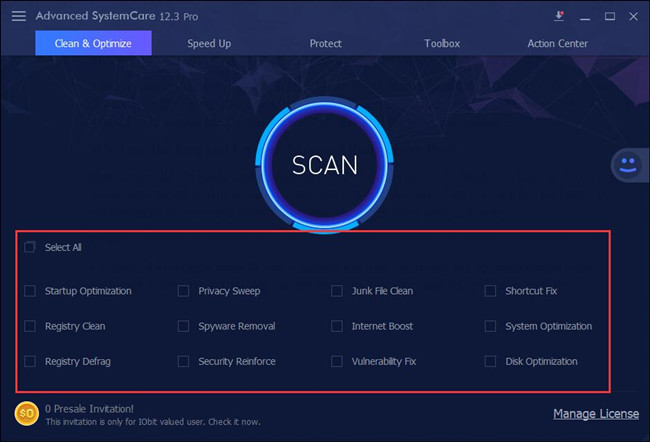 3. Click Fix to allow Advanced SystemCare to fix the problems by deleting the problematic or threatening registries, files or software.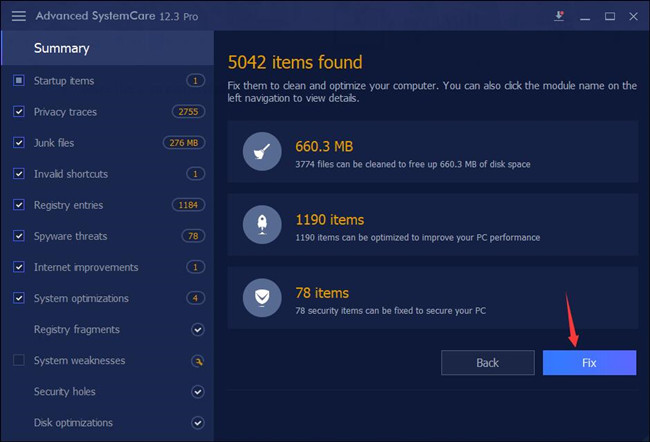 Here, if your FileRepMalware is a real virus, it will be fixed by Advanced SystemCare. Hence, there is no need for you to worry about AVG FileRepMalware error.
To conclude, in this post, you will have a deeper understanding of the file FileRepMalware, including what it is, the safety of it and how you can remove it from Windows 10, 8, 7. After that, it is up to you whether to leave or uninstall the FileRepMalware file when Avast or AVG shows you that this file is malicious.