Fixed: Discord Screen Share Audio Not Working
Discord is a powerful software enabling users to share audio, video, and text with companions in games. While, unfortunately, users especially gamers constantly complained about the discord share screen no audio issue on Windows 10, 8, 7. It is common that discord has no audio during screen sharing. Therefore, there is much need for you to know what causes your discord screen share audio not working and how to resolve it for your games.
Why Is Not Discord Screen Share Working?
Generally speaking, if the discord on your PC is problematic, or the discord voice settings run into any errors or browser from which the audio was captured failed, perhaps discord won't share audio screen. Since too many culprits may lead to the discord audio screen share issue, it is wise to try checking them with methodical ways.
How to Fix Discord Screen Share Not Working?
You would better troubleshoot the discord share screen no sound error from the system problem verifying to discord software fixing. That may bring discord audio in the process of screen sharing in Discord.
Solutions:
3: Uninstall the Problematic Applications
4: Reset Discord Voice Settings
5: Add the Targeted Software to Discord
6: Uninstall and Update Discord
Solution 1: Restart your Computer
At the very beginning, the time you noticed that discord share screen no audio happens to your PC, you may need to reboot the PC to see if discord has sound after Windows 10, 8, 7.
Sometimes, a reboot may be powerful enough to get the discord back to work.
Solution 2: Update the Audio Drivers
If the audio driver on your PC is outdated, corrupted, and missing, it is likely that the discord screen sharing will have no audio or discord cannot hear anyone. In this case, you can try to check the condition of the driver and then download the latest audio drivers. Provided that you have no time and energy, you can try Driver Booster, the top one driver tool. Driver Booster will help you fix the audio issue automatically.
1. Download, install and run Driver Booster.
2. Hit the Scan button. That will urge Driver Booster to start searching for the problematic drivers on your device.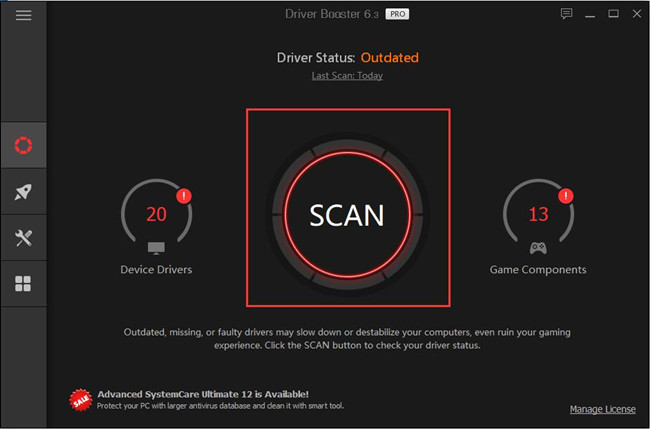 3. Find out Sound, video, and game controllers and then Update the audio driver.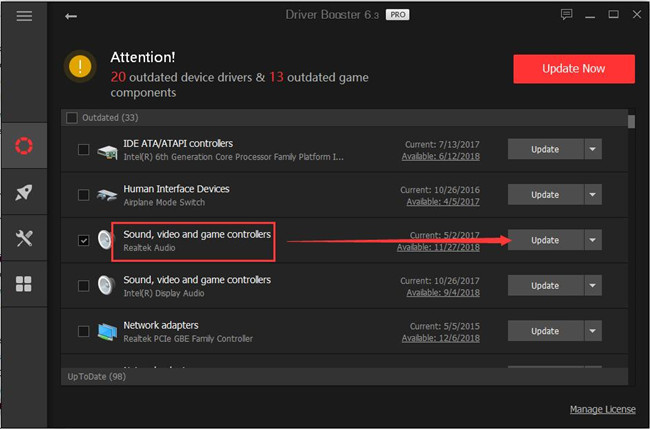 The moment you installed the latest driver for the speaker or microphone, manage to open Discord and share the screen to see if there is available audio.
Solution 3: Uninstall the Problematic Applications
It is said that the installed programs will stop the discord from working. Therefore, if you found that discord screen share no audio occurred right after you download a third-party application, you are supposed to disable or even uninstall the software.
1. Go to Control Panel.
2. Find out Programs > Uninstall a program. Here you can View by Category.
3. In Programs and Features, locate the problematic program and right click it to Uninstall.
4. Restart your PC to take effect.
Without the interruption of the third-party applications, you can see discord screen shares audio smoothly.
Solution 4: Reset Discord Voice Settings
In some situations, the voice settings of discord are corrupted so as to give rise to discord screen share no sound. So you can take time to reset the settings of discord voice to make it work as usual.
1. Open Discord software.
2. Then in the right corner of Discord, click the icon of Settings.
3. Then find out Voice & Video and choose to Reset Voice settings.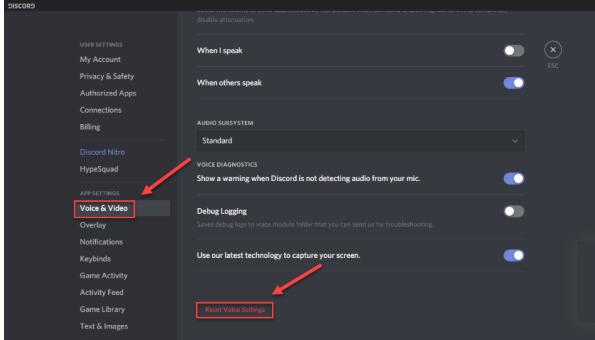 4. Hit Okay to confirm to Reset Voice Settings.
Upon the voice settings of discord have been reset, you can turn off discord and then turn it on again. In a large sense, discord screen share audio not working will be fixed.
Solution 5: Add the Targeted Software to Discord
Of course, if you feel like sharing video, audio or text on discord, you are in much need to add the program to the discord. In this way, you can share video or audio with your friends as you wish.
1. In Discord, click Settings icon.
2. Then in Discord settings, locate App Settings > Game Activity. And then try to Add it.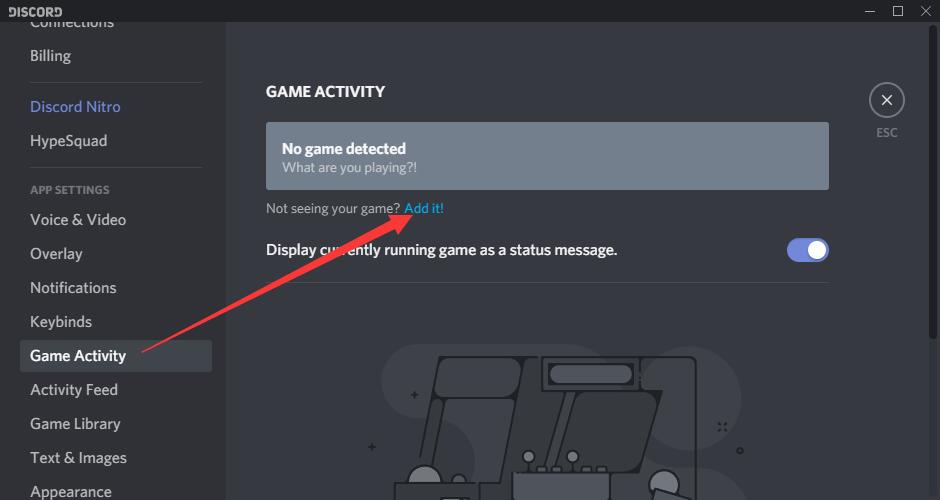 3. Then Select a program.
4. Decide to Add game and turn on the Overlay for the program.
After adding the program on discord, start sharing screen with audio. For instance, for some users, audio from Google Chrome will be accessible when you share screen in discord if you tried to add Google Chrome to the list of discord. And here is the solution to fix discord overlay not working issue.
Note: If the discord no audio issue comes to your PC only when you share screen on a browser like Google Chrome, there is need to try sharing screen on other browsers such as Opera, Microsoft edge, Firefox, etc. If discord works well on other applications, it means the problem lies in your browser audio infrastructure.
Solution 6: Uninstall and Update Discord
Lastly, given that the solutions above are of no use for discord screen share no sound, maybe it is time to get rid of the discord app and then download the latest discord from the official site. In most cases, you will find discord screenshare audio not working disappeared the instant you get the new discord installed on Windows 7, 8, 10.
All in all, hope this tutorial will assist you fixing screen sharing on discord no sound error as soon as possible.
More Articles:
Discord Won't Open on Windows and Mac
Tags :
audio issues
discord