Fixed: Monster Hunter World PC Crash
Monster Hunter: World (MHW) is the game warmly accepted in today's world. But it has been frequently complained that Monster Hunter: World freezes or crashes at one point and gets the whole PC to crash on Windows 7, 8, 10. To make things worse, only when you try to hold the power button to shut down the computer can the MHW crash be fixed.
How to Fix Monster Hunter: World Crashing?
If you wish to run Monster Hunter World smoothly without any crash, you may as well make sure the system specifications, gaming software, device drivers, and also the hardware run well on your PC. Hence, the time your Monster Hunter: World freezes, you need to check the relevant factors so as to fix MHW not working on Windows 10.
Solutions:
1: Check Computer Specifications and MHW Requirements
3: Update the Graphics Card Drivers
4: Uninstall and Update the MHW Software
Solution 1: Check Computer Specifications and MHW Requirements
Normally, there will be system requirements for different games. It is also understandable that when your PC meets the requirements of the game, Monster Hunter: World will run as usual. On the contrary, once it is found your device failed to match what the game needs, the game will crash or even not open at all. And on common conditions, your system specs like DirectX, Processor, RAM, and of course the operating system are in much need to be compatible with the requirement of MHW.
1. Press Windows + R to elevate the Run box and then enter dxdiag in the box. Then hit Enter to go further.
2. Under System, check the Operating System, DirectX version, Processor, and Memory to make sure they meet the requirements of Monster Hunter: World.
3. Under Display, check the related information about the graphics card such as the Chip Type, DAC Type, Device Type, etc.
4. Compare the system information with the requirements of the game.
Below are the system requirements of MHW. Check if your PC supports Monster Hunter World.
Minimum System Requirements:
Operating system: Windows 10, 8, 7 on 64 bit
Processor: Intel Core i5-4460 3.20GHz and above, or AMD FX-6300 and above
Memory: 8GB
Graphics card: NVIDIA GeForce GTX 760, or AMD Radeon R7 260x and above
DirectX: Version 11
Storage: 20GB
Or for the enhanced gaming experience, you may as well consider the recommended requirements.
The Recommendable system requirements:
Operating system: Windows 10, 8, 7 on 64 bit
Processor: Intel Core i7-3770 3.4GHz or Intel Core i3-8350K 4GHz or AMD Ryzen 5 1500X
Memory: 8GB
Graphics card: NVIDIA GeForce GTX 1060 (3GB VRAM), or AMD Radeon RX 570X (4GB VRAM)
DirectX: Version 11
Only when your system meet the requirements of the game can it run well on Windows 10 without crashes.
Solution 2: Check PC Hardware
You need also check the hardware failure on your PC to make sure it won't cause Monster Hunter World crash or freeze on Windows 10. Ensure there is nothing wrong with the RAM, external devices, etc. It is worth a shot to check the memory hardware condition on the computer. Needless to say, insufficient RAM storage will lead to Monster Hunter World failed to work.
1. Search memory diagnostic in the search box and then hit the Enter key to get into the Windows Memory Diagnostic tool.
2. In Windows Memory Diagnostic, choose to Restart now and check for problems (recommended).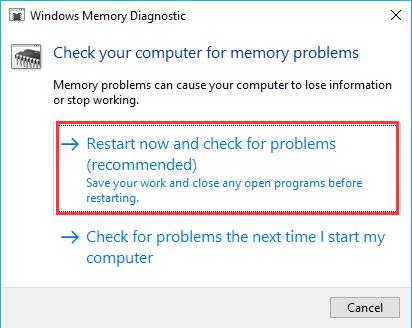 Before you check for the memory problems, it is advisable that you try to save the data.
3. Then you can see Windows restarts immediately.
4. Wait until the memory tool finishes its work.
Here, of course, you can also check for problems the next time you start your computer if needed. Once the memory issues are resolved by the tool, try opening MHW to see if it goes back to work.
Solution 3: Update the Graphics Card Drivers
It is believed that the display card will affect the performance of Monster Hunter: World. Apart from meeting the requirements of MHW, you need to make sure the graphics driver functions well on Windows 10, 8, 7. In order to save your time and energy, you are suggested to take advantage of Driver Booster, this top one driver tool may keep the display drivers updated, thus indirectly fixing MHW freezing or crashing issue.
1. Download, install and run Driver Booster.
2. Click Scan. Then Driver Booster will begin to search for the problematic drivers and recommend some updated drivers to you.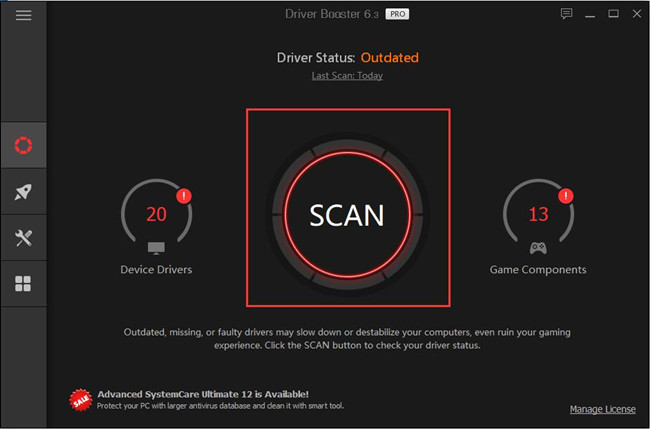 3. Under Display adapters, choose to Update the graphics driver.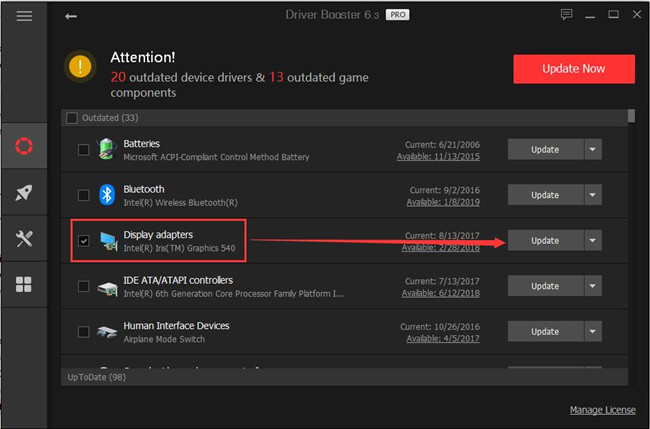 Here it also makes sense to update the audio driver for Windows 10 in the hope that Monster Hunter World crash will be fixed with the latest audio or video card drivers.
Solution 4: Uninstall and Update the MHW Software
In some cases, perhaps the Monster Hunter World is just corrupted and starts crashing, so you have no choice but to remove the problematic game and download a new one for your PC. Normally, this method can be the most straightforward and powerful one for Windows 10.
1. Go to Control Panel.
2. Then View by Category and find out Programs > Uninstall a program.
3. In Programs and Features, locate the Monster Hunter: World and then right click it to Uninstall this program.
Reboot Windows 10 and then navigate to MHW official site to download on.
The newly downloaded Monster Hunter World will get rid of all the potential culprits of Monster Hunter World crash on PS4 or Steam.
Solution 5: Check for Windows Update
If you come across Monster Hunter PC crashes right after Windows 10 updates or if you feel like enjoying the repairing patches offered by Windows 10 to deal with this gaming issue, it is time to download the updates for Windows 10, 8, 7. Sometimes, the new updates will provide your PC with updated device drivers or new features that can fix crashing games.
1. Head to Start > Settings > Update & Security.
2. Under Windows Update, choose to Check for updates.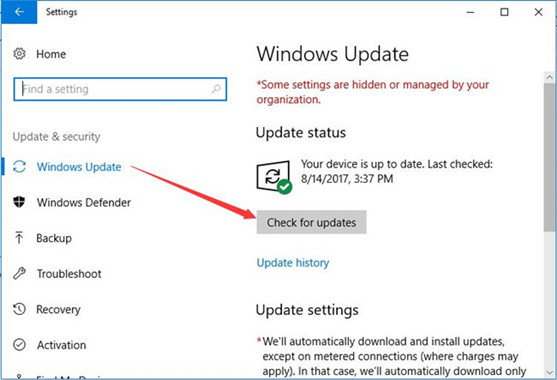 Then you will notice that Windows will install the available updates for your PC. After that, Monster Hunter: World crashing or freezing or not working at the very beginning can be fixed easily.
In a nutshell, hope this tutorial can of use for users who hit upon MHW crashes. So long as you follow it earnestly, you will find Monster Hunter World work properly without meeting any issues.