GWX Control Panel – What it is and Should I Remove It
Overview:
More often than not, you will receive popups informing you of Windows 10 free upgrade by a program named GWX Control Panel. But, it is frustrating that you have no clue what this GWX Control Panel is, not to mention whether it is reliable to help you get Windows 10/11 updated.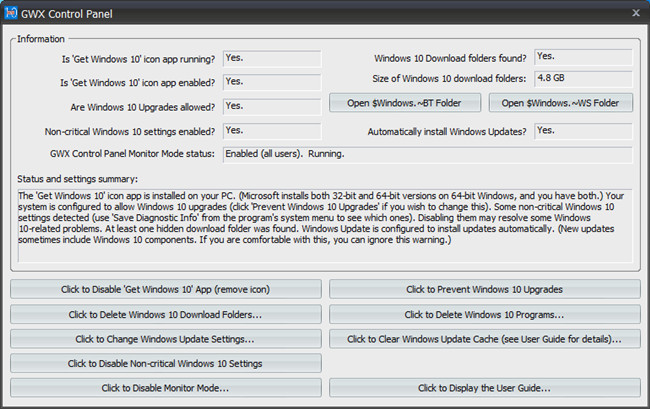 Based on all the doubts you have about this program, this tutorial will be devoted to displaying clearly what this GWX Control Panel is and how to delete it if it is a virus on Windows 10.
What GWX Control Panel is?
GWX here is short for "Get Windows 10". And GWX Control Panel is a free tool to enable and display the popup of "Get Windows 10" on Windows 7, 8, 8.1, etc. Therefore, it is viable to update your operating system to Windows 10 by hitting this "Get Windows 10" icon.
For this part, GWX Control Panel is designed for users to configure the "Get Windows 10" notification on systems that can be upgraded to 10.
Specifically, from the GWX Control Panel window below, you can get more information and change more settings about Windows upgrade if you want. For instance, if you have enabled this utility on your PC and if the "Get Windows 10" notification is running can all be shown here.
And for some people, it is available for you to download a standalone GWX Control Panel program if you haven't seen it and the "Get Windows 10" notification before.
Is GWX Control Panel a Virus? Should I Remove It?
Generally speaking, the GWX Control Panel is safe and useful on your PC. And it is said that this program won't cause any harm to your device. In this sense, it isn't a virus but a normal program running on your system.
Nevertheless, it is also possible that GWX Control Panel is infected by some problematic programs or files. Under this circumstance, even if you disabled "Get Windows 10" notification, it will pop up constantly. Consequently, maybe you can do nothing but to remove this free tool for Windows Vista, XP, 7, 8, 8.1.
How Can I Remove the GWX Control Panel?
If the GWX Control Panel warning keeps coming up on your system, it is worth a shot to prevent it from running. Here you need to check your settings once again to make sure you have changed Windows updating or upgrading settings on your own rather than by third-party applications.
In order to delete GWX Control Panel virus, you can just end this process in task manager or tweak settings relevant to Windows update settings if you are unable to find this process in Windows systems.
1. Open Task Manager.
2. Under Processes, locate and then right click the GWX Control Panel to End task.
Then you can check if Windows upgrade warning will come to your system again.
Or for some of you, GWX Control Panel may appear again. Hence, maybe you need to delete the program files and remove the GWX app icon within the GWX Control Panel.

Normally, "Get Windows 10" won't show on your PC and urges you to upgrade to Windows 10 from Windows 7, 8, etc.
Notes:
It is worth noting that if you have downloaded the file KB3035583, it means that you allow your system to be updated automatically. And 3-4GB of files will be automatically downloaded on your PC, so perhaps you will not need GWX Control Panel.
In a word, it is totally up to you either to remove GWX Control Panel or leave it for Windows 10 upgrade. From this article, you can get detailed information about this free tool on Windows earlier systems.
More Articles:
Solved: GWXUX Has Stopped Working on Windows 11/10
Solved: NVIDIA Control Panel Missing on Windows 11/10
What is ETD Control Center and How to Fix ETD Control Center issues