Solved: NVIDIA Control Panel Missing on Windows 10/11
NVIDIA graphic card is widely used by Windows 10/11 users, while you may accidentally find the NVIDIA Control Panel disappeared or not showing up on Windows 10/11.
Contents:
NVIDIA Control Panel Missing Overview:
Your NVIDIA Control Panel gone may happen in the several conditions. After upgrading the system to Windows 10/11 or updating to Windows 10 creators update, there is no NVIDIA Control Panel, you can't find it in the desktop context menu and search box.
Another condition is that after you updated the graphic driver, there is no control panel shortcut in the notification area and Desktop right-click menu. Of course, there are several unknown conditions, for instance, when Windows 10 waking up from the sleep mode, the NVIDIA Control Panel disappeared.
When you opening the NVIDIA Control Panel, it reminds you an error or after opening it, some of the NVIDIA Control Panel options are missing, or the display tab is missing, and someone may only see 3D settings.
Many people would have a question in their minds, do I really need the NVIDIA Control Panel or should I remove it on Windows 10?
You need it. If without it, it is difficult for you to change some NVIDIA Control panel settings on your PC, thus affecting gaming performance. Let's begin to get the NVIDIA Control Panel back for Windows 10.
What is NVIDIA Control Panel?
Just like AMD Catalyst Control Center, NVIDIA Control panel is a driver software downloaded on your PC alongside with NVIDIA graphics card.
It is mainly used to control the NVIDIA drivers updates and change some settings for games accordingly on Windows 10. You can see clearly from NVIDIA Control Panel, there are various settings, including Manage 3D settings and Configure Surround, PhysX.
Normally, if you find the NVIDIA Control Panel is missing, you can download the NVIDIA Control Panel and install it. But when you try to look for the NVIDIA Control Panel, you will find that there is no NVIDIA Control Panel program, you cannot download it.
It is related to the NVIDIA graphic driver, when you download NVIDIA video driver, the NVIDIA Control panel is downloaded.
How to do when the NVIDIA Control Panel is missing?
It has been proved that Windows 10 upgrade may cause your NVIDIA control panel missing or not showing up the problem.
On the basis of that, you can struggle to solve this NVIDIA Control panel issue in way of NVIDIA graphics driver update.
Solutions:
Solution 1: Find NVIDIA Control Panel Quickly
Some people may has the doubt about how do I find the NVIDIA Control Panel in Windows 10? Usually, for the sake of convenience, you can add the NVIDIA control panel directly to the desktop context menu, and then it will show up easily.
1. Go to Control Panel > NVIDIA Control Panel (View by Small Icons) > Desktop > Add Desktop Context Menu.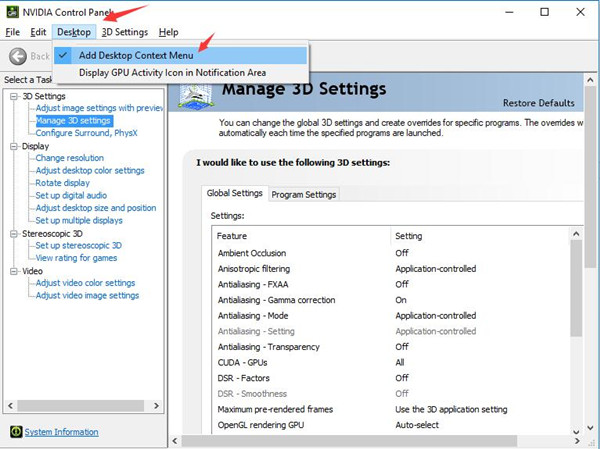 2. Right click on the Desktop blank space, you will see the NVIDIA Control panel appears, you can click to open it.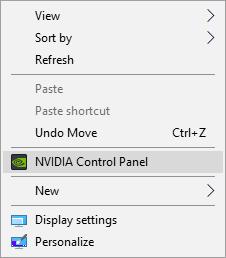 And there is another easy way to find the NVIDIA Control Panel. You can type NVIDIA Control Panel in the search box, and the result will appear. Then click the result to open it.
But the case is that you cannot find NVIDIA Control Panel in this way, let alone open it on Windows 10/11.
Solution 2: Update the NVIDIA Graphics Driver
As we mentioned before, updating the NVIDIA graphic driver will help download NIDIA Control Panel and reinstall it again. Maybe your NVIDIA video driver is still outdated with Windows 10, in this way leading to the NVIDIA Control Panel missing or not showing up.
You can use the Device Manager to update NVIDIA graphic driver.
1. Go to Device Manager.
2. Expand Display adapters and right click the NVIDIA graphics to update driver software.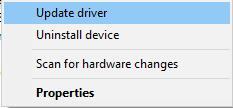 3. Click Search automatically for updated driver software.
After that, Windows 10 will find and update the NVIDIA graphic driver automatically.
To fix this NVIDIA Control Panel problem completely for your PC, you might as well take advantage of the professional and reliable driver updating tool — Driver Booster.
Driver Booster is a powerful drivers update software. As the toptenreviews top 1 driver update software, it can detected the most outdated and missing drivers for your computer and update them automatically.
Besides of driver function, it supports downloading and updating game components, which are not available in other products. So it will be a good helper to fix the different driver problems.
1. Download, install and run Driver Booster on your PC.
2. Click Scan to run it on your computer.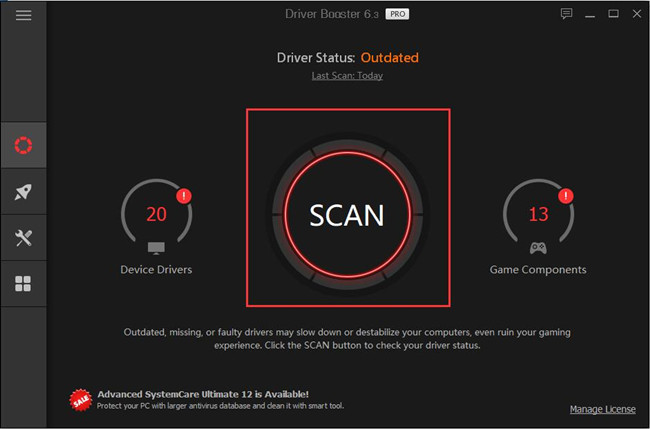 3. Find the Display adapters, it will shows a NVIDIA graphic card in the below. And you shold click Update.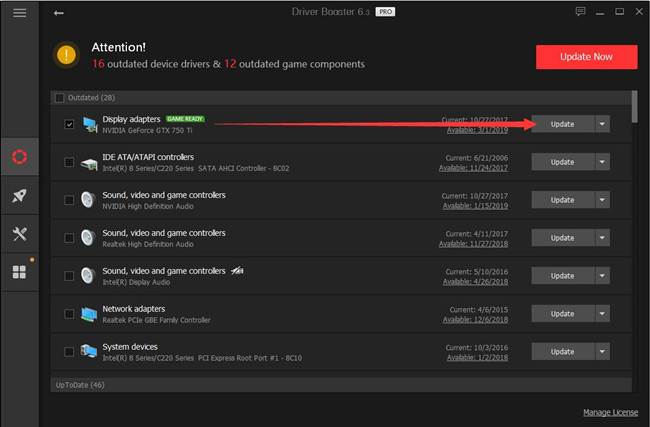 You can also update all drivers by selecting all outdated drivers and click Update Now. Now, restart your computer, you will find the NVIDIA Control Panel appears.
Related: GeForce Experience Won't Open Windows 10/11
Solution 3: Uninstall and Reinstall the NVIDIA Graphics Driver
As you have been prompted, NVIDIA Control Panel is related closely to the NVIDIA video card. It is likely that the incompatible graphics card driver leads to your NVIDIA Control panel disappeared or missing from Windows 10. Consequently, uninstall it and reinstall it to see if works well.
Because unlike uninstalling other device drivers, such as mouse driver, uninstalling the graphic driver can be something troublesome and difficult, so you should use DDU to uninstall it completely. And here is the tutorial with pictures: Uninstall NVIDIA graphic driver completely.
After that, you should go to NVIDIA official site to download the right video model driver, and install it step by step. And here is the tutorial: manual download and update the NVIDIA Driver.
As for the NVIDIA Control Panel missing or not opening on Windows 10, it has thus disappeared.
Now that you have successfully solved the NVIDIA Control Panel now showing up or missing problem for Windows 10, why not try to open this NVIDIA Control Panel simply from your desktop.
All in all, NVIDIA Control Panel missing or disappearing from Windows 10 can be resolved in respect of NVIDIA video card drivers update. You can try it as above and after that, add it to the desktop menu.
More Articles:
Fix GeForce Experience Unable to Connect to NVIDIA Error
3 Ways to Update AMD Drivers for Windows 10/11
3 Ways to Download Intel HD Graphic Drivers for Windows 10/11
Tags :
nvidia