Solved: UNEXPECTED KERNEL MODE TRAP in Windows 10
Suddenly, your PC runs into a blue screen of death (BSOD) along with an error about Unexpected Kernel Mode Trap (0x0000007F) on Windows 10, 8, 7. In an instant, your computer freezes and there is nothing that you can do.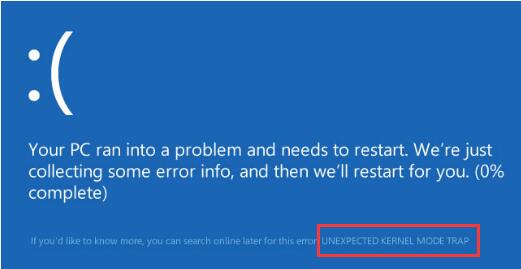 What does Unexpected Kernel Mode Trap Mean?
When this BSOD error with unexpected kernel mode trap message appears, it means that some components on your system have been corrupted, including device driver, system files, RAM, even the system itself, etc. And more often than not, it is uncertain which component goes wrong as it just happens out of blue.
How to Fix Unexpected Kernel Mode Trap in Windows 10, 8, 7?
Now that you are not sure what exactly gives rise to the 0x0000007F unexpected kernel mode trap on Windows 7, 8, 10. It is suggested that you manage to fix issues with the drivers, files, memory, system, and other parts on your PC step by step.
Solutions:
Solution 1: Check Hardware Condition
On seeing this blue screen of death error, you would better try ways to make sure all the hardware runs well. That is to say, it is worth a shot to shut down your PC and clean up the dust in the PCI adapters. Then re-launch Windows 10 to see if an unexpected kernel mode trap blue screen would come up again.
Related: How to Fix Slow Internet on Windows 10, 8, 7
Solution 2: Update Device Drivers
Like the hardware, the software on your PC will also affect the performance. In a large sense, Windows 10 error unexpected kernel mode trap occurs to you mainly due to the corrupted or outdated display driver. Hence, a blue screen of death shows up and prevents you from operating normally.
In this way, it is necessary to update all the device drivers especially the graphics driver, network driver automatically by Driver Booster. And it is also known that Driver Booster is capable of solving system issues.
1. Download, install and run Driver Booster.
2. Click Scan. After the scan is finished, you can view what drivers can be updated.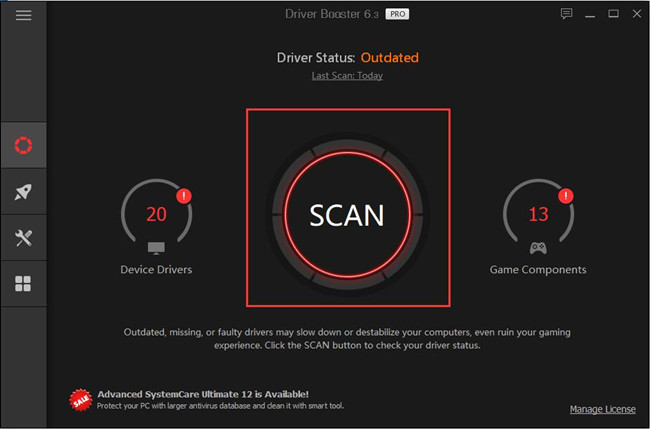 3. Hit Update Now to allow Driver Booster to update all the drivers on your PC.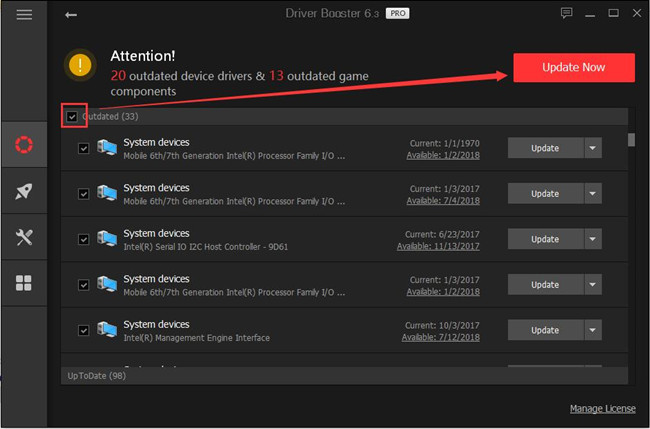 You can observe Driver Booster is installing the downloaded drivers automatically. In some cases, it will help fix windows 10 unexpected kernel mode trap effectively.
Solution 3: Run System File Checker
The corrupted system files are also to blame for the unexpected kernel mode trap (0x0000007F) on Windows 10. For this part, there is much need for you to run SFC (System File Checker) to check the condition of files on your PC and correct them if there are any corruptions.
1. Type in Command Prompt in the search box and then right click it to Run as administrator.
2. In Command Prompt, input sfc/scannow and then stroke the Enter keyboard key to perform SFC. It will take some time for SFC to scan the files.
If there are any corrupted files, SFC will start to correct them.
After that, you can reboot your PC to see an unexpected kernel mode trap error on Windows 7, 8, 10 persists.
Solution 4: Run Windows Memory Diagnostic
Similarly, errors with RAM will also cause system crashes like BSOD errors. Considering this fact, you may as well try further to fix memory issues on Windows 10 with the help of the Windows Memory Diagnostic tool.
1. Search Windows Memory Diagnostics in the search box and then hit Enter to get into this tool.
2. In Windows Memory Diagnostics, choose to Restart now and check for problems.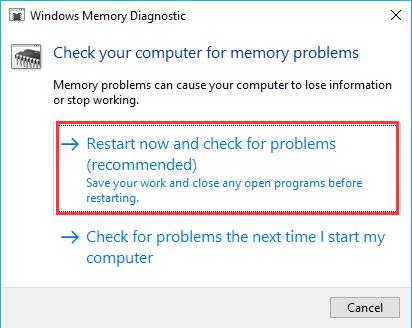 Then your PC will be restarted to check for memory problems. Once this tool detects any memory problems, it will resolve the issues automatically. You can just apply the fix to see if it helps.
Related: How to Fix Toshiba Laptop Keyboard Not Working
Solution 5: Check for Windows Updates
Lastly, sometimes, it is the system errors that cause 0x0000007F stop code error on Windows 10. And according to some users, it works to check for system updates to let the update packages to fix the bugs.
1. Go to Start > Settings > Update & Security.
2. Under Windows Update, choose to Check for updates.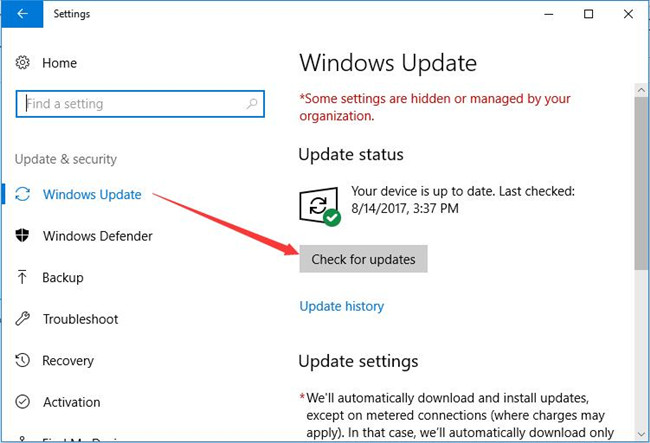 If any new updates are found, Windows 10 will automatically install them for your PC. So the blue screen will disappear with the new updated installed.
In short, from the device drivers, system files to the system itself, you are supposed to solve problems with them one by one until an unexpected kernel mode trap (0x0000007F) is removed from Windows 10, 8, 7.
More Articles:
Fixed: IRQL UNEXPECTED VALUE BSOD on Windows 10
Fix Unexpected Store Exception BSOD on Windows 10
Tags :
BSOD