Fix Unexpected Store Exception BSOD on Windows 10/11
Contents:
Unexpected Store Exception BSOD Overview:
What Does Unexpected Store Exception Mean?
How to Fix Stop Code Unexpected Store Exception on Windows 10?
Unexpected Store Exception BSOD Overview:
It is reported that after Windows 10 upgrade, when people are using their PC, the screen suddenly stops moving no matter what order you have made.
Moreover, Windows 10 reminds you with an error message saying there is an unexpected store exception issue. To make things worse, this unexpected store exception error is always associated with the BSOD (Blue Screen of Death), which is rather annoying.
This unexpected store exception issue may result from the storage, hard disk problem and the antivirus programs. This tutorial will concentrate on telling you how to fix this unexpected store exception error.
What Does Unexpected Store Exception Mean?
At first, you need to know that this unexpected store exception error has nothing to do with Windows Store. The reasons why your PC hit upon unexpected store exception lies in that the store component runs into error and fails to process as normal.
How to Fix Windows 10 Unexpected Store Exception Error?
Now that that stop code unexpected_store_exception can be a storage error, you would better go ahead to troubleshoot what results in blue screen store exception on Windows 10.
Solutions:
2: Uninstall Antivirus Programs Temporarily
5: Perform System File Checker
Solution 1: Enter the Safe Mode
For users who are unable to boot Windows 10 and need to restart the PC every time an unexpected store exception blue screen of death comes up, it is feasible for you to move into safe mode at first and then try some solutions to get rid of the stop code.
Nevertheless, if a reboot can fix your blue screen of death, there is no need to enter the safe mode.
Solution 2: Uninstall Antivirus Programs Temporarily
Some antivirus programs such as McAfee, AVG, and Norton are confirmed to be the cause of the unexpected store exception. Therefore, you are advised to uninstall them for some time.
Especially for McAfee, if you are unable to load the module for MfEav Fk.sys, you would better try to uninstall it for a while. To some extent, you can solve the crashing or conflict with this way.
1. Open Control Panel.
2. Try to View by Category and then locate Programs > Uninstall a program.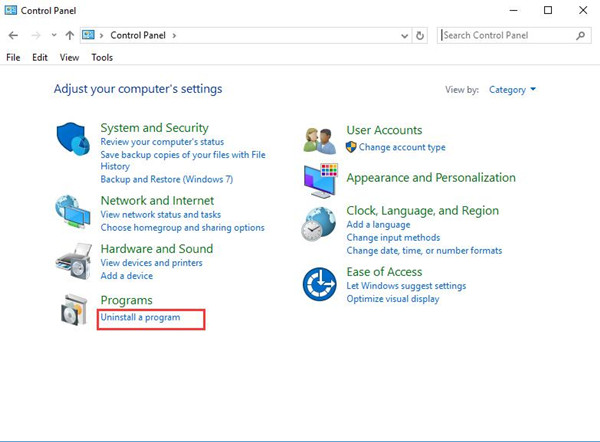 3. In Programs and Features window, right click the antivirus software to Uninstall.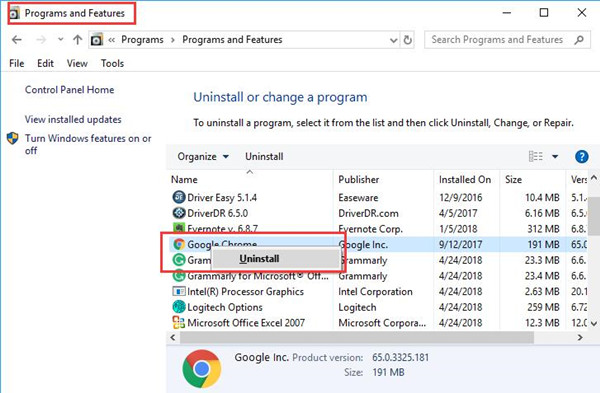 If possible, you can restart your PC and log on again to check if unexpected store exception will pop up without the antivirus programs.
Related: How to Uninstall a Program (Including Won't Uninstall) on Windows 10
Solution 3: Check Hard Disk Condition
As you have been reminded, store exception error can be related to the store components, among them, the hard disk is the most to blame. Hence here you would better manage to make sure the hard disk on Windows 10 is in good condition.
Check Hard Disk Heath by CHKDSK tool:
Open Command Prompt, and then enter the command chkdsk /f /r. Then press Enter key to run this CHKDSK disk checking tool to see if there is any problem with your hard disk.

Check Hard Disk with the third-party tool:
Of course, if CHKDSK tool failed to detect out any issues on Windows 10, you are able to resort to a certain reliable third-party tool, such as Crystal Disk.
After installing it, you can run it to figure out what errors on earth the hard disk has that give rise to unexpected store exception on Dell, Lenovo, ASUS, and any other PC.
Solution 4: Update Hardware Drivers
Many Windows 10 users expressed that when they come across the unexpected store exception error, they have tried to update the hardware drivers, which has been proved useful in some cases.
And corrupted or missing or damaged hardware drivers, especially the graphics card drivers, such as NVIDIA or AMD driver may cause this error directly and indirectly, so you may as well update the hardware drivers in no time.
Here to update Hardware drivers to fix the unexpected store exception problem on Windows 10, you are highly suggested to make full use of Driver Booster, for unlike updating drivers in device manager and on the official site, Driver Booster is capable of helping you search all the problematic device drivers on Windows 10.
With the help of Driver Booster, you can update all the outdated, missing or corrupted drivers for Windows 10, in this way, no matter what device driver issue that cause your Windows 10 to unexpected store exception trouble, you can solve them all.
1. Download, install and run Driver Booster on Windows 10.
2. Hit Scan to start finding the outdated, missing, and corrupted drivers.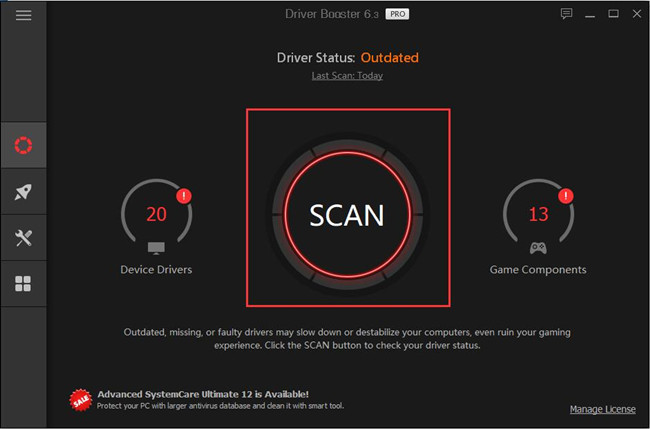 3. Then choose to Update Now to update all the drivers for devices.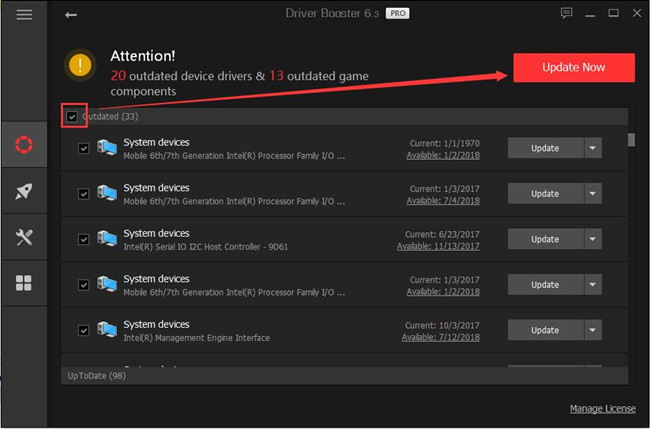 At this point, Driver Booster will have helped you update all the hardware drivers to the latest version, including the graphics drivers. And you can see if the unexpected store exception issue is disappeared.
Solution 5: Perform System File Checker
The corrupted system files can also lead your PC to unexpected store exception crashing on Windows 10, and also later followed BSOD, so it is necessary for you to check and repair the damaged system files.
1. Search Command Prompt in the search box and right click the best-match Command Prompt to run it as Administrator.
2. Input sfc /Scannow and hit Enter to execute the command. There is a space between sfc and the "/", do not make a small mistake.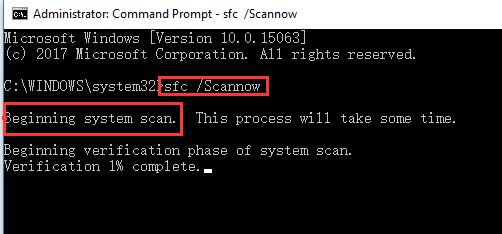 Then Windows 10 will scan for you system files to see if there are any corrupted or damaged files.
Solution 6: Disable Fast Startup
It is said useful to turn off fast startup when the stop code unexpected store exception comes to Windows 10. So you can follow up to see if disabling fast startup works.
After you disabled fast startup for Windows 10, unexpected store exception will not occur to you frequently.
Nevertheless, if all the proceeded solutions are not so effective to totally solve your unexpected store exception issue on Windows 10. Unfortunately, maybe you have to restore your operating system to Windows 7 or 8 to see if this error is disappeared. And you can also ask the Microsoft support center for help.
In a word, as for the Windows 10 problem — unexpected store exception, to fix it, you are supposed to focus on solving the antivirus program interruption and problematic system files and of course the corrupted or missing driver issues.
More Articles:
4 Ways to Fix Driver Power State Failure on Windows 10
Unmountable Boot Volume BSOD on Windows 10
Tags :
BSOD