Dell XPS 13 2019 Review – The Best Dell Laptop
On the market of Ultrabook, Dell high-end XPS series getting numerous awards before, by virtue of the new product XPS 13 9380, won Production Innovation Award early this year.
New Features
For now, Dell XPS series has totally gained 726 international technological awards. Today, we will see how this amazing XPS13 9380 catch our eyes and deeply appreciate it.
Add a new color of Frost-and-dew white, really making the laptop fully white.
Old Nostril camera is moved upward.
The CPU has been upgraded to Whiskey Lake, slightly enhancing the comprehensive functionality.
Functionality and battery life remain as well as before
RAM frequency of low configuration has been upgraded to 2133.
Molds keeps adopting 9370.
Dell XPS 13 9380 Specs:
CPU: 1.8GHz Intel Core i7-8565U (quad-core, 8MB cache, up to 4.6GHz)
Graphics: Intel UHD Graphics 620
RAM: 16GB DDR3 (2,133MHz)
Screen: 13.3-inch, Ultra HD (3,840 x 2,160) UltraSharp InfinityEdge touch display
Storage: 1TB PCIe SSD
Ports: 2 x Thunderbolt 3 (USB-C), 1 x USB-C 3.1, micro SD card reader, headset jack
Connectivity: Killer 1435 802.11ac Wi-Fi, Bluetooth 4.1
Camera: Widescreen HD (720p) webcam with 4 array digital microphones
Weight: 2.7 pounds (1.23kg)
Size: 11.9 x 7.8 x 0.3-0.46 inches (3.02 x 1.99 x 0.78-1.16cm; W x D x H)
Related: How to Check Dell PC Specs on Windows 10
Now that this is a light and thin laptop, the most straightforward requirement for it is to be portable and easy to carry. You can move it with only one hand. Moreover, the size of Dell XPS 13 9380 is properly controlled, which is all Dell XPS series pursue.
Dell XPS 13 in 2019 is the smallest product throughout the history of XPS series, whose size is shortened 24% than the last generation, weight being1.23kg like that of a magazine. The thinnest part of the laptop is only 7.8mm, close to the thinness of the iPhone. And the size of 302 mm * 199 mm approximate A4 paper, which is to say, you can place it in your small bag when you are on business to use it anytime. How convenient it is! Besides, the Type-C charger of 45W is an added bonus for you and the charger is so small that it won't cause you any burden if placed in your bag.
It is extremely portable to move Dell XPS 13 with a single hand. The mental shell will cling to your hands rather than fall down, and the high level of hardness will generate in you a sense of stability. No matter you are on business outside or having a meeting inside, you can leave with the laptop immediately, giving full play to the thinness and lightness in your real experience.
Apart from controlling the weight, Dell has also undergone technological innovation in laptops' material, being the first one to introducing White silicon fiber, which not only possesses all the advantages of carbon fiber but feels lighter, tougher, and more resistant to abrade.
Speaking of the material, both the A side and D side of XPS 13 are cut and re-polished from a whole aluminum CNC, making the entire structure harder, though senses exquisite on the surface when on hands. While, at the same time, the corners and edges of XPS 13 also adopt CNC highlight chamfer and silica fiber, thus bringing up the small, light, but solid XPS 13.
Related: 2 Ways to Download Dell Drivers on Windows 10
Camera: The Smallest Laptop Camera
This time, Dell XPS 13 9380 has directly removed the facial recognition system on the last generation Dell XPS 9370, and eventually moved the camera on the screen, improving what users complained "the nostril angle to look up", which is absolutely good news for those who are in much need of video-conferencing.
More importantly, to ensure its leading role, Dell spares no expense to use the smallest laptop camera worldwide, leaving no impact on the screen design of the narrow bezel.
Dell XPS 13 is the first series of the laptop using Ultra-narrow border on three sides and the technology of InfinityEdge.
Furthermore, the border of XPS 13 has been condensed in the later upgrades so much so that the frame thickness of 4mm, for now, can never be surpassed by others. However, the Ultra-narrow border on three sides brings forth a serious problem, which is the embarrassing position of the camera.
Dell XPS 13 9370 Camera
Early in the age of Dell XPS 13 9350, the camera was placed at the bottom left corner of the screen, which extended to the following two generations. Subsequently, to match the facial recognition technology Windows Hello of Microsoft, on the later XPS 13 9370, Dell tucked the two camera and infrared equipment below the screen, paralleling to Dell logo.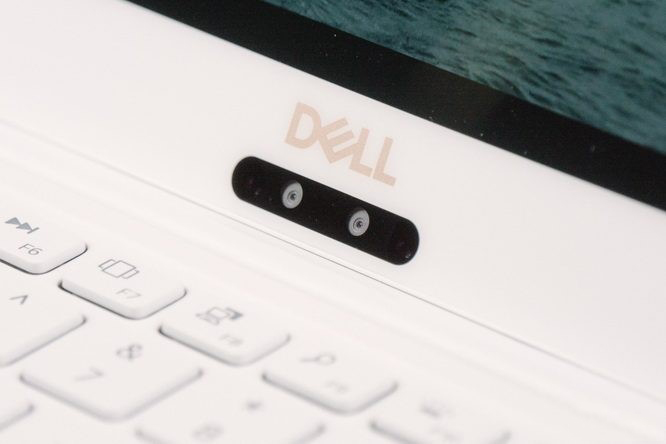 This design is not practically actually. For girls, it is not good to get the nose and jaw photographed in video-chatting even for one time, which also contradicts with XPS series' high-end and fashionable consuming position.
More: Windows Hello Could Not Turn on Camera on Windows 10
Dell XPS 13 9380 Camera
As what was said at the very beginning, Dell spent much to move the camera to the top of the screen. Four lens camera modules with a diameter of 2.25mm are installed at the center above the InfinityEdge screen. Besides, it is not a common network camera as there are one more lens compared with the ordinary camera to make sure all the areas are clear.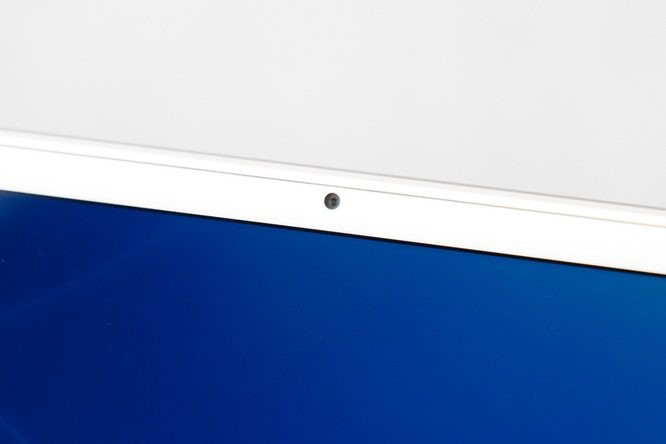 At the same time, the camera itself is embedded with a set of noise reduction technology, which prevents faces in the frames from movement ghosting by analyzing and calculating images of different frames. Especially, in video-chatting or any dark environment, this camera behaves relatively better. In addition, lenses modules are also employed mechanical equipment to ensure the images are in focus accurately. Shooting specifications are 900,000 pixels of static pictures and 1280 * 720@30fps of videos.
By a comparison between Dell XPS 13 9730 and 9380, you can obviously feel that it is quite pleasing that the camera goes back to the top of the screen. Although the camera is small, the pictures will not be distorted. Meanwhile, the camera reacts rapidly to identify and then focus the human face. Finally, you can say Goodbye to the tilted angle of the front camera of many generations.
Of course, the brand-new design of the camera does not only make the laptop top bezel a slightly thicker but also means Dell XPS 13 9370 abandoned the design of the infrared camera. Frank Azor, Alienware, Dell game and XPS vice president and manager, pointed out in an interview "compared with facial recognition, Dell is more willing to improve the experience of using the camera. Moreover, Dell XPS 13 9380 is also equipped with the power-and-fingerprint integrated button, which avoids troublesome operation in signing in.
Related: We Cannot Find Your Camera on Windows 10
Stunning Point
Increasing a new color for a product is nothing big, but it is still cannot be dismissed, especially for XPS 13. Dell XPS 13 is in a dilemma before due to the style of its shell just like its family series. This shell design made the product of 10, 000 yuan looks similar to that at 5,000.
Regarding this problem, the last generation XPS 13 9370 added a new color – a match of Quicksand shell and white inside with the bezel condensed to 4mm. While, after a year, Dell XPS 9380 upgrades its shell and brings a new matching color – frost-and-dew white.
The new added frost-and-dew white is not equal to white, more significantly, the texture and color feel more like ceramic coating just like being honed under the sunlight. The B and C sides continue using the previous design, white bezel and C side of GORE heat insulation film, which is to say, it makes XPS 13 all-white laptop body a reality. Considering many of you are great fan of white, this change of 9380 really matters.
Put Video and Audio in the First Place
With its focus on high-end, consuming, and fashion, XPS 13 has also attached much importance on laptop audio and video effects. Yes, though popular among white-collar people, XPS 13 is actually more inclined to consuming field. Latitude 7400 is the main product of Dell laptop for business, whose appearance is close to that of XPS 13 corresponding to users' needs.
The IPS 4K touch screen of Dell XPS 13 9380 accounts for 80.7% in the whole screen and the screen lightness is 400 nit with 100% sRGB color coverage and 1500:1 high contrast. In the meanwhile, it supports HDR encoding technology and Dolby Vision, and the screen color is often more attracting.
On XPS 13 9380 with 4K touch screen, there will be also CinemaColor software, offering users four models of Movies, evenings, sports, animation. Additionally, XPS 13 9380 is also equipped with Waves MaxxAudio Pro tone tuning technology and there are independent speakers on both the left and right sides of the laptop with enough loudness and clarity.
Long Battery life as Usual
When it comes to the battery life, Dell XPS 13 9380 is basically the same as 9370 both with the 52Wh battery capacity. In PCMARK08 test, it will last for 5 hours, while practically in entertainment and work, XPS 13 9380 can work for continuous 8 or 12 hours. Plus, it also supports C port, so it is convenient to go out with a small PD charger and mobile power supply for charging.
Related: How to Use Battery Saver Mode on Windows 10
Double Thunderbolt Ports
In terms of the extension functionality, Dell is excellent. Similar to 9370, Dell XPS 9380 have double Thunderbolt ports and a USB 3.1 Type-C port, all of which are supportive of charging and DP signal output. Ports that are all Type-C may seem somewhat inconvenient, but in fact, the double lightning ports can be an advantage concerning their extension performance. But these ports may also result in a problem that you need to buy a C port docking station.
There are many other strengths of the Thunderbolt port. For instance, although XPS 13 still use the same graphics card of poor performance, it can also realize 5K signal output when matched with lightning ports, let alone in 4K. Or if you have requirements for the graphics card, an external eGPU will make it perform better.
Accessories Suitable for XPS 13 9380
1. Wireless Mouse
How to choose a good mouse for your laptop? In your daily recommendation list, it is believed that the Logitech MX series will frequently come into your sight. While, of all the MX series, the most compatible one for XPS 13 may be MX Anywhere 2S in white.
But here it is worth reminding that most Bluetooth wireless mouse, including Logitech MX series, the rate of return in Bluetooth mode is the only 100Hz, whereas the mice for games reaches 500 or 1000Hz, which is a rather important parameter.
Most people will tell you how high the DPI is when you buy a high-end Bluetooth mouse, so the mouse can move faster with high resolution, but you will never know that the refresh rate is as low as 100Hz. What is the use of the rate of return? It aims to make the mouse pointer sticky to hands so as to be more accurate. And the cheapest gaming mouse can work at 1000Hz.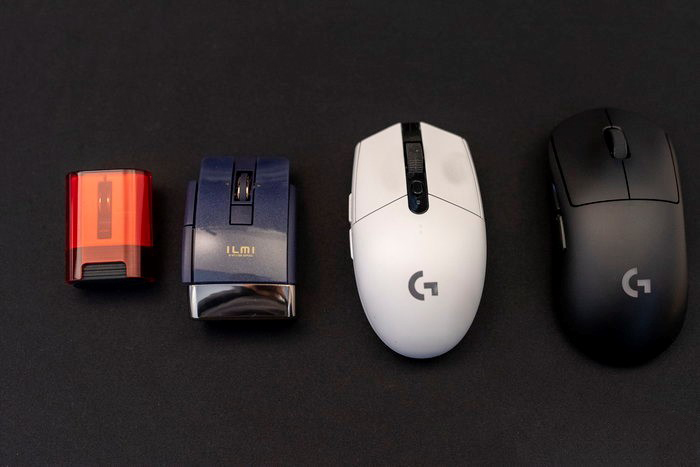 Therefore, in essence, if it is not a necessity for you to get into Bluetooth mode (For example, if you use XPS 13 2019 in work, you can plug in dock station and mouse receiver externally). But if you want the best experience in using a wireless mouse, I will personally recommend Logitech G304, which is not only cheap but also has a long battery life with powerful functionality. There is only one limitation for laptop users that you may need an external receiver whose USB port must be A port as well.
If you want a Bluetooth mouse, personally speaking, I tend to bring this Mark-Rat mouse of Yi Like out. It is convenient because of its extremely small size.
Related: How to Fix Dell Wireless Mouse Not Working on Windows 10, 8, 7
2. USB-C Docking Station DA 300
The USB-C Docking Stations on the Market diversified, including those with different materials and numbers of the docking station. It is believed that most of you favor the docking station with many ports, especially in metal shells. But for users in need of carrying the laptop out (which is how XPS 13 positions), it is worth recommending DA200 and DA300 from Dell itself.
Firstly, these two docking stations are reliable in their high quality (the USB-C docking station on the market are often unstable). Moreover, they are small and exquisite, taking less space, and when placed in the bag of plastic shell, it won't cause any damage to the laptop.
Although some of you may complain that both of them don't support the charge, you need to know that Dell XPS 13 can be charged by the three C ports. Therefore, there is no need to worry about the problem of charge.
Provided that you hope to give full play the Thunderbolt port, you can consider purchasing Dell TB1516 Thunderbolt 3 docking station. Somewhat expensive as it may be, you must get that all the lightening docking stations on the market are not cheap.
At the same time, the original Thunderbolt port can be more reliable and the it may be the mainstream during a long period. All factors considered, it deserves your investment.
Related:
4. Type-C monitor
It goes without saying that the most suitable monitor for XPS 13 can be the Type-C monitor, like Dell S2719DC, which is the best match. A USB-C cable can not only transfer data but also charge the laptop, and the power supply, being 45W, complies with what XPS 13 requires. Besides, the quality of the monitor is also good.
Related: How to Connect Monitors to Laptop on Windows 10
5. PD Charger and Mobile Charger
The embedded power supply for XPS 13 is the small and exquisite PD charger (45W) with C ports. Whether you are out or on business, it can be rather convenient to share the PD charger and mobile charger with your mobile phone. Meanwhile, if you are not concerned about the charging speed, sometimes a PD charger with 18W can also be of great help.
If you need an additional power charger, considering the convenience, you may as well check the GaN 30w PD charger released by Anker before, which can be the most suitable one. (Unless you need to do video rendering outside with Dell XPS 13, in most cases, it will only consume the power about 30W.)
I myself use this power charger from Anker when on business which, is PD + Hub all-in-one mobile charger with 1900 MMA. With multiple outputs, the power supply can mostly reach 52W, making it suitable for people who need to take more devices on business.
Dual-direction PD fast charging, needless to explain much about it, is the high-end standard mobile charger. Another strength of it may be the HUB model, which functions as the laptop charger, mobile phone charger, and also the docking station with C port. It was due to this advantage that I determined to buy it then. And a test showed that when using the Dual-direction PD charger on XPS 13, it will easily charge the laptop and prolong the battery life.
The actual capacity of the power supply is 71Wh, which is lower than the usual regulations of the airlines – no more than 100Wh. So it is safe to take a plane with it.
6. Laptop Sleeve
Thin and light the XPS 13 is, it cannot be more suitable to use the sleeve. At present, if you purchase the laptop from Dell officially, the official sleeve will also be included as a gift to you, whose texture and compactness are the best.
If you are choosing a sleeve for yourself, it is strongly recommended to buy a sleeve with handle. For instance, the last generation 9370 used the sleeve of ELECOM whose size and volume were close to the ordinary sleeve with some portable compartments.
In these compartments, you can place such notebook accessories as the mouse and power supply. Meanwhile, the handle brings much convenience for you to carry out, and now a double shoulder strap of this simple handle is also available.
7. Notebook Stand
As mentioned before, regarding the XPS13, the principle in purchasing the notebook stand is to optimize the auxiliary heat dissipation. In the first place, you should pay attention to the position of the air inlet at the bottom of the notebook.
On the basis of that, choose the corresponding notebook stand. First, the Notebook Stand should not block the air inlet, and to some degree, you need to raise the height of passive notebook stand in order to increase the air volume.
While when using the active notebook stand (also called a Notebook Radiator), you are supposed to note the place where the fan sends air to the air inlet, which means that you need to bear in mind that the fan blade is the air blower and it is not the fan shaft which lacks wind, Don't misplace the stand.
Additionally, there is also another option worth considering on the market – a USB-C docking station with a high bracket function.
Pay attention to the red hollow area. It must direct at the air inlet of the XPS13.
The Bottom Line
Concerning the simple hardware configuration, there are no apparent changes in the XPS13 9380 compared with the 9370. It is just a simple routine upgrade, but how this upgrade improved the practical laptop performance is far beyond our expectation. At present, the current performance of 9380 goes a little " Crazy."
Without changing the mold, the overall performance of the XPS13 9380 is approximately perfect ( in terms of its appearance, screen, endurance, performance, and even scalability). If you must name the shortcomings, the only weakness of this laptop is the price.
But even if the heat control scheme will cause the temperature to a high level so as to trigger the temperature wall if used for a long time with high intensity, it is understandable. After all, in daily life, no one will keep the computer working the whole day, so it would be better if the noise control performs better, which is also what the users are sensitive about. For the next generation of XPS13, my personal expectation for it is probably when it will change the design.
More Articles:
How to Setup Dell Laptop TouchPad Settings on Windows 10
What is Dell QuickSet and Do I Need it on Windows 10
Tags :
dell