[12 Ways] Elden Ring Stuttering Issues on Windows PC
Since its release, users of Elden Ring have reported various types of performance issues and technical bugs. One of the most unbearable is the FPS drop and continuous stuttering in Elden Ring, and Elden Ring Multiplayer Not Working issues. Do not worry.
In this post, we have compiled 12 useful and easy solutions for you to fix Elden Ring FPS drops and stuttering issues. You can follow these solutions one by one until you find the best one that can solve your issue.
Why Is Elden Ring Lagging Or Stuttering On PC?
We have researched and thoroughly investigated what could be causing the error Elden Ring always lags or stutters and found that there could be many reasons for this error. The following are recognized causes of this issue:
The graphics driver outdated due to a hardware mismatch
Other overclocking game programs or operating systems are outdated.
Internet connection problems
In-game graphics settings
Overriding application or graphical control panel settings conflict
Corrupted, damaged, or missing game files
Too many background apps
We've shared every potential culprit that could cause this issue to occur, so let's continue reading this post to find the right solution for you.
Solution 1: Boost Elden Ring automatically
If Elden Ring stutters or freezes on your PC and you don't want to spend the money on purchasing a new device, boosting it or overclocking your computer can be a great way to improve your PC's gaming performance. Smart Game Booster can help you do this, which is a software specially made for games.
Smart Game Booster achieves higher FPS by unleashing the full potential of CPU and GPU, resulting in smoother animations and lower system lag. Just one click the Boost button, and the gaming experience will be greatly improved. You can also modify the overclock level by ticking the options provided by it. No matter what type of game you play, Smart Game Booster is designed to make it even better.
Except for that, by monitoring how Elden Ring is running on your device and your usage, Smart Game Booster uses data about temperature and memory to automatically adjust your settings to give you the best possible experience.
Step 1: Download, install and open Smart Game Booster.
Step 2: Add Elden Ring.
Elden Ring will be detected and added automatically by Smart Game Booster. If not, you should left-click the PLUS (+) button to add the game to the interface manually.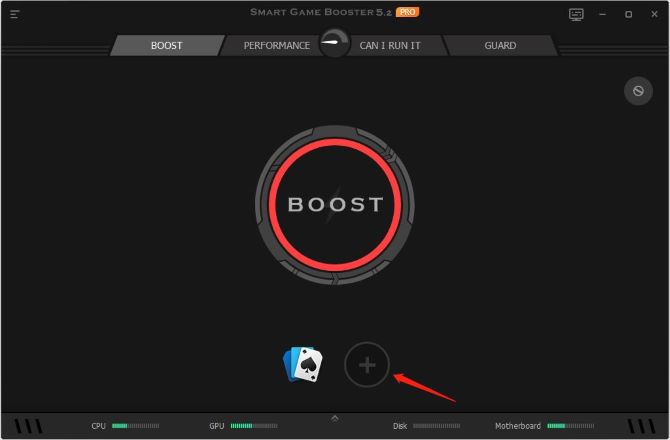 Tips:

If you want to overclock your PC, you can click the icon on the top-right corner to choose the level of overclocking before clicking the icon Boost.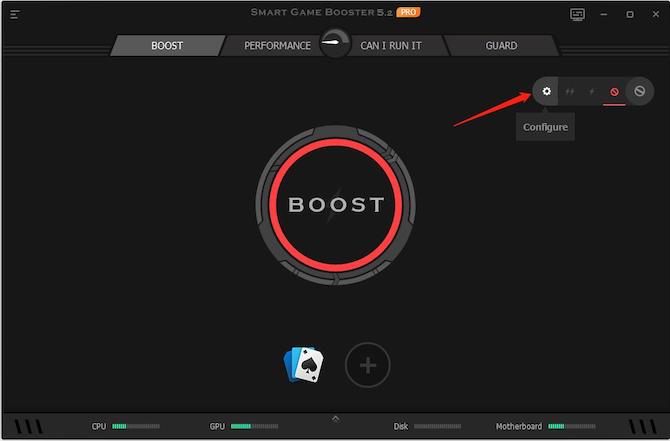 Step 3: Click the icon Boost at the center of the interface.
Of course, you can also adjust your PC settings manually to improve game performance, free up memory, etc. However, Smart Game Booster can help you do all of this just with one click, which saves a lot of time for you.
Solution 2: Check the System Requirements for the Game
Elden Ring is a high-end graphics game. That said, if you have an outdated PC or a PC that just meets the game's minimum system requirements, Elden Ring may struggle to run or experience frequent stuttering.
Therefore, you should evaluate your PC and determine if your PC meets the minimum system requirements of Elden Ring before installing it. If you want optimal performance, your PC must meet or exceed Elden Ring's recommended system requirements.
Read this article: the minimum and recommended system requirements of Elden Ring.
Solution 3: Optimize Graphics Settings to fix Elden Ring Stuttering Issues
If you're using a laptop or a device with a multi-GPU system, you should check whether ;you're using the dedicated GPU properly. Otherwise, you'll see a massive drop in FPS and it's best to tweak the settings for the best performance. While it might not be ideal for some (Elden Ring is a very beautiful game at max settings), if you prioritize solid frame rates over looks, this is the closest you'll get.
Step 1: Click the Start icon and type graphics settings in the search box.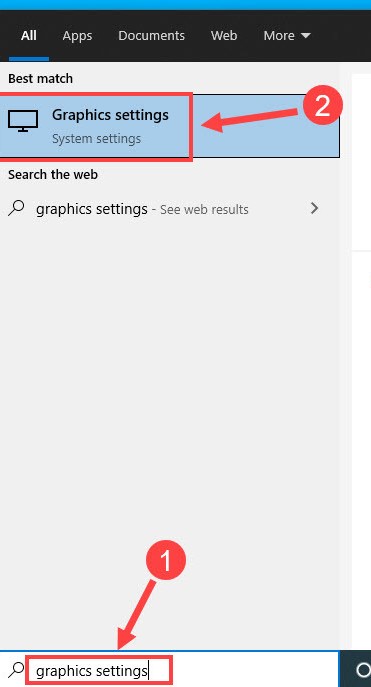 Step 2: Click the Graphics settings.
Step 3: Click the Desktop app from the drop-down list and click Browse.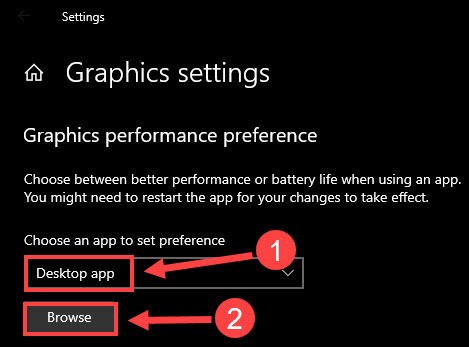 Step 4: Go to the game's installation folder and add the eldenring.exe file.
Step 5: After adding this file, click it and select Options.

Step 6: Select High performance and click Save.
Solution 4: Update Your Graphics Driver
If you're playing AAA games with high system requirements like Elden Ring, you should definitely update your graphics drivers for the best gaming experience because graphics drivers play an important role in the proper functioning of your computer.
So make sure it's always up to date in order to get proper performance delivery from your graphics card and start running Elden Ring games successfully. While it won't magically make the game run flawlessly, it will make the game smoother because your GPU is able to process the information based on the latest drivers.
In order to keep your graphics drivers up to date, you can use Driver Booster, a software specially designed to update drivers.
Driver Booster is a must-have tool designed to update all outdated drivers on your Windows system, by which you can download and install the latest driver directly from the vendor. Moreover, it scans and updates over 8,500,000 drivers automatically, quickly, and safely.
Step 1: Download, install and run Driver Booster on Windows 11 or Windows 10.
Step 2: Click the Scan. Driver Booster will scan all the drivers on your PC and give an outdated driver list.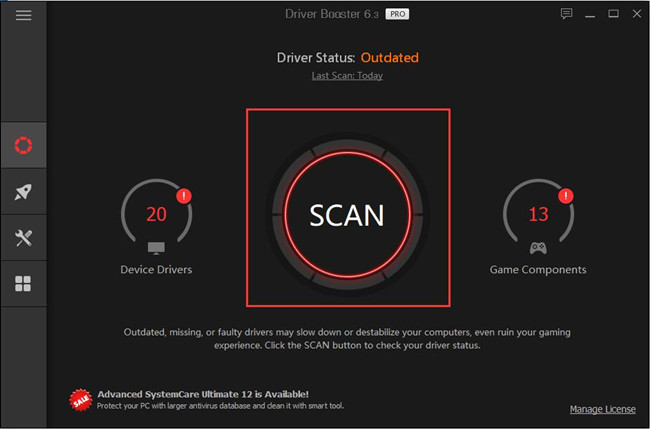 Step 3: Click the option Update next to your graphics card to download and install the latest version.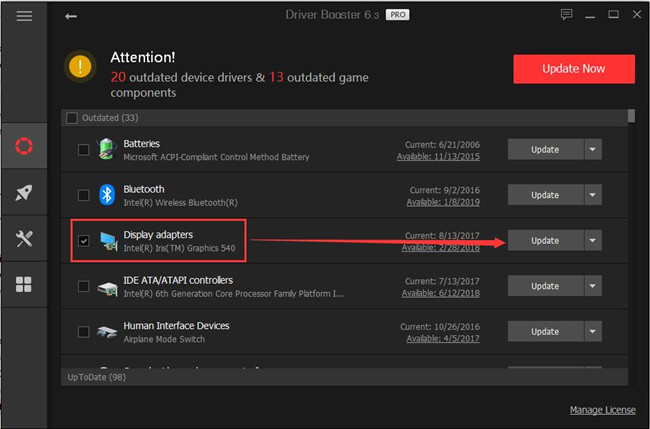 Tips:

You can also click the option Update Now at the top right to update all outdated drivers automatically from the vendor.
Solution 5: Enable Game Mode on Windows
Starting in Windows 10, Microsoft released Game Mode in order to meet the demands of most players for game optimization. Enabling Game Mode can resolve Elden Ring FPS drops and stuttering issues.
Therefore, the easiest and fastest method to speed up Elden Ring and increase FPS on your PC is to enable the Game Mode on your PC.
You can easily turn on Game Mode by following these steps:
Click Start menu > Choose Settings > Choose Gaming from the left menu options > Switch to the Gaming Mode in the right panel > Toggle Game Mode On.
Solution 6: Verify the Integrity of Game Files
Missing or corrupted game files can also cause annoying issues like Elden Ring stuttering or FPS drop. You can check your game files with problems and automatically fix them in Steam. It may take a while for Steam to scan and repair game files, which will replace bad files with ones from official servers. Here are the steps:
Step 1: Open Steam and click on Library.
Step 2: Right-click on Elden Ring from the list.
Step 3: Click on Properties > Local Files.
Step 4: Then click on Verify Integrity of Game Files.

Solution 7: Turn off Steam Overlay to improve FPS in Elden Ring
In-game overlays are another common cause of FPS-related issues. While not all games have overlay issues, the overlay caused serious problems a few years ago because they consume a lot of your computer's performance and are useless. You can simply turn it off and see if that helps performance.
Here's how to disable Steam overlay to fix Elden Ring's stuttering and FPS drops.
Step 1: Open Steam and click Library.
Step 2: From the game list, right-click Elden Ring and select Properties.
Step 3: Uncheck Enable the Steam Overlay while in-game in the General tab.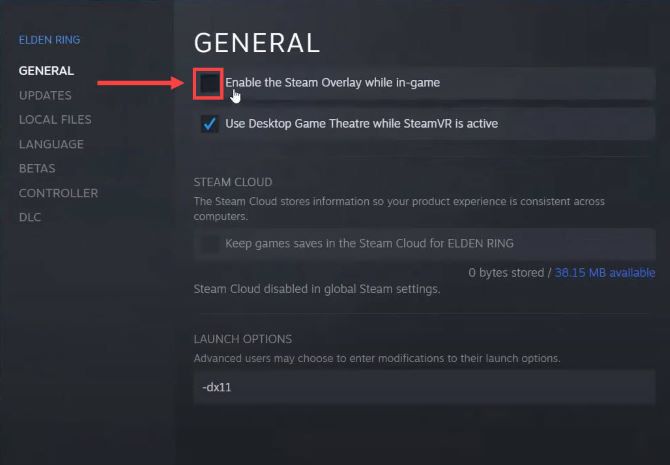 Solution 8: Use Compatibility Mode
Elden Ring lagging may also be related to computer compatibility issues. Windows has a built-in tool called the Program Compatibility Troubleshooter that can fix incompatibilities. Using Compatibility Mode will help you run Elden Ring more stable across available operating systems. To enable Compatibility Mode, follow these steps:
Step 1: Right-click on Elden Ring and choose properties.
Step 2: Go to the Compatibility tab and then under the Run this program compatibility mode for option, select the older Windows version.
Step 3: And click on Apply and then OK.
Solution 9: Change Graphic Card Control Panel Settings
If all of the above don't work, tweaking specific graphics settings may increase your FPS in Elden Ring. There are a few settings you can tweak in your computer to instantly boost your computer's performance to run this game smoothly without any FPS drops and stuttering issues.
To change the graphical control panel settings, follow these steps:
Open up the NVIDIA Control Panel > Manage 3D Settings > Set Shader Cache Size to Unlimited.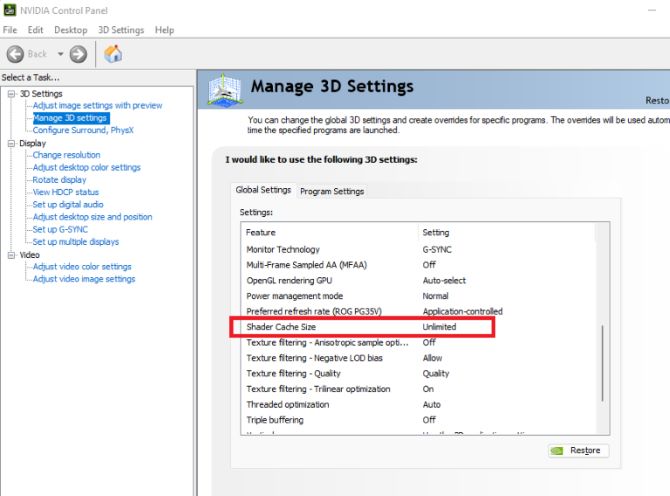 After this, check if you still face stuttering or frame drops in Elden Ring. If it still stutters or lags, you can do more settings changes.
Return to the Manage 3D settings option and click on the Program Settings. Then find Elden Ring in the list and make the changes mentioned below:

Monitor Tech: G-Sync (If available)
Maximum Pre-rendered frames:2
Threaded optimization: On
Power Management: Prefer Maximum Performance
Texture Filtering – Quality: Performance
Low Latency Mode: Ultra (Low if you're a PvE player).
Solution 10: Increase the Game Priority
If changing the graphics card control panel settings doesn't work for you, increasing game priority over other Windows applications will fix the low FPS issue and improve game performance. This method only affects games like Elden Ring that are CPU-dependent.
Step 1: Launch Task Manager by right-click-the Start icon.
Step 2: Now find the Elden Ring running and then right-click on it to choose details.

Step 3: Then right on the processes.exe file and then set priority to High.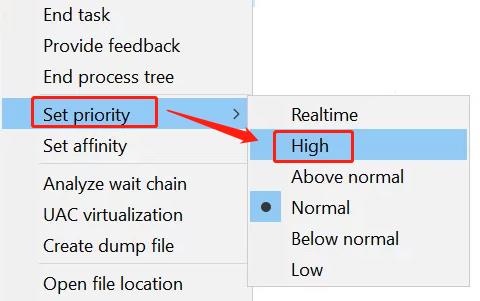 Solution 11: Toggle VSync or Vertical Sync to resolve Elden Ring lagging
VSync aligns the FPS to the monitor's refresh rate, which is ideal for games, but becomes problematic when the game has variable FPS and VSync throttles the FPS. VSync technology comes in handy if the GPU is producing more FPS than the monitor can handle.
However, the problem arises when the game is running at an FPS lower than the refresh rate of the monitor. In this case, VSync causes stutter and lag.
While games also have the ability to enable or disable VSync, the Nvidia Control Panel is more reliable. Sometimes, enabling VSync can resolve stuttering issues. At other times, you need to disable VSync to fix Elden Ring lagging issues. So whichever setting you have enabled, toggle the opposite setting. Here's where you can do it.
Step 1: Launch the NVIDIA Control Panel by right-clicking on the desktop.
Step 2: Choose the Manage 3D Settings option.
Step 3: Click Global Settings and then locate Vertical Sync.
Step 4: Turn it On or Off.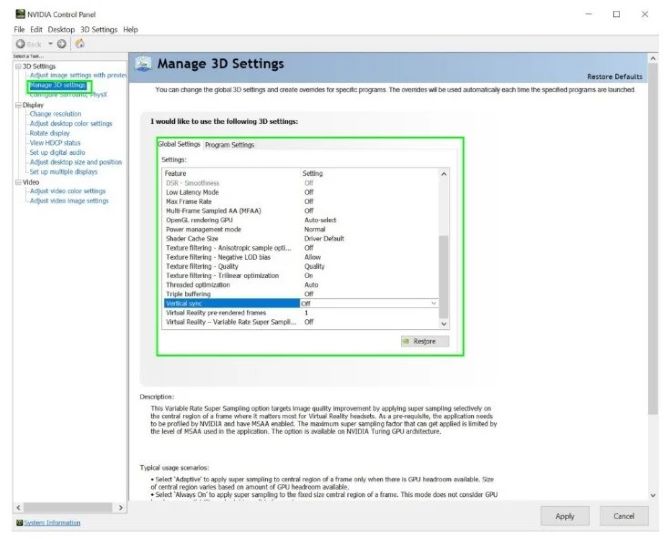 Solution 12: Update the Game patch and Windows system
Gaming performance and other technical issues can be resolved with an update to the game, as confirmed by the developer. Elden Ring updates fix various bugs and glitches and optimize game performance and provide a better gaming experience, making the game more stable and bringing many improvements to the game.
Therefore, it is very important to install an update whenever the official site released. Here is a tutorial about how to update Elden Ring on Steam.
Except for updating Elden Ring, you also need to update your operating system when you are running an outdated Windows OS as this can cause performance issues and could be the root cause of Elden Ring FPS drops and stuttering issues. To update your Windows operating system, follow the steps below:
Step 1: Open Settings by right-clicking the Start icon.
Step 2: Click on Update & Security > Windows Update > Check for updates.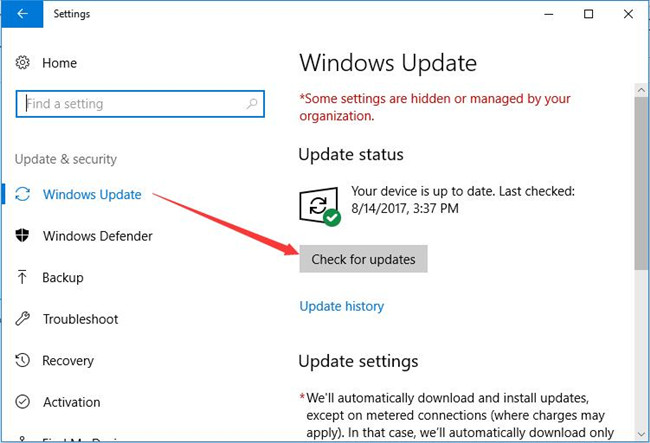 The solutions mentioned above are the easiest for users and the most reliable by far. Hope they help you fix Elden Ring FPS drops and stutters.
More Articles:
Fix Realtek Audio Stuttering/Buzzing On Windows 10/11
6 Ways to Fix Micro Stuttering in Games on Windows 11/10