Fixed: Failure Configuring Windows Updates Reverting Changes
Sometimes, upon the time when you update Windows 10, such as the Creators Update, you may stumble upon failure configuring Windows updates. Reverting changes. Do not Turn off your computer.
Or on Windows 7 and Windows 8, the system update runs slowly due to the failure configuring Windows updates.
Why does the fixed Windows update happen to you?
To some extent, the reasons for the failure configuring Windows updates issue are the incompatible third-party software, the erroneous removable USB device, and the system error on Windows 10.
How to Fix Windows 10 Failure Configuring Windows Updates?
In accordance with the causes of the Windows 10 update stuck issue, now it is high time that you managed to try some methods to remove the Windows 7 or Windows 8 reverting changes.
Solutions:
Before you tried to go deeper so as to resolve Windows 10 failed to update configure updates, you can make attempt to hard shut down your PC. Just press the Power button and then power it on.
Solution 1: Enter the Safe Mode
First and foremost, once you run into failure configuring Windows updates, you are unable to do anything on Windows 10 as you will be stumbling upon the updating issue.
On that basis, you would better enter safe mode, in which you are able to figure out what makes your error and what you can do to solve the failure to configure Windows updates Windows 10.
1. Click Restart and press Shift key at the same time until the options list comes up.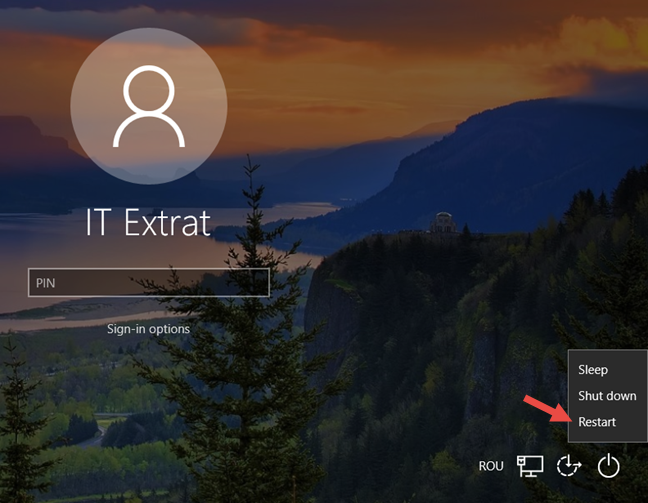 2. Then find out Troubleshoot > Advanced options > Startup Settings.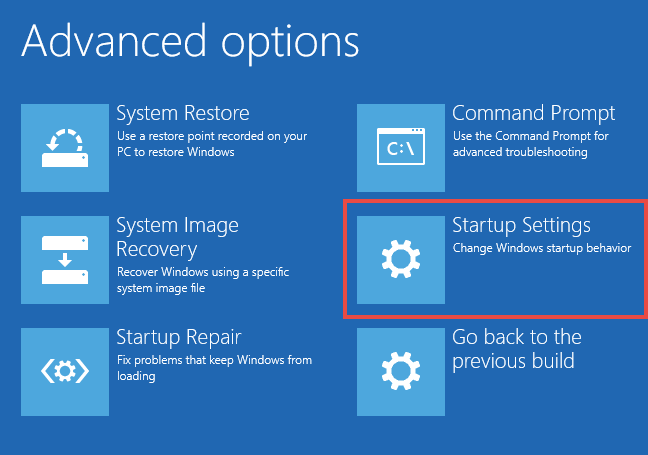 3. Hit F4 or F5 or F6 key to Enter Safe Mode.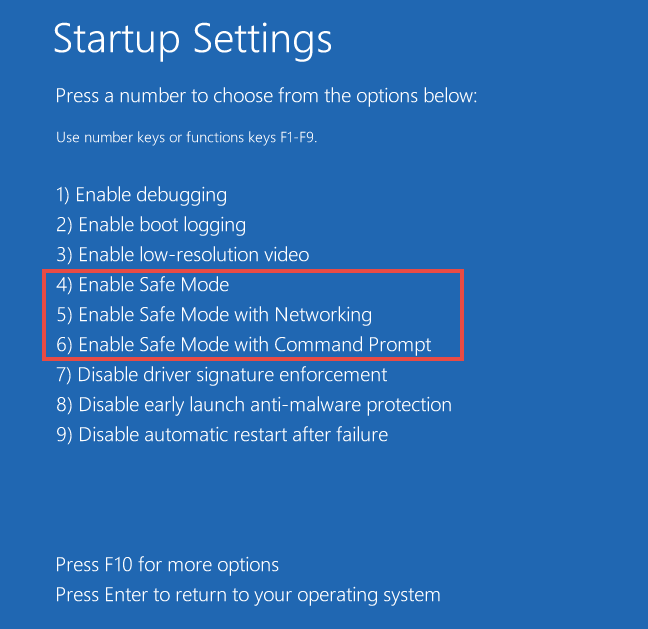 You can choose to get into the safe mode with networking or command prompt.
Here you can determine to fix Fn keys not working if you found you can't use Fn keys on Windows 10 keyboard.
At the time when you entered the safe mode, with a minimal set of programs, you may have already removed failure configuring Windows updates reverting changes taking too long on Windows 7 or Windows 8, 10.
Solution 2: Run Windows 10 Update Troubleshooter
Now that this failure to configure updates Windows 7 reverting changes is one of the errors relevant to Windows update, you may as well decide to take advantage of the troubleshooter of Windows update to check the problems.
1. Go to Start > Settings > Update & Security.
2. Under Troubleshoot, click Windows Update and then hit Run the troubleshooter.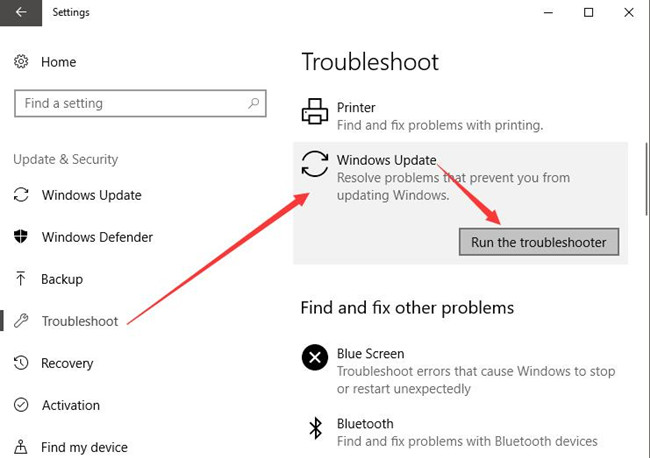 Then Windows Update Troubleshooter will scan for the errors and fix it for you.
It is likely that Windows 7 or Windows 8 failure configuring Windows updates. Reverting changes.
Solution 3: Uninstall the Antivirus Software
The second thing you can do is to uninstall the third-party application, like Avast. In this way, you can attempt to remove the software in order to deal with Windows 10 failure configuring Windows updates.
Like what has been prompted, these antivirus programs can in a large sense lead to the updating error Windows 10.
1. Open Control Panel.
2. In Control Panel, choose to View by Category and then locate Uninstall a program under Programs.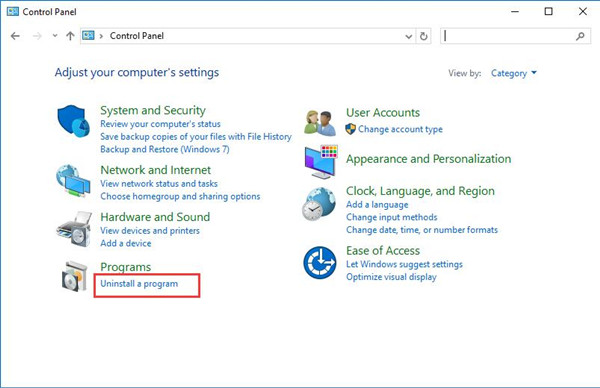 3. In Programs and Features window, scroll down to find out the application and then right click it to Uninstall it.
4. Reboot Windows 10 to take effect.
Under this circumstance, the antivirus application will not bring you incompatibilities on Windows 7, 8 and 10.
5. And when you login in again, there will be no more failure configuring Windows updates. Reverting changes. Do not turn off your computer.
Solution 4: Disable Windows Update Service
Much as you have tried, there is another thing you can do, which is to stop Windows update service and its related service, such as Background Intelligence Transfer service.
Undoubtedly, this failure configuring Windows updates belongs to Windows update service, therefore, you are supposed to restart this service.
1. Press Windows + R to activate the Run box and then input services.msc in the box. Then hit OK to move into the Services window.
2. In Services window, locate Windows Update service and then right click it to open its Properties.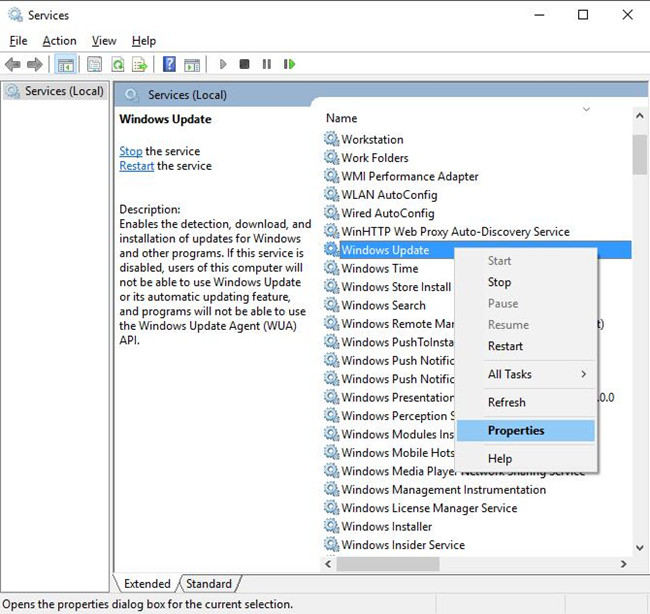 3. In Windows Update Properties, find out Startup type and set it as Disabled.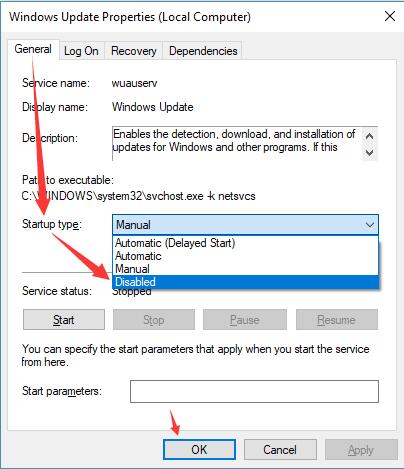 Then click Apply and OK to save changes.
Or you can right click Windows Update service to Restart it if you wish to do so.
So long as you have fixed Windows update service error, you can find failed to configure Windows updates is resolved on Windows 10.
All in all, in an attempt to deal with Windows 7 or Windows 8 failure configuring Windows updates. Reverting changes. Do not turn off your computer, it is available for you either to use Windows update troubleshooter or restart Windows update service.
More Articles:
Fixed: Potential Windows Update Database Error Detected
Fixed: Windows Update Error 0x800705b4
Tags :
Windows 10 update