Fortnite System Requirements & How to Boost it (2023 Update)
Fortnite has gained much popularity nowadays. But recently many people raised the question "can I run it on my PC" and "if my PC is compatible enough to enable this Battle Royale game to run". Normally, compared with other common programs, games have higher requirements for RAM, Processor, video card, DirectX, etc.
What are Fortnite Minimal Specs?
Only when your PC meet the minimal requirements for Fortnite can the game run on your computer. So first you would better check if your device on Windows 10, 8, 7 or whatever satisfy the basic specs of running Fornite.
| | |
| --- | --- |
| Operating System | Windows 10, 8, 7 64-bit or Mac OSX Sierra |
| Processor | Core i3 2.4 GHz |
| RAM | 4GB of system |
| Video Card | Intel 4000 |
| DirectX | Version 11.0 |
Above are the minimal set of system requirements for Fortnite. That is to say, if your PC is on Windows 10, 8, 7 32-bit, you will find your PC can't run Fortnite. Or if your processor is lower than Core i3 2.4, RAM is smaller than 4GB, Fortnite video driver crashes on your PC.
What are the Recommended PC Requirements for Fortnite?
In some situations, for better gaming experience in Fortnite, the minimal Fortnite specs are not so capable to get the game to work. In other words, you will probably hit upon various Fortnite crashes on Windows 10. Therefore, it is necessary to refer to the best system specs for Fortnite.
| | |
| --- | --- |
| OS | Windows 10, 8, 7 64-bit |
| CPU | Core i5 2.8 GHz |
| RAM | 8GB |
| HDD | 20 GB |
| Video Card | Nvidia GTX 660 or AMD Radeon HD 7870 equivalent DX11 GPU |
| DirectX | Version 11.0 |
If you want to enjoy Fortnite with the best performance, you can try to get your PC equipped with the above-mentioned hardware.
Note: How to Check the System Information?
Now that you have mastered what the Fortnite minimal and best system requirements, it is time to check the system information for your PC. After that, you can know whether your PC can run this game.
What are the Fortnite System Requirements on Mac?
Especially for Mac users, in order to check if Fortnite can run on your Mac, at least, you need to make sure it meets the following system specs.
| | |
| --- | --- |
| OS | Mac OSX Sierra |
| Processor | Core i3 2.4 GHz |
| Video card | Intel HD 4000 |
| RAM | 4GB |
Now you can see if you can download and play this game on Windows 7, 8, 10 or Mac.
Bonus Tips: Update All Game Drivers and Components to Boost Fortnite
Gamers all know that a game requires not only the system requirements, which is the basis. Besides, some device drivers like the graphics driver, sound card driver, and the motherboard driver are closely associated with the performance of the game. On that occasion, if you feel like enjoying Fortnite with best performance, apart from satisfying its system specs, it is of great necessity to update the drivers and related components for the game.
Here Driver Booster will not only automatically update the display card driver, motherboard drivers, etc. it will also boost your game to make it run at full speed.
1. Download, install and run Driver Booster.
2. Click the Scan button. Then Driver Booster will automatically search for any problematic drivers on your PC. Sometimes, if your graphics card driver is missing or outdated, Fortnite will stop running well.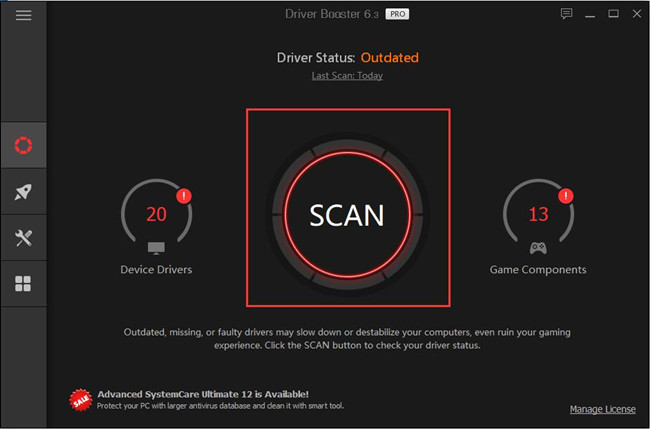 3. Find out the Game Driver like the graphics driver to Update it. Or hit Update Now to allow Driver Booster to update all the drivers at one stop.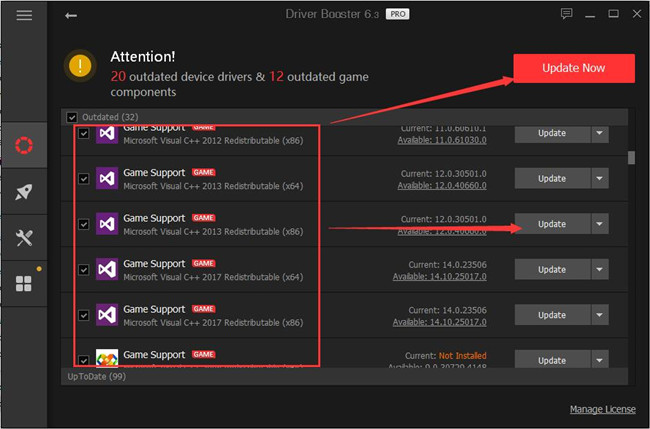 For better gaming experience, it is worth a shot to boost your game using Driver Booster as well.
On the left side of Driver Booster, hit Boost and then Turn on Game Boost.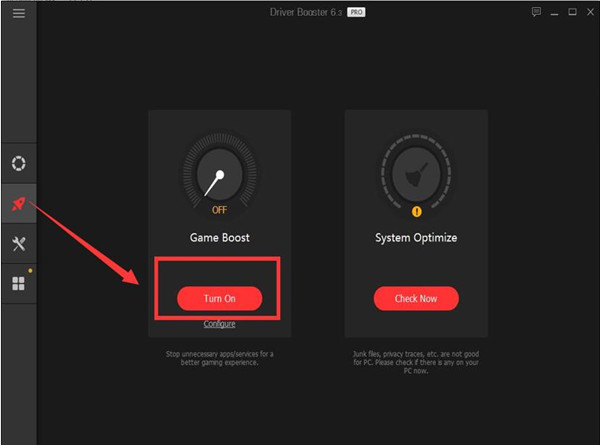 Then Driver Booster will start optimizing the game, for instance, it will stop some unnecessary from running to allocate more resource to Fortnite.
At this moment, it is likely that you are well-informed whether your PC can run Fortnite and also how you can boost the game when it crashes or get stuck.
More Articles:
Apex Legends PC System Requirements
Tags :
system requirements