How to Make a Slideshow on Windows 10: Two Easy Ways
A slideshow is a multi-functional tool that can be used to create professional presentations, quirky videos for friends, and cute birthday tributes. You can also make a dynamic and fun travel slideshow to convey the emotions you have experienced during your latest adventure.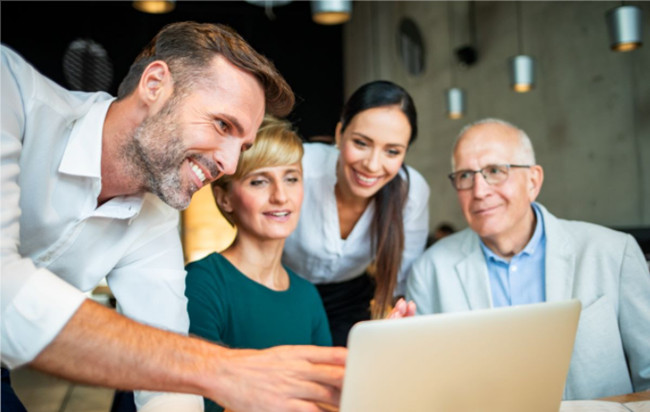 Nowadays, creating exciting and lively slideshows is easier than ever. So, how to make a slideshow on Windows 10 that will draw viewers' attention and keep them invested throughout the entire duration of the video? There are two ways: you can use a built-in Windows 10 solution or a third-party tool. Let's take a closer look at the advantages and limitations of both options.
Microsoft Photos for Basic Slideshow Making
In short, Microsoft Photos is a Windows 10 slideshow maker that offers a quick and simple way to build a slideshow. After preselecting photos you would like to use, upload them to the program, and arrange images in the right order.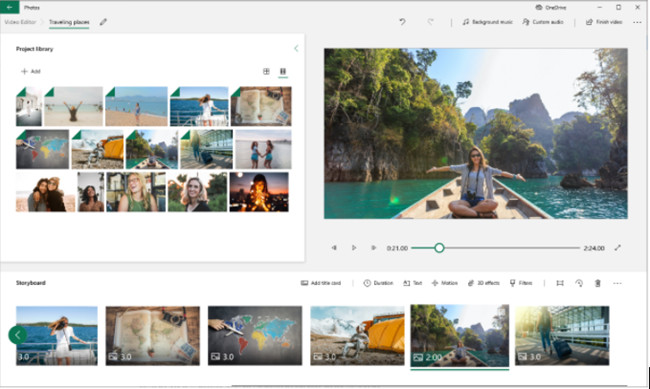 The tool provides simple editing options such as duration change, resizing, and a small selection of filters. When it comes to animation, Microsoft Photos does not offer a huge variety but only a limited number of panning and zooming effects. You can also add short clips to your slideshow and trim them right in the tool to fit into the flow.
Finally, choose a tune to accompany your work: either from your own collection or from the Microsoft library. Now you can save and share your video via mail, Skype, or YouTube.
Bottom line: Microsoft Photos provides basic features that allow you to create a simple and elegant slideshow. However, its editing options are quite limited.
SmartSHOW 3D for Advanced Slideshows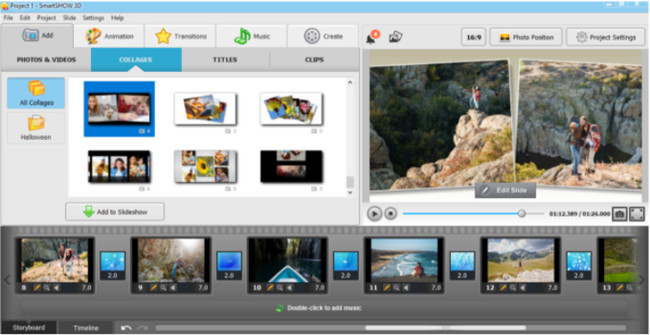 If you would like to expand the options and create something more exciting, check out SmartSHOW 3D – a tool to make a slideshow on Windows 10. This software is specifically designed for slideshow crafting and contains over 200 ready-made templates. Unlike the Microsoft tool, SmartSHOW 3D comes with a wide range of transition and animation techniques, 3D captions, and basic photo editing features.
How to make a presentation using slideshow software for Windows 10?
Step #1
First of all, choose a suitable template – you will find a layout for any occasion. You can select elegant and classic ones that will perfectly fit into the business world or fun and quirky ones to make a travel video. If you cannot find a template that truly speaks to you, don't worry, you can make design adjustments and customize the layout to fit your needs.
Step #2
Import the images and videos to the program, then arrange them on the storyline at the bottom of your screen. Make sure the order of the images conveys the message and fits the purpose of your little movie.
Further, pay attention to the quality of the photographs. If you are not satisfied with colors, contrast, size, and so on, you can apply basic photo editing tools like cropping, various filters, and adjustment of contrast and saturation.
Step #3
Go through a rich collection of transition and animation effects. If you are going for a professional work or university presentation, choose one of the classic effects that will complement your video. For an uplifting travel slideshow, choose dynamic and bright effects to convey the mood of your adventure. You can also add captions to clarify some graphs or numbers on your slides.
Step #4
If you would like to create a slideshow with music on Windows 10, browse through a broad collection of royalty-free tracks separated by genre, duration, and mood. Alternatively, you can upload a song from your PC.
Another exciting feature of SmartSHOW 3D is its ability to make voice recordings. Instead of using captions, record your voice and leave comments on important parts of the slideshow. Share the funniest and cutest stories from your last trip and make your work more special.
Step #5
Share your video directly to social media networks, including Facebook and YouTube, and also send it via email. Finally, you can burn the slideshow to a DVD or CD, if needed.
Bottom line: SmartSHOW 3D gives a greater array of editing and animating tools as well as a bigger music library. If you are looking to make something special and eye-catching, this program is your best choice.
Making slideshows has become easier and more accessible to anyone. Choose a program that accommodates your goals better and create short movies quicker, more effectively. Using the right tool will help you cherish precious old family photos, create adorable birthday videos for your close ones, and even make your next work or school presentation more exciting.
More Articles:
How to Customize Lock Screen on Windows 10
How to Change Theme on Windows 10