Fixed: Minecraft No Sound Windows 10, 8, 7
It is nothing new to happen to no sound in Minecraft Windows 10. Especially recently, many gamers complained that suddenly Minecraft lost sound after updating to the latest version. Now, this post will walk you through this sound issue during playing Minecraft.
Contents:
Why Does My Minecraft Have no Sound?
How to Fix Minecraft Sound Not Working?
Why Does My Minecraft Have no Sound?
Such factors like system sound settings, Minecraft sound settings, and the audio drivers are all the underlying causes of Minecraft sound not working on Windows 10. For instance, the improper Mipmap levels will make Minecraft not playing sound. On the basis of these culprits, there is much need to troubleshoot your Minecraft no sound 1.12.
How to Fix Minecraft Sound Not Working?
From sound hardware to settings, you need to make sure there is no error occurring to the sound options, enhancements, game patch, and the audio driver. Just start to fix the Minecraft has no sound on Windows 10 issue.
Solutions:
2: Check Minecraft Sound Volume
4: Change Minecraft Java Mipmap Levels
5: Change the Audio Channel to Stereo
7: Uninstall and Reinstall Minecraft
Solution 1: Refresh Minecraft Textures
It is said that textures in Minecraft are closely related to sounds and how these sounds are transmitted in Minecraft. But sometimes, maybe some of the textures in your game are corrupted and need refreshing.
Here for purposes of refreshing Minecraft textures, just press the combination key F3 + S or F3 + T. One of the combination keys will reload not only the textures but the sound in your Minecraft. After the refresh, it is possible that Minecraft no sound issue has gone.
Solution 2: Check Minecraft Sound Volume
Understandably, if you have accidentally muted the sound in Minecraft, there will be no sound in this game on Windows 10. Given this common sense, you may as well attempt to check the sound volume of Minecraft in case it is muted carelessly.
1. Right click the Sound icon at the right bottom of your Desktop and then select Open Volume Mixer. And if your sound icon is missing, you can fix it at first.
2. Then Locate Minecraft for Windows 10 and move the slider up to turn up Minecraft sound on Windows 10.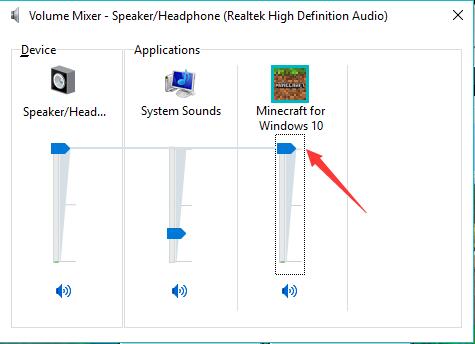 You can now hear the sound of Minecraft after changing the sound volume.
Solution 3: Update the Audio Drivers
As users reported, the outdated or corrupted audio driver can also give rise to no sound issue in Minecraft. In this sense, it is worth trying to install the latest audio drivers for Windows 10, such as Realtek audio drivers. To save your time and energy, it is strongly recommended to try Driver Booster to update the audio drivers automatically.
As the top one driver updater, Driver Booster will help you easily and safely update the drivers for the audio device, such as the speaker and headphone driver.
1. Download, install and run Driver Booster.
2. Then hit the Scan button. Driver Booster will start automatically searching for the problematic drivers your PC requires.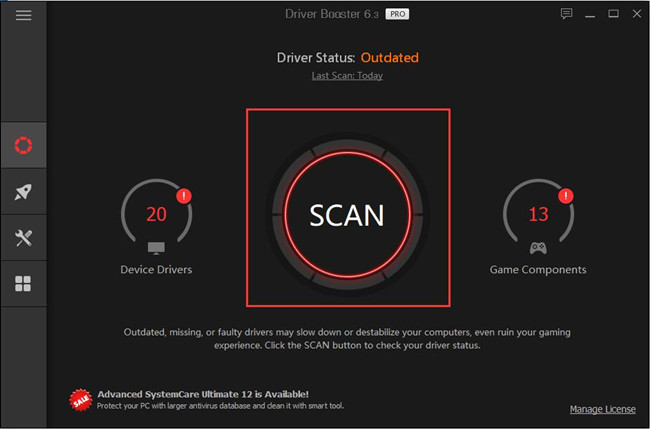 3. Find out Sound, video and game controllers and then allow Driver Booster to Update the audio driver automatically.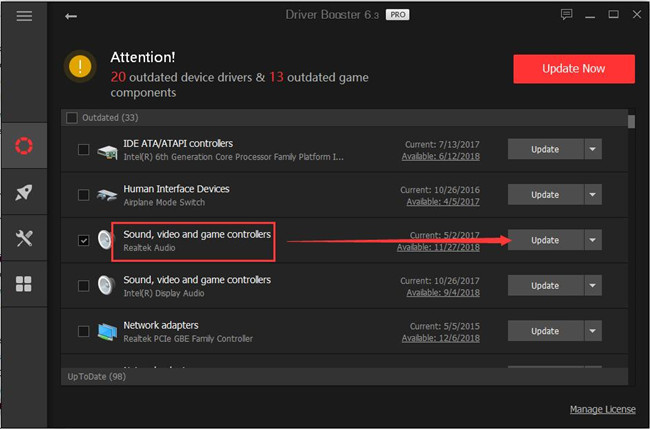 Once the audio drivers or any outdated drivers are updated via Driver Booster, restart Minecraft and check if you can hear sound from this game.
Solution 4: Change Minecraft Java Mipmap Levels
In Minecraft, Mip mapping lowers the quality of distant textures and reduces flickering and aliasing on the texture itself. The Mipmap Levels determine how close it will blur textures your location. In a large sense, if you hit upon Minecraft Java no sound on Windows 10, you would be advised to check the mipmap levels for your game.
1. Start Minecraft game and then click Options from the Game menu.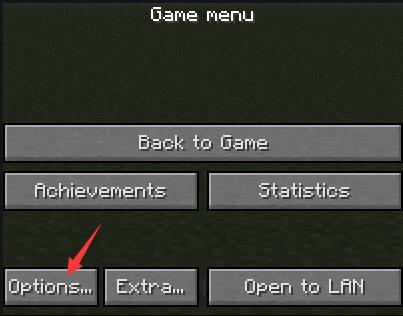 2. Under Options, pick out Video settings.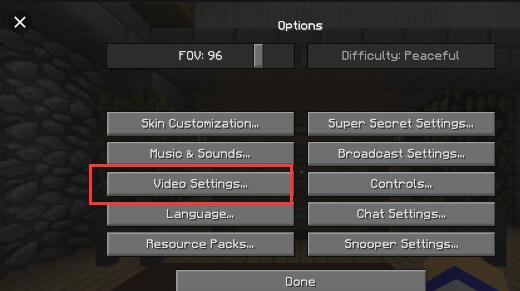 3. Then under Video settings, locate Mipmap levels and then slide down or up to change the Mipmap levels.
Provided that the current Mipmap levels cannot let Minecraft sound out, just try to change to another level. Perhaps Minecraft sound not working will be fixed with the right Mipmap levels.
Solution 5: Change the Audio Channel to Stereo
The Stereo audio channel is believed to enable you to hear sound from many directions, which possesses the feature of high-fidelity. From this perspective, it is necessary to use the Stereo channel so as to fix Minecraft sound not working on Windows 10 or older versions.
1. Right click the Sound icon on the right corner of the Desktop and then choose Sounds from the list.
2. Under Playback, choose your audio devices, such as Speaker or Headphone and then Configure it.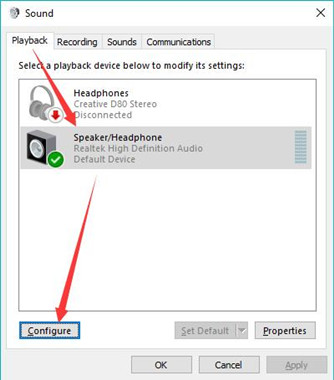 3. Then change the audio channel to Stereo.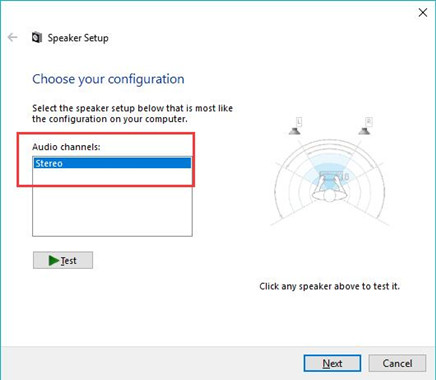 4. Click Next to finish changing this setting.
With the Stereo channel, you will be more entitled to hear sound from Minecraft. No sound issue in this game perished from then on.
Solution 6: Disable Sound Enhancements
Sound enhancement for Windows 10 can improve the sound quality, but this feature will also cause Minecraft sound not to work. Given this fact, you would better stop this functionality and then re-enable it if necessary.
1. In the Sound window from the Sound icon, under Recording tab, right click the audio device on your PC, like Microphone and Speaker to open its Properties.
2. Under Enhancements, check the box of Disable all sound effects.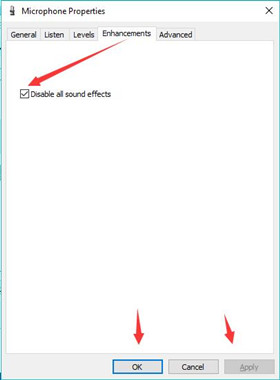 3. Under the Advanced tab, uncheck the box of Give exclusive mode applications priority.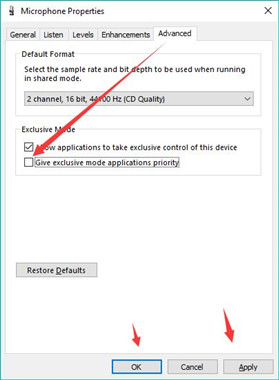 4. Hit Apply and OK to save changes.
Upon making changes to these sound settings for the settings, you can see Minecraft sound works well now no matter you are playing the game or starting the game.
Solution 7: Uninstall and Reinstall Minecraft
Last but not least, once you found the solutions above failed to fix Minecraft no sound in 1.12, maybe you have to reinstall the game or update the game from Minecraft official site. You have no idea whether your game patch is corrupted or whether Minecraft has released updates to resolve the sound issue.
Take time to get rid of Minecraft and then reinstall a new or updated one for Windows 10. For most of you, you can notice it is rather useful and Minecraft has no sound is nowhere to be seen.
1. Open Control Panel.
2. Find out Programs > Uninstall a program. Try to View by Category to find the item quickly.
3. In Programs and Features, locate Minecraft and right click it to Uninstall it.
4. Restart your PC.
When Windows system boots up, navigate to Minecraft site to Download the game patch on your PC.
More often than not, so long as your PC sound is working properly, the new Minecraft will simply fix Minecraft optifine 1.12 sound issue on Windows 10.
In a nutshell, try hard to deal with sound not working in Minecraft and you will find this sound issue can be quickly and easily fixed on your own.
More Articles:
Minecraft Crashes on Windows 10
Tags :
audio issues
minecraft