Solved: Origin Won't Open on Windows 10/11
For gamers, EA Origin is an indispensable digital distribution software allowing you to play games online.
Contents:
Origin Doesn't Open Overview
Nevertheless, according to your reports, recently, it is common that the Origin won't open or opens but won't load when you feel like playing games in this game platform.
In task manager, users can notice the presence of the Origin client for only several seconds, but this online gaming platform just doesn't respond on Windows 10/11. Even if you hope to download a new one, Origin can't uninstall.
Or sometimes, the time Origin client informs you of Origin update, after you click update, nothing happened. There is no sign-in interface nor pop-up after you double-click it from the Desktop. So you failed to play such games like Battlefield 3, 4, V, and Crysis 3, etc.
As you all know, developed by Electronic Arts, Origin offers features like profile management, directly joining in friend chatting and gaming, etc. In this way, you need to turn to the following content to fix the Origin launcher not working error on Windows 10 immediately.
Why Won't Origin Open on Windows 10/11?
With deeper study, several culprits are to blame for the Origin not launching on Windows 10, namely, the Origin cache or file error, Origin client corruption, and system crashes.
So either you are encountering Origin won't open or opens but can't load fully, it is recommended that you manage to try the ways below to get Origin to open and load games on Windows 10/11.
How to Fix Origin Doesn't Launch?
You are supposed to get rid of the Origin launcher not available by way of deleting Origin client cache, updating Origin client, and fixing Windows 10 system conflict.
Prior to further steps, attempt to double-click Origin and check if it responds and loads for you. Once Origin can't start error persists on your PC, move forward to fix Origin is down problem for Windows 10.
Solutions:
Solution 1: Delete Origin Cache Files
Normally, there do exist some caches for Origin if you have run this gaming platform for some time. And this kind of cache will to some extent be infected or corrupted, thus leading to Origin won't open on Windows 10/11. Therefore, there is a need for you to remove these Origin caches on your PC.
1. Exit from Origin client.
2. Press Windows + R to activate the Run box and then enter %ProgramData% in the box.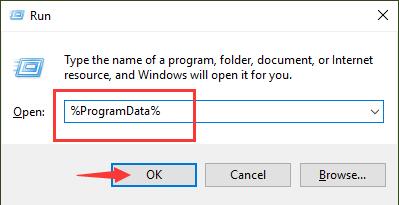 3. Then in the pop-up window, locate Origin folder and double click it to Open it.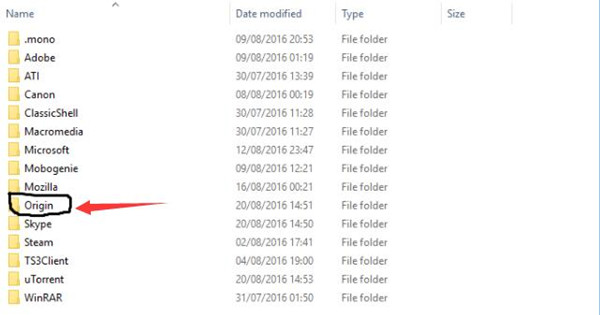 4. Then except the folder LocalContent, right click all the other files or folders to Delete them all.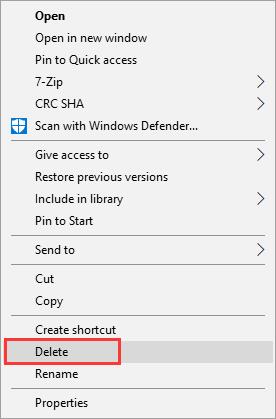 Here don't delete LocalConent folder in case some data will be lost and causes some applications to not work as well.
Here you should not only delete origin.exe files but also rename origin.TMP file to origin if you can find this file on your PC.
5. Reboot Windows 10/11.
Right after your PC is powered on, make attempt to launch your Origin game to see if it can be opened and load.
Solution 2: Delete Origin Temporary Files
Apart from some Origin caches created by Origin, if Origin runs on Windows 10, there are also some temporary files left on AppData folder.
Lest there were some corrupted files, you might as well determine to get rid of the AppData temporary files.
1. Hit Windows + R to elevate the Run box and then type in %AppData% in the box.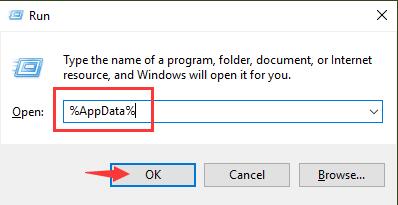 2. In AppData > Roaming folder, right click Origin to Delete it.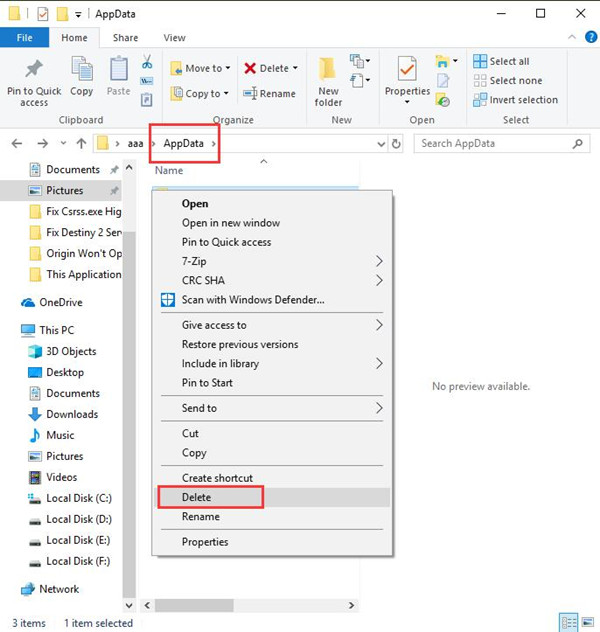 3. Then hit AppData in the search bar to go back to AppData folder where you need to Delete Origin folder as well.
4. Now it is time to reboot Origin client.
Without the file corruption, you are able to open Origin gaming platform and enjoy your games on it, like FIFA 19.
Solution 3: Run Origin in Compatibility Mode
In line with the system requirement for your applications, every program running on your PC should be compatible with Windows 10. That is why you are supposed to run the compatibility troubleshooter to check whether your Origin has been running in compatibility mode on Windows 10 or not.
Only when Origin works compatibly can you expel Origin launcher refuse to open issue on Windows 10.
1. Right click the Origin app from the Desktop and then select Properties.
2. Then under the Compatibility tab, hit Run compatibility troubleshooter.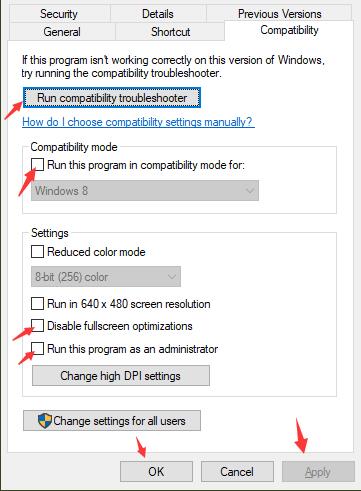 Here if the troubleshooter shows you any incompatibility error, do as the following.
Check the box of the Run this program in compatibility mode for, select an operating system until it can enable Origin to load and work.
Check the box of Disable fullscreen optimization as chances are that the fullscreen games will bring you errors.
Check the box of Run this program as an administrator, for the Origin requests the administrative privileges to launch smoothly in some situations.
3. Whatever you try, click Apply and OK to save changes.
4. Restart Origin application again.
As you can see, this time Origin not opening disappeared and you are capable of downloading and playing games on it as you wish.
Solution 4: Check Origin Updating Status
Diving into this Origin won't launch error, it has been discovered that many gamers will experience this Origin not responding error after you are asked to install some updates for Origin app.
In such a case, here you are advised to first check if your Origin app is updating and then manage to download it if you find Windows is actually not downloading Origin.
1. Right click the Start menu and then pick out Task Manager from the list.
Here you can also use the combination key Ctrl + Alt + Delete in order to open Task Manager.
2. In Task Manager, check if Origin is running and if it is using Network by viewing its network bandwidth.
If you noticed that the Origin client doesn't occupy any network bandwidth, in fact, it implies it is not updating itself.
On that occasion, Origin doesn't launch as well on your PC. So you need to turn off this app completely in Task Manager by ending task and then go forward.
Solution 5: Allow Origin to Run in Third-Party Software
Many customers tend to take advantage of a certain antivirus program to safeguard computer safety. Usually, there will be options available for you to choose which applications can run on Windows 10 and which can't.
If carelessly, you have blocked Origin in your antimalware program, it is natural that you will fail to open Origin, not to mention load games in it.
Hence, there is a high probability that you need to check the settings in the third-party software to make sure the Origin app has been allowed to run on Windows 10.
Otherwise, supposing nothing happened after you changed the settings in antivirus software, to avoid it is the account corruption rather than app issue that gives rise to unsupportable Origin, you can create a new account to see if it is of use.
Solution 6: Uninstall and Reinstall Origin App
If the methods above are unless for you, perhaps you have to remove the unavailable Origin client and then download a brand-new one online.
1. Open Control Panel.
2. In Control Panel, find out Uninstall a program under Programs.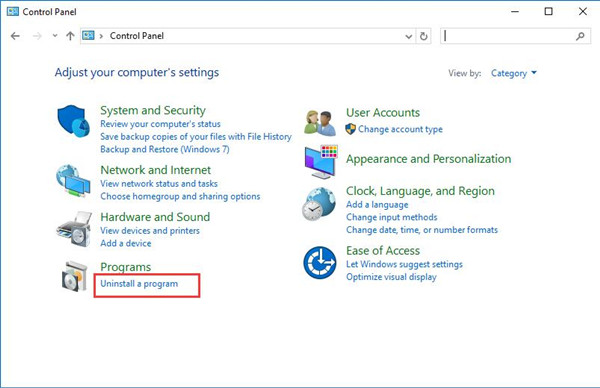 3. In Programs and Features, locate and right click Origin to Uninstall it.
4. Reboot Windows 10 to take effect.
5. Head to Origin official site to download and install the latest EA Origin software.
Naturally, with the newly updated Origin, Origin not opening on Windows 7, 8, 10 won't appear.
Or, if the Origin won't open or it can't install on Windows 10, it denotes that your Origin won't launch issue actually results from Windows system crash. Under this circumstance, you might as well decide to do a clean boot on Windows 10.
Solution 7: Check for Windows 10 Updates
Lastly, you may try to ensure your system is up-to-date and doesn't bring forth any conflict between Windows 10 system and Origin app. What's more, the improved functionalities are more compatible with the Origin game client.
1. Go to Start > Settings > Update & Security.
2. Under Windows Update, hit Check for updates.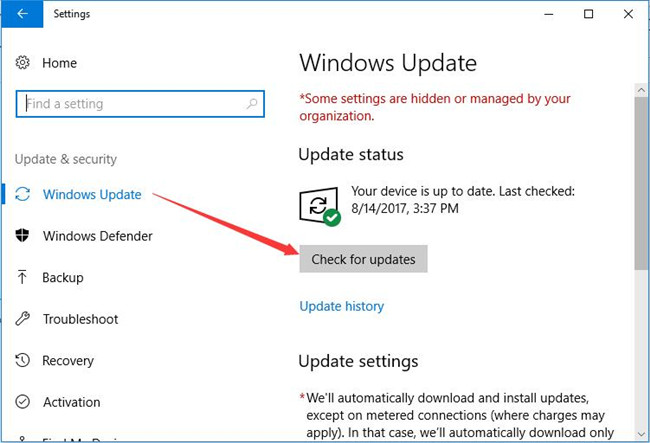 Provided that your system is updated, manage to re-launch Origin again. You will observe that maybe it can load and work as usual.
Bonus Tips: Run Origin in Game Mode (Update Game Drivers and Components)
On some occasions, the corrupted or missing drivers, especially the graphics driver and components will cause crashes on Origin, making it not open on Windows 10.
For another thing, these problematic components in games will affect the performance of Origin games. Hence, there is much need to update the game drivers and components, such as the graphics driver and the DirectX in Microsoft Visual C++.
Of all the tools, Driver Booster can be the top one driver updater and game booster, which has been confirmed by numerous users. Especially, for Origin games, Driver Booster provides gamers with game-ready drivers and game support components. More significantly. It has also prepared a Game Boost tool for you just for your smooth enjoyment in Origin games.
Download Game Ready Drivers and Game Component:
1. Download, install and run Driver Booster on your PC.
2. Hit Scan to find the outdated or missing game drivers and components.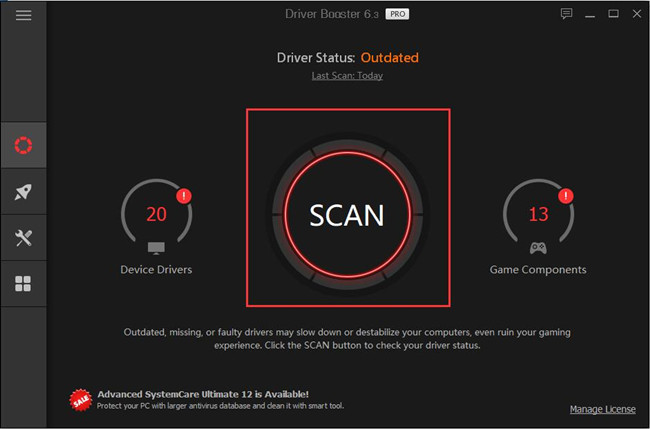 3. After the scan finished, choose to Update the Game Ready Drivers.
In most cases, games require the latest or suitable display driver, just like what shows you below.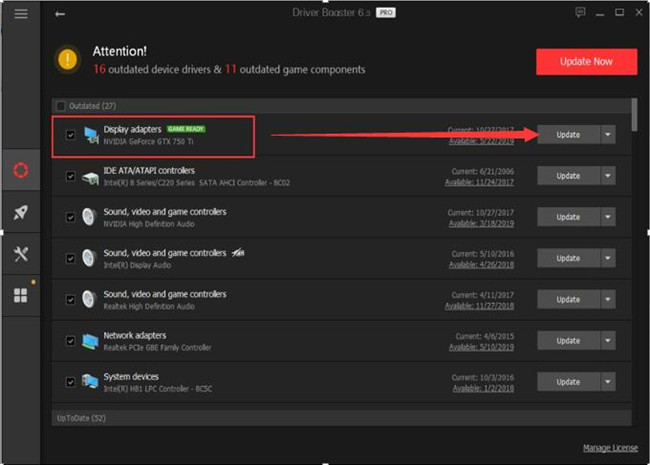 4. Then scroll down to Update or Update Now to get one or more Game components.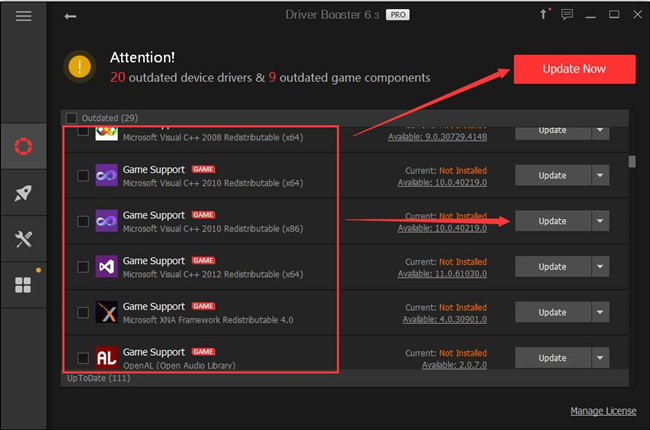 Here you will see many Game Supports characterized by Game, such as Microsoft Visual C++ Redistributable packages and .Net Framework for games.
Turn Origin Games into Game Mode:
Apart from the necessary drivers and support for Origin games, Driver Booster can also enable your game to enter Game Mode by preventing the unnecessary or threatening programs running in the background on Windows 10.
In Driver Booster, click Boost on the left pane and then decide to Turn on Game Boost on the right side.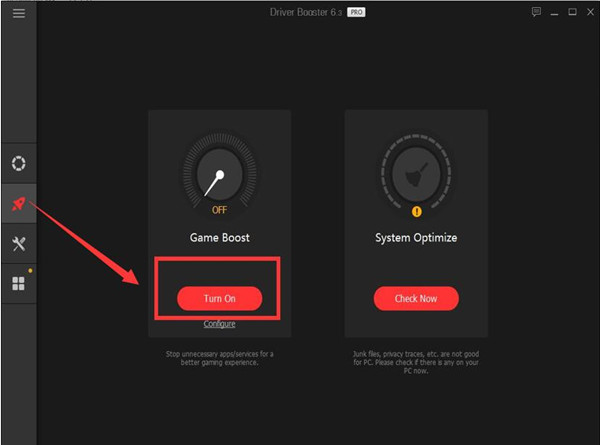 Instantly, Driver Booster will disable other services, programs, and applications from running for purposes of better game performance on the Origin gaming platform.
It is apparent that your Origin will run smoothly in games mode with the updated drivers and components ready for your games.
In summary, for most of you, you will find an answer to Is Origin down after you tried the solutions above. It is predictable that Origin opens and loads as you wish.
More Articles:
Fixed: Origin Online Login is Currently Unavailable (2022 Update)
Solved: Fallout 4 Crashing on Startup