Contents:
Akamai NetSession Overview
For many of you, you can often notice that when you using the Akamai NetSession to downloading the files such as Adobe Photoshop, it pops up a windows security alert say that Windows firewall has blocked some features of Akamai NetSession Client on all public and private networks.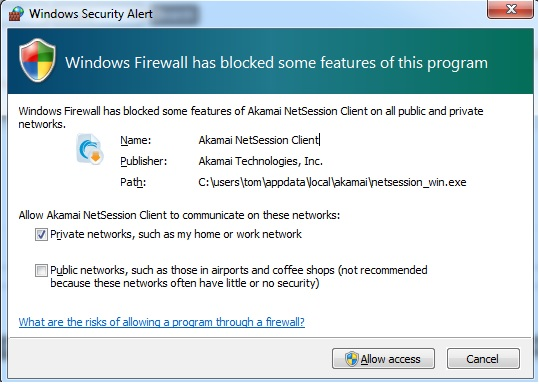 Someone may find when downloading and installing the software such as AutoCAD, AutoDesk, and Photoshop, Akamai NetSession Client will also be installed. And it may take over 10 second when you boot up Windows.
In this way, there is much need for you to get to know what the Aakami NetSession Client is used for and if it is safe on Windows 10.
What is Akamai NetSession Client?
Akami Netsession is a secure application which can running on Windows, Mac, and other system platforms. It aims to provide a much more effective way to download the streams, documents, programs without violating your online privacy and keep your computer safe. When you use this software, it means you joined a peer-to-peer network.
As a friendly program which is designed by Akamai company, the installed Akamai software takes less computer resources, so you do not worry about the high CPU usage and disk usage problem.
In Windows system such as Windows 10, if you downloaded and installed the Akamai NetSession Client, you will get an Akamai NetSession Interface.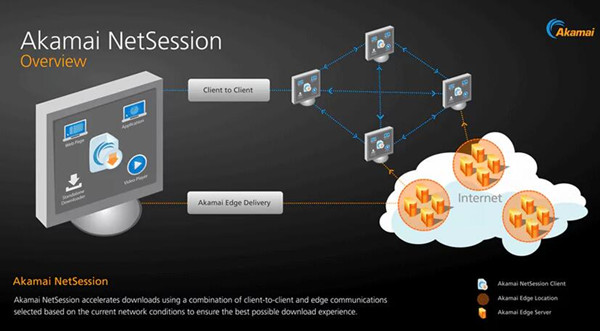 And in the Task Manager > Processs tab, you will find the one or more items of the netsession_win.exe.

As for which programs would use this akamai net sessions in Windows 10, the answer lies in that the ATK hotkey requires it to perform well. And as long as you booted Windows 10, this netsession_win.exe would be automatically activated.
Is NetSession_win.exe Needed on Windows 10/11?
Naturally, this akamai net session client is not a Windows program and you do not have to install it on your PC. But if you need to quicken the pace of some downloading services and uploading services, you can download the akami netsession client.
Therefore, whether or not you should download the netsession_win.exe on Windows 10 depends mostly on the real usage. If you don't want it, just remove it.
Is Akamai NetSession Client a Virus?
Of course, when you first get this netsession_win.exe file from the Akamai websites, it is safe on your PC.
While once some other programs with virus or threats come to your PC and leave in your computer in disguise of the net session.
So if the netsession_win.exe is attacked by some third-party problematic software, Windows 10 will run into slow performance or high CPU in Task Manager.
To check the condition of your akamai netsession client on your PC, you would better navigate to the File Explorer and ascertain the saving location of the netsession_win.exe.
By default, the netsessions is saved in C:\Users\USERNAME. If you find your akamai netsession interface could be found here, it means the netsession_win.exe file runs well on Windows 10.
How to Remove NetSession_win.exe on Windows 10/11?
For the purpose of resolving the akamai netsession client error, it is feasible that you choose to uninstall this executable file from Windows 10. But actually, before you do that, there are some other effective ways you can try.
On the other hand, besides the SFC, you can also make use of DISM to search for the image problems on Windows 10 to see if the akamai netsession client error will be fixed.
In this sense, the file or image issue will disappear and you can obviously take notice of the netsession_win.exe akamai netsession client backs to normal on Windows 10.
Solution 1: Disable NetSession_win.exe Temporarily
Before you dive in to uninstall the Akamai NetSession from Windows 10, it is feasible for you to end the NetSession_win.exe for a while to see if the problem persists. This Akamai NetSession is necessary in some cases, so you would better manage to disable it temporarily.
1. Go to Akamai Control Panel.
2. In this Control Panel, choose Preference tab.
3. Then under Service tab, click Stop.
Upon you have temporarily stopped this Akamai service, try to open Task Manager and then examine whether or not the Akamai Netsession is using up CPU.
If it failed to fix the NetSession error, you may have to get rid of it from Windows 10 or MAC.
Solution 2: Remove Akamai NetSession Client
Next, you can also attempt to uninstall the akamai netsession interface in order to deal with the netsessions_win.exe issue. Or if this service is useless on your PC, you can also manage to stop it from running on Windows 10.
While before you decide to uninstall the netsession on Windows 10, you need to make sure you have closed you have to do that. If you are determined to do so, you should at first remove all the other applications that requires the netsession running on your PC, Once you removed the Akamai Netsession client from your PC, these applications may also out of work.
Another thing you are supposed to do lie in that you are to copy the Akamai folder files in C:\Users\\AppData\Local\Akamai.
Just follow up the procedure the finish uninstalling the Akamai NetSession Interface.
1. Open Control Panel.
2. In Control Panel, click Uninstall a program under Programs.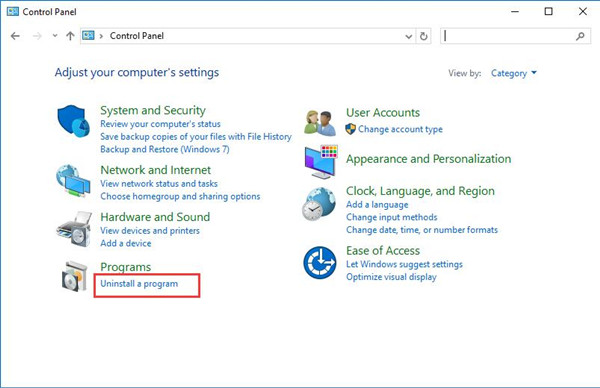 If you are unable to locate the Uninstall a program, decide to View by Category.
3. In Programs and Features window, scroll down to find out the akamai netsession client and then right click it to Uninstall it.
4. Restart your PC.
At this moment, you will have uninstalled the netsessions from Windows 10. And there will be no more akamai netsession interface virus.
In a nutshell, in hope of solving the netsession_win.exe high CPU or slow performance on Windows 10, you can try to remove the akamai netsession client to diminish this issue. And you are able to master what the akamai net session client is on your PC.
More Articles:
What is TrustedInstaller and How to Get Permission from it?
What is MRT.EXE and Should I Remove It?