Fixed: WOW51900319 Error in World of Warcraft
For some users, you may have encountered the error warning you of the WOW51900319 error in World of Warcraft. To be specific, the WOW issue means that you have been disconnected from the server. Therefore, you are unable to play the game as before due to the connection problem in World of Warcraft.

How Do I Fix WOW51900319 in World of Warcraft?
Simply put, this WOW51900319 issue in World of Warcraft can be regarded as a network or server connection error. You need to try different methods to make sure the game connection runs well on Windows 10, 8, 7.
Solutions:
Solution 1: Update the Network Driver
You need to ensure your network adapter driver is running well on Windows 10. In this sense, "you have been disconnected from the server" can be removed for some of you. Therefore, here you would better try to update the network driver and many other drivers like the graphics driver.
Here Driver Booster is available for you to automatically update the device drivers. It will find, download, and install the latest drivers for your PC. And more importantly, Driver Booster will offer you game components, which will be helpful in fixing the WOW51900319 error in World of Warcraft.
1. Download, install and run Driver Booster.
2. Click the Scan button.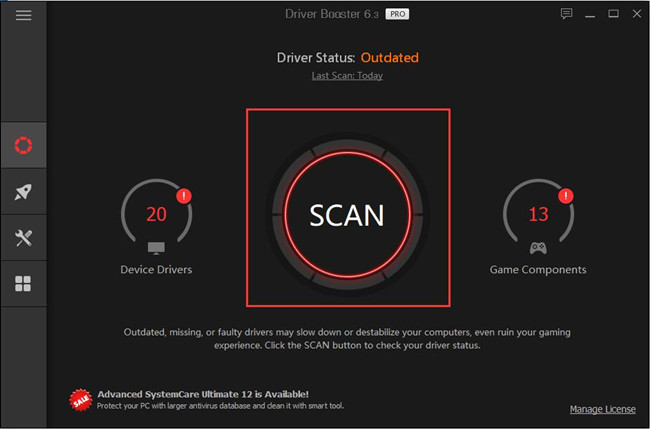 3. Find out Network adapters and Update the network driver.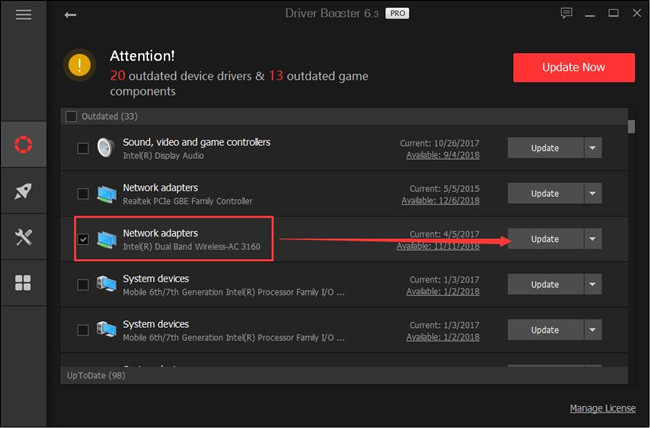 4. Locate Game Components and Update them if there are any shown in Driver Booster.
You can also choose to Update Now to update all the drivers at the same time. Once the network drivers are updated, it is likely that the WOW51900319 error can be solved successfully.
Related: How to Fix Origin Online Login is Currently Unavailable
Solution 2: Optimize Network for WOW Speed
Sometimes, World of Warcraft settings will influence the performance and connection of this game. For instance, if you have not set the enhanced speed for WOW, it may run into a server connection issue. Hence, you might as well manage to optimize the network for WOW speed in order to fix WOW not connecting problem.
1. Open WOW, and select System from the list.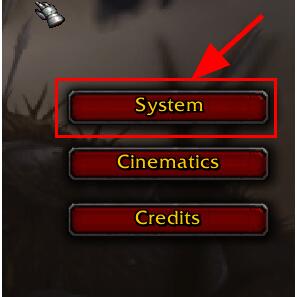 2. In System window, under the subcategory of Network, check the box of Optimize Network for Speed.

3. Hit Okay to save changes.
In this way, you can see that WOW51900319 disconnected error in World of Warcraft has been resolved and WOW is running at high speed.
Related: World of Warcraft Was Unable to Start Up 3D Acceleration
Solution 3: Configure Max Background FPS
That seems to be confusing. But it has been proved that a FPS of 30 may help remove the warning message that you have been disconnected from the server. For this part, you are supposed to set the Max background FPS at 30 FPS to fix WOW server error on Windows 10.
1. In WOW, choose System as Solution 2.
2. In System, under Advanced, set the Max Background FPS at 30 by moving the slider.
3. Click Okay.
Since FPS shows the speed of the video card processor, once if you have made it a proper number, World of Warcraft will be running as normal.
Solution 4: Restart the Network
If you noticed that targeting the WOW failed to solve this connection issue, you can take time to get down to the network for your PC. Now, you can start by restarting the modem.
1. Unplug your modem and wait for 5 minutes.
2. Re-plug in the modem and check if WOW is working well.
Provided that your modem has been running for a long time, it may get heated and offer users a slower connection. So you can restart the modem to cool off it for better performance.
Related: 6 Ways to Fix Overwatch Lost Connection to Game Server
Solution 5: Reset Winsock
Winsock is the program to control the network data used by different applications. To some extent, if you meet with the WOW51900319 issue, it is worth trying to reset Winsock to make sure it works on your system.
1. Search Command Prompt in the search box and then right click it to Run as administrator.
In Command Prompt, type in netsh winsock reset and then hit Enter to run the command.

Upon the reset of Winsock, perhaps you can also play World of Warcraft as normal as the error of WOW51900319 has been resolved.
Solution 6: Reset DNS and IP Address
On your PC, the DNS and IP addresses are also closely related to the WOW connection, so you might as well reset them as well.
1. Open Command Prompt with administrative privileges, input ipconfig /flushdns and then press Enter to flush the DNS address on your PC.
You can also choose to reset the IP address on Windows 10.
2. In command prompt window, enter ipconfig /release and hit Enter key.
3. Then run the command ipconfig /renew to renew the IP address.
That will reset the DNS and IP address, and WOW will perform well without the warning that you have disconnected from the server.
Related: 11 Ways to Solve PUBG Failed to Initiate Steam
Solution 7: Reset WOW User Interface
It is also understandable that you may need to reset the WOW user interface as it may be corrupted, causing WOW not to work on Windows 7, 8, 10. Follow up to make this end.
1. Exit World of Warcraft. If you want to reset its interface, you have to close it completely.
2. On the Blizzard.net gaming platform, go to Options > Show in Explorer.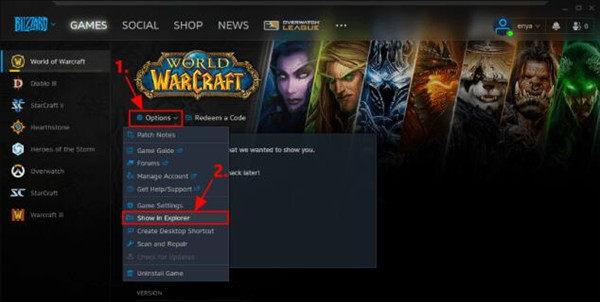 3. Get out of Blizzard.net by clicking Exit.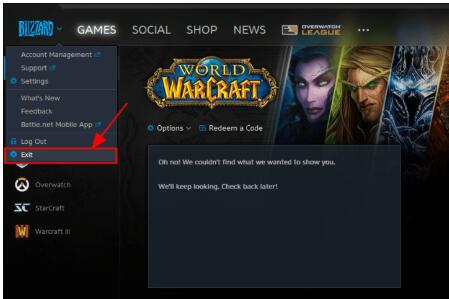 4. Then a new window will pop up, and select the World of Warcraft folder.
5. In World of Warcraft retail or World of Warcraft classic folder, right click to Rename the three sub-folders Cache, Interface, and WTF folders to CacheOld, InterfaceOld, and WTFOld.
You can go to Blizzard.net and launch World of Warcraft to check if WOW server error is fixed.
All in all, the solutions above are said rather useful to solve WOW51900319 in World of Warcraft as proved by numerous gamers. But if your WOW keeps disconnected, perhaps you have to uninstall the gaming platform in Control Panel and reinstall it again.