Fixed: Fallout 4 Long Load Time on Windows 11, 10, 8 and 7
How long is Fallout 4 to load? Many gamers can't help asking this question how to wait in Fallout 4 when it is stuck in crafting menu or any other game interface. Some gamers even find that Fallout 4 is stuck at the startup when loading the screen.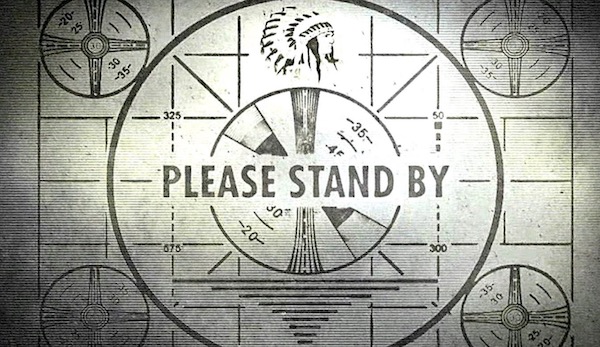 This role-play game has become more popular ever since its release. However, taking a long time to load seems to be a common problem facing Fallout 4 gamers.
No matter you are playing Fallout on Windows or PlayStation or Xbox One, you may hit upon Fallout 4 slow loading or stuck at loading. Wait too long but Fallout 4 doesn't respond? Do not worry! This post will tell you how to fix Fallout 4 loading too long error.
Why Does My Fallout Take So Long to Load?
Whether you are encounter Fallout long load time upon launching it or during the gameplay, for  instance, when you are constructing a water pump, it may result from problematic game or system settings. For example, some gamers reported that Fallout 4 takes a long time to load in full screen or opens then closes immediately.
Meanwhile, the syncing settings like Cloud sync will also cause Fallout 4 stuck at the loading screen. If the game is outdated or corrupted, odds are that it will not run as normal. Anyway, you need to check related settings to ensure they are well-configured.
How to Fix Fallout 4 Long Load Time?
You can now try the solutions below to fix the Fallout 4 loading for too long. If possible, you can selectively follow the solutions according to your case. For instance, if you hit upon Fallout 4 stuck at loading every time you enable the full screen mode, you can try solution 1.
Solutions:
Solution 1: Activate Fallout Windowed Borderless Mode
Gameplay in the full screen is extremely enjoyable for gamers, but the full screen mode tends to cause many gaming issues, like Fallout 4 long-time loading with no response. Therefore, you might as well try to exit the full screen and enter the Windowed Borderless Mode.
Here, you need to know that since Fallout is a Post Nuclear role playing game on Steam, you need to enable the windowed mode in Steam for Fallout 4.
1. Launch Steam and go to Library.
2. In Library, find out Fallout 4 and then open its Properties.
3. Under General, choose to Set Launch Options.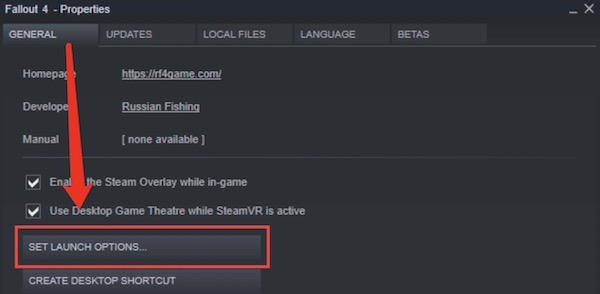 4. Select "–windowed-noborder" and then hit OK.
After you closed the Steam app, try to launch the Fallout 4 game to check whether it will still take so long to load.
Solution 2: Disable Cloud Sync
Cloud sync is often enabled by gamers to save files automatically to the Cloud like gaming video. However, it usually takes too much space and slows down the game, so you might as well manage to turn off Cloud sync settings in case if leads Fallout 4 to load with no response.
1. On Steam > Library, access Fallout 4 Properties.
2. Under Update, uncheck the box of "Enable Steam Cloud Synchronization for Fallout 4".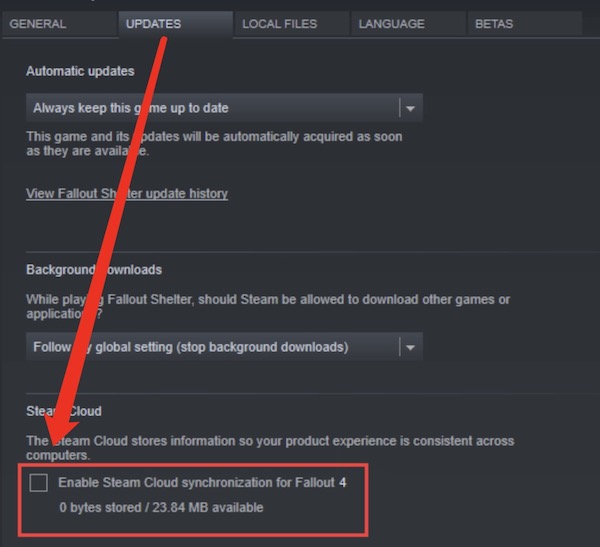 3. Restart Steam and launch Fallout 4.
Solution 3: Edit Fallout 4 Local File
Some gamers also reflected that editing local files of the Fallout 4 game will also help to stop Fallout 4 long load time error. It is rather foolproof, so you can just have a try.
1. Press Windows + R to elevate the Run box and then enter %UserProfile%\Documents\My Games\Fallout4 in the box. And then hit OK to save changes.
2. In Fallout 4 local folder, find out the Fallout4Prefs.ini file.
3. Under General, copy and paste the following content.
 iNumHWThreads=X
 uExterior Cell Buffer=64
Note: "X" represents the number of the CPU cores. You need to change its value according to your PC.
You can then re-launch the game to see whether it will keep loading a screen and does not respond.
Solution 4: Adjust Fallout 4 FPS
Low Frames per second (FPS) may result in slow screen refreshing. FPS means how many times the images of a game refresh in one second. If you find your Fallout 4 takes long time to load, you may as well try to set a higher FPS value.
1. Launch Fallout 4, and then find out Options > Video > Graphics.
2. Locate "Maximum Frames Per Second" and then choose to set the maximum FPS.
Solution 5: Update the Graphics Driver
The display driver is essential for video games. Hence, it is worthwhile to keep the graphics driver up-to-date to make sure it supports the Fallout to run smoothly.
Here, Driver Booster, top one driver tool, is a good helper for you to download and install the latest device drivers automatically and quickly.
1. Download, install and run Driver Booster on Windows 11.
2. Click Scan. You can observe that this driver tool is searching for all drivers on your device.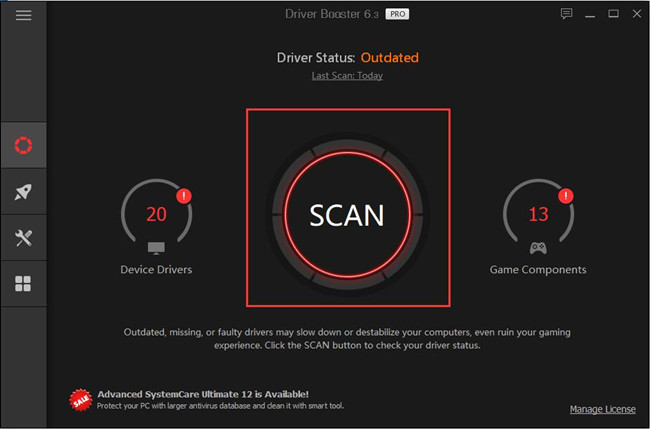 3. Find out Display adapters and then Update the graphics driver automatically.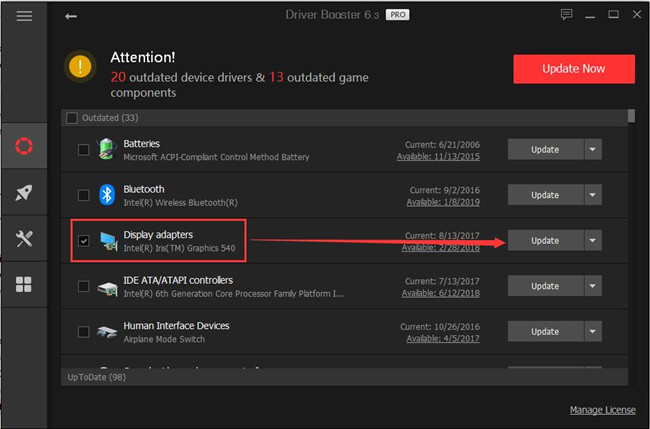 Wait until the latest display driver is installed. After that you can check whether you still need to wait for Fallout 4 for a long time.
Solution 6: Update Fallout 4
In case your Fallout 4 is outdated and lacking new features, you can take time to Fallout website to search for Update 4 2021 update or the latest Fallout 4. You need to ensure the source is reliable, so it is wise to head to the Fallout official website.
After downloading and installing the latest Fallout 4 patches, chances are that Fallout won't take too long to load. Sometimes, updating the game will also help fix Fallout 4 crashing at startup.
Solution 7: Install Fallout 4 on an SSD
It is known that SDD (solid-state drives) will help computer boot far faster than HDD (hard disk drives) as a solid state drive reads up to 10 times faster and writes up to 20 times faster than a hard disk drive. Sometimes, if the hard disk space is heavily occupied, games won't run smoothly as they do before.
In this way, if you do not want to empty the disk space but to fix the Fallout 4 long-time loading problem, installing the game on an SSD can be a feasible choice.
Summary:
If you are facing the problem about Fallout 4 long load time, you can find effective solutions in this post. In most cases, existing the full screen, changing the FPS setting, and updating the Fallout 4 game software can help most users stop Fallout 4 from loading screen.
More Articles:
Solved: Fallout 4 Script Extender Not Working
Resolved: Skyrim Infinite Loading Screen Quickly and Effectively
Tags :
Steam