God of War System Requirements & Can My PC Run it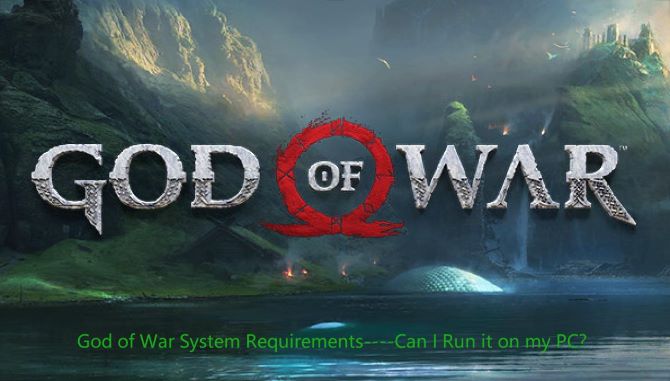 God of War is an action-adventure game series created by David Jaffe of Sony Santa Monica Studios. But is your PC up to handle this game? Check out this article below to find out this answer. We'll tell you the minimum and recommended specs to run God of War.
Beyond that, you can test your PC to see if it can run God of War or check system requirement details for CPU, OS, graphics cards, required disk space, and much information about how to speed up games.
Minimum System Requirements of God of War
(Requires a 64-bit processor and operating system)
Operating System (OS): Windows 10 64-bit
Processor (CPU): Intel i5-2500k (4 core 3.3 GHz) or AMD Ryzen 3 1200 (4 core 3.1 GHz)
Graphics Card (GPU): NVIDIA GTX 960 (4 GB) or AMD R9 290X (4 GB)
Memory: 8 GB RAM
Storage: 70 GB available space
DirectX: Version 11
As you can tell from the God of War's minimum requirements above, it isn't exactly a lightweight game. To meet the minimum game requirements, you'll need a CPU as powerful as an Intel i5-2500K or AMD Ryzen 3 1200 Processor with NVIDIA GTX 960 (4GB) or AMD R9 290X (4GB) GPU. That's the only deviation from listing HDD, but SSD is still recommended, but you'll need 70GB of space either way.
If your gaming PC meets the minimum system requirements for God of War, you should be able to run the action-adventure game at 720p on low settings with an average frame rate of 30fps. You can be sure that your gaming experience will not stutter or crash.
Recommended System Requirements of God of War
(Requires a 64-bit processor and operating system)
Operating System (OS): Windows 10 64-bit
Processor (CPU): Intel i5-6600k (4 core 3.5 GHz) or AMD Ryzen 5 2400 G (4 core 3.6 GHz)
Graphics Card (GPU): NVIDIA GTX 1060 (6 GB) or AMD RX 570 (4 GB)
Memory: 8 GB RAM
Storage: 70 GB available space
DirectX: Version 11
However, to experience God of War as the developer intended, your computer should meet the recommended system requirements to ensure perfect reproduction of the game's performance.
Meeting God of War's recommended system requirements means you'll need a powerful processor like an Intel i5-6600K or AMD Ryzen 5 2400G. In terms of the graphics cards, you'll want something as powerful as an NVIDIA GTX 1060 (6GB) or an AMD RX 570 (4GB). Storage and RAM requirements remain the same. Only then will you get the best experience and run this game at its best.
Can I Run God of War on My PC?
PC gaming is not as simple as console gaming. If you have a laptop with poor graphics hardware or an older computer, your computer will not be able to run God of War. Therefore, be sure to check that your PC supports the game before you spend your hard-earned cash.
First, you need to know about the hardware in your computer – mainly the CPU speed, RAM amount, and graphics card details.
You can find the specs of your laptop by following the steps below.
Step 1: Right-click on the Start Button.
Step 2: Choose the System on the page, then your system information will show up.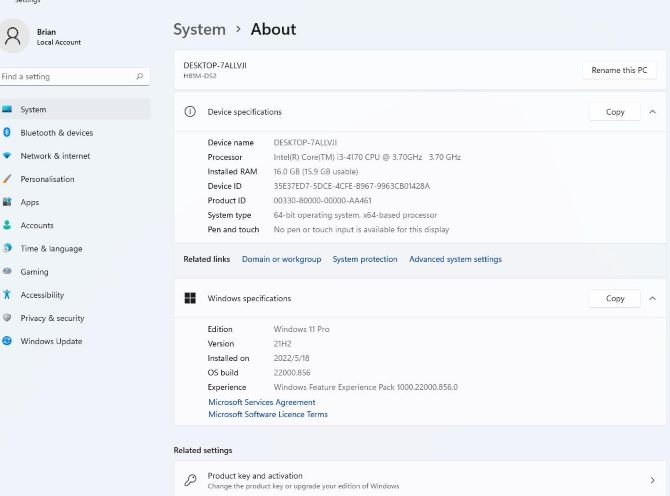 The information displayed is compared to the game details listed above. Pay particular attention to processor, memory, and graphics card requirements. Once you memorize the basic hardware your computer contains, checking system requirements is as easy as browsing them and comparing them from memory.
You need to be aware of the difference between the minimum and recommended requirements. The minimum requirements are what is required for God of War to proceed. You usually have to run the game on the lowest settings, which might not be a very fun experience. You'll have a better gaming experience if your PC meets the recommended specs for God of War.
How to speed up God of War on PC?
If you want to boost your computer's performance without spending money on expensive upgrades, overclocking is a great way to make your PC run faster. In general, if you want better gaming performance, overclocking is often a quick, easy, and cost-effective way to unlock better performance, especially when compared to the cost of upgrading to a new CPU or even a new computer. Overclocking can help increase FPS so that you can enjoy better game quality.
Smart Game Booster is a utility that integrates numerous functions to optimize and monitor PC performance. It includes multiple modes including Game Boost, CPU and GPU overclocking, temperature monitoring, and more. Especially if you are a game lover, you can activate Game Boost mode to optimize the process and RAM usage, beneficial for video games and automatic overclocking of CPU and GPU.
Therefore, Smart Game Booster is a very easy-to-use program, almost all functions are made in a fully automatic manner. It is especially aimed at those who do not have a lot of knowledge of hardware. Highly recommended for beginners who want to overclock their PC and optimize it without too much trouble. Please download Smart Game Booster now to overclock your computer and speed up the God of War.
Step 1: Download, install and run Smart Game Booster.
Step 2: Add God of War into the interface.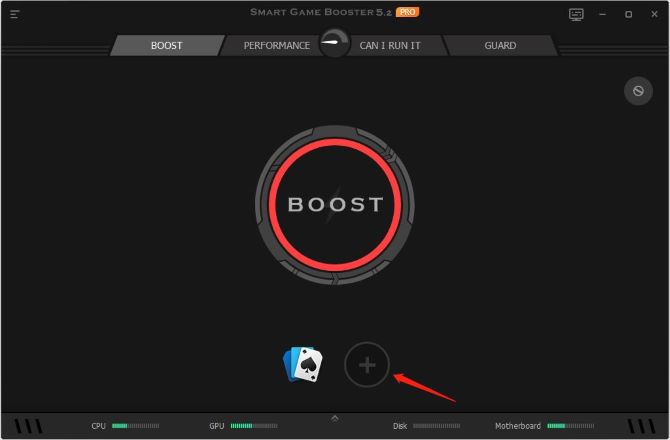 Under the BOOST button, Smart Game Booster will list all automatically recognized games. You can also click the "+" button or drag and drop a game's shortcut to add it to the games list if it's not automatically detected here.
Step 3: Modify overclocking settings.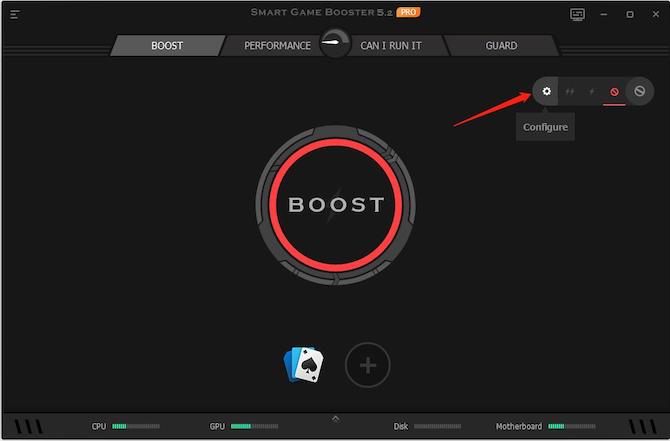 On the upper right side of the main window, there is an icon showing the status of Super Booster. When the cursor is moved over the icon, the slider will show the configuration and the status of Super Boost. You can easily enter configuration or switch Super Boost levels on the slider. There are four levels.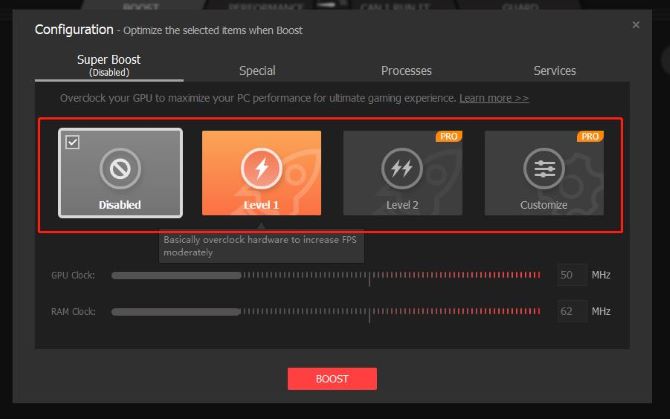 Disabled: Not overclock.
Level 1: Overclock your GPU and CPU basically.
Level 2: Overclock GPU and CPU ultimately.
Customize level: Set the overclocking number by yourself.
Tips: When you choose a Custom level, you should consider whether your computer hardware is advanced enough to withstand this level of overclocking without any risk.
Step 4: Click Boost to finish to overclock GPU.
Step 5: Return to the main window and click the BOOST icon.
If there are updates available for your device drivers, Smart Game Booster will ask you to update them. Just follow the on-screen instructions to download and install them.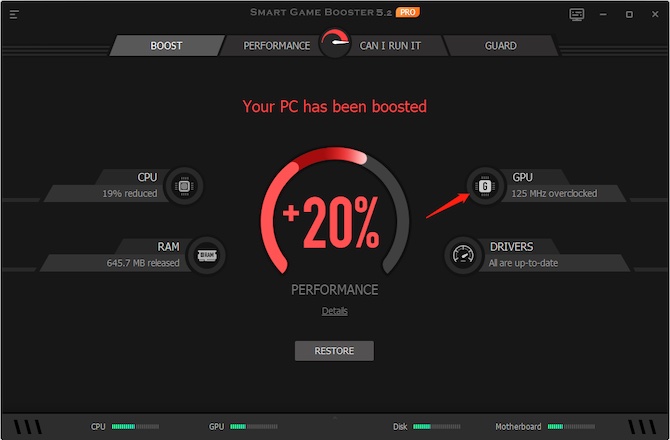 After boosting, achieve higher FPS and speed up the God of War by unleashing the full potential of CPU and GPU, clean up the PC to free up disk space, resulting in smoother animations, less tearing, and lower system lag.
FAQ about God of War System Requirements
Q1: Can I run God of War on Mac?
No. God of War cannot officially be played on Mac.
Q2: Can God of War run on a 2GB graphics card?
No. On the graphics card front, you'll need something as strong as an NVIDIA GTX 960 (4 GB) or AMD R9 290X (4 GB).
Q3: Can I run God of War on 4GB RAM?
No. You must have 8GB RAM at least.
Q4: Is God of War a demanding game?
No. Meeting the minimum specs of this game is extremely easy. Any gaming PC at all that was released in the past four years should be able to meet it, and any moderately powerful gaming PC released in the last eight years can probably handle it too.
Q5: How much does God of War cost on Steam?
God of War costs $49.99 on Steam.
Tags :
system requirements