Googledrivesync.exe: What it is and how to remove it?
Suddenly, you noticed that there is a googledrivesync.exe on your system. You do not know what this file is used to do and whether you should keep it on Windows, Android, or Chrome OS system. Or even some of you found that googledrivesync.exe existed for a long time, it goes so slowly that you are even doubting that this exe file is going to finish.

Anyway, provided that you have any doubts about the googledrivesync.exe, for instance, "is it a virus" "why is it running in the task manager", and "how can I get rid of it", try to refer to the following content.
Overview:
What is googledrivesync.exe?
Googledrivesync.exe is an executable file that is a component of "Google+ Auto Backup" software. And Google Drive is developed by Google to store and sync files.
It is said that googledrivesync represents Google Drive Synchronizer, usually located in the folder C:\Program Files (x86)"—mostly C:\Program Files (x86)\Google\Drive\. is mainly used to sync online Google Drive and local files.
However, this executable file is not a Windows-based service and it is not required in all systems. Moreover, files in Google Drive with the help of googledrivesync are private and would only be accessible when people set it public.
Is googledrivesync.exe Safe?
Normally, although googledrivesync.exe is not a system service, it will not pose threats to the Windows or Chrome system.
Nevertheless, since this is an executable file, the googledrivesync EXE file tends to be infected by erroneous files, thus being regarded as a virus and dangerous to the system. That accounts for why people think googledrivesync.exe is not safe.
Once any virus pretends to be googledrivesync, it is natural that various error codes would come up showing up problems with googledrivesync.exe. Hence, in terms of the question "do I need to uninstall this Google Drive service", it is up to your system and problems with the system.
That is to say, if the system reminds you that something wrong with this Google Drive service, you may as well get rid of this problematic file from Windows 7, 8, 10. If not, you would better maintain the googledrivesync.exe on your PC in case of future needs.
How to Remove googledrivesync.exe?
If you are prompted by googledrivesync issues and you are determined to uninstall it once for all, it is recommendable that you follow up to do that.
In most cases, no matter what errors happen to this Google Drive Synchronizer, uninstalling the problematic one and installing the latest one would be useful. To remove googledrivesync.exe, just turn to the control panel.
1. Search Control Panel in the search box and then hit Enter to get into it.
2. In Control Panel, find out Programs > Uninstall a program. Here, you might as well try to View by Categories.
3. Then in Programs and Features, locate "Google+ Auto Backup" and right click it to Uninstall this app.
4. Restart the PC if prompted to do so.
To completely get rid of the googledrivesync.exe, you can delete the file.
5. Open File Explorer, and then go to C:\Program Files (x86)"—mostly C:\Program Files (x86)\Google\Drive\ and right click the exe file to Delete it.
For now, you will have removed the googledrivesync exe file completely from Windows 7, 8, 10. If you do need this Google Drive backup service, you can download it on Google Chrome official site.
Related: How to Turn Off or Uninstall OneDrive on Windows 10
How to Fix googledrivesync.exe errors?
When googledrivesync executable file is reported to encounter problems, apart from removing this Google Drive backup software, it is also of great necessity to give a full scan for your system to ensure there is no malware camouflages itself as googledrivesync.exe.
In this part, Advanced System Care can be a professional and efficient tool that will troubleshoot your PC automatically for various problems, including that of files, such as googledrivesync.exe issue.
1. Download, install and run Advanced SystemCare on your system.
2. Under Clean & Optimize, tick all the boxes and then hit Scan.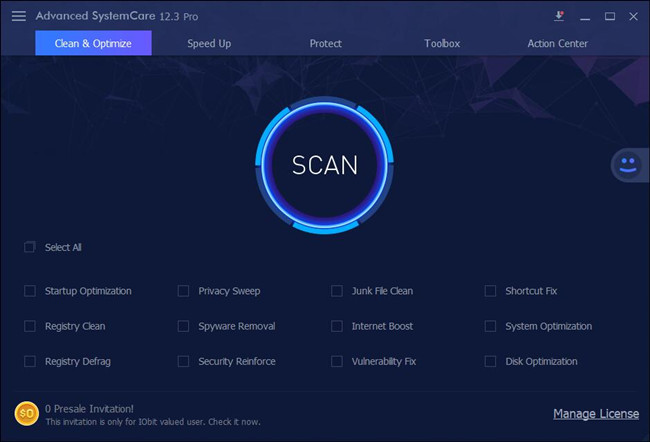 Here, you can choose only to check the box of files to scan all the files on your PC.
3. Once the scan finishes, click Fix to fix all the erroneous files, registries, and other components on the system.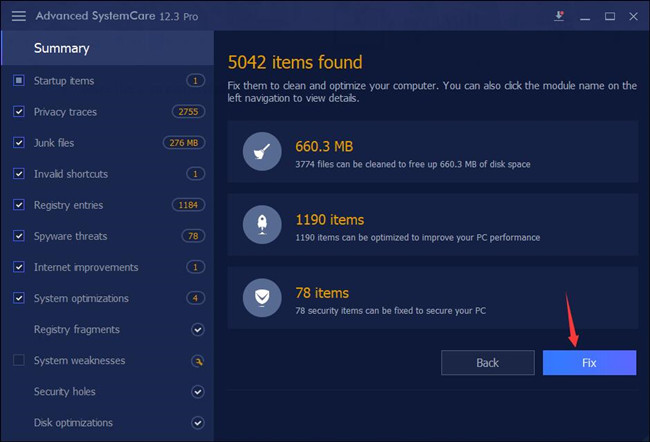 In so doing, Advanced SystemCare is proved capable of solving googledrivesync issues automatically and effectively.
All in all, for users who have any problems with one of the components of Google Drive, googledrivesync.exe file, you can find answers in this post. And more often than not, you will learn what it is, is it a virus, and how you can disable googledrivesync.exe on Windows 10, 8, 7, or other systems.
More Articles:
Culauncher.exe: What it is, is it safe and How to Remove it
Win32WebViewHost: What it is and How to Remove it?
Tags :
startup