How to Record Screen on Windows 10
Do you want to record a screen on Windows 10? Sometimes, users would like to capture the screen even with sound and video for future use.
For instance, you may need to record screen on your laptop, or you need to record the gameplay or capture a Windows 10 screen with audio to record the speech content or music. More importantly, some users want to record videos on Windows 10.
As you all know, Windows 10 has offered a system screen recorder named Xbox Game Bar along with the Gaming system settings. Unfortunately, many of you can't use Xbox Game Bar to record the screen with audio, not to mention to capture a game video.
This article will help you use both the Windows-based system screen recorder and another reliable and efficient screen recorder for screen capturing on Windows 10.
How to Record Screen on Windows 10?
If you would like to capture a Windows screen or video, there are different options open to you. On Windows 10, you can make the best use of Windows-based tools like Xbox Game Box. Or you can turn to the best screen recorder as voted by users to record screens with audio and video on Windows 10.
Methods:
Method 1: Capture Screen on Windows 10 Using Built-in Xbox Game Bar
As a new feature added to Windows 10, Xbox Game Bar allows Windows 10 users to manage the gameplay effectively. Among the features in Game Bar, game recording is an essential one. For some users, it doesn't mean that Windows 10 Game Bar can only be used to record games with audio but also screens on other occasions on Windows 10 besides gameplay.
When the Game Bar is enabled, users can record a clip or take a screenshot when something awesome happens. In this case, no matter you are to record gameplay on PC or capture a simple screen or video screen in any program like a document in Microsoft Office on Windows 10, it is feasible to use Windows 10 Game Bar to achieve your aim.
To use Windows Game Bar, you need first turn it on and then follow the steps to capture screens using this game recorder.
1. Go to Start > Settings > Gaming.
2. Under Game Bar, switch on Record game clips, screenshots, and broadcast using Game Bar.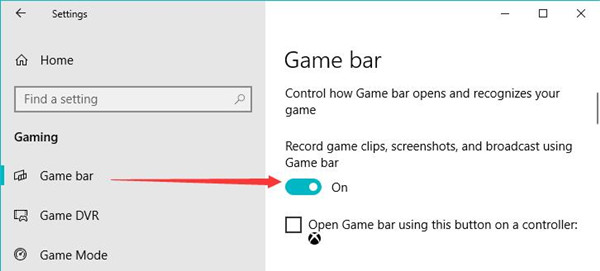 Of course, if you have enabled Windows 10 Game Bar, just skip this step and go directly to step 3.
3. Press Windows + G to open the Game Bar.
4. Check the box of "Yes, this is a game."

5. Hit the icon at the center of the Game Bar dialog to start recording.
6. As you can see, you can also Record from now by using the combination key (Windows+Alt+R).

7. You can see Game Bar is recording.

8. If you want to record a screen with audio, hit the speaker icon to tick the box of "Record audio when I record a game" to allow Game Bar to record the screen with sound.

9. Hit the red circle to stop the recording.
10. Go to Start > Settings > Gaming > Game DVR.
11. Under Game DVR, hit Open folder.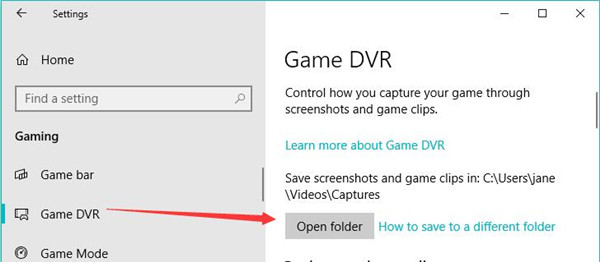 12. Then you will navigate to the folder that stores your screenshots and game clips.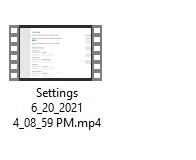 Now, you will have captured screenshots or video clips on Windows 10 using the Game Bar. If needed, you can just leave Game Bar on so that you can press Windows + G to open the Game Bar directly next time.
However, if you find the Game Bar failed to take a video of the screen on Windows 10 or it slows down your PC, you can disable Game Bar.
Method 2: Record Screen on Windows 10 Using an Easy-to-use Screen Recorder
Apart from the Game Bar on Windows 10, people can also use an efficient screen recording tool to quickly react to their needs whenever and wherever screen or video capture is needed. Here, iFun Screen Recorder is recommended to you to record a screen or capture a video screen when you need to record a document or gameplay or a video clip by offering users the following features.
What are the strengths of iFun Screen Recorder is screen recording?
Flexible Screen Capture
Facecam Recording
No Lagging While HD Recording
Take Screenshots While Recording
Multiple Output/Convert Formats
Record the Screen with Audio
Hence, if you find Xbox Game Bar can't help you capture Windows 10 screen with audio or record videos as you wish, for instance, sharing the captured screenshots or videos quickly on social media platforms like Facebook or outputting videos in TS or GIF formats.
1. Download, install and run iFUN Screen Recorder.
2. Hit REC to start recording.
Here you can select a region including Full Screen, Select Window, Select Region, Fixed Ratio (4:3), and Fixed Ratio (16:9).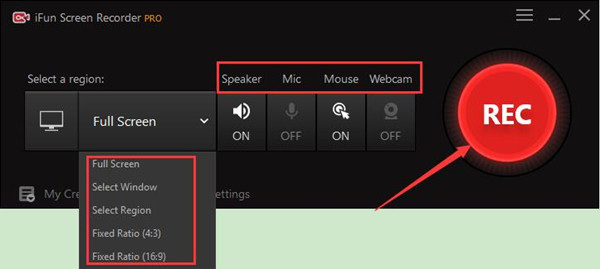 Here you can also record the screen with audio by opening the Speaker or Mic, or you can also do a Facecam recording by turning on the Webcam.
3. After three seconds, this screen recorder will start recording.

4. Hit the Stop icon to stop recording.

You can also click the camera icon to Take a screenshot and click the arrow icon to minimize the dialog.
5. Check the Videos and Screenshots in the recorder.

You can play the play icon to play the video. Hence, you can this screen recorder can be widely used in people's life and work, including video conferences, movies, music, online course, self-made tutorials, and game recording.
In short, this post tries to show you how to record screens on Windows 10 with and without audio. You can also capture screenshots and record video screens quickly on Windows 10 in different formats using the two free screen recorders introduced in this post.
More Articles:
Fixed: OBS Game Capture Black Screen on Windows 10, 8, 7
How to Customize Lock Screen on Windows 10
Tags :
screen