How to Remove the Activation Lock on Mac, iPhone, and iPad? [Without the Previous Owner's Account]
Have you got an iPhone or MacBook from others but had no idea about the passcode, Apple ID, and password? Especially, in some organizations, employees will get an iPhone or MacBook Air or Pro for work so that data will be stored on the iPhone, iPad, and Mac instead of the personal computer.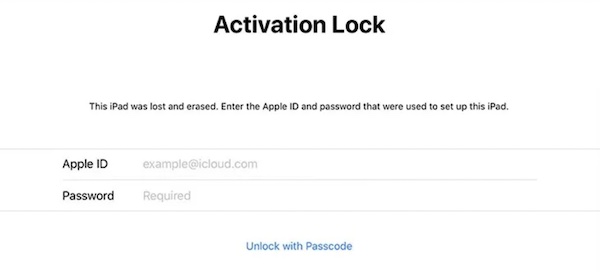 However, when some employees left the organization, new employees who use their iPhone or MacBook don't know the Apple Account credentials.
You can't unlock the Activation lock without the passcode or Apple Account. Hence, you failed to enter the iPhone or iPad, or Mac due to the Activation lock. As you can see, users can also unlock the Apple device with a password, but you don't know the password, either.
Don't worry! This article will help you learn how to remove the activation lock of a used iPhone, iPad, or Mac without the previous user's account.
What is Activation Lock? When Does it Work?
Activation lock refers to an inbuilt feature of Apple devices to protect data from being accessed when the devices fall into wrong hands, for instance, being stolen. Even if your iPhone, iPad, or Mac is in the wrong hands, the activation hands will work to help the real users to recover their Apple device.
Without the Apple ID and password, others won't unlock your device as activation lock comes to play to lock up the device.
Activation lock works when users try to factory reset Apple devices like Mac, iPhone, and iPad. After the release of iOS13 and the macOS, the Activation lock is placed under the "Find My" app.
Therefore, so long as you enabled Find My on your Apple device, the activation lock will also be turned on. It is also worth noting that the activation lock will never expire. It is only when the original purchaser or user locks the device will activation lock be removed.
When Do You Need to Remove the Activation Lock on iPhone, iPad, or Mac?
As said before, when you have no Apple ID and password as well as the passcode to unlock the Mac or iPhone, the activation lock will deter you from using it. In this way, you need to get rid of the activation lock to access the Apple device.
For instance, if you have purchased a second-hand Mac or iPhone, or you have got a used MacBook or iPhone or iPad from a previous employee, you may need to bypass the activation lock to use the Apple device without the previous owner.
How to Remove the Activation Lock on MacBook, iPhone, and iPad?
If you need to remove the "Find My iPhone" activation lock without a previous user, you can try different methods to bypass the activation lock. Just choose one way that suits your needs. Whatever method you are to take, you may as well take care of your data.
If possible, always back up your data via iCloud in case of data loss when you need to unlock a locked iPhone or iPad, or Mac.
Method 1: Bypass Activation Lock on Computer Automatically
It is always annoying users who decide to get rid of the iCloud Activation Lock. Actually, if you are not proficient in fixing lock or password issues yourself, it is more feasible that you try to make full use of a reliable, professional, and safe tool to help you automatically remove the activation lock.
Here, MobiUnlock can be a rather effective automatic tool that helps you bypass iCloud Activation Lock in seconds via Mac or Windows PC. It also supports various device models such as all iPhone models running iOS 16 to iOS 9.
After that, you will be able to activate your iOS/iPadOS device again and take control of them without any limits like the Apple account and password of the previous user.
Note:
Before you bypass the iCloud Activation Lock, you need to jailbreak your iOS and iPadOS device. Please think twice before you jailbreak your device.
After bypassing the iCloud Activation Lock, you won't be able to make phone calls or send messages. Besides, you cannot sign in to the iCloud with a new Apple ID and use your iCloud services.
 1. Download and install  MobiUnlock on Mac, then run it on your Mac pc.
2. Click Bypass Activation Lock.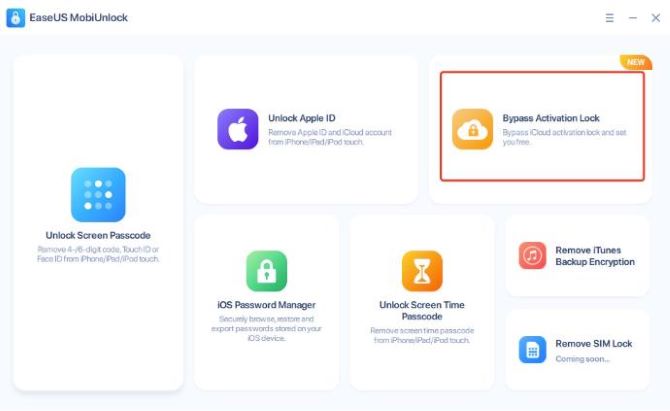 3. Connect your iPhone to a Mac via a lightning cable.
Two prompts will pop up respectively on your Mac and iPhone.
You need to click Allow on Mac and click Trust on iPhone.
4. After the connection is finished, MobiUnlock will detect your iPhone automatically. Then, click Start.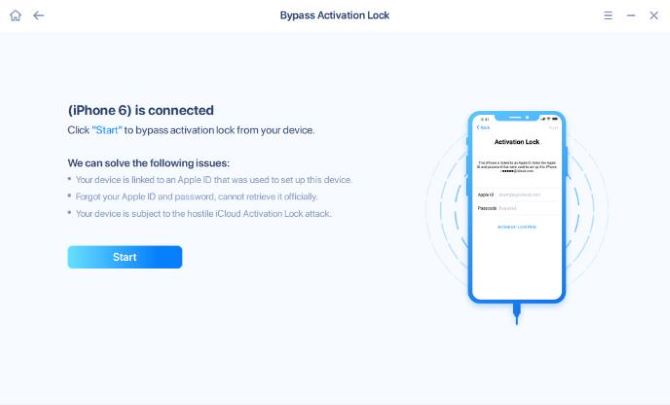 5. A Terms of Use will prompt you and you should click I Agree.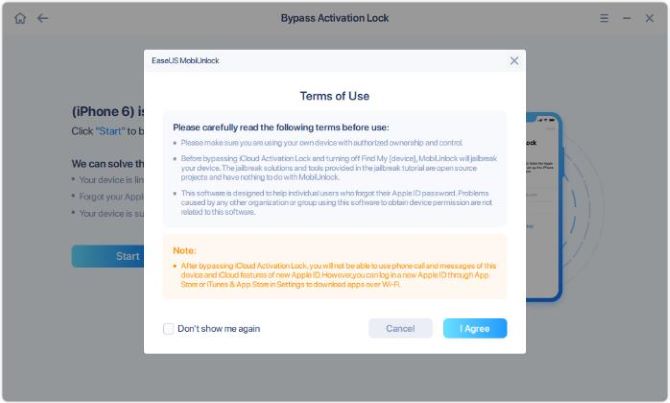 6. If your device is jailbroken, click Jailbreak Completed. 
If your iPhone is not jailbroken, you will receive a notification page and you can click Jailbreak Tutorial to get the guidance.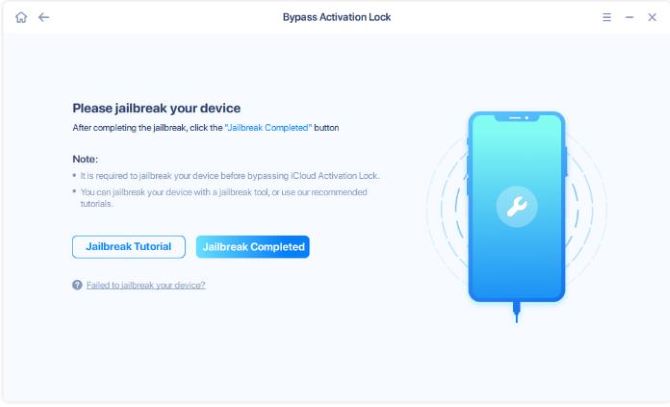 7. MobiUnlock will detect and show your device information. Please make sure it is correct and click Bypass Now.
8. Please wait patiently till the unlocking process completes.  After that, you can safely remove the device after you click OK.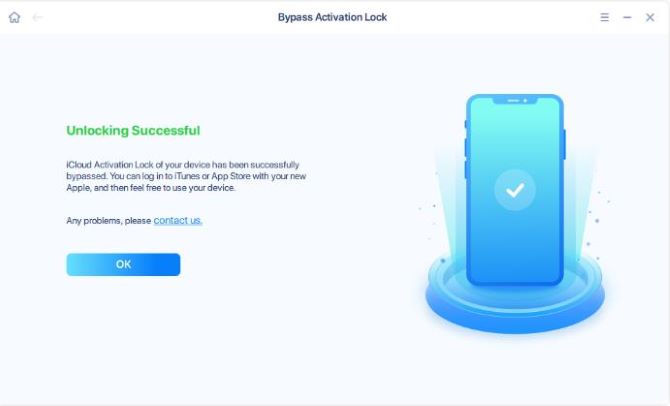 In so doing, you can use another Apple ID and iCloud account on this iPhone, iPad, or Mac without the previous Apple account. The activation lock won't stop you from accessing the device later. In other cases, for instance, when you forgot the Mac password, you can also use this tool to automatically and safely wipe the passcode.
Method 2: Bypass iCloud Activation Lock via DNS
iCloud DNS Bypass is a method that provide you a temporary access to your iPhone. It is completely free and requires no installation of any third-party software.
However, it has no guarantee that it works 100% for your iPhone and not supports all iOS versions. If you use this method, you can only access certain features on your phone.
iCloud DNS Bypass will help you with the following easy steps:
1. Turn on your iPhone. Select your Language and Country from available menu.
2. Move to Wi-Fi settings page and disconnect the Wi-Fi network.
3. Tap on the "i" button and select Manual in Configure DNS.
4. Enter one of the following DNS servers. It depends on your current location.
USA/North America: 104.154.51.7
Europe: 104.155.28.90
Asia: 104.155.220.58
In the rest of the world: 78.109.17.60
 5. Tap Back and connect to your Wi-Fi network.
6. Click on the "Next Page" and then click on the "Back" button to enter into the iCloud bypass screen.
Then, you can bypass the activation lock and configure the options available on your screen.
Method 3: Unlock the Activation Lock via iCloud (When the Device is Offline)
When your Mac or any other Apple device is offline, you may have to go to the iCloud official website to remove the activation lock without the previous owner.
1. Navigate to iCloud.com/find.
2. Sign in with your Apple ID and Password.
3. At the top of the webpage, locate and hit All Devices.
4. Select the MacBook or any other device and then Remove it from Account.
Therefore, you can observe that the device disappears under your iCloud account. The activation lock will not be available with the Apple ID and passcode for the removed device.
Method 4: Remove the Activation Lock by Apple Support
Normally, to avoid data loss or misuse of Apple devices by others, users will find it difficult to remove the activation lock. If you feel at a loss while following the above methods to remove iPhone or Mac activation lock, you may as well resort to the Apple technicians.
But you need to provide them with your proof of purchase so that Apple Support will agree to help you remove the "Find My iPhone" activation lock from your Apple device without the previous owner.
So long as you can prove that you are the owner of the device legally, the technicians will remove the activation lock. When needed, you also need to show them your identification card to prove your identity.
Summary:
Users can learn from this tutorial to remove the activation lock on iPhones, iPad, or MacBook using different methods. In this way, without the previous owner's account, you can re-set up a new Apple account and password to sign in to this Apple device.
More Articles:
How to Find the Lost AirPod/AirPods/AirPod Case?
Resolved: Sign Out is Not Available Due to Restrictions on iPhone and iPad
Zsh: Permission denied in Mac Terminal (A Complete Guide 2022)