Solved: Spotify Can't Play This Right Now (2023 Update)
Spotify Users have encountered situations where they cannot play songs in this player. Some people may not be able to play the current track on Spotify, while others cann't play all the songs or an album. And the most common error message may be: Spotify can't play this right now if you have the file on your computer you can import it.
Overview:
Spotify Songs Can't Play Messages
Since Spotify's music can be played on different devices, and users are divided into subscription users and free users, and some users download music to local disks, so everyone may encounter different situations. The most common Spotify errors may be:
Songs playback fails to start on all tracks (PC and Mac)
Songs fails to play from a certain album
Songs playback fails to download local files.
Songs playback fails to download some of the local files
Songs cannot be played on other external receivers
If you encounter the similar situations, you can try the following methods.
How to Fix Spotify Can't Play This Right Now
If Spotify cannot play songs, the reasons may vary from device to device. For example, a song cannot be used in a region because of copyright reasons. When you see it, it may be displayed in a gray state. Naturally, when you play it, it may pop up a prompt: You can't play the current song.
Other reasons may also cause music not to be played such as some problematic hardware settings and software settings regarding improving performance and local cache files.
Next are solutions about fixing the Spotify playing songs' problem, you can follow all the methods one by one.
Solutions:
Solution 1: Restart Your Computer
Please restart your computer before you try all the methods below. Normally, restarting your computer can help you solve some problems. In addition, regarding the problem that songs cannot be played on Spotify, some people solved it after restarting the computer.
Solution 2: Disable Hardware Acceleration on Spotify
Hardware acceleration is to use hardware modules to replace software algorithms to take full advantage of the rapid characteristics inherent in hardware. Hardware acceleration is usually more efficient than software algorithms.
By default, Spotify has hardware acceleration turned on, so Spotify can use audio hardware acceleration function to optimize music decoding and playback. But hardware acceleration will also bring some negative effects. If Spotify can't play your current song, you can try to disable this option.
On Windows Desktop:
1. Double click Spotify application on your computer.
2. At the upper left corner, click Ellipsis > View. And you will see hardware acceleration is checked.
3. Uncheck the option of Hardware Acceleration.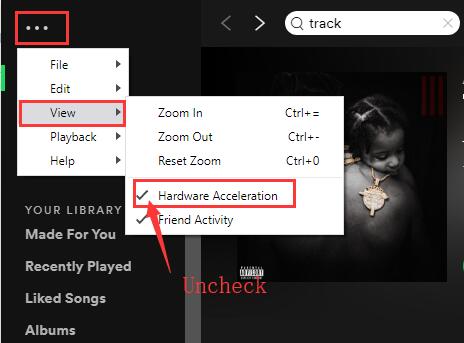 4. Restart Spotify.
For Mac Users:
Open the Spotify on your Mac, and click the Spotify name on the top bar, then uncheck the Hardware Acceleration item.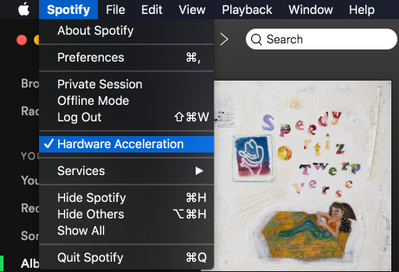 Now replay a song or a list of favorites to see if Spotify can play them right now. If this problem persists, please continue to try more methods.
Solution 3: Delete Spotify Local Files Cache
If Spotify shows you the error: Spotify cannot play the current track. For some of you, you may have tried to close and re-open Spotify again and again to solve the problem but to no avail. In this case, it is a good option to delete the Spotify local cache. Many users reported that they can play music again after deleting the local-files.bnk file or renaming the file. Next is the tutorial.
For Windows Users:
1. Close Spotify.
2. Type %appdata% in the search box to open the file folder.
3. Go to Spotify > Users > xxxxxxxxxxxxxx-user. Here xxxxxxxxxxx is your Spotify username.
4. Delete the file local-files.bnk.

5. Start Spotify.
For Mac Users:
At first, you should also close Spotify and then directly go to /Users/*your username*/Library/Application Support/Spotify/Users/*your_Spotify_username*-user to delete the local-files.bnk.
Here it is also worth noting that if you have saved the Spotify cache files before in other locations on your computer, you need to delete them one by one.
Related: How to Delete Spotify Account
Solution 4: Change the Music Streaming Quality
As a music platform, Spotify provides users with premium account and free account which inclue different songs of different sound quality. As a premium user, you can enjoy more songs with multiple sound qualities. But if you cancel the paid subscription, when you go to play a high-quality song, it may prompt you this song can't be played now.
1. Run Spotify on your Desktop and find the Settings in the drop-down list.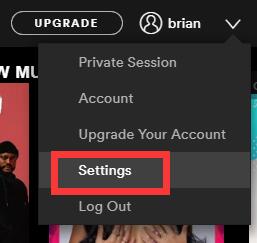 2. In Music Quality, you will find there is a Steaming quality item. Drop down the option and select Normal or other poorer quality other than that fo Very High.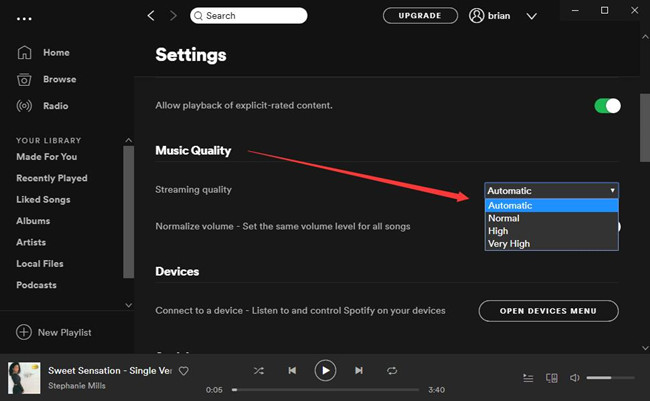 After that, replay the song which cannot be played to see if the problem has been solved.
Solution 5: Set Crossfading Value to 0
Crossfade songs is an advanced feature of Spotify. If your songs are not available currently, you can can change the Spotify crossfading setting.
1. Open Desktop Spotify > Settings > Advanced Settings.
2. In Playback item, turn on Crossfade songs and adjust the value from 5 Sec to 0 Sec.

Related: Spotify Web Player Not Working
Solution 6: Changing Playback Speaker on Your Computer
Another way to fix Spotify Songs can't be played on your laptop or desktop is to set the playback devices to another one.
1. Right-click the volume icon on the taskbar and select Playback Devices.
2. In the playback tab, select another speaker as the default speaker.
3. Reopen the Spotify and try to play the unavailable music again.
Solution 7: Show the Unavailable Playlists or Songs
When you download a song to your local disk and later delete it from the Spotify database, it will still show up in your Spotify playlist, but you cannot play it. So you need to find out which songs are not playable.
1. Opening Spotify Settings on your desktop.
2. In Display options, turn on the button of Show unavailable songs in playlists.

After that, you can easily identify which songs are currently unavailable. If you want to replay them, you can download it again.
Solution 8: Reinstall Spotify
If you have tried all the above methods but to no avail, then you may have no choice but to uninstall your Spotify. After that, download and install the latest version of the Spotify software. Before you reinstall it, you need to close Spotify and delete all files in your Spotify username.
More Articles:
How to Stop Spotify from Opening on Startup on Windows and Mac
How to Change Spotify Username (2023 Update)
Tags :
audio issues
Spotify