How to Stop Spotify from Opening on Startup on Windows and Mac
When you turn on your Windows computer, you find that your music software Spotify is also launched. But you haven't configure Spotify to start upon the boot up of the computer.
Contents:
Why is Spotify Opened Automatically on Computer Startup?
The Spotify settings shoule be to blame. When you login in the Spotify on desktop, it will set your Spotify to run by default when you start Windows or Mac. So if you do not want Spotify to start automatically, you can follow the next methods to stop it.
Stop Spotify From Opening on Startup on Windows Computer
If you installed the Spotify on Windows 10, 8, 7 and launched Spotify, the Spotify automatic startup will appear. And there are three methods you can try to stop it.
Method 1: Cancel Spotify Settings to disable the automatic Startup
As a popular music platform, Spotify provides an easy way for you to prevent it from startup on Windows computer. You can follow the next steps to do it.
1. Start Spotify on your desktop.
2. In the window, click your Display name and select Settings.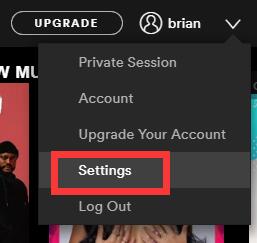 3. Drop-down to click the button of Advanced Settings.
Under Startup and Window Behaviour tab, you will see the auto-startup option settings.
4. Under Startup and Windows Behaviors, locate the option – Open Spotify automatically after your log into the computer, and then select No.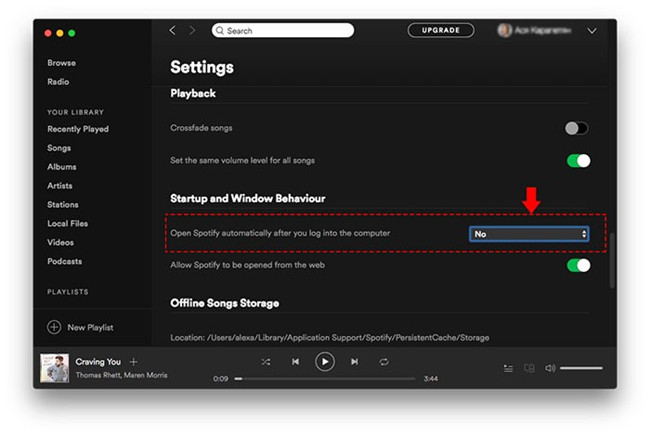 After you selected the No option, the change will be saved automatically. And now when you restart the computer, you will see the Spotify will not start automatically.
However, some users reported that this setting does not take effect. When they turned on the computer again, Spotify still keeps restarting. If you also encounter this situation, you can use the next method.
Method 2: Stop Spotify From Opening on Startup in Task Manager
Task Manager is a powerful Windows built-in tool to manage all the Windows programs such as programs running status, used resources and startup status, etc. Absolutely, using Task Manager to disable Spotify from the Startup items is another easy way.
1. Open Task Manager. Here you can see there is a Startup tab. In this tab, you will see all the programs which are running when your computer starts.
2. In the Startup tab, right-click Spotify and select Disable.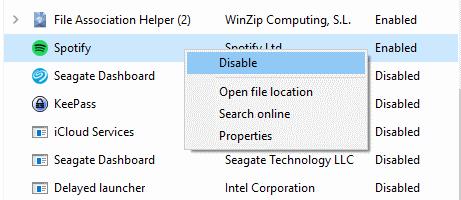 Method 3: Disable Spotify on Startup with Startup Manager
If you have installed many programs on the windows system and want to find a tool to manage the computer startup programs, you can choose a third-party program. It is recommended that you use IObit Advanced SystemCare.
Advanced System Care is a powerful Windows system cleaner and optimizer. With this software, you can deeply clean computer junks, speed up the slow internet speed and protect your PC and privacy, etc.
In this software, it contains powerful toolbox such as Win10Fix Disk Doctor, Registry Cleaner, etc. Of course, there is a tool called IObit Startup Manager. With this software, you can stop all startup items such as startup programs, startup browser plugins, startup services and the scheduled tasks.
1. Download, install and run IObit Advanced SystemCare on your Windows computer.
2. In the Toolbox tab, click the Startup Manager.
3. In Startup items, find the Spotify and click Now you had already disabled the Spotify as a startup item.
How to Stop Spotify from Opening on Startup on Mac
We have already talked about how to operate it on the windows system, and then we will talk about how to prevent Spotify from auto starting on MacBook. MacBook is always known for their excellent experience. So when Spotify on your Macbook Air or Macbook Pro starts automatically so long as the Mac is turned on, you can turn it off easily.
1. Select the opening Spotify and click Preferences.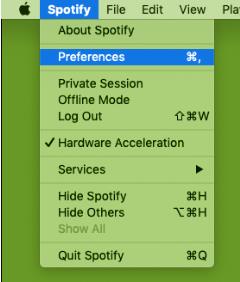 2. Drop-down the Preferences window and then click Show Advanced Settings The advanced settings on Mac is the same as the Windows Spotify application.
3. Under Startup and Windows Behaviors, find out Open Spotify automatically after you log into the computer, and select No.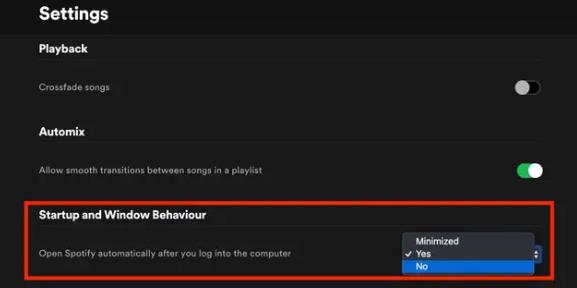 After that, the Spotify will no longer start up when the Mac reboots.
Besides disabling the Spotify opening option, you can also try to disable Spotify from opening automatically with Mac system preferences option.
Conclusion:
As long as you log in to your Spotify account, it will start automatically when the computer restarts. In fact, this measure is not friendly for users. Besides the above methods, you can also uninstall Spotify directly, or use other music platforms.
More Articles:
Solved: Spotify Can't Play This Right Now (2023 Update)
How to Delete Spotify Account (2023 Update)
Tags :
Spotify