Fixed: Spotify Web Player Not Working
Recently, users keep reporting that Spotify web player does not work on Chrome, Firefox, Opera, and other browsers all of a sudden. As you know, this player enables people to enjoy various music with no need for downloading. So it is so frustrating that this music player refuses to run for users.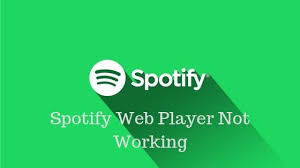 How to Fix Spotify Web Player Not Working?
Since this Spotify web player is mostly used on browsers for users to listen to music online, it is possible that the browser errors will cause it not to work. To be specific, the corrupted browser cache or history is one of the culprits of this Spotify web player not working error.
Additionally, there is also a high probability that the Spotify web player on your device runs into problems. Based on these reasons, you may as well try methods below to resolve Spotify web player not playing sound issue on Windows 10, 8, 7, etc.
Solutions:
Solution 1: Allow Protected Content on the Browser
In some cases, the protected content will be disabled on some websites. That is why sometimes Spotify web player does not work on Chrome. So you would better try to allow sites to play protected content to see if it will fix Spotify web player not working on Windows 10. Here you would better change that protected content on your browser.
Take allow protected content in Google Chrome as an example. If you are using other browsers like Firefox, Opera, etc. you can refer to similar steps.
1. Double click Google Chrome on the Desktop to launch it.
2. In Google Chrome search box, enter chrome://settings/content and then stroke the Enter combination key.
3. Then scroll down to locate Protected content.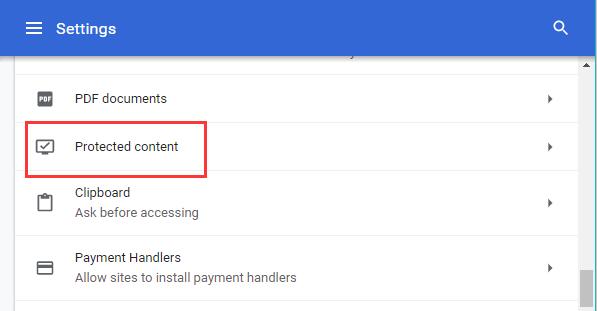 4. Switch on the option – Allow sites to play protected content.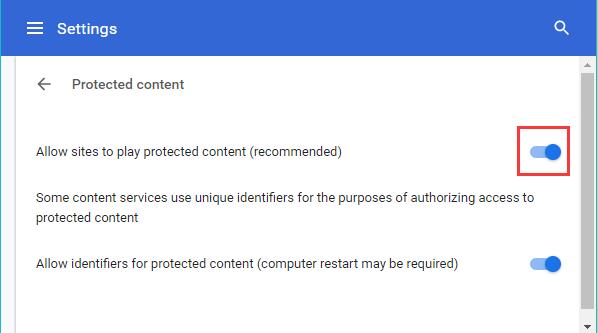 In your Firefox, Microsoft Edge, and any other browsers, try to make sure the option like that in Google Chrome is enabled. Then manage to check whether Spotify web player is playing a song.
Related: How to Fix Youtube 500 Internal Server Error
Solution 2: Flush DNS Cache
For users who are experiencing Spotify web player is accessed but it doesn't play songs, you would better flush the DNS caches on your PC. That will refresh your DNS so that you can enter the Spotify web player with a newly registered domain name. As per users, it may be helpful.
1. In the Windows search box, input Command Prompt and then right click the best-matched result to Run as administrator.
2. In Command Prompt, input ipconfig /flushdns and then stroke Enter to run this command.
3. Reboot your PC.
After starting your PC, try to access Spotify web player again on Google Chrome, Firefox, etc Perhaps this music player is working well on Windows 7, 8, 10.
Solution 3: Clear Browsing Data on the Browser
In some conditions, the corrupted browsing caches will also give rise to Spotify not working on browsers. If you have used a browser for a long time, some data will have been left on the browser, causing errors for some websites. In this sense, it is wise for you to delete the browsing data for your browser.
1. In Google Chrome, enter the site chrome://settings/.
2. Then scroll down to locate Advanced > Clear browsing data.
3. Check the boxes of the items you want to delete and then click Clear data.
4. Here, you are able to remove the Browsing data, Cookies and other site data, and Cached images and files.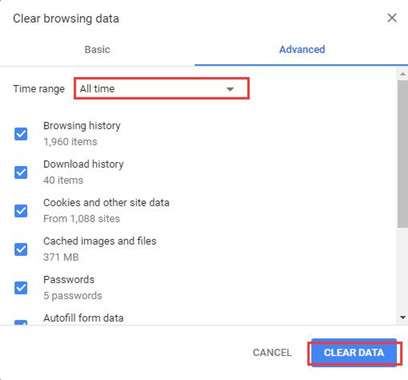 5. Restart Google Chrome to take effect.
Re-open Chrome and access Spotify web player to play a song. This time Spotify on the browser will be running as usual. Similarly, if you are not using Google Chrome, you would better get rid of the browsing caches on other browsers such as Opera and Firefox. And here is another tutorial about how to clean cache, history, cookies on Microsoft Edge.
Related: How to Fix Hulu Not Working on Windows 10, 8, 7
Solution 4: Try to Switch to another Device
It is said that some people tend to listen to music on different devices, like the iPad, smartphone, etc. But that would also result in Spotify web player error. For this part, it is necessary that you try to change to another device to see if Spotify web player will work.
1. In Spotify web player, go to Settings cog > Devices.
2. Then choose to Listen on Web Player (Chrome).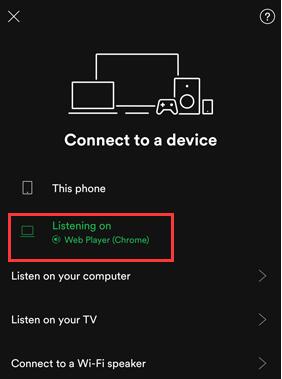 If that doesn't work, you can try to switch to another device and then return to use Spotify Web Player. In some situations, Spotify on browsers will come back to work.
Bonus Tips: Update Network Driver
Once you sensed that the solutions above are of no use, you can also try suggestions below. At first glance, they seem to be irrelevant to this Spotify not working issue, but it does work for many users.
Tip 1: Choose to copy the link of the song that can't be played on Spotify Web Player and then paste this link directly on your browser like Chrome. Then the browser will automatically change to the Spotify webpage. Sometimes, this Spotify web player will run to play songs for you.
Tip 2: Update the Network Driver
If there is a network error on your PC, it is natural that Spotify Web Player isn't working on Windows 10. So you need to fix the network issue, of which the one most to blame is the network driver. Here, Driver Booster will be ready to update the network driver automatically for you.
1. Download, install and run Driver Booster.
2. Hit Scan.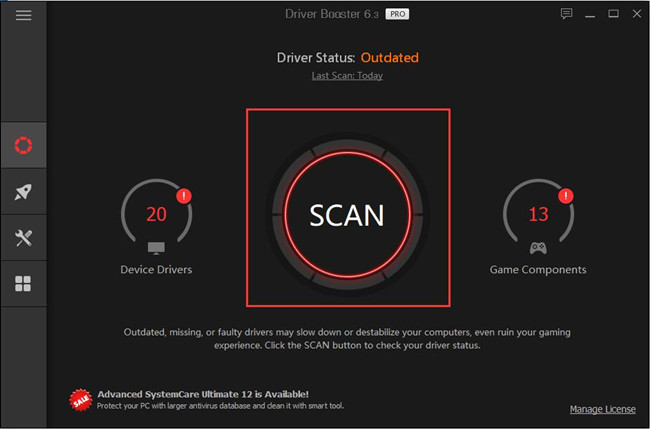 3. Locate Network adapters and allow Driver Booster to Update the driver automatically.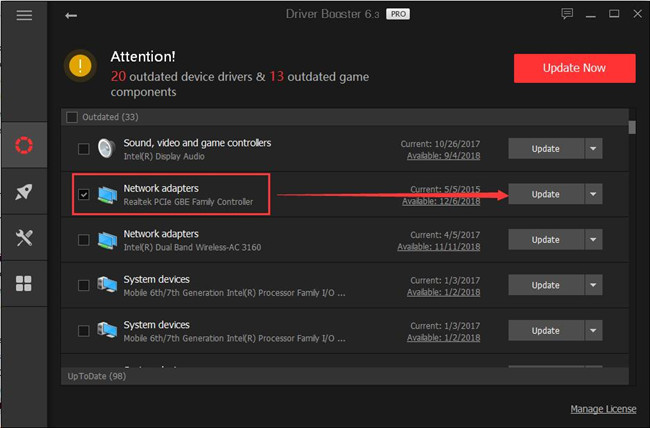 Upon the installation of the network driver, re-enter Spotify on the browser to check if it is accessible to play songs for you.
All in all, you may as well take one or more ways above to fix the Spotify web player is not working on Chrome, Firefox, etc. on Windows 10, 8, 7, and Mac.
More Articles:
How to Download Spotify Songs to MP3 with TunesKit
Fixed: Spotify Error Code 18 Windows 10
Tags :
Spotify