Uninstall Epic Games Launcher from Windows and Mac [Completely]
For gamers, epic games launcher is a commonly used application. However, unfortunately, when your epic games launcher isn't working on Windows 10 or you just don't need this game launcher on your device, you may wish to get rid of it.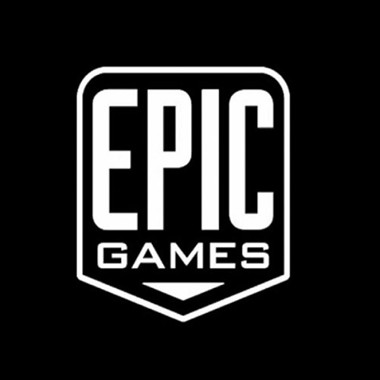 But for some users, you may have various doubts about this gaming application like "should I uninstall epic games launcher" and "how could I delete this program from Windows 10 or Mac". To make things worse, some gamers failed to uninstall it as you are currently undergoing the issue that "can't uninstall epic games launcher as it shows invalid drive. Considering this fact, this tutorial comes out to help you uninstall this epic game application easily with foolproof steps.
How to Uninstall Epic Games Launcher from Windows and Mac?
For most people, you can either manually uninstall epic games launcher or automatically delete it from Windows or Mac. But before adopting a method to remove epic games launcher, you need to make preparations, for instance, you need to make sure you have completely closed the Epic Games Launcher and no background programs are running on your PC. In so doing, you are to avoid any interruptions or crashes. After that, it is time to uninstall this epic game application.
Note: Does uninstalling epic games launcher uninstall Fortnite?
Many people are concerned about whether deleting epic games launcher will uninstall epic games like Fortnite. The answer is Yes. That is to say, upon uninstalling epic games launcher, you will also remove all the games downloaded from epic games launcher.
Methods:
Method 1: Uninstall Epic Games Launcher Automatically
When you want to remove epic games launcher to fix this application not working issue or you simply don't need it anymore, you can just turn to IObit Uninstaller, a professional and powerful tool to get rid of programs on your PC automatically and completely.
For some users, this tool is convenient and effective to remove any applications that you don't need. Therefore, if you are not good at fixing computer problems by yourself or you hope to uninstall it quickly, it is wise to make full use of this helper.
1. Download, install, and run IObit Uninstaller.
2. Under Programs > All Programs, find out Epic Games Launcher and then hit Uninstall to remove it from your device.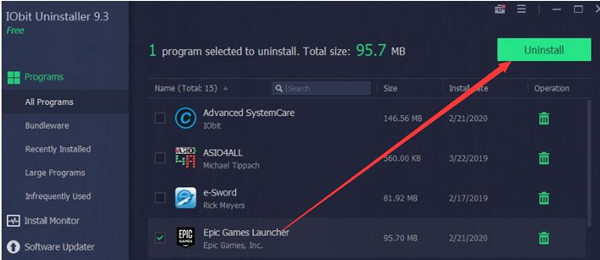 3. Wait until IObit Uninstaller finishes the uninstallation.
4. Hit Uninstall to clean up the residual files of this epic game application.
Now, no matter you would like to uninstall epic games launcher from Windows or Mac, this gaming application would have disappeared with Fortnite and other epic games. In this way, the problem of removing games from the epic games library or epic games launcher down won't haunt your mind anymore.
Related: How to Uninstall Programs on Windows 10 (Including Won't Uninstall)
Method 2: Remove Epic Games Launcher via Control Panel
For users who are skeptical about the reliability and safety of the third-party program uninstaller, it is also available for you to rely on Windows embedded tool to completely uninstall epic games uninstaller from Windows 10, 8.1, 8, 7. That is to turn to the Control Panel, a management tool to manage various settings and programs.
1. Search Control Panel in the search box and then hit Enter to open Control Panel.
2. View by Category and locate Programs > Uninstall a program.
3. Then in Programs and Features window, find out Epic Games Launcher and right click it to Uninstall it.
4. Reboot your PC to take effect.
In this sense, you may have permanently removed epic games launcher from Windows 7, 8, 10. Of course, there is no more epic games launcher not working error on the Windows system. If needed, it is up to you to reinstall epic games launcher to manage the games like Fortnite. In some cases, after you reinstalled this game, epic games launcher is currently running well.
What is Epic Games Launcher and What does it Do for gamers?
You may have installed this application but have little idea of how it works for you. Simply put, Epic Games Launcher (EGL) as a PC application is the storefront for Epic Game Stores. And whatever operating system your device is on, be it Windows or Mac, you can download or update games via EGL to access the game store.
And normally, games that are available on Epic Games Stores and EGL are Fortnite, Battle Breakers, The CycleYAGER, etc. Therefore, you now know what this epic games launcher does, so you can determine whether to install it or uninstall the installed one.
To some degree, methods mentioned above to uninstall epic games launcher is also applicable to uninstall Fortnite. And overall speaking, this post will be helpful if you feel like removing the epic games launcher and knowing more about it.
More Articles:
How to Uninstall Driver Tonic (Including Won't Uninstall Solution)
Epic Games Launcher not Working on Windows and Mac