Fix CRITICAL STRUCTURE CORRUPTION BSOD on Windows 10
Contents:
What is Critical Structure Corruption?
How to Fix CRITICAL_STRUCTURE_CORRUPTION BSOD?
Bonus Tip: Prevent Windows 10 from CRITICAL_STRUCTURE_CORRUPTION BSOD
What is Critical Structure Corruption?
The critical structure corruption is related to the memory corruption. Generally, there are some specific codes following this error, such as ntfs.sys, tcpip.sys. When Critical Structure Corruption happens, it means that Windows detected that one of the files stored in memory has been modified.
So you may also see another name of store data structure corruption. This BSOD is caused by the malware, virus, wrong drivers, system file broken, etc.
How to Fix CRITICAL STRUCTURE CORRUPTION BSOD?
As a common Blue Screen of Death, you can follow the next ways to fix the critical_structure_corruption problem. But before you get down to fixing this BSOD critical structure corruption, it is necessary to do a clean boot for Windows 10 to detect this blue screen of death with a minimal set of programs.
Solutions:
1: Uninstall the Problematic Programs
2: Run System File Checker and DISM
Solution 1: Uninstall the Problematic Programs
The blue screen of death caused by the problematic programs is a normal phenomenon, the Critical Structure Corruption (0x00000109) is no exception. So if this error occurs after you running some programs or some games, you should uninstall them.
And there are some reported programs such as Alcohol 120%, Deamon Tools, MacDrive and Intel HAXM, maybe you are supposed to check it in task manager to see if it is running and then goes to control panel to uninstall them.
Navigate to Control Panel > Uninstall a program > Program and Features > Uninstall.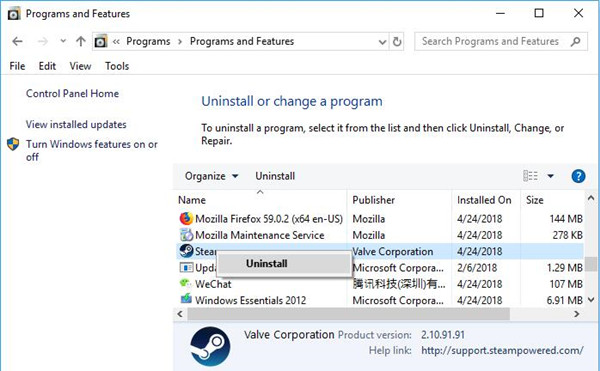 Without the interruption from some programs, windows 10 critical_structure_corruption will also be removed.
Related: How to Uninstall Programs on Windows 10 (Including Won't Uninstall)
Solution 2: Run System File Checker and DISM
For store data structure corruption in Windows 10, using the System File Checker must be a necessary choice. So you can repair critical structure corruption error by this Windows built-in tool.
1. Type cmd in the search box and right-click the Command Prompt to choose Run as administrator.
2. In command prompt window, type this code: sfc /scannow, and then press Enter.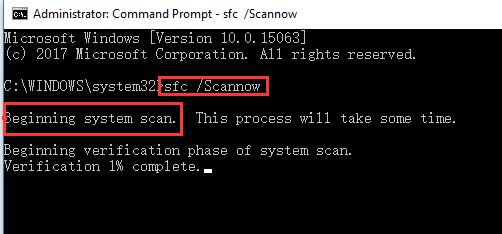 After that, Windows system will start to check the corrupted files and replace these files with a cached copy in C disk.
3. In Command Prompt, copy and paste the following command to run DISM tool.
DISM.exe /Online /Cleanup-image /Restorehealth, and then press Enter.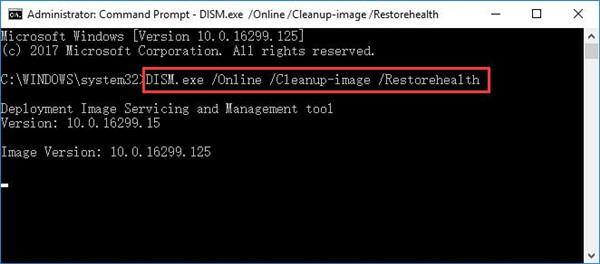 This code use Windows server files to fix the corrupted files. And this process will take several minutes. Soon after that, make attempt to confirm whether or not the critical_structure_corruption has been resolved on your own.
Solution 3: Update Missing, Outdated, and Faulty Driver
The incompatible driver may cause lots of the Blue Screen of death. So check if there is a driver error and update the outdated driver is necessary. For the Critical Structure Corruption error, you should mainly update the chipset driver and graphic card driver.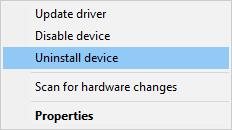 1. Goes to Device Manager to see if there is one or more devices with yellow exclamation or under unknown devices. If there is, try to right-click it to Uninstall.
2. After removing the erroneous drivers, you'd better use Driver Booster to scan your computer to find all the outdated or missing or faulty drivers and update them to the latest version.
Once you downloaded and ran Driver Booster, it will Scan for your PC with the missing, outdated, and even faulty drivers.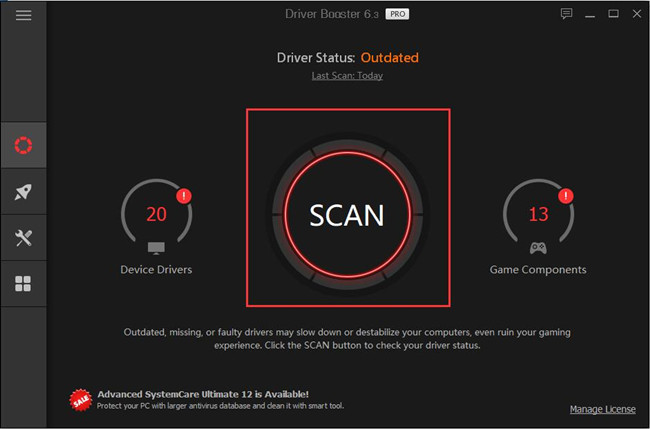 You are able to update all the outdated drivers by clicking Update now, including the graphics driver or chipset driver with the help of Driver Booster.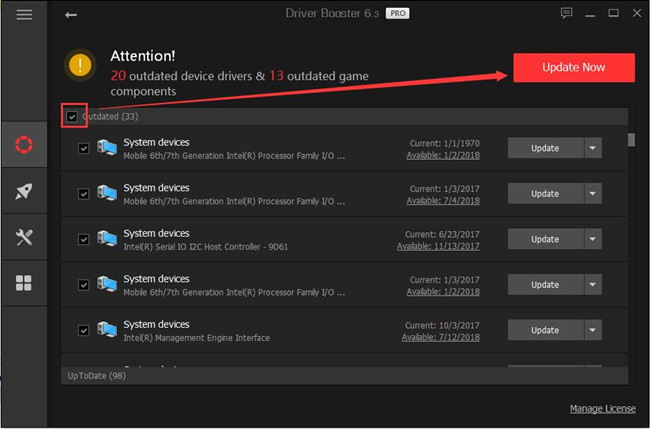 If Driver Booster completed its task, restart your computer to check if CRITICAL STRUCTURE CORRUPTION perished from Windows 10.
Solution 4: Check the Memory
Obviously, this 0x00000109 bug is related to the memory card, so you can check the memory card to keep your computer away from Critical Structure Corruption.
1. Type Windows memory diagnostic in the search box to enter this function.
2. Choose the first one: Restart now and check for problems (recommended). If you have any opening applications and documents, please save it at first.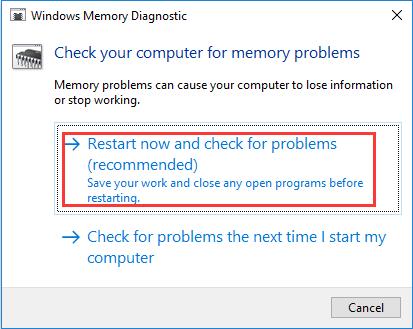 Your computer will restart and you will see the Windows Memory Diagnostic tool screen. It will run memory test automatically and there is a test process status.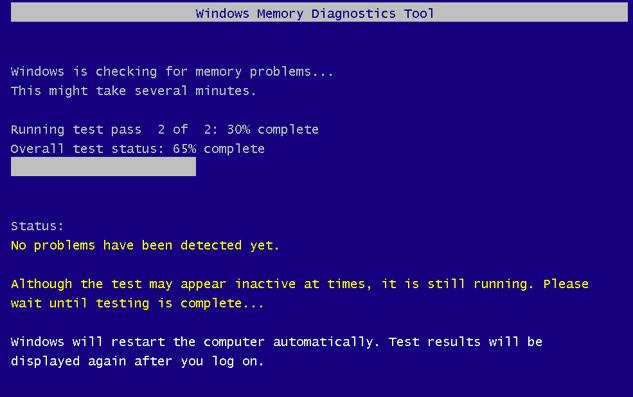 When it's done, the computer will reboot automatically and after you login in to the system, the test result will appear.
But sometimes, the Windows may not shows you the result, you should goes to the next solution.
Solution 5: Check the Event Viewer
Event Viewer is a desktop application, which can help administrator and users view the event logs on the local or remote PC to monitor events in your system. It mains logs about program, security and system events.
1. Press Win + R button and type eventvwr.msc to open the Event Viewer. And if you do not want to open with the command, here are 5 ways you can enter Event Viewer.
2. Expand the left side tree and follow this path: Windows Logs > System.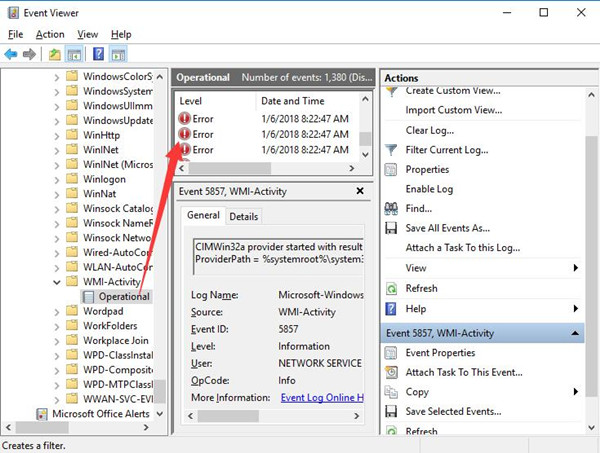 In the system event windows, check all the events before the CRITICAL_STRUCTURE_CORRUPTION happened. If there is one or more errors that are able to lead to this BSOD, find and fix them one by one.
Bonus Tip: Prevent Windows 10 from CRITICAL_STRUCTURE_CORRUPTION BSOD
It is believed that every problematic item on your PC can lead to blue screen of critical structure corruption, be it corrupted file, registry, and related program.
In this way, either you are experiencing critical structure corruption BSOD or have fixed this system crash, you need to make sure items on your PC like disks, files, and registries are in good condition and won't cause any trouble to the computer.
That is why now you are strongly recommended to take advantage of Advanced SystemCare to optimize the whole system in the hope that critical_structure_corruption blues screen of death won't happen again.
1. Download, install and run Advanced SystemCare.
2. Under Clean & Optimize, check the box of Select All and let ASC Scan for your PC automatically.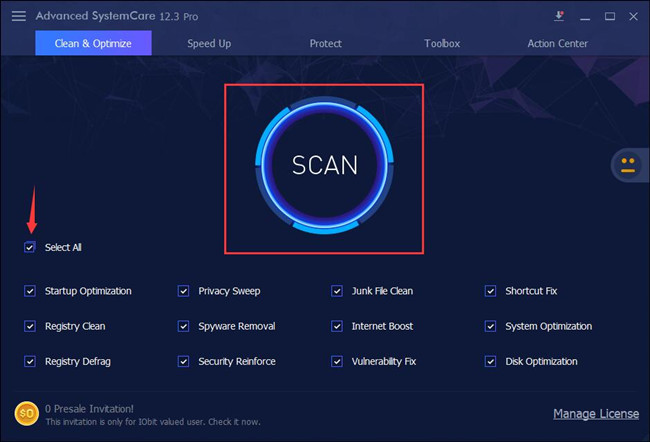 3. Hit Fix.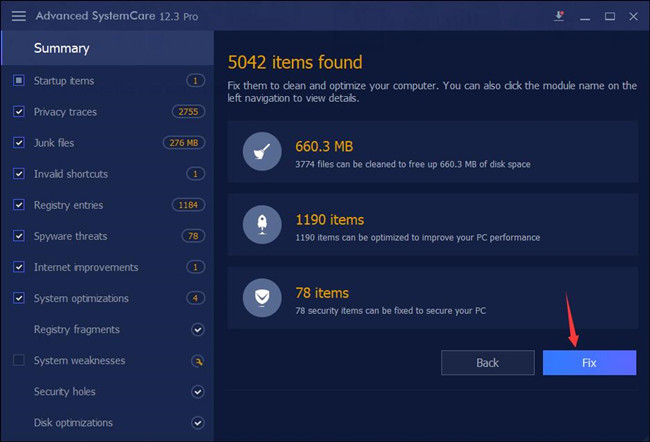 Advanced SystemCare then will get rid of the threatening items so as to protect Windows 10, 8, 7 from any virus or threats. With optimized system under protection, more often than not, your PC won't stumble upon system errors such as critical structure corruption blue screen.
Windows 10 critical structure corruption BSOD can be easily fixed as long as you try the solutions above earnestly.
More Articles:
How to Fix Critial Process Died Blue Screen of Death Issue
Fixed: System Service Exception BSOD on Windows 10/11
Tags :
BSOD