How to Remove Games from Steam Library (2023 Update)
Downloading games on steam is very easy, but downloading too many games does take up a lot of disk space. Generally speaking, you won't play a certain game all the time, so knowing how to uninstall and reinstall the game on Steam is also necessary. After uninstalling the game, getting enough computer hard disk space can help you get better experience.
Contents:
What will Happen When Uninstalling a Steam Game?
When you uninstall the game on steam, it is actually equivalent to uninstalling a game program on your system, which will be completely erased from the hard disk and occupy your disk space.
However, when you open your Steam library, you can still see this game, but it is grayed out, you need to re-download this game to run it.
4 Ways to Remove Steam Games Safely
There are several ways for you to remove the games on Steam. And uninstalling a game on steam is similar to uninstalling a game which is not related to steam. It is very easy.
How to Remove Steam Games Automatically
If you want to remove more than one game on Steam and clean up disk space one time, I think the first way is suitable. Here you can use uninstaller software. IObit Uninstaller is a professional Windows program and game uninstall tool which can help you remove the Steam games and delete its residual files.
1. Download, install and run IObit Uninstaller on your computer.
2. In Programs > All Programs, select the game or games you want to uninstall.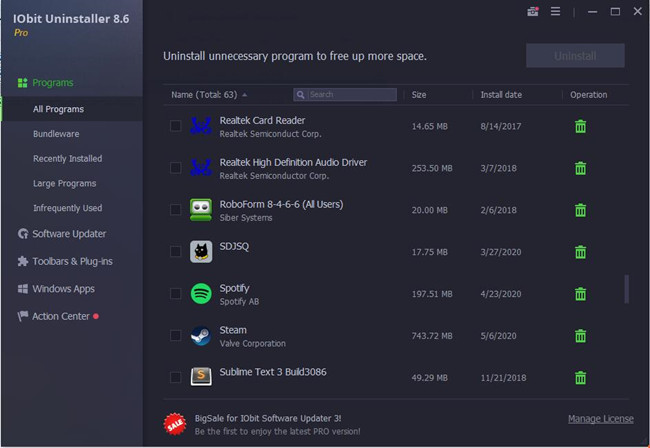 3. Click the Uninstall icon to uninstall it.
With this software, you can also uninstall Steam and other programs easily and fast.
How to Uninstall Steam Games Completely on Steam Library
As a popular game platform, Steam also provides game uninstallation function itself. If you don't want to keep a game on Steam library, you can remove the game in Steam.
For Windows and Mac:
1. Open Steam.
2. Click the Library menu on the top of Steam.
3. On the left side of Library, select the game or games you want to uninstall it.
4. Right-click the game such as Foundation and select Manage > Uninstall.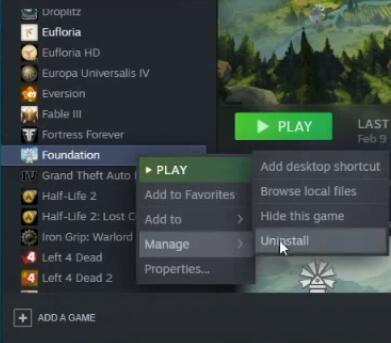 5. In the pop-up window, click Uninstall to confirm remove the game from the library.

In fact, after uninstalling the game, it still in the Steam library but it is grayed out. You can't run it before you reinstall the game.
How to Uninstall Steam Games on Windows Control Panel
There is another way to delete Steam games on your Windows platform. Because the installed games are programs, so it will be listed in the Programs and Features. So you can uninstall it with Windows uninstallation function.
1. Type Control Panel in the search box and click the result to enter Windows Control Panel.
2. Select Programs and Features. Here you should set the screen as small icons.
3. In the list programs, find the games you want to delete, and then double-click it. This action will take you to the Steam application. If you do not log in, you should enter the username and password to login Steam at first.
4. In the Delete Games Files window, click DELETE.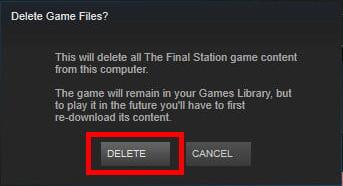 After deleting Steam games in this way, the uninstalled game name will show in the library, but it cannot run properly.
Related: How to Fix Steam Content File Locked
How to Remove Steam Games Without Login Steam
Can I remove Steam games without login Steam? The answer is yes. You can move out the Steam games without Steam. Here is the manual way to remove games on Steam from your computer.
1. You should close the game and the Steam on your computer.
2. Go to C:\Programs Files (x86)\Steam\steamapps\common.
3. In the common folder, find the game you want to remove and right-click the game folder and select Delete to remove.
Related: Where are Steam Screenshot Folders on Computer?
How to Backup Steam Games Before Uninstalling it?
If you want to uninstall Steam or temporarily uninstall a Steam game, you may want to back up the game files for future use. In general, it takes less time to import games and game settings than that to re-download games and personalize settings.
1. Open Steam on your desktop.
2. Click the Library.
3. Find the game and right-click it to select Backup game files…….
4. Check one or more games you want to backup, and then select a Backup Destination.
5. Click Next.
6. Then just follow the steps to do it.
How to Reinstall Steam Games
As mentioned above, although the game is removed from Steam, it still in the Steam library. If you want to reinstall it, follow the next steps.
1. Open Steam and go to the Library All the games are listed on the life side.
2. Select the game you want to reinstall and click the button of Install on the right-side.
3. Just wait for Steam to download and install the game automatically.
Conclusion:
Uninstalling games on Steam is very easy, and you can follow the above four ways to remove it on your computer to free up disk space. In case you want to play the game again, you can back up the game files at first.
More Articles:
Solved: Could Not Connect To The Steam Network
Fixed: Steam Missing File Privileges on Windows 10 (2023 Update)
Tags :
Steam