Normally, there will be junk files if you have used the Windows or Mac device for a long time. For most users, it has been a regular task to clean up the junk files.
Unlike the Windows system with so many cleanup applications, the Mac device has a limited number of system optimization programs like CleanMyMac. MacBooster is also an excellent Mac Manager and Cleaner, similar to CleanMyMac.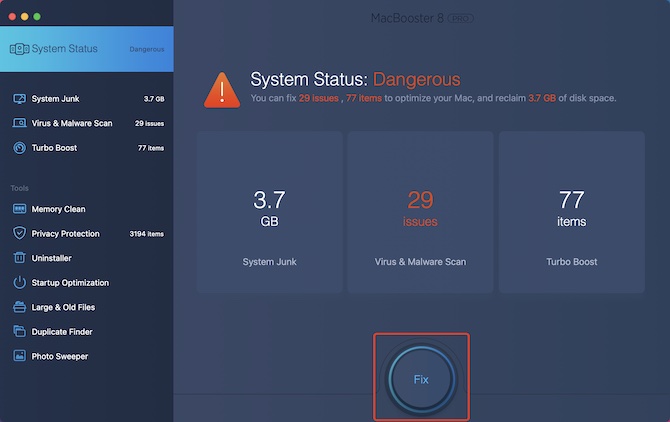 Mac Booster is a comprehensive and professional system optimization and cleanup tool developed by IOBIT. Windows users know that IOBIT Advanced SystemCare is a famous and popular cleanup software. Accordingly, Mac Booster can be a professional tool for Mac devices.
Mac Booster offers more than 10 optimization tools that can be used to check and kill the virus, delete app caches, clean up caches and repair various Mac issues. Mac Booster can be an excellent app that helps optimize your Mac computer.
You can Download Mac Booster, install and run it on your Mac.
Mac Booster has adopted classical designs of two columns, in which the left column is the function menu, while the right side is the menu of operation.
Mac Booster can be used to scan system caches, viruses, malware, and optimize the system with the Turbo Boost tool. Although you can use different languages in MacBooster.
But you need to change the settings in Mac Booster preferences manually. The interface of MacBooster is simple, clean, and compatible with MacOS.
System Status
After installing MacBooster, you can fully scan the Mac, including scanning System Junk, Virus & Malware Scan, and Turbo Boost.
After clicking the Scan button, Mac Booster will scan all the systems for virus or problematic apps.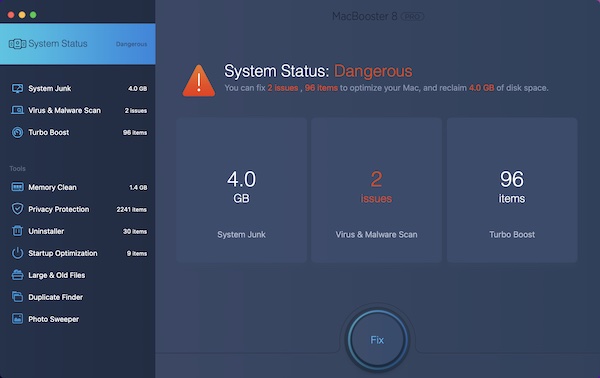 After the scan, you can check all kinds of junk files like files for the system update and language. These files can be deleted.
You can hit Fix to clean up different kinds of junk files, kill the virus, and speed up the Mac.
Additionally, Mac Booster can also allow you to optimize the system with these functions.
System Junk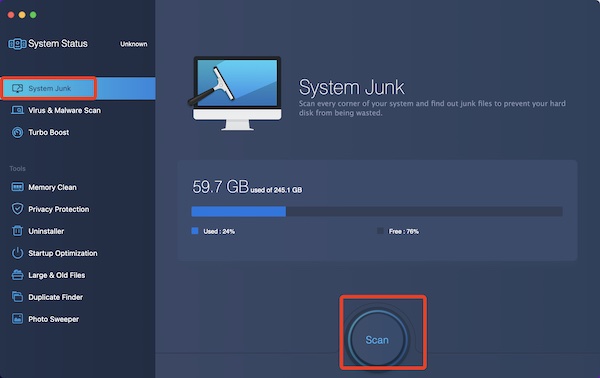 Among all functions, cleaning up caches can be the most basic one. Especially for Mac with a capacity of 256GB or 128GB, Mac Booster scan spares much space, including application cache, iTunes cache, and language file cache, which may occupy 90% of all junk files.
You can click "Fix" to remove all these files immediately.
However, before you are determined to fix it, you would better check these files to ensure they are the ones to be deleted.
In the list of System Junk, you can see the details of the files. If there are any files not to be deleted, you can uncheck them in case you delete any important files. Or you can add it to the whitelist.
Virus & Malware Scan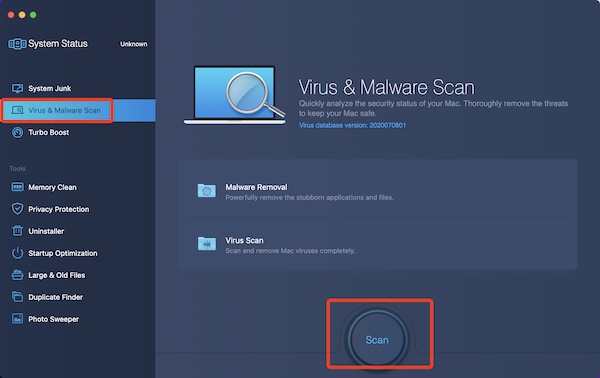 Mac users usually won't worry about the threats of viruses due to its system security. Compared with Windows systems, Mac is more secure. Under Virus & Malware Scan, MacBooster will scan all applications and cookies in case your Mac is tracked by any malware.
MacBooster will update the database of viruses to protect the Mac, so don't worry about the virus and malware.
Turbo Boost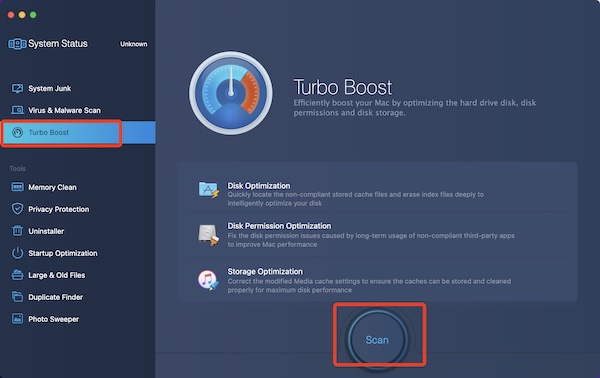 The performance of Mac will be diminished with more disk space used. The Turbo Boost function of Mac Booster can maximize Mac performance by optimizing the disk, repairing the disk, and sparing disk space.
While third-party applications slow down the system, Turbo Boost can be used to release more disk space and repair the disk to remove the files.
Tools
Mac Booster toolkit can help clean up disk, uninstall the applications, and search for files. You can handle various Mac issues within a single app.
Memory Clean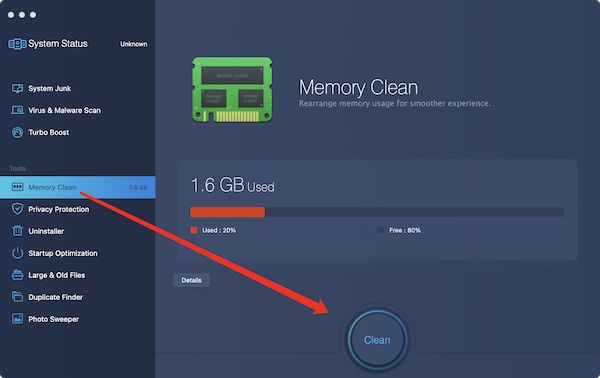 The primary function of the Mac Booster is to clean up the disk. This app clearly displays the storage of current apps from large to small size storage. All foreground or background apps are listed here.
Normally, you can find some programs like Chrome and video players. You can check the boxes of these apps in MacBooster to turn them off, thus sparing more space.
Privacy Protection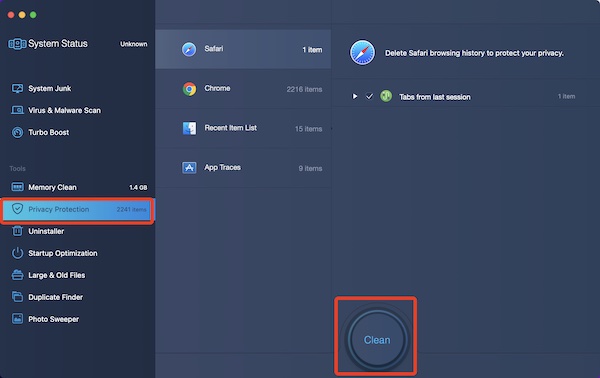 Privacy Protection focuses on what applications and websites are tracking your use of Mac like website caches, browser history, recently used apps, and how the apps are used. If needed, you can use MacBooster to clean up the privacy in case the privacy is tracked.
Uninstaller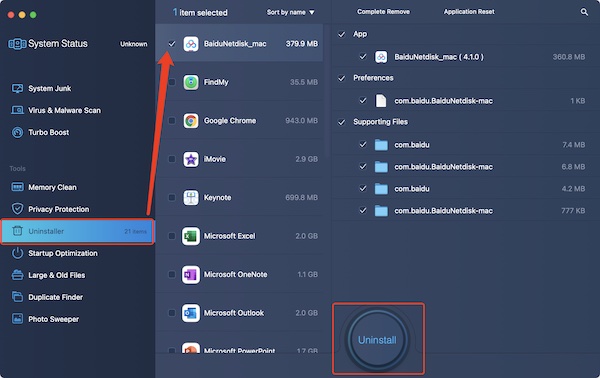 By default, even after you uninstalled the Mac apps, there will be files and cache left. When you delete applications via MacBooster, it can get rid of the apps completely along with the preferences and associated files. It can also reset apps.
Here, you can also refer to 6 Ways to uninstall Programs Completely on Mac.
Startup Optimization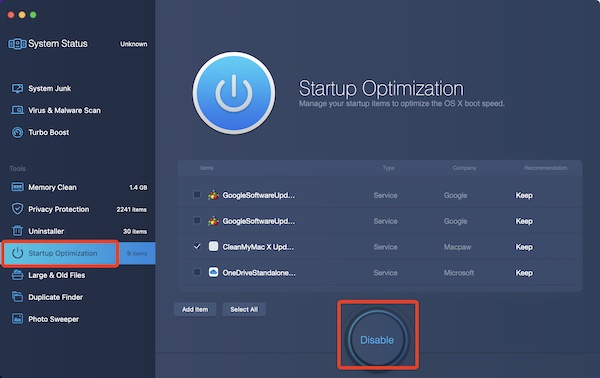 It can visually display the log-in options in Mac System Preferences, but it is more convenient to manage these settings in Mac Booster.
Large & Old Files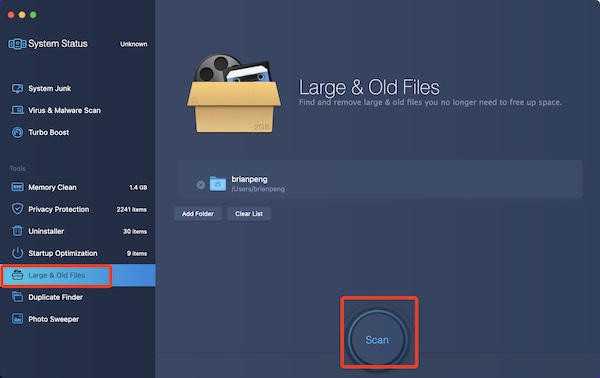 MacBooster also allows users to look for Large & Old Files, duplicated files, and similar photos. Deleting videos and photos that have not been used for a long time can free up more space for your Mac.
You can also find duplicated or similar photos and delete them to save more space. But before you eliminate them, you should check twice to avoid deleting any important files.
Duplicate Finder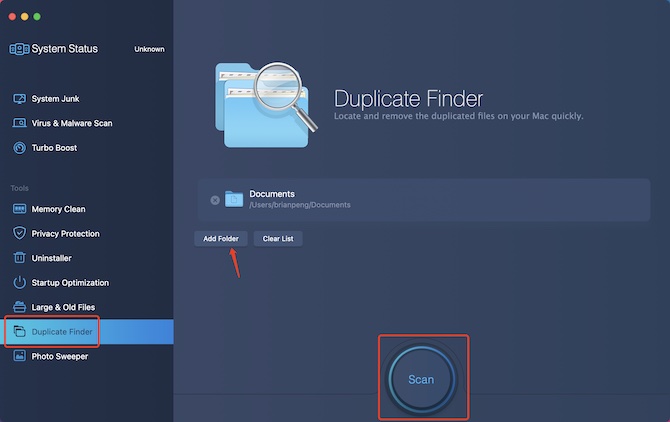 Much of the disk space on Mac may be occupied by duplicated files or photos or videos. Fortunately, MacBooster can easily find out them and empower you to delete the duplicated files easily.
Photo Sweeper
MacBooster cannot only locate the duplicated files but also find out all similar photos on Mac, which can spare more disk space.
MacBooster Mini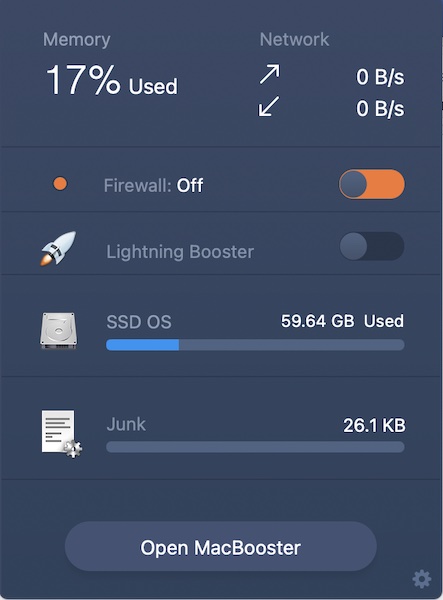 There is always a small window of Mac Booster to present the state of Mac, including Memory, Network speed, and Junk files.
Users can release more disk space and manage files with only a click without entering apps. Users can optimize the system directly through the Mac Booster menu. Just open Lightning Booster to optimize the system and improve Mac performance.
Summary:
Overall, MacBooster can satisfy the demands of most users to improve the system performance, ranging from deleting junk files and looking for duplicated files and uninstalling applications without ads.
While it is also undeniable that Mac system maintenance software like MacBooster and CleanMyMac share similar functions and features. But if you feel like a simple and better interface and do not want to install the iStat Menu or any other applications, you can download and rely on Mac Booster.
More Articles:
How to Force an App to Quit on Your Mac
How to Reset NVRAM/PRAM on Mac
Solved: Keyboard on MacBook Not Working Before and After Login