Minecraft Game Crashed: Top 7 Ways to Fix Exit Code 0 Error
Recently, gamers keep reporting that "an unexpected issue occurred and the game has crashed. We're sort for the inconvenience with exit code:0" on Minecraft. Minecraft keeps crashing with the "exit code 0" error that usually occurs during launching. Sometimes, gamers may also hit upon Game Ended with Bad State: Exit Code 1 when managing to launch Minecraft.
Suddenly, Minecraft crashed and existed, showing you the error code:0. As this Minecraft exit code:0 may arise from complex causes, you need to troubleshoot this gaming issue carefully.
Why Does Minecraft Exit Code 0 Crashing Error Happen?
Minecraft crashes and exits with exit code 1 due to various reasons. Among all these causes, the most common ones are:
Applications or programs conflicting with Minecraft;
Minecraft mods conflicting with the game;
Outdated or corrupted device GPU drivers;
Corrupted Minecraft files in its configuration folder;
Minecraft game application errors;
Windows system conflicts with Minecraft because of errors like compatibility errors.
How to Fix Exit Code 0 on Minecraft?
As Minecraft exit code 0 may come up for different causes, users may as well try to try the solutions below one by one. For some users, perhaps removing the conflicting programs or mods can effectively help you get out of the Minecraft exit code simply.
Solutions:
Solution 1: Uninstall Conflicting Programs
If there are conflicts between Minecraft and other programs, odds are that you find an exit code:0 error pops up and you are unable to launch Minecraft.
Especially, the Minecraft community has updated the list of software that may conflict with Minecraft, such as AVG Antivirus, BitDefender, ByteFence, Comcast Constant Guard, and Comodo Internet Security. In this case, you can just remove these third-party antivirus applications to fix the error code 0 on Minecraft on Windows 11, 10, 8, and 7.
1. Open Control Panel.
2. Find out Programs > Uninstall a program.
3. In Programs and Features, find out and right-click the conflicting program to Uninstall.
Here, if you have recently installed a third-party antivirus program, you might as well get rid of the application in case it conflicts with Minecraft.
4. Reboot your device if necessary.
Without the conflicting application, you can launch Minecraft to check whether error code 0 appears again to cause Minecraft to crash.
Solution 2: Update the GPU Drivers
The display driver or GPU driver is significant for a game to run on Windows devices. If your AMD graphics driver or NVIDIA GeForce driver is incompatible with the system, odds are that you will run into a Minecraft error code.
You may as well quickly and automatically update the graphics or GPU driver with a professional and efficient driver tool, Driver Booster. This is the top-one driver downloader and updater that can help you get the right device driver on Windows 11, 10, 8, and 7.
1. Download, install and run Driver Booster.
2. Hit the Scan button.
3. Find out Display adapters, and then Update the GPU driver automatically.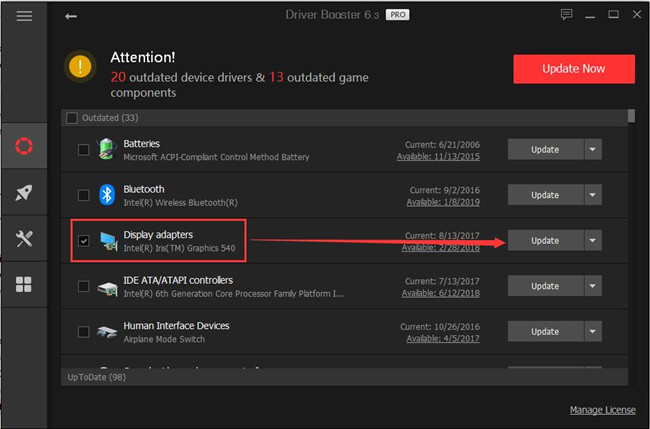 Wait until the tool downloads and installs the latest GPU or graphics driver on Windows PC. The newest driver will get Minecraft to work as before without crashing.
Solution 3: Delete Conflicting Minecraft Mods
Mods (moderators) work in games like Minecraft to make changes or modifications to the original gameplay. In other words, Minecraft users can use mods to adjust settings like Minecraft skin according to their needs and interest.
However, mods may also bring conflicts to Minecraft, leading to error code 0. Hence, you can just remove the problematic mods in the Minecraft folder by following the steps below.
1. Press Windows + R to elevate the Run box and then input "%appdata%" in the box.
2. In the opened folder, find out the .minecraft folder.
3. Then find out Logs folder > Latest.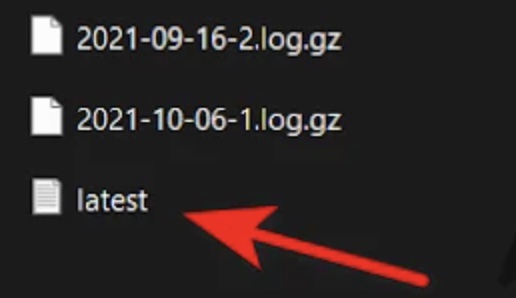 4. Locate and right-click the conflicting mod to uninstall it.
5. Restart your device to take effect.
Solution 4: Delete Minecraft Configs Folder
Once you noticed that deleting the conflicting Minecraft mod doesn't work to get rid of the Minecraft error code 0, you can also go ahead to remove the whole configs folder on Minecraft. This folder stores all temporary files and mods for Minecraft. It will help if your Minecraft crashing issue results from the caches or mods.
1. Press Windows + R to open the Run box and then enter "%appdata%" in the box.
2. In AppData folder, go to .minecraft > configs.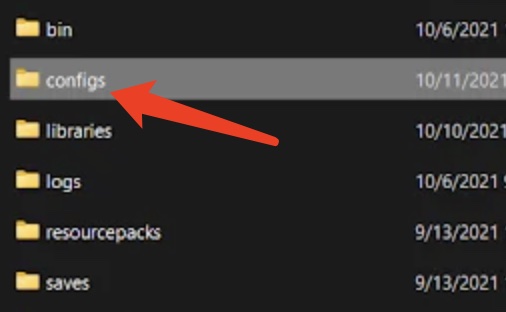 3. Right-click the "configs" folder to Delete.
You can now start Minecraft to see whether this game opens and runs properly without the error code 0. In some cases, removing temporary files and mods in the configs folder also works to fix Minecraft not loading error.
Solution 5: Reinstall Minecraft
If the above solutions fail to help resolve the Minecraft error code 0, you may have to uninstall and then reinstall this game from Minecraft's official website. The newly installed game can run normally on your Windows device.
1. In Control Panel, go to Programs > Uninstall a program.
2. In Programs and Features, locate and right click Minecraft to Uninstall.
3. In the App Data folder, find out and right click .minecraft to Delete.
4. Reboot your device to take effect.
In so doing, you will have uninstalled the problematic Minecraft as well as its files. You can start downloading a new one to see if error code 0 Minecraft pop up.
5. Navigate to Minecraft's official website.
6. Locate and click the link to download Minecraft for Windows 11 or 10.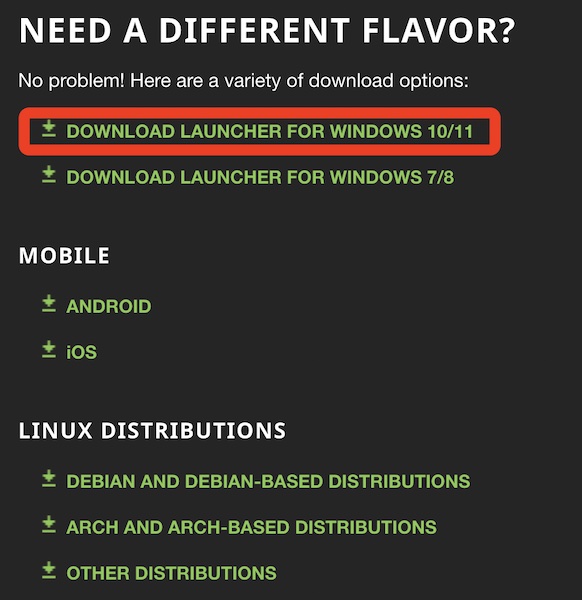 As you can see, you can also download Minecraft for Windows 7/8, Mobile phones with Android or iOS versions, or even Linux devices.
7. Follow the on-screen instructions to install the game on your device.
After the installation, launch Minecraft and you can find that the error code 0 Minecraft crashes disappear. You can now play this game as you wish.
Solution 6: Run Minecraft in Compatibility Mode
If the newly downloaded Minecraft still doesn't work due to the error code 0, there may conflict between the Windows system and the game. You can try to run Minecraft in the compatibility mode, for instance, in the older Windows version, to check whether Minecraft crashes again.
1. On the Windows desktop, right click Minecraft shortcut to open its Properties.
2. Under Compatibility, find out and check the box of Run this program in compatibility mode for, and then select a Windows system like Windows 10.
For gamers who have just upgraded from Windows 10 to Windows 11, perhaps running Minecraft in a compatibility mode for Windows 10 may help.
Solution 7: Do a Clean Boot
A clean boot can allow users to run a Windows device with a minimal set of drivers and programs so that you can detect what causes the Minecraft error code 0. Therefore, you may as well do a clean boot on Windows 11 or 10 to help fix this Minecraft error.
Summary
From this post, gamers can find some effective solutions to get rid of Minecraft error code 0. If you are facing this Minecraft exit with an error code 0, just be patient and try solutions in this post.
More Articles:
Minecraft: Failed to Write Core Dump, Minidumps are not enabled by Default on Client version of Windows
MineCraft Optifine: What it is & is it Safe?
Tags :
minecraft