8 Ways to Fix Sea of Thieves Services are Temporarily Unavailable
The Sea of Thieves Services being Temporarily Unavailable error is generally relevant to the game's server. When the server crashes down, the users won't be able to launch the game.
So, this post will help you to figure out the reasons why Sea Of Thieves Services being Temporarily Unavailable error occurs and also list eight methods to help you solve these different kinds of errors.
#1 Reasons
Reason 1: Poor Internet Connection
Poor Internet Connection is one of the factors that can cause game lag and temporary loss of connection to Sea of Thieves servers. Because Sea of Thieves requires fast internet speed and it is also an online game.
So, if the connection speed is slow, the users will face the problem of the game server being unavailable.
Reason 2: Server issue
The Server itself is another important reason which will cause Sea of Thieves being unavailable. You may have noticed that Sea of Thieves Servers are not very stable, players all over the world experience game errors caused by the game servers.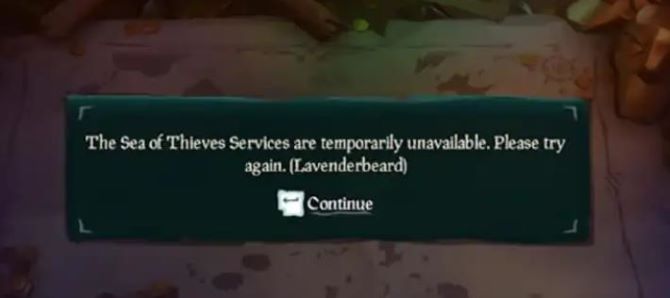 Since Sea of Thieves is a game where you have to be constantly online to actually play the game, the game's server status is critical. Looking at past events, there are a lot of game crashes and stuttering incidents that are caused by the server. If this applies, the problem is completely beyond your control.
Reason 3: A new client version
If you are activating the Sea of Thieves menu and it has just deployed a new game version, you may experience issues with game servers not working. Because the server will detect the game version mismatch and refuse the connection.
Reason 4: FPS issues
Either too high or too low FPS will cause the game server being temporarily unavailable. If the FPS is too low, it will reduce the efficiency of the game. Low FPS takes more time to give you a signal about what's going on in the game, like gunshots.
It even causes errors such as the server being temporarily unavailable. Because if the frame rate per second (FPS) is low, it means the game is slowing down and your system is starting to struggle to support the game. As a result, it slows down the game and causes unavailability errors.
However, you can also run into this issue if your FPS is too high due to sync errors, as this can overload your monitor and cause it to fail the game server.
Reason 5: Crashed games files
When you download Sea of Thieves to your system, there are many chances for the game files to crash or get lost somewhere, like, third-party software or poor network connection may cause some files to crash or lose, for some unexpected reason or any other rogue programs, which brings a high chance for your installed game files to corrupt or lost in some way.
If so, you may have multiple issues with game startup, lags, errors, server connection issues, and more.
Reason 6: DNS Cache
When you're playing Sea Thieves on your computer, the DNS cache can be a hindrance to internet access to the game. Because sometimes dangerous IP addresses or corrupted results may be cached and need to be deleted.
DNS cache can also affect your ability to connect to the Internet or bring an unavailable game server. Whatever the reason, all major operating systems allow you to force clear this cache or flush DNS.
#2 Solutions of Sea of Thieves Services are Temporarily Unavailable
Solution 1: Sign out and sign in Sea of Thieves
Yes, you heard that right. Instead of trying a technical fix, try this simpler method first. This simple and classic method sometimes works very well, and it's one method that most new players are willing to try.
Either the game server is not unavailable or while playing, some process becomes sluggish and affects in-game activity, etc, you can try signing out the game and signing in it after 2-3 minutes, which can help you a lot.
When you restart Sea of Thieves, this process will fix some glitches and bugs in this game, and try to clear the cache.
For better performance, try restarting your gaming device. This resets system memory and clears any errors in memory segments, and refreshes system performance by killing unneeded tasks.
Solution 2: Restart the router
Sea of Thieves services being temporarily unavailable error can also be attributed to the router. Say, you find that your Wi-Fi connection is fine, but somehow the router has some connectivity issues, such as temporary glitches or DNS caching.
At this point, you can reset the router. Even if it doesn't look like it, resetting your router can make a big difference. Your router has a reset button. Find it, click it, and try Sea of Thieves again. This method works for changing or resetting the IP address.
Additionally, you can switch to a VPN or change the location of the server, which also solves this problem. On the one hand, it resets your IPS, which could be the culprit of the service unavailable error.
It's a good idea to power cycle your Wi-Fi router to make sure the router isn't causing the problem. Just power off the router and unplug the power cord from the router. Now, wait about a minute or so, then you can connect the power cord again and turn it on.
Solution 3: Use an Ethernet cable (replace the wireless network if you have one)
Make sure you use an Ethernet cable to connect your computer as it's more stable and faster on average. PC gaming requires better bandwidth.
When you use a Wi-Fi connection to play games, it can cause connection issues. So, if you have problems with Sea of Thieves servers while you are playing it, it is highly recommended to properly check your internet connection as the internet network may become unstable or slow enough to be unable to connect to the game servers.
If you are using a wired (Ethernet) connection, just in case, switch to a wireless (Wi-Fi) connection and vice versa.
Otherwise, you can try using a different internet connection in the terminal to cross-check the problem. Sometimes a mobile data hotspot can also help to solve the problem.
Solution 4: Flush DNS
Sometimes DNS also causes Sea of Thieves services being temporarily unavailable when you are playing it on your computer because it does not provide internet access to this game.
So in this case, you can clear DNS and it will reset the network in your system, which can also help remove stale or invalid addresses. Also, it won't affect your system in any way.
You can also easily fix this issue by opening a command prompt as an administrator.
After that, make sure to enter "ipconfig /flushdns", which easily deletes stored cache files related to Internet configuration.
It also helps PC and Internet setups to reconnect with game servers without any corrupted or older cached data.
#3 Special solutions for Lavenderbeard error
Lavenderbeard error can be caused by your Antivirus or Firewall settings and Lavenderbeard tells players that there has been an issue connecting either on Rare's side or on your own.
This may be because the servers are down for maintenance, a new game client has been released, or there's an issue with your antivirus interacting with the game.
In the first case, there's not much you can do as this is a game-wide issue and can only be solved by dev intervention.
If you're having issues with Lavenderbeard on Steam, you can try clearing your Xbox Live credentials.
The steps are listed as follows:
Step 1: Open the Windows menu at the bottom left of your screen.
Step 2: Type Credential Manager.
Step 3: Once viewing the Credentials Manager, click the Windows Credentials button.
Step 4: Find any Entries labeled Xbl_Ticket.
Step 5: Remove any with 1717113201 in the name.
Step 6: Try and boot up Sea of Thieves.
#4 Special solutions for Coralbeard Error
You will encounter Coralbeard errors when Sea of Thieves has temporary server issues or server maintenance.
If you get this bug, there is nothing you can do, you can only hope that the developers are already working on fixing this. When the service is back up and running, it will be resolved and you will be able to play without any issues.
#5 Special solutions for Daffodilbeard Error
According to the official Sea of Thieves website, Daffodilbeard error means that there is a problem on the developer's side and you will have to wait until they have fixed it before you can access the game again. You can check the game status on seaofthieves.com for the latest game information.
#6 Special solutions for Llamabeard Error
Llamabeard error occurs when the Sea of Thieves service is temporarily unavailable. Usually, when this kind of error occurs, there is nothing the player can do but wait. There are almost always issues with Sea of Thieves services.
And besides, please make sure you are logged into the correct Steam account that owns your copy of Sea of Thieves. Please contact Steam Support to confirm ownership.
That's it. We assume this guide was helpful to you. However, if the above methods did not fix the issue, you should consult with the official support of Sea of Thieves.
More Articles:
How to Fix Modern Warfare Unable to Access Online Services
Steam Service Error: Steam Service Component Not Working Properly on this Computer
Fixed: The User Profile Service Failed the Sign-in Windows 10