Resolved: SS3svc32.exe Showing up on Startup
Some recently reported that when you start your PC, a file SS3svc32.exe keeps popping up and trying to make changes on the Windows systems. It pops up again until the next startup with the error message that "Do you want to allow this app from an unknown publisher to make changes to your device?" in the Windows User Control window.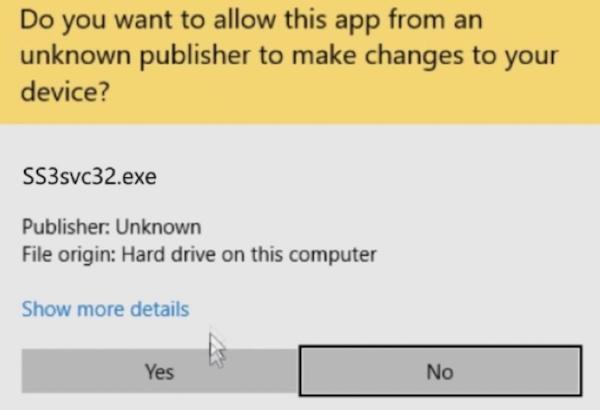 Out of curiosity, you can't help checking its detailed information, but to find that it is associated with an application called "Sonic Suite 3".
At this moment, you may start wondering that you have not downloaded this program, why does its file SS3svc32.exe appear on Windows 10? Do not worry! This post will walk you through this SS3svc32.exe file, including what it is and how to fix it.
Overview:
What is SS3svc32.exe?
SS3svc32.exe belongs to Sonic Suite3, which is an audio suite that offers different audio controls including Smart Volume, Bass Boost, Treble Boost, and Surround. Specifically, SS3svc32.exe is often embedded in computers with ASUS motherboard to play a role in the computer audio.
That is why some users complained that the SS3svc32.exe shows up even when there is any Realtek HD audio driver for computers with an ASUS motherboard.
Once users installed the Sonic Suite III or Realtek audio driver on Windows 7, 8, and 10, the SS3svc32.exe shows up at every startup and inquires whether users wish it to run.
Is SS3svc32.exe a virus? Should/Can I Remove it from Windows?
As mentioned,SS3svc32.exe is a file for the audio program Sonic Suite 3, so it is not a virus. But if any program or file brings a virus to this executable file, chances are that you will be prompted that the SS3svc32.exe threatens the system.
If so, you can and should remove SS3svc32.exe from Windows 10. That will get rid of the pop-up asking whether you want to run this service.
Note: If you are sure that you have not downloaded the Sonic Suite III software, nor is the computer motherboard is ASUS, but SS3svc32.exe comes up suddenly when you boot up, you can just eliminate this file in case it is a virus or malware.
How to Fix SS3svc32.exe Popping up on Startup?
You do not want to see the SS3svc32.exe message keep appearing whether you have downloaded the Sonic Suite 3 or not. The Windows User Control reminder keeps prompting you with the message whether you want to run the SS3svc32.exe. It is so annoying.
Hence, you want to stop Windows systems from popping up the SS3svc32.exe window. You can do that with the following solutions.
Solutions:
Solution 1: Run SS3svc32.exe as Administrator
You can try to grant administrative privileges for SS3svc32.exe in case that Windows keeps asking you whether to run this service at every startup. Many users reported that this method works.
1. Hit Windows + R to elevate the Run box and then enter the path below:
C:\Program Files\ASUSTeKcomputer.Inc\Sonic Suite 3\Foundation\
2. Locate and right-click the SS3svc32.exe file in the folder to open its Properties.
3. Under Compatibility, check the box of Run this program as administrator.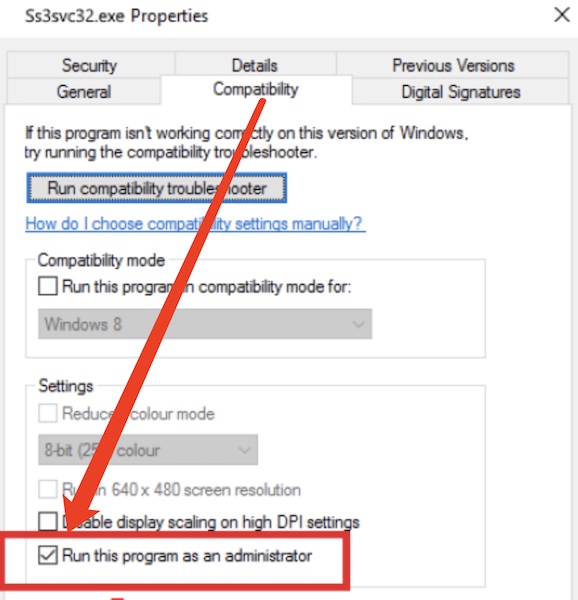 4. Click Apply and OK to save changes.
For this part, you can restart your PC to see whether the warning "Do you want to allow this app from an unknown publisher to make changes to your device?" about the Sonic Suite 3 file will show up again.
Solution 2: Uninstall Sonic Suite 3
Now that the SS3svc32.exe file is a part of the Sonic Suite 3 program, if you wish to remove the pop-up about it, you can just uninstall this program to eliminate this executable file on Windows 10.
In some cases, if the SS3svc32.exe is a virus, you can also remove the Sonic Suite III application to remove the virus.
1. Open Control Panel.
2. Go to Programs > Uninstall a Program. You can View by Category to quickly find the items.
3. In Programs and Features, find out Sonic Suite 3 and right click it to Uninstall.
4. Reboot your PC, and you will not receive the warning to ask you to run the SS3svc32.exe file on Windows 7, 8, and 10.
More: How to Uninstall Programs Won't Uninstall on Windows 10
Solution 3: Rename the SS3svc32.exe File
Sometimes, it is also a wise option to change the name of the SS3svc32.exe file so that the Windows system will not activate and run this file at startup. As thus, you will not see the SS3svc32.exe when you launch the system.
1. Press Windows + R to open the Run box and then copy and paste the following path in the blank space:
C:\Program Files\ASUSTeKcomputer.Inc\Sonic Suite 3\Foundation\
2. Locate the SS3svc32.exe file in the Foundation folder and right click it to Rename the file to any name.
Without an executable file called SS3svc32.exe, odds are that Windows 10, 8, and 7 will not pop up the "allowing the app to make changes to the PC".
Solution 4: Fix SS3svc32.exe Error in Task Scheduler
You can schedule the task of SS3svc32.exe in the Task Scheduler to fix this "SS3svc32.exe appearing at startup" issue. Just follow the steps below.
1. Enter taskschd.msc in the search box and then press Enter.
2. In Task Scheduler, in the left pane, hit Task Scheduler Library, and then right-click the blank space in the right pane to Create a New Folder and name it SS3svc32.exe.
3. Then on the left pane, hit the created SS3svc32.exe folder, and then on the right pane, Create Task.
4. Under General, enter SS3svc32.exe and then Run with the highest privileges.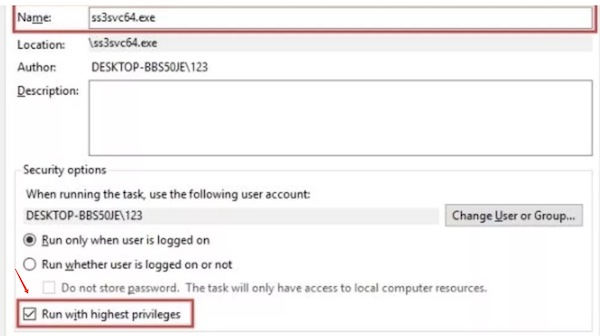 5. Under Triggers, hit New.
6. Under Begin the task, select At startup and then enable this option.
In so doing, SS3svc32.exe will not come up, again and again, every time you boot up the system since you have scheduled it in Task Scheduler.
Summary:
In short, you can learn how to fix SS3SVC64.exe on startup by removing the Sonic Suite III application, or run the file as administrator, or schedule the SS3svc32.exe task at startup instead of allowing the system to activate it randomly.
More Articles:
Win32WebViewHost: What it is and How to Remove it?
Solved: Openal32.dll Missing on Windows 11, 10
Tags :
startup