Lost Ark System Requirements – Can I Run it on My PC (2022 Update)
Lost Ark is a top-down 2.5D fantasy massively multiplayer online action role-playing game. And most players are interested in its system requirements before playing.
So look below and find out whether your PC can match the system requirements of Lost Ark and how to boost this game on your PC.
What are the system requirements of Lost Ark?
Why we must know the system requirements of Lost Ark ahead of time? The reason is to know the system requirements before playing, you can make clear whether your PC is capable of playing Lost Ark.
Minimum requirements:
Recommended requirements:
If you are an experienced game player and want to enjoy a better gaming performance, the recommended system is required.
OS: Windows 10 64-bit
Processor: Intel Core i5 / AMD Ryzen 5
Memory: 16 GB
DirectX: 9.0c or higher (2010 June)
Storage: 50 GB + of available space
Graphics: (1080P FHD) NVIDIA GeForce GTX 660/1050 or AMD Radeon RX560 2G , (1440P QHD) NVIDIA GeForce RTX 2070 or AMD Radeon RX5700XT, (4K, UHD) NVIDIA GeForce RTX 2080 or AMD Radeon RX 6800
Can I run Lost Ark on my PC?
Lost Ark is a high-demanding game when it comes to performance and optimization. The game requires a decent CPU and GPU to perform well, and it's quite demanding on both. Even with a high-end PC, you still need to ensure whether it meets the system requirements of Lost Ark.
There are two methods to compare the system information of your PC with the system requirements of Lost Ark.
Method 1: Check information manually
Step 1: Click on the Windows Start icon.
Step 2: Choose SETTINGS.
Step 3: In the Settings menu, click SYSTEM.
Step 4: Scroll down and click About.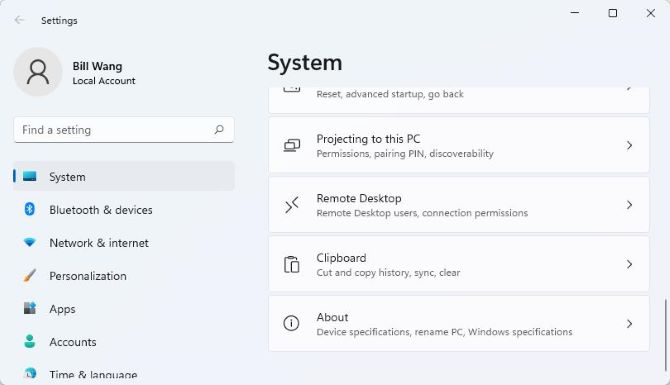 Then you can compare your PC's system information with the system requirements of Lost Ark and know whether your PC can run this game.
Method 2: Check information automatically
Smart Game Booster is a game boost software which can overclock GPU and speed up your games easily. Of course, it can check your PC's system information automatically, except for that, it can also show you the comparing result in a clear way.
So how to use it to get your system information and the comparing results?
The steps are listed as follows.
Step 1: Download Smart Game Booster from the official site.
Step 2: Install and run Smart Game Booster on Windows 11 or Windows 10.
Step 3: Click the icon CAN I RUN IT above the home page. From the page of Can I Run It, you can see your PC's basic system information clearly.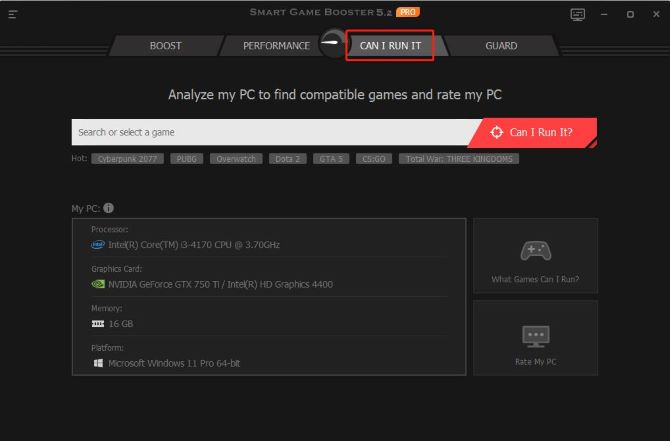 Step 4: Input the name Lost Ark into the Search box and click on the icon Can I Run It.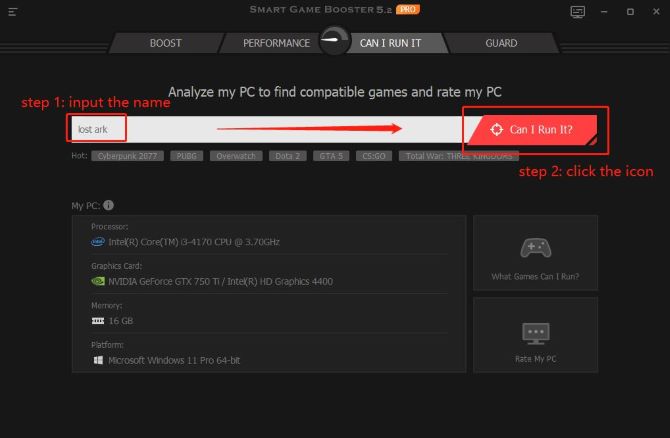 The comparing results are listed clearly.
The first column is about the minimum requirements needed for Lost Ark, and the second column is about your PC's system information, and the last column is the comparing results.
Look at the minimum system requirements first.
If the results turn green, it means this configuration can match the minimum requirement of the game, and if the results turn red, it means this configuration of your PC can not reach the minimum system requirements of the game.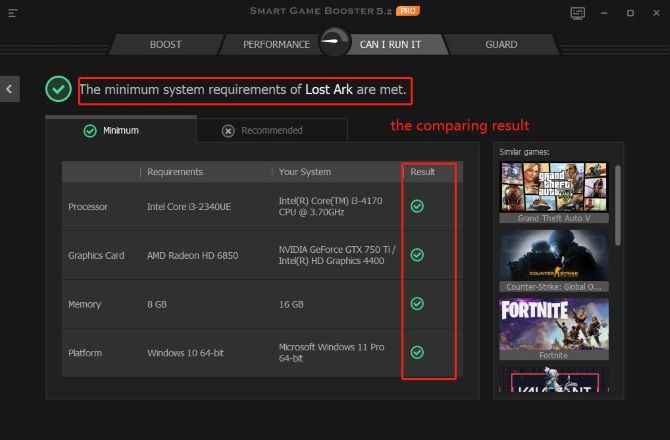 Now switch to the recommended comparing results.
From the picture below, there is a fact we can know right now that even though the Graphics Card on my PC can meet the minimum system requirements of Lost Ark, it can not reach the recommended system requirement of the game. So that means this PC can not run Lost Ark smoothly.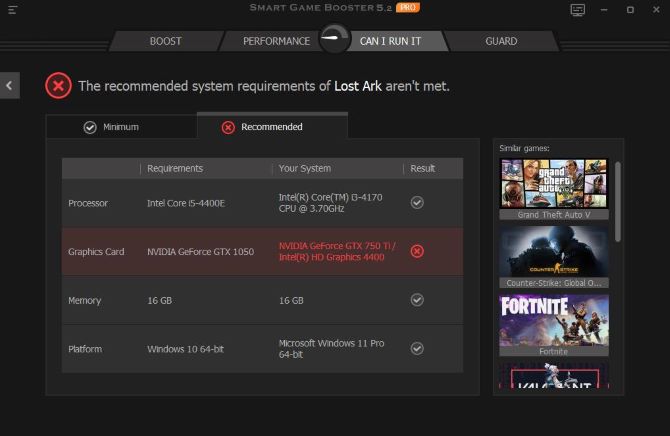 How can I boost Lost Ark?
If you want to have an ultimate gaming performance on Lost Ark, you have to boost the gaming speed, increase the sharpness of images, and improve the picture quality.
Now, let's start the boosting journey with Smart Game Booster, which can boost the game automatically.
Follow the steps:
Step 1: Download, install and open Smart Game Booster.
Step 2: Add Lost Ark to the Home page.
Before you add Lost Ark into Smart Game Booster, make sure you have downloaded this game. Smart Game Booster can detect it automatically. If Lost Ark is not detected, you should click the PLUS(+) icon. Then Lost Ark appears on the home page.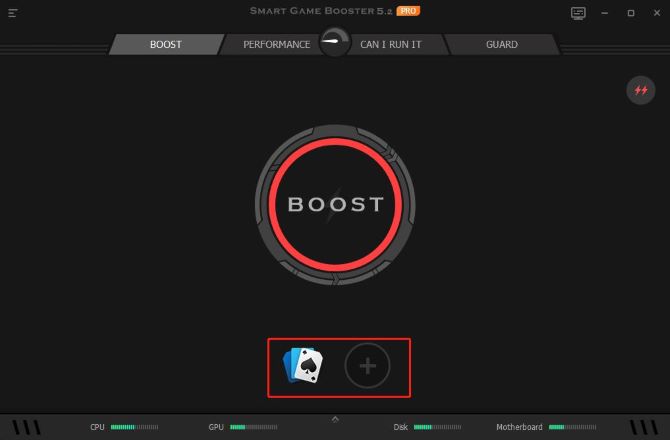 Step 3: Overclock GPU.
Overclocking GPU can speed up your video card and release more resources and space for your game so that Lost Ark can run faster.
Before starting boosting, you have to set up boosting level.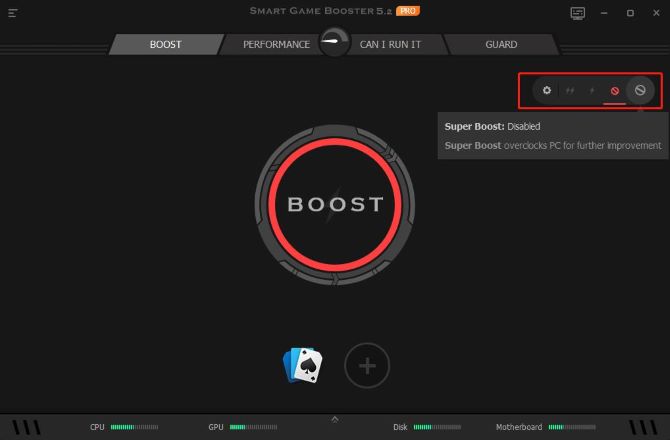 There are four boosting levels you can choose.
Disabled level: Overclock is not enabled.
Level 1: Basically Overclock hardware to increase FPS moderately.
Level 2: Ultimately overclock GPU and RAM for the best performance.
Customize level: Overclock GPU and RAM as you like. You can choose the level of improvement according to your different gaming needs.
Level 1 and 2 are two automatic ways and they choose to boost the game according to your computer system configurations, which refers to that if your PC has a higher configuration, Smart Game Booster will overclock your PC with a higher number.
While Customize level can set up the number as you like, it will not consider your computer configurations. Therefore, when you set up the boosting number at this level, you should take this effect into your consideration, whether the level is so high that it will impact your PC.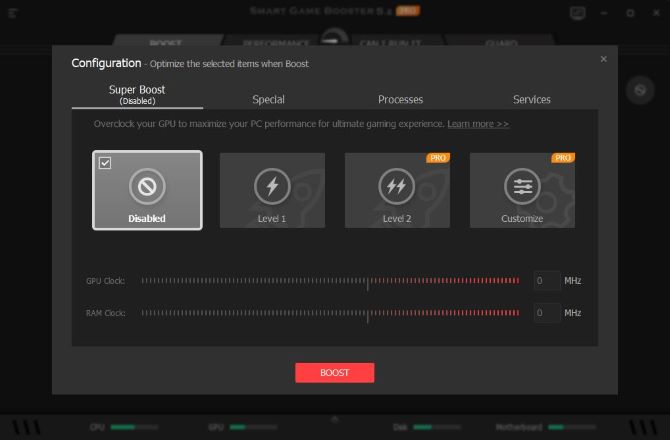 Step 4: Start boosting your PC.
Return to the interface and clickthe BOOST icon on the home page.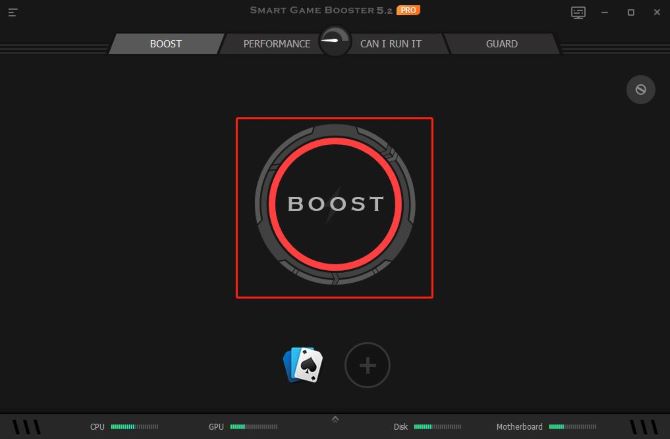 After boosting, you can see four configurations have been overclocked.
CPU, RAM, and drivers will be overclocked to release spared resources and space for Lost Ark.
GPU is also overclocked to optimize your PC's performance.
Recommended methods and PCs to run Lost Ark
This part will tell you what you should do if you want to play Lost Ark when your PC can not reach the system requirements of this game.
There are three choices you can consider.
Update your PC's configurations
If you don't want to spend too much on games, updating your PC's configuration is an easy and economical method. So, you just need to update or change the outdated configurations on your PC so that they can meet the system requirements of Lost Ark.
Choose a similar game
If you think updating configurations is a little difficult and wastes time, and you only want to play this kind of game like Lost Ark. If you are under this circumstance, Smart Game Boost can help you.
It can provide you with similar games on the page of comparing results.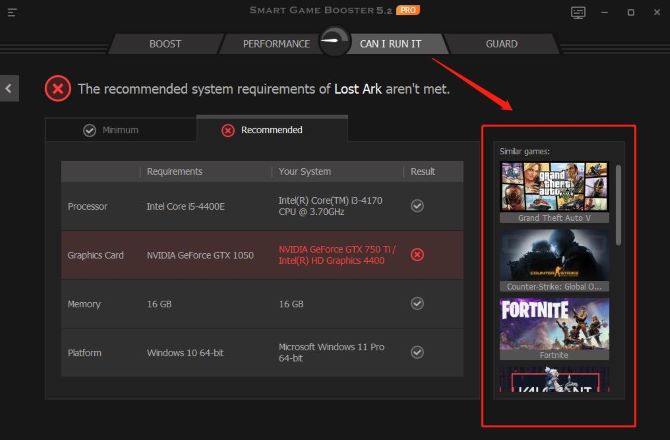 Change your PC
If your PC's configurations are all or almost outdated, you can consider changing your PC and purchasing another PC fitting for playing games.
There are some PCs recommended by experienced players.
The OMEN 40L Desktop PC
IBUYPOWER TraceMR Gaming Desktop
Velztorm Gaming Desktop PC
ASUS Gaming Desktop PC
FAQ About Lost Ark System Requirements
Q1: Can I play Lost Ark on Mac?
Yes. You can play Lost Ark on Macs including M1 Macs thanks to NVIDIA GeForce.
Q2: Is Lost Ark completely free?
Lost Ark is free-to-play. You can download the game on Steam.
Q3: Can Lost Ark run with 4GB RAM?
No. To be able to run Lost Ark, you will need at least 8 GB of system memory.
Q4: Can I play Lost Ark only on Steam?
You must have a Steam account to play this game without any trouble. Lost Ark players will need a Steam account in good standing to access some in-game features.
Q5: Can you play Lost Ark solo?
Yes. You can play solo in Lost Ark. However, playing as a single player will be more difficult in this game.
More Articles:
A Complete Guide to Fortnite System Requirements
8 Ways to Boost FPS for Games (2022 Update)