Solved: Csrss.exe High CPU Usage on Windows 11, 10, 8, 7
Out of blue, you find your PC runs slowly. When you can't help viewing in Task Manager, what applications causes the freezing computer, just to notice that there is a process named Client Server Runtime Process almost eating up your CPU.
To make things worse, sometimes, you see two or more csrss.exe processes in task manager running. Regarding this annoying problem, many clients would rather disable csrss.exe on Windows 10. But what you have no idea is that this process matters for your PC.
Now let's see what csrss.exe is used for and how you can do if it uses excessive CPU on Windows 7, 8, 10.
What is Csrss.exe?
Csrss is short for the Windows process Client Server Runtime Server Subsystem. As one of the core processes on Windows systems, csrss is principally used to take charge of the Win32 console and GUI shutdown.
Is Csrss.exe a Virus?
With its size being 6,144 bytes, or 4,096 or 7,680 bytes on different operating systems, normally, Csrss.exe is not a virus on your PC. And in some cases, there will be several different system processes working with the name of Client Server Runtime Process, which are not virus.
Nevertheless, it is also possible that some other malware serves for your PC in disguise of the csrss exe. In this way, undoubtedly, you will stumble upon csrss.exe high CPU usage on Windows 10.
Can I Disable Csrss.exe?
For some users who wish to turn off the csrss process in hope that high CPU usage by this process will disappear, it is not wise to do so as the Client Server Runtime Process is essential for Windows 10. Disabling it will cause your PC to become unusable or shut down.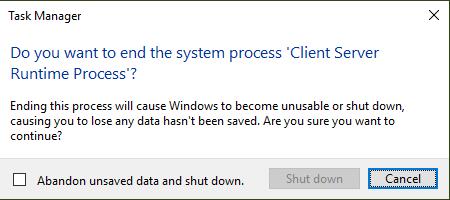 On this occasion, unlike turning off the ctfmon.exe, for the sake of protecting the data and operating the PC as usual, you are not advised to remove csrss.exe, what you can do is refer to the feasible solutions below to get rid of high CPU.
How to Fix Csrss.exe High CPU Usage Windows 10?
As per the above-mentioned content, you can get that there must be a certain Trojan pretending to be the csrss process and occupying excessive CPU on Windows 10. For another thing, the corrupted user profile is also to blame.
Naturally, you are able to remove csrss.exe 100% CPU usage targeting the third-party infectious applications and profile corruption.
Solution 1: Check Csrss.exe Virus
In terms of the question "Does it mean my csrss.exe a virus when there are two csrss processes working", you need to know that there exist differences between process and .exe file. You only have a csrss.exe file, but if you running more than one processes related to it, it will show you in task manager two or more Client Server Runtime Process running.
So you need to check if the csrss exe working on your PC is a threat or the normal process. Just try to check the file location of the csrss processes. If one of them isn't located in C:\WINDOWS\system32\csrss.exe, possibly, some malware or programs have permeated into your PC and acted as the csrss.exe process, thus causing csrss.exe CPU high.
1. Hit Ctrl + Shift + Delete combination key and then choose Task Manager.
2. Under Processes, find out and right click Client Server Runtime Process to Open file location.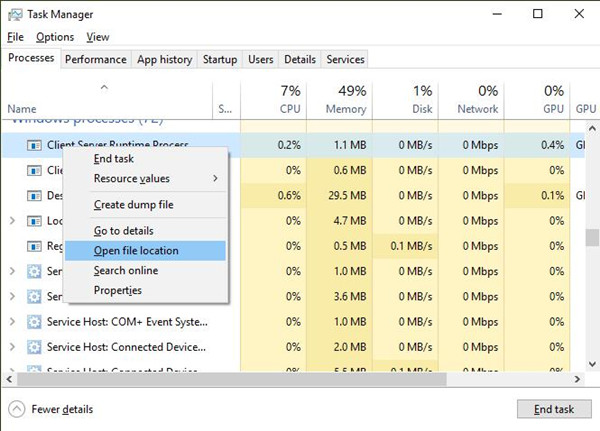 3. Observe carefully whether the csrss is situated in C:\WINDOWS\system32\csrss.exe.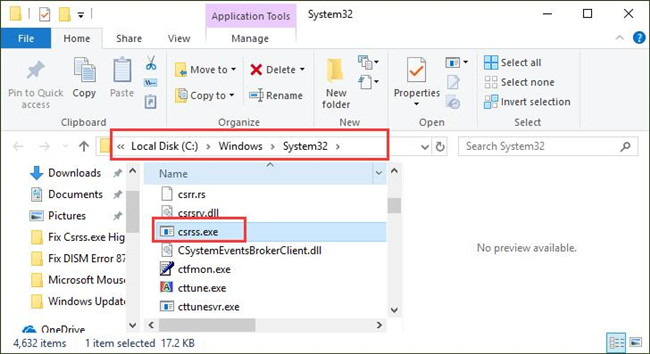 If there are two or even more csrss processes, attempt to open their file locations as well.
Understandably, with Client Server Runtime Process high CPU usage, you can see one of the processes may not be found in System32 folder but elsewhere. The csrss.exe has been corrupted by some unreliable sources.
Solution 2: Use Windows Defender to Manually Scan for Virus
In case that the high CPU usage by csrss.exe is caused by your third-party software, there is much need to uninstall the problematic applications and then make full use of Windows inbuilt tool – Windows Defender to help safeguard Windows 10.
You can head to Control Panel or APP settings to uninstall the erroneous applications. Then try to take advantage of Windows Defender to do a quick scan for virus in files, programs, processes, etc.
1. Type in Windows Defender in the search box and then select Windows Defender Security Center from the results.
2. In Windows Defender Security Center, under Virus and threat protection, choose to Run a new advanced scan.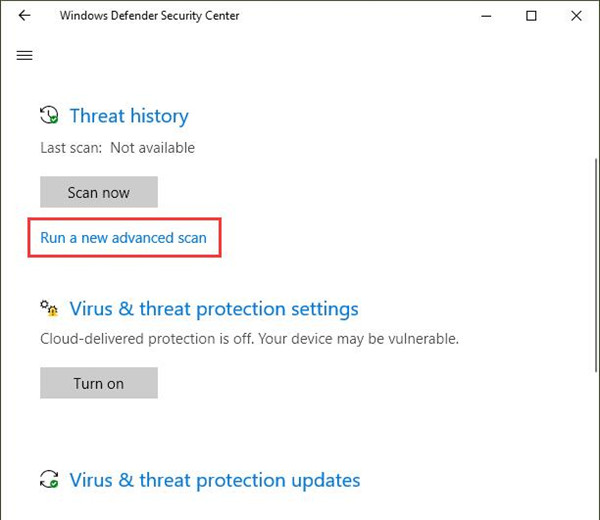 3. Beneath Advanced scan, there are three scanning options available. You are entitled to perform a Full scan, Custom scan, and Windows Defender Offline scan.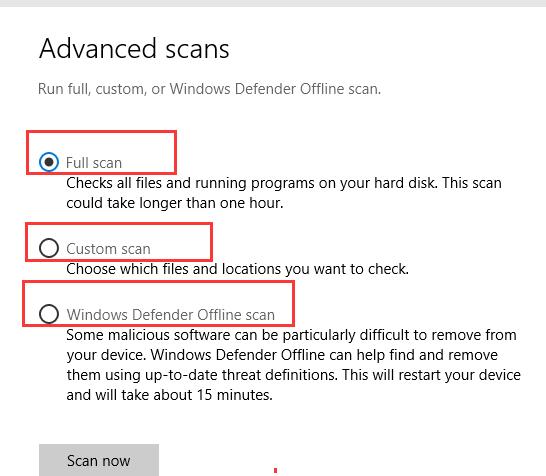 4. Hit Scan now to enable Windows Defender to start scanning for Windows 10 files, apps, services, and processes.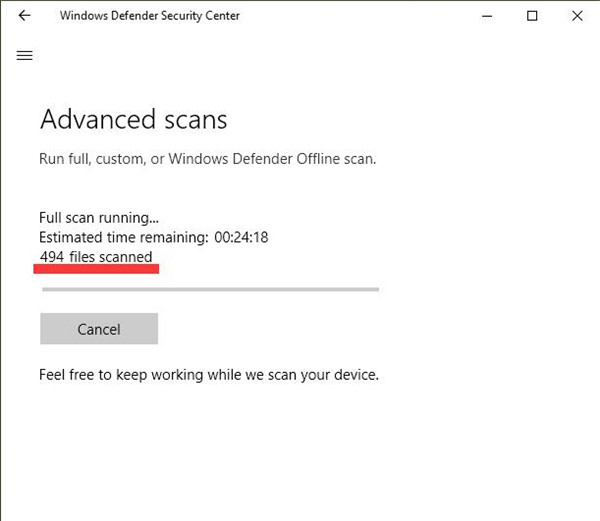 So long as the advanced scan stops, it will display you if there are corrupted files or problematic programs on Windows 10.
But even if Windows Defender can't detect whether or not the csrss.exe is a virus on your PC, or your Windows Defender doesn't work, you might as well download another safe and powerful antivirus applications to let it scan for csrss virus on Windows 10, such as Malwarebytes.
If the virus or threats are removed, it is a necessity for you to check in Task Manager whether csrss.exe 100% CPU persists.
Solution 3: Delete the User Profile
Another latent cause of the csrss.exe high CPU usage is the corrupted Windows profile on your PC.
Client Server Runtime Process has much to do with the user account, So you have no choice but to delete the user profile on Windows 10 and then create a new one. Prior to doing that, make a backup for the system in case of data loss.
Now begin to clear off the corrupted user account as administrator.
1. Right click the This PC from your Desktop and then choose Properties from the list.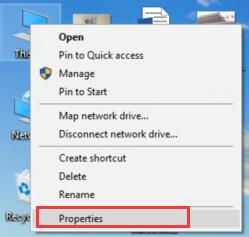 2. Then find out Advanced system settings.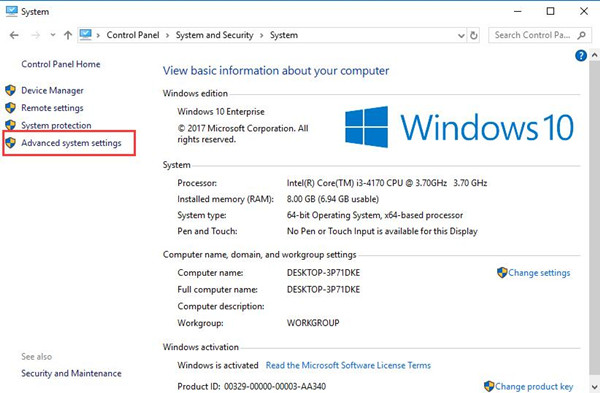 3. In System Properties window, under User Profiles, hit Settings.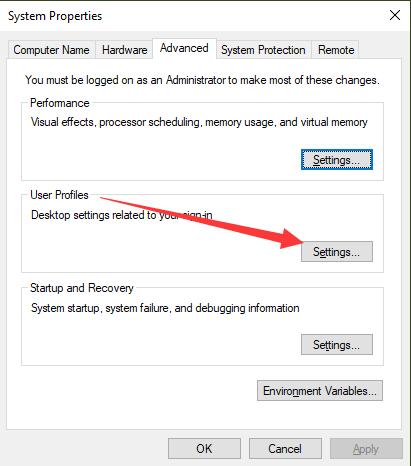 4. Pick out the account and then click Delete.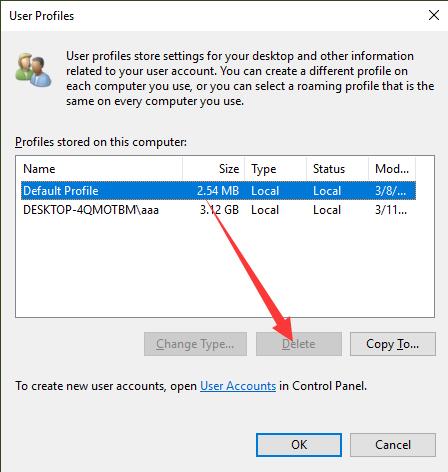 At this moment, you will have removed the infectious user account. Now it is high time that you created a new one.
5. Navigate to Start > Settings > Accounts.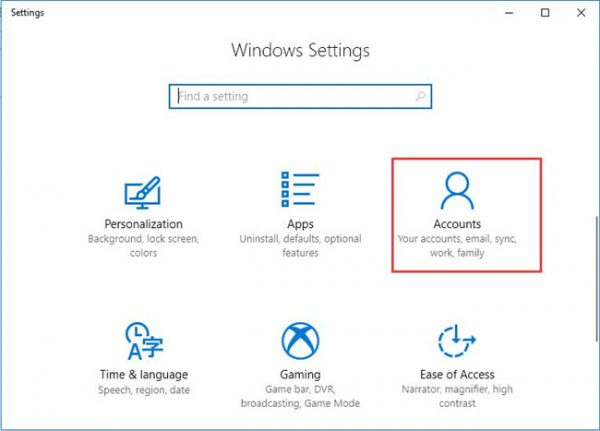 6. Under Family & other people, click Add someone else to this PC.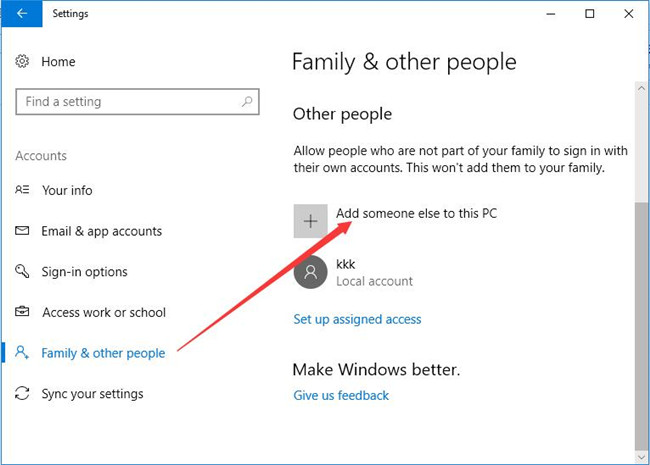 7. Then Create an account for this PC, type in the Name, Password. And then re-enter the password.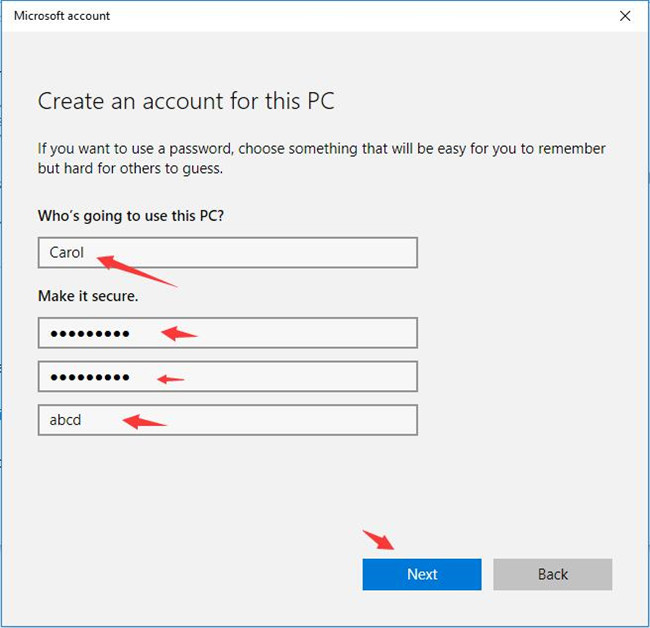 8. Then restart and sign in with the newly created account.
This time without any account corruption, you can see the csrss.exe process won't use up CPU or sometimes high memory usage on Windows 10.
Otherwise, to block the Client Server Runtime Process from loading your CPU high, you have to reset Windows 10.
In a nutshell, with the help of this post, you will learn what the csrss.exe is and how to fix Client Server Runtime Process high CPU usage on Windows 7, 8, 10 effectively.
More Articles:
Fixed: Svchost.exe High CPU Usage on Windows 10
Fixed: Windows Idle Process High CPU Usage
Tags :
cpu usage