Solved: Dragon Age Inquisition Won't Launch on Windows 10
As one of the games of Dragon Age series, Dragon Age Inquisition is also familiar to gamers like its predecessor – Origins. However, it is also frequently reported in recent days that Dragon Age Inquisition won't launch on Windows 10, 8, 8.1, 7. When you start it either by the game client or the executable file of this game, it is not launching.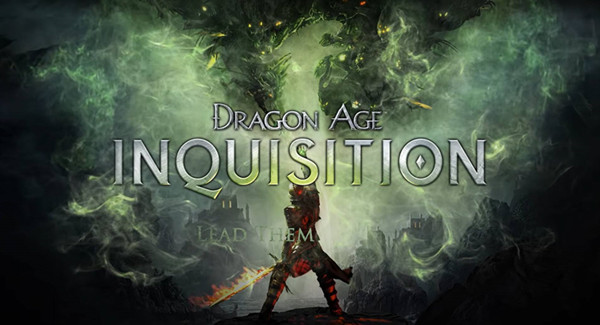 You may be eager to know why your Dragon Age Inquisition can't start in Windows 10. Here this article will dig out what prevents your game from working. And more importantly, you can get the most useful solutions to fix this Dragon Age issue.
Related: How to Fix Origin Online Login is Currently Unavailable
How to Fix Dragon Age Inquisition Not Launching on Windows 10, 8, 7?
For a game to run properly, it is required that all the relevant components perform well on your PC. Among them, the required system requirements for the game, the compatible graphics card driver, the suitable game and computer settings, etc. should be given top priority.
For instance, you should make sure your computer system meets the minimal game requirement and the relevant settings like the Full-screen optimization configured well on your PC.
Solutions:
Solution 1: Check your System Specifications
First off, you are supposed to check the system specifications on your PC to make sure it at least meets the minimal requirements of Dragon Age Inquisition. Only in this way can this game run well on Windows 10, 8, 7. And there are many management tools available for you to view the specifications on your PC, like the version of your operating system, the space of the hard drive and RAM.
On your Desktop, right click This PC to open the Properties of your computer. Then you can check some specifications on your PC.
As you can see, the Processor of this PC is Intel® Core™ i3-6006U CPU @ 2.00GHz 1.99GHz and the RAM is 4GB. If you want to check more specifications, it is suggested to go to Device Manager which will show you the properties of a specific device like the graphics card.
In Device Manager, you can right click the device you want to view its properties to open its Properties.
You should know that the minimal requirements of Dragon Age Inquisition are as follows:
Operating system: Windows 7, 8, 8.1, 10
Processor: Intel quad core @ 2.0 GHz or AMD quad core @ 2.5 GHz
The minimal RAM: 4GB
The minimal hard drive: 26GB
The graphics card: NVIDIA GeForce 8800 GT or AMD Radeon HD 4870
If your system meets the minimum specification requirement, Dragon Age Inquisition will start as usual. But provided that you want the enhanced performance of this game, you may need a more advanced operating system, processor, etc.
Related: A Complete Guide to Fortnite System Requirements
Solution 2: Clean boot your PC
In case there are many corruptions or problems on your PC that result in Dragon Age Inquisition not launching, you would better run a clean boot for Windows 10, 8, 7.
1. Search msconfig in the search box and hit Enter to get into System Configuration window.
2. In System Configuration window, under Services tab, check the box of Hide all Microsoft services and then Disable all.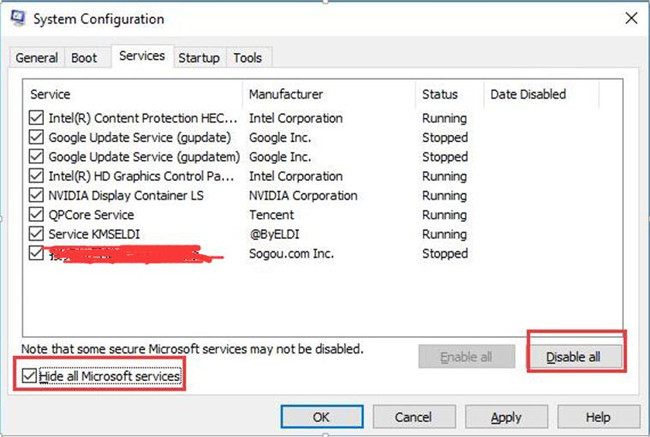 In this sense, all the third-party applications and services will be stopped from working.
3. Then under the Startup tab, try to Open Task Manager.
4. In Task Manager, under Startup, find out the problematic application and right click it to Disable it.
5. If needed, you can hit Disable at the bottom of this window to stop all the services at the same time.
Related: Fix Fast Startup Problems (Missing, Disable) on Windows 10
Solution 3: Update the Graphics Card Driver and DirectX
The outdated, missing or corrupted video card will also cause Dragon Age Inquisition not to start on Windows 10. And similarly, the DirectX and VC Redist are important game components for this game, so you may as well download the latest driver for your video card and install the available DirectX packages on your PC to run the game.
Here, as for updating the driver and game components, it is advisable that you turn to Driver Booster to download the driver you needed automatically.
1. Download, install and run Driver Booster.
2. Click Scan. Then you can see Driver Booster is scanning your computer for outdated, missing and corrupted device drivers.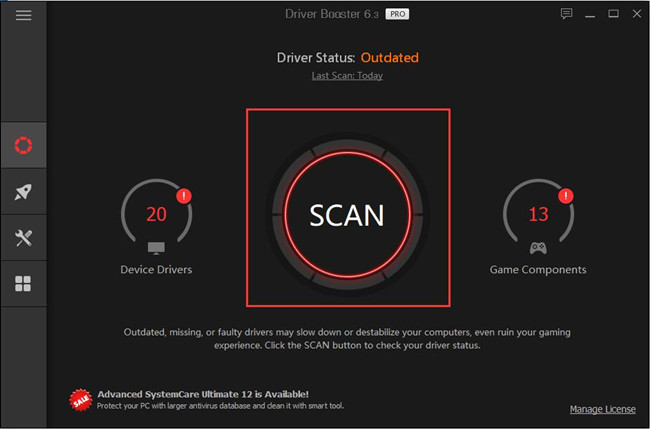 3. Then locate Display adapters to Update the graphics driver by Driver Booster.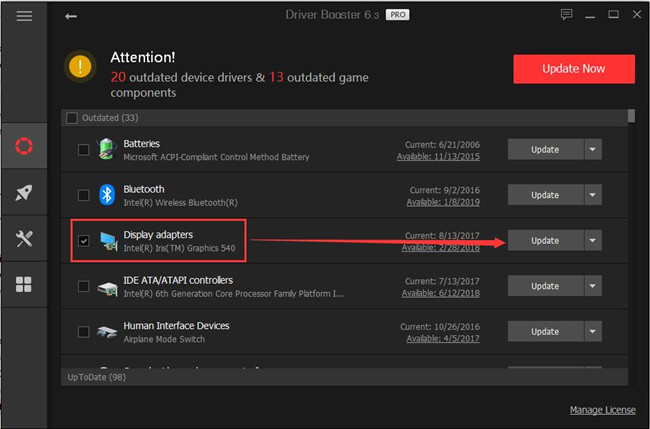 4. Find out Game Support to Update them as well.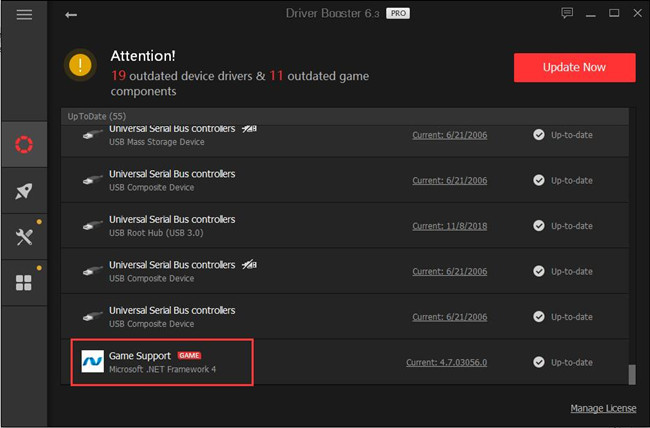 If possible, you can also hit Update Now to download all the latest drivers on your PC.
Now, with the updated display driver and Microsoft Visual C++ packages, you can re-open the game to see if Dragon Age Inquisition not starting has been fixed.
Solution 4: Verify game files
In some cases, the required files for the game may be corrupted, so you are unable to launch the game as usual. Therefore, you are supposed to verify the integrity of the files so as to ensure it won't give rise to this Dragon Age origin error.
1. Go to the Origin client.
2. In Origin, on the left pane, click My Game Library.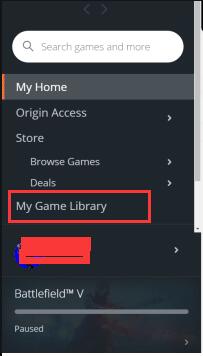 3. Then locate and right click Dragon Age Inquisition to Repair it.
Here you can see the files are being verified within the game client. After that, it is available that you run the game again to check if it can launch on Windows 10.
Solution 5: Run the game as administrator
Sometimes, if you have not granted the administrative privileges for the game, Dragon Age Inquisition will refuse to start on Windows 7, 8, 10. Thus, it is worth a shot to run this game as an administrator.
1. In File Explorer, go to C:\Program Files (x86)\Origin Games\Dragon Age Inquisition and then right click the game installation folder to open its Properties.
2. Then under the Compatibility tab, check the box of Run this program as administrator.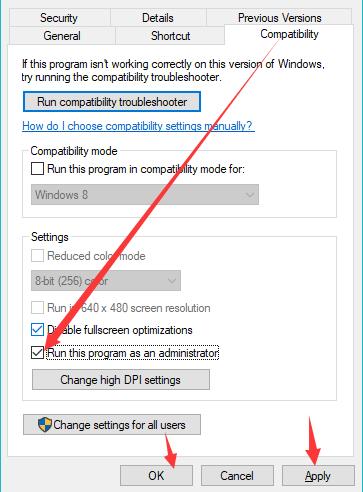 3. Hit Apply and OK to save changes.
Run the game and you may find it is launching as before.
Solution 6: Disable Full-screen Optimizations
It is reported the Full-screen optimization will also affect the performance of games. Even if this option is preferred for gamers, you should consider stop it if you are to fix Dragon Age Inquisition not starting issue on Windows 10.
In the Properties of the game installation folder, under the Compatibility tab, check the box of Disable full-screen optimizations.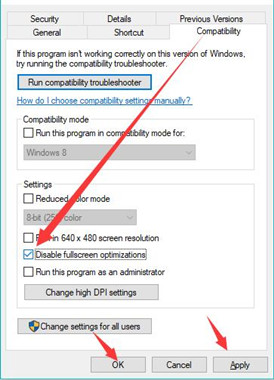 Normally, full-screen optimizations will make you enjoy the game in a greater way, but it may cause the game issue. In such a case, it is a good choice to disable it temporarily.
Related: High Ping in League of Legends
Solution 7: Run Compatibility Troubleshooter
Similarly, if your game is incompatible with the system, it won't launch. In this way, there is much need to check the compatibility between the game and the system. Maybe it can run well on your PC after the compatibility issue has been resolved.
In the game folder Properties, under the Compatibility tab, choose to Run compatibility troubleshooter.
Apply the fixes if there are any proposed by the troubleshooter.
In short, the time you stumble upon Dragon Age Inquisition won't launch on Windows 10, 8, 7, you need to try measures to ensure your PC meets the system requirements and has the compatible graphics drivers and DirectX. Besides, the related settings about the game shall be set right.
More Articles:
Solved: Origin Won't Open Windows 10
Fixed: League of Legends Won't Open on Windows 10 (2021 Update)