Minecraft System Requirements – Can I Run It On My PC
You can find the system requirements of Minecraft on different devices and the ways to get your system information, through which, you can know whether you can run this game, apart from that, this post also provides you two kinds of methods to optimize your PC to speed up Minecraft.
System Requirements for Minecraft on PC
Minimum system requirements:
OS: Windows 10 version or higher (Windows 10 versions)
Processor (CPU): Intel Celeron J4105 / AMD FX-4100 or better
Graphics (GPU): Intel HD Graphics 4000 / AMD Radeon R5 series
Memory (RAM): 4 GB
DISK SPACE: At least 1 GB for Game Core and Other Files (free up disk space)
Network: Broadband Internet connection for downloading Minecraft files before playing offline
Recommended system requirements:
OS: Windows 10
CPU: Intel Core i5-4690 3.5GHz / AMD A10-7800 APU 3.5 GHz or equivalent
GPU: GeForce 700 Series/AMD Radeon Rx 200 Series (excluding integrated chipsets) with OpenGL 4.5
DEDICATED VIDEO RAM: 256 MB
RAM: 4 GB
DISK SPACE: 4 GB
System Requirements for Minecraft on MAC
OS: 10.9 Mavericks
Processor: Intel Core i3
Video Card: Intel HD Graphics 4000 or higher
Memory: 4GB RAM
Hard Drive: 1 GB of Hard Drive space
System Requirements for Minecraft on Android
Version: Android 4.2, Android 3.0, Android 2.3, Android 2.1
Processor: Any processor that supports floating-point calculations
Graphics Card: Any graphics card that supports OpenGL
Storage: 12.5MB of installation storage. Requires 100MB to 1GB for maps
System Requirements for Minecraft on iPadOS/iOS
Version: iOS 10.0 or later
Memory: 2 GB RAM
Storage: 8.8 GB of free hard disk space
Can I run Minecraft on my PC
Since you have known the system requirements of Minecraft, it is time to figure out the system information of your PC and then compare them to get the answer to whether your PC can reach the system requirements of the game.
Two ways can be used to know your system information.
#1 Seek it by yourself
Step 1: Click on the Windows Start button.
Step 2: Choose SETTINGS.
Step 3: In the Settings menu, click SYSTEM.
Step 4: Scroll down and click About.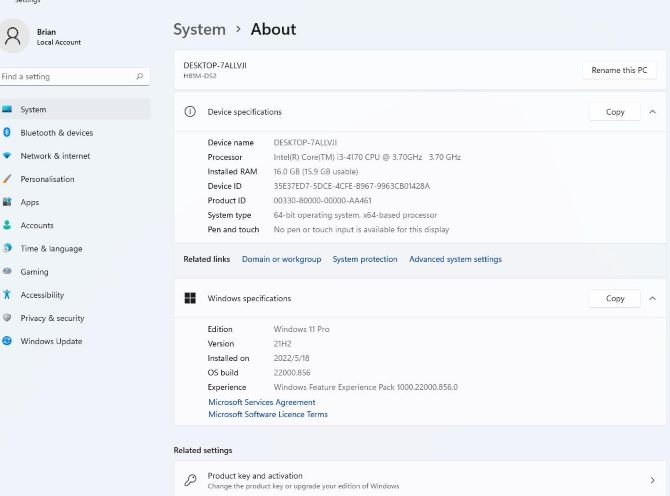 Now, you can compare your system information with the game's system requirements. If all your system configurations can reach the system requirements of Minecraft. You can download and run the game right now.
#2 By Smart Game Booster
Smart Game Booster is famous and perfect software because it can detect your system specs automatically and match your PC's system information with the minimum and recommended system requirements of Minecraft quickly.
By this method, you can save more time than the last common method, which should be operated step by step by yourself.
Follow these steps to find out the answer:
Step 1: Download Smart Game Booster on the official site.
Step 2: Install and run Smart Game Booster on your PC.
Step 3: Click the choice CAN I RUN IT.
Step 4: Input the name Minecraft into the search box and click the icon.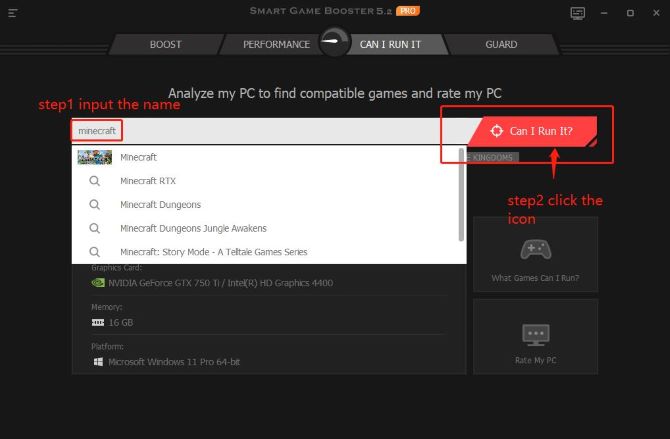 Step 5: Compare Minimum System Requirements.
On the results page, the main configurations will be compared, such as the Processor, Graphics Card, and Memory. And the comparing results will be shown on the CAN I RUN IT page. If your configurations can meet the system requirements of the game, it will show you a green right sign, if not, a red sign will show up.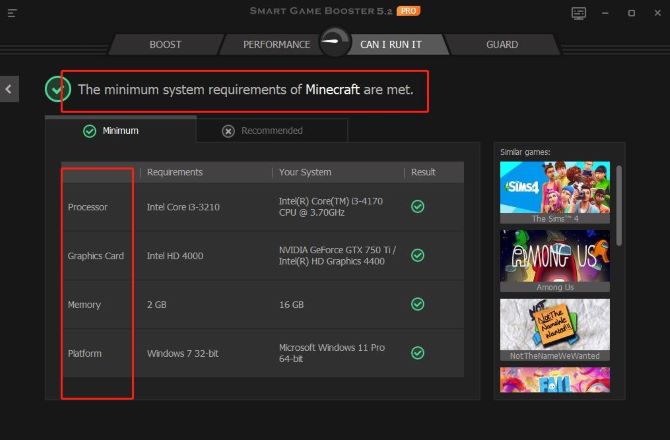 Step 6: Switch to Recommended System Requirements.
There is a fact we can understand from these two pictures about minimum system requirements and recommended system requirements that the configurations which can reach the minimum requirements will perhaps not reach the recommended requirements.
As it shows, although the Processor of this PC can meet the minimum system requirement of Minecraft, it can not reach the recommended system requirements of this game.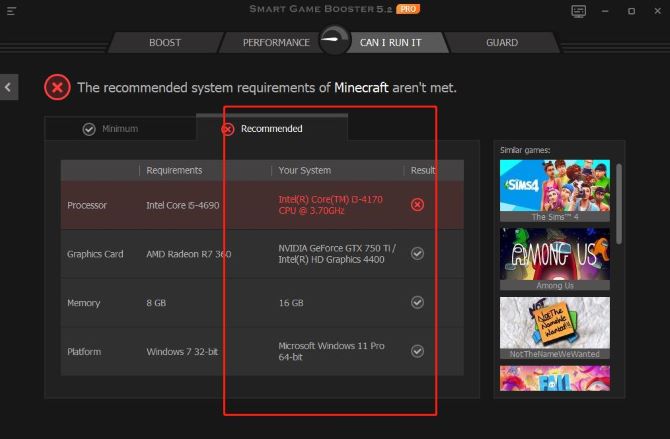 So, if you want to enjoy a better gaming experience, you must meet the recommended system requirements of the game. To do that, you can update or change the outdated configuration or directly purchase a high-spec PC.
How to Boost Minecraft for Good Gaming Performance
You must dream of a smoother game experience without any trouble. Two methods can be used to speed up Minecraft on your PC and you can achieve it very successfully if you follow the post.
Common methods:
Automatic method:
Smart Game Booster can help you clean up or release your spared resources and space for the game and optimize your PC, which will boost Minecraft.
Then the steps listed below will tell you how to boost Minecraft using Smart Game Booster.
Step 1: Download, install and run Smart Game Booster.
Step 2: Add Minecraft to the BOOST page.
Smart Game Booster can detect Minecraft automatically if you have downloaded this game before on your ;PC. If Minecraft is not detected, you can click the PLUS(+) icon to add Minecraft by yourself.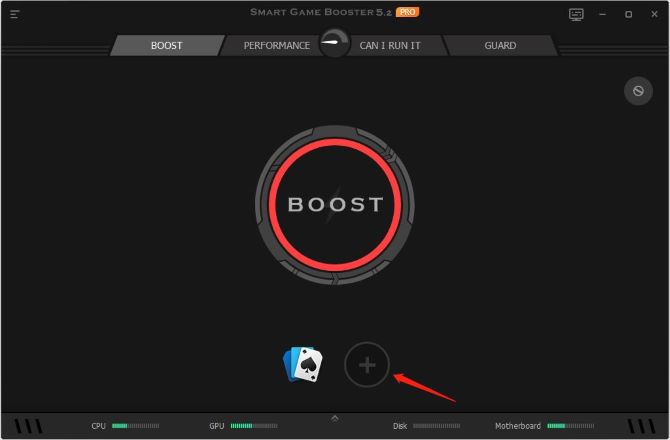 Step 3: Overclock GPU, CPU, and Memory.
Before starting to boost Minecraft, you have to set up the level of overclocking.
Why should we overclock our graphic? Because overclocking can speed up the graphics card and release more resources and space for your game, increase the sharpness of images, and improve sharper picture quality.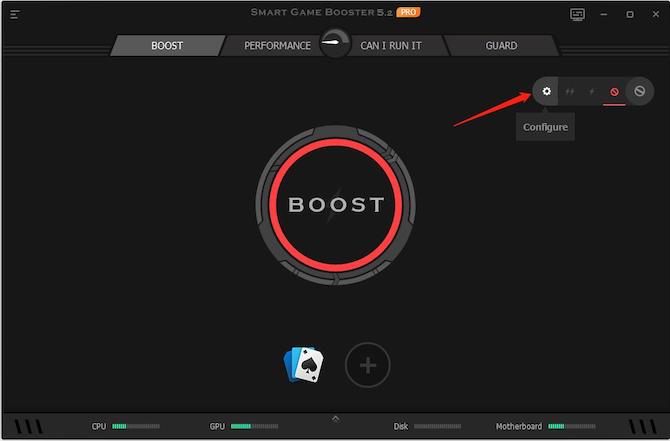 Four levels of improvement can be chosen.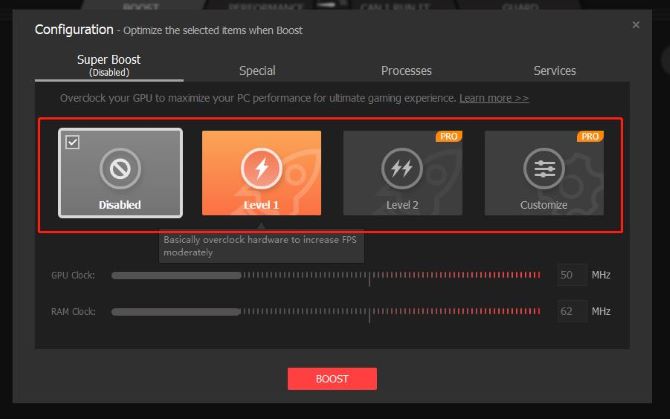 Disabled level: Choose not to boost your PC.
Level 1 and 2: Level 1 can basically overclock GPU and RAM while level 2ultimately overclock GPU and RAM for the best performance. Both of them can be chosen to boost Minecraft according to your computer system configurations, which refers to that if your PC has a higher configuration, these two levels will release more space and resources.
Customize level: the level of overclocking GPU and RAM depends on yourself. Though you can set up the level by yourself, you must be cautious about setting a suitable level that your PC can endure.
Step 4: To boost your PC.
Return to the home page and click the BOOST icon in the center of the home page.
Outdated drivers will be warned to update when you click the BOOST icon for the first time and you can choose to update them or leave them aside.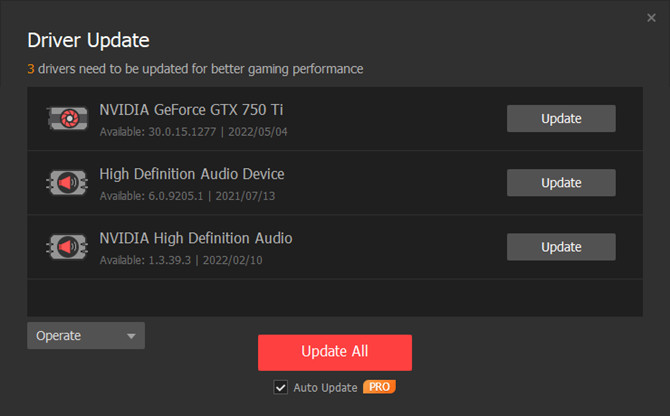 Except for updating drivers, it can also overclock GPU, CPU, and Memory after all they are all important configurations on your PC.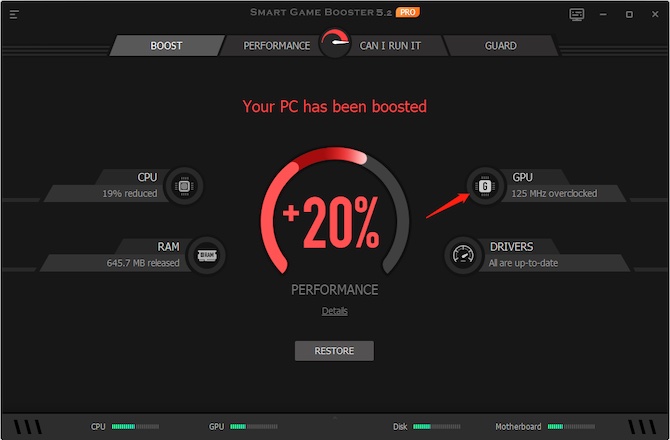 After boosting, you can enjoy a faster game performance.
FAQ about Minecraft System Requirements
Q1: Can I run Minecraft on 2GB RAM?
Yes. You always want to have at least 2 GB of RAM to run Minecraft. However, most people have better results if they set the minimum amount to 4 GB instead.
Q2: Can I run Minecraft without a graphics card?
Yes. You don't need a dedicated graphics card for Minecraft to work. Minecraft isn't a very demanding game.
Q3: Can I play Minecraft on a Mac?
Yes. Minecraft is compatible with Mac. You can download the game directly from the Minecraft website or the App Store.
Q4: How much does Minecraft cost?
It costs $26.9.
Q5: How much RAM do I need for Minecraft mobile?
It requires decent RAM – 4 to 6 GB should be enough and a good quality battery.
Q6: Can Minecraft run on iOS 12?
Yes. iOS 10 or above is required for Minecraft.
More Articles:
Minecraft Game Crashed: Top 7 Ways to Fix Exit Code 0 Error
Minecraft: Failed to Write Core Dump, Minidumps are not enabled by Default on Client version of Windows
How to Fix Minecraft Unable to Connect to the World Most Effectively